Nether Regions 09.05.12: A Bittersweet Life
September 5, 2012 | Posted by
Nether Regions started as a segment of the Big Screen Bulletin in the movie-zone that meant to showcase films that have been discontinued on DVD, are out of print in the United States, are only available in certain regions outside the United States, or are generally hard to find. Now it is a column all its own! You might ask, "Why should I care about a film I have no access to?" My goal is to keep these films relevant because some of them genuinely deserve to be recognized. Every time I review a new film I will have a list of those I covered below so you can see if they have been announced for DVD release, or are still out of print.
MISSING:
A BITTERSWEET LIFE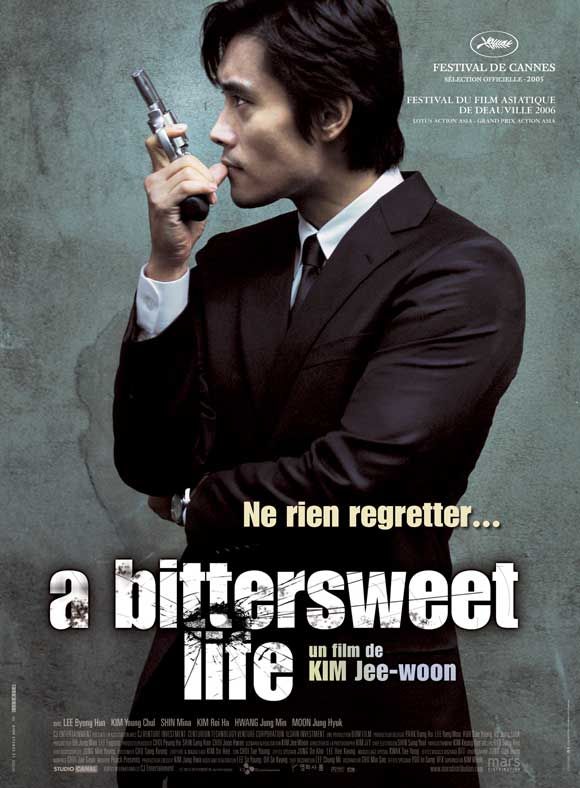 Starring:
Lee Byung-hun, Kim Yeong-cheol, and Shin Min-a
Directed By:
Kim Jee-woon
Written By:
Kim Jee-woon
Original Release Date:
April 1, 2005 (South Korea)
Running Time
: 118 minutes
Missing Since:
Never Officially Released in US
Existing Formats:
Various Import DVDs
Netflix Status:
Not Available
Availability:
Moderately Rare
A Bittersweet Life is the fourth effort from South Korean director Kim Jee-woon. The Korean title "Dalkomhan Insaeng," not to mention the bar in the story (which is called "La Dolce Vita"), both translate as "The Sweet Life." The English title was changed to A Bittersweet Life, which is ironic, but I suppose you could say that about the original title too after you've seen the film. Planted firmly in comedy for his debut and sophomore project, Jee-woon then shifted to horror with a segment in Three Extremes II and A Tale of Two Sisters, both of which displayed his prowess. A Bittersweet Life was another change of pace, in this case exploring revenge, a sub-genre the South Koreans have mastered over the past decade or so. On paper this sounds average at best, but Kim Jee-woon is far from just a passable filmmaker. The end result is a controlled mixture of blistering fight choreography, unadulterated carnage, and a pace reminiscent of a reservedly thrilling crescendo.
Sun-woo's
judgment day.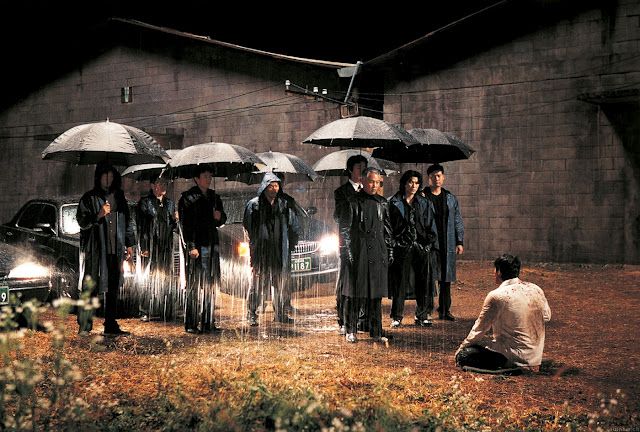 The tale focuses on Kim Sun-woo (Lee Byung-hun), an enforcer for the mobster President Kang (Kim Yeong-cheol). As his most loyal associate, Kang assigns Sun-woo to look over his much younger mistress Hee-soo (Shin Min-a). He has been noticing that she spends time with another man and while Kang is away on business, he enlists Sun-woo to observe her daily routine and "take care of them" on his own if he notices anything. Hee-soo is not exactly enamored with having the cold Sun-woo escorting her around, but he does what he can to be mannerly and pleasant. While shadowing her, he does see that she is engaging in an affair. Sun-woo confronts and hurts the man before phoning Kang for confirmation. Right then he has a change of heart and decides to let them go if they promise not to breathe a word of the incident to anyone. Sure enough, Kang discovers Sun-woo's disobedience and proceeds to torture and beat him to a bloody pulp. Kang's goons fail to kill him however and Sun-woo swears vengeance everyone who wronged him. Toss in an arms dealer (Kim Hae-gon) Sun-woo must manipulate and President Baek (Hwang Jeong-min), a rival mob boss he ticked off, and it's safe to say that he put himself in a tight spot.
Admittedly, I am partial to revenge flicks, but A Bittersweet Life fires on all cylinders regardless of any bias I might bring to the table. And as much fondness as I have with premises such as this, the inspirations laced in these works are usually obvious. This is no different, though that does not mean it is weak by any stretch. Quite the contrary. In terms of violence, Tarantino-esque excess is apparent in two bravura sequences specifically. Throw in some bullet-flying, slow-motion panache ala John Woo and a shade of the ending from Martin Scorsese's Taxi Driver and you see how Kim Jee-woon draws upon some legendary craftsmen. Just when you think the man at the helm couldn't integrate more cinematic influence, there are the exciting martial arts scenes, splashes of comedy, and the sporadic markings of a film noir. The basic story outline is straight from classic Hollywood. All of these elements slapped together might strike the viewer as a confused mishmash, but Jee-woon's chief strength is his ability to mold all of that into a delectable whole.
The lovely Shin Min-a
stars as Hee-soo,
the cause of all the trouble.
The fight choreography is brilliant and engrossing, taking exaggerated mayhem and infusing it with moments that are more organic than you might imagine. The cinematography and art direction has improved with almost every Kim Jee-woon film. The finale is evidence of that, but so is Sun-woo's first beatdown at the hands of Kang earlier in the story. After having his arse handed to him and then some, Kang questions him face to face with the rest of his group standing behind him in the rain, dressed all in black. Jee-woon and DP Kim Ji-yong ensure that locations are an important and recognizable factor. Among those elegant shots: Sun-woo being buried alive, using a narrow space to his advantage, striding down a brightly lit hallway with sharp turns, and meeting enemies in shadowy spots at paring garages. And wherever the action transpires, you can bet your bottom dollar that Sun-woo will make a heroes entrance.
Le Samourai
coolness is a key ingredient to
A Bittersweet Life
and the essence of Sun-woo.Lee Byung-hun comes off like a morose James Bond, or perhaps a calmer version of Jason Bourne as Sun-woo. He is an impeccably groomed, good-looking, and stone-faced fellow who is calculated and debonair. Lee underplays this role, never hamming it up or wallowing in stereotypes. Even though the plot progression would be impossible without Sun-woo's misstep, it is not totally expected because the character legitimately takes his job seriously. Until that happens, his dedication is never in doubt. Shin Min-a does not have an abundance of scenes to shine, but she accomplishes the vital task of making the audience understand why Sun-woo would break routine. She conveys innocence despite landing in a relationship with a shady figure like Kang. Sun-woo has affection for her, but these feelings are not spelled out. That's why Kim Jee-woon's approach is so refreshing. There are no secret love-making sessions behind Kang's back. If Sun-woo possesses any desire whatsoever, this is exchanged from a glance or fleeting eye contact instead of sappy dialogue. The supporting turns are all fairly standard. Kim Yeong-cheol and Hwang Jeong-min are serviceable as the bosses, Kang and Baek, though the latter has more fun chewing the scenery with a wicked scar on his cheek. Kim Roi-ha stands out as Mun-suk with his long hair and carefree attitude. Initially, he gets scolded by Kang prior to the central events unfolding and then later he assumes the position of right-hand man during Sun-woo's descent.
Once you delve beneath the surface constraints of a vengeance mission, i.e. mob code versus personal morality, it is evident that A Bittersweet Life was constructed with a clever, astute mind and a steady hand. The plot is as old as time, but the emotionally withdrawn character driving the substance is alluring and contemplative. Supplementing that are the Buddhist parables which bookend the film, supplying a deeper layer. Helpful stamps from approximately a dozen masterpieces can be detected in Kim Jee-woon's offering, but he remembers to include his own signature as well. He takes chances with his placement for deliberate moments of silence, using a patient build and employing a sudden, mysterious ending. What could have been mindless and potentially shallow is a stirring piece that does not necessarily rely on shocking twists, but subtlety AND style cooperating as one. Every now and again someone will condemn a picture because "we've seen the plot before." A Bittersweet Life is yet another example of why it's not the familiarity of the story that matters, it in how those frequent traits are used.
Final Rating: 9.0/10.0
—Out of Print—
The Taking of Pelham 123 (1998-TV)
The Stepfather 3
Latin Lovers
State Fair (1933)
Sleuth (1972)
Assembly
High Noon Part II: The Return of Will Kane
Ishtar
The Prehysteria! Trilogy
Only Yesterday
Ocean Waves
The Little Norse Prince
Breaking the Waves
Cruel Story of Youth
Two Rode Together
Love with the Proper Stranger
Betrayal
Willard (1971)
Ben
The Wizard of Speed and Time
Return from the River Kwai
Clarence
It Happened One Christmas
Napoleon (1927)
A Brighter Summer Day
Little Darlings
Karen Carpenter Double Feature
The Crimson Pirate
Roman Polanski's Pirates
The Mighty Thor: 1966 Cartoons
Hulk: The 1966 Cartoons
Mr. Boogedy Double Feature
Stanley Kubrick's Boxes
Shanks
7 Women
Last Summer
We Sold Our Souls for Rock 'N' Roll
Saxon – Heavy Metal Thunder: The Movie
Christopher Columbus: The Discovery
1492: Conquest of Paradise
The Decline of Western Civilization (1981)
The Decline of Western Civilization Part II: The Metal Years
The Decline of Western Civilization Part III
Execution of Justice
The Gambler
Death of a Salesman (1951)
Italianamerican & American Boy
Greed
The Godfather Saga: A Novel for Television
The Legend of Nigger Charley
The Soul of Nigger Charley
Quadrophenia – Available 8/28/12
Wuthering Heights (1939)
The Defiant Ones (1958)
Revenge of the Stepford Wives
The Stepford Children
The Stepford Husbands
The Emigrants
The New Land
—Available on Netflix, Instant Watch (But Not to Purchase)—
The Heartbreak Kid
Cinemania
Richard Burton's Hamlet
Orson Welles' Othello
The Keep
The Swimmer
Only the Lonely
The Cook The Thief His Wife & Her Lover
SubUrbia
—Available through Amazon Video on Demand Only—
Barfly
Seconds
King Solomon's Mines (1937)
—Now Available on DVD—
The African Queen
A Return to Salem's Lot – Available Through Warner Archives
Phantasm II
Red Cliff Part 1 and Part 2 – All Versions Available
The Stepfather
The Stepfather 2
Homicide
America, America
Cavalcade – Available in the 20th Century Fox 75th Anniversary box set
Ensign Pulver – Available Through Warner Archives
Children of the Corn 2: The Final Harvest
The Unholy Three – Available Through Warner Archives
The Magnificent Ambersons – Available with Citizen Kane Blu-Ray set
Salem's Lot
1-900
I'm a Cyborg, But That's Ok
Captain America – The 1979 Movies
Captain America (1990) – Available through MGM Limited Edition Collection
Wings
World on a Wire
The Portrait of a Lady – Available on Blu-Ray 11/20
Reykjavik-Rotterdam
No Holds Barred
Johnny Guitar
North – Available through the Sony Choice Collection
—Other Articles to Read—
Fathom Events: Frankenstein & The Tempest
The Artist: Analyzing Its Popularity
When Going to the Movie Theater Became Torture
The Best and Worst of 2011
The Pet Peeves of 2011
Follow @Mr_CWebb
Follow @411mania
Follow @411wrestling
Follow @411moviestv
Follow @411moviestv
Follow @411games
Follow @411mma
---
"The plural of Chad is Chad?"
–From the movie Recount
NULL