Nether Regions 09.12.12: Johnny Toothpick
September 12, 2012 | Posted by
Nether Regions started as a segment of the Big Screen Bulletin in the movie-zone that meant to showcase films that have been discontinued on DVD, are out of print in the United States, are only available in certain regions outside the United States, or are generally hard to find. Now it is a column all its own! You might ask, "Why should I care about a film I have no access to?" My goal is to keep these films relevant because some of them genuinely deserve to be recognized. Every time I review a new film I will have a list of those I covered below so you can see if they have been announced for DVD release, or are still out of print.
MISSING:
JOHNNY STECCHINO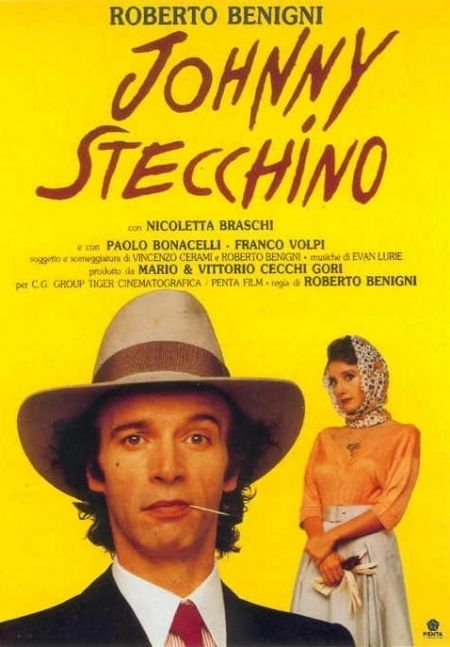 Starring: Roberto Benigni, Nicoletta Braschi, and Paolo Bonacelli
Directed By: Roberto Benigni
Written By: Roberto Benigni and Vincenzo Cerami
Original Release Date: October 9, 1992
Running Time: 102 minutes
Missing Since: September 1, 1998
Existing Formats: VHS and Various Import DVDs
Netflix Status: Not Available
Availability:Moderately Rare
I stumble upon entries to seek out and review for this column in various ways. Some of them are straightforward. I will come across a certain title of a director or actor I admire, try to find a copy and discover that it is out of print. On other occasions, I will peruse a random Top # list, one of them will catch my eye and I will search for it. Friends have recommended movies to me, while a handful are just obvious choices due to their reputations (Greed, The Magnificent Ambersons). Every now and then, the story of how I unearth a film is bizarre. One evening my wife and I were browsing in Borders (R.I.P.). I of course made a B-line for the DVD department. I was glancing through their library, trying to find something that wasn't outrageously priced, when two Italian guys came up beside me in the foreign film section. They were attempting to find something specific and said "I don't see it anywhere. It has Roberto Benigni in it." In my arrogance I interjected and said "You must be talking about Life is Beautiful. It's right here." They replied "No, no. We were looking for an Italian movie called Johnny Toothpick. It's hilarious."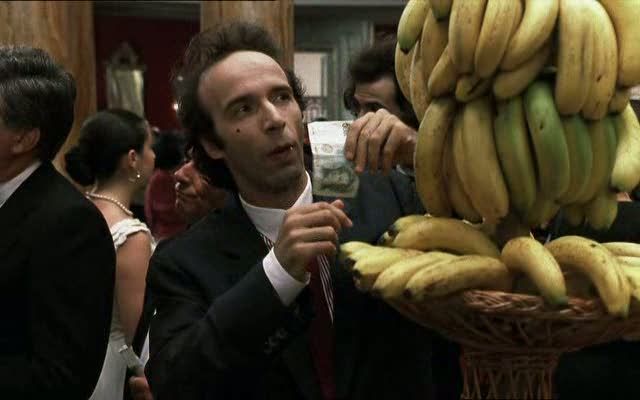 Dante about to
steal a banana.
And so here we are. After that encounter, I made it my mission to track down Johnny Toothpick or "Johnny Stecchino" as all the video covers will display. I have always laughed at Roberto Benigni. His very appearance, mannerisms, and general timing make him an ideal comic actor. If you are familiar with Benigni at all, it is likely that you have seen the aforementioned Life is Beautiful, the hysterical and poignant Oscar winning picture that was as close as Benigni has ever come to delivering a classic in the vein of his inspirations, Charlie Chaplin and Buster Keaton. He has also been in three Jim Jarmusch efforts (Down By Law, Night on Earth, & Coffee and Cigarettes) and most recently Woody Allen's To Rome with Love. While Benigni's heart is consistently in the right place, his mind tends to wander into the mediocre to epic fail category. His popularity is immense in Italy, where he is dubbed the "Clown Prince," but his resume is anything but spotless. Johnny Toothpick proves that the talent exists, but he doesn't always achieve his potential. This is an amusing and sweet film, but one that adheres to cinematic conventions.
Benigni stars as Dante, a silly bus driver for mentally challenged kids. One night after a party he helps a woman named Maria out when her car breaks down. Dante is head over heels at first sight, but she drives away quickly. As fate would have it, they run into each other once again, and soon Maria invites Dante to her home in Palermo, Sicily. Upon arrival, Maria's (Nicoletta Braschi) true scheme is revealed. Unbeknownst to Dante, Maria is married to a notorious Mafioso named Johnny Stecchino (also played by Benigni), who is on the lam and hiding out from a rival named Cozzamara (Ignazio Pappalardo). Dante bears a striking resemblance to Johnny and this will help her situation out greatly. The goal is for Dante to be seen in a public and killed by the men who are searching for Johnny. When they see Maria crying at his funeral and assume he is dead, Johnny is free to escape and travel to Argentina. Surprise, surprise, the plan does not go as smoothly as Maria and Johnny had hoped.
The back cover of the VHS copy I own describes this as "part Charlie Chaplin, part Peter Sellers." That is somewhat accurate, albeit overstating, but I definitely feel it is more of the latter. Others have referenced the Ernest P. Worrell series as an accurate comparison. Either way, this role was probably why Benigni was selected for Son of the Pink Panther two years later. As ill-fated a decision as that was, it was hardly Benigni's worst. No, that award goes to the Pinocchio disaster. Nevertheless, Johnny Stecchino utilizes the customary Benigni persona, a combination of naivety and improvisational humor. He incorporates slapstick, manic energy, and the occasional dose of screwball and quick wit into the proceedings as well. The wide range of talent he possesses should be noted; he writes and directs many of his projects as well, but for this venture he does not allocate enough time on the comedic set pieces. The premise is older than we can fathom, and that's fine, but Benigni too often relies on that worn out concept to carry the laughs and the suspense. His affable characteristics infuse the story, but the creativity is lacking. The "if it ain't broke, don't fix it" expression doesn't apply.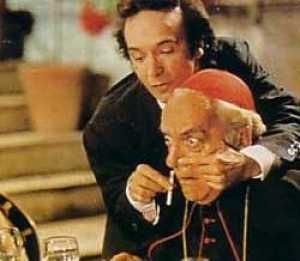 Dante showing the
Cardinal "medicine"
for diabetes.
Most of the funnier moments occur with anal-retentive mobster Johnny Stecchino, who must be concealed in the basement. As he begins conversing romantically with his wife Maria, she leans in and kisses him. This jars him back to reality and he pushes away from her disgusted. He hates kissing. He yells, "Kisses are for prissy little girls and homosexuals. I am a man!" Another has him walking in circles talking out loud about the incident that landed him in deep water. He mentions that he was aiming to kill some random goon, but in the midst of the chaotic gunfire he shot and killed his colleague Cozzamara's wife instead. He doesn't understand why Cozzamara took it so personally. "It's not like it was his mother," he explains. The Dante segments are cute and amusing, but not much more. One of the main parts involves stolen bananas. Dante has a trick to take a banana under a clerk's nose, but when he does that, Stecchino's enemies spot him, assume he is their man and open fire. Later in the police station, Dante confesses his crime of five-fingering the banana and profusely apologizes, noting that he had no clue how Sicilians reacted to fruit theft. Shortly thereafter, a Supreme Court Judge sees him on the street and questions why he is out in public after what he'd done. The Judge thinks he's Johnny; Dante thinks the Judge has already heard about the banana. This drawn out gag is passable, but Benigni returns to it later during a promising opera sequence. He recycles other jokes too, which in turn lose their spontaneity and hilarity.
Having visited various parts of Italy and Palermo, Sicily, I enjoyed the sights and was thankful Benigni filmed Johnny Stecchino without acting like a tourist. His pacing is brisk and fluid and the score is enthusiastic and jovial. His real life wife, Nicoletta Braschi is adequate as Maria. She has starred in several of the pictures Benigni has directed and her performance never changes really. She is not a phenomenal actor by any stretch, but her ingrained chemistry with Benigni allows any mediocrity to be overlooked. Had the gags and set pieces been fine-tuned and fulfilling, the offbeat resolution would have been effective. Instead, the aftertaste is flat. There is also a strange sub-plot regarding an insurance scam Dante had been playing out that never receives closure. I would not call the screenplay predictable, but the humor certainly is and Benigni never aims for a higher level of freshness for this beaten to death formula. Whether it is the strange fascination with bananas or the running cocaine drollery, I can understand why this didn't connect as passionately with American audiences and it has nothing to do with an inherent Italian style of humor. Perhaps it is true that Benigni took on one too many jobs for this production and thus the comedy was underdeveloped and unfocused, but I think he put too much stake in the "mistaken identity" approach and not enough in his own design.
I expected to love Johnny Stecchino because I was already a fan of Roberto Benigni, but maybe I set my sights too high. This was a charming, sporadically humorous film, but also a disappointing offering from someone we know can attain greatness. For those hoping to see it one day, all I can say is, who knows? I'm not this fits with Criterion, but it could happen. This is not the only movie on Benigni's canon that is hard to find in the US. As a matter of fact, every single directorial title of his is either extremely rare or totally unavailable here from his debut all the way until The Monster. Life is Beautiful was his biggest success and the first to be widely distributed here. Still, this does deserve some sort of release, if only to spread the word on a gifted comic.
Final Rating = 6.0/10.0
—Out of Print—
The Taking of Pelham 123 (1998-TV)
The Stepfather 3
Latin Lovers
State Fair (1933)
Sleuth (1972)
Assembly
High Noon Part II: The Return of Will Kane
Ishtar
The Prehysteria! Trilogy
Only Yesterday
Ocean Waves
The Little Norse Prince
Breaking the Waves
Cruel Story of Youth
Two Rode Together
Love with the Proper Stranger
Betrayal
Willard (1971)
Ben
The Wizard of Speed and Time
Return from the River Kwai
Clarence
It Happened One Christmas
Napoleon (1927)
A Brighter Summer Day
Little Darlings
Karen Carpenter Double Feature
The Crimson Pirate
Roman Polanski's Pirates
The Mighty Thor: 1966 Cartoons
Hulk: The 1966 Cartoons
Mr. Boogedy Double Feature
Stanley Kubrick's Boxes
Shanks
7 Women
Last Summer
We Sold Our Souls for Rock 'N' Roll
Saxon – Heavy Metal Thunder: The Movie
Christopher Columbus: The Discovery
1492: Conquest of Paradise
The Decline of Western Civilization (1981)
The Decline of Western Civilization Part II: The Metal Years
The Decline of Western Civilization Part III
Execution of Justice
The Gambler
Death of a Salesman (1951)
Italianamerican & American Boy
Greed
The Godfather Saga: A Novel for Television
The Legend of Nigger Charley
The Soul of Nigger Charley
Wuthering Heights (1939)
The Defiant Ones (1958)
Revenge of the Stepford Wives
The Stepford Children
The Stepford Husbands
The Emigrants
The New Land
A Bittersweet Life
—Available on Netflix, Instant Watch (But Not to Purchase)—
The Heartbreak Kid
Cinemania
Richard Burton's Hamlet
Orson Welles' Othello
The Keep
The Swimmer
Only the Lonely
The Cook The Thief His Wife & Her Lover
SubUrbia
—Available through Amazon Video on Demand Only—
Barfly
Seconds
King Solomon's Mines (1937)
—Now Available on DVD—
The African Queen
A Return to Salem's Lot – Available Through Warner Archives
Phantasm II
Red Cliff Part 1 and Part 2 – All Versions Available
The Stepfather
The Stepfather 2
Homicide
America, America
Cavalcade – Available in the 20th Century Fox 75th Anniversary box set
Ensign Pulver – Available Through Warner Archives
Children of the Corn 2: The Final Harvest
The Unholy Three – Available Through Warner Archives
The Magnificent Ambersons – Available with Citizen Kane Blu-Ray set
Salem's Lot
1-900
I'm a Cyborg, But That's Ok
Captain America – The 1979 Movies
Captain America (1990) – Available through MGM Limited Edition Collection
Wings
World on a Wire
The Portrait of a Lady – Available on Blu-Ray 11/20
Reykjavik-Rotterdam
No Holds Barred
Johnny Guitar
North – Available Through the Sony Choice Collection
Quadrophenia
—Other Articles to Read—
Fathom Events: Frankenstein & The Tempest
The Artist: Analyzing Its Popularity
When Going to the Movie Theater Became Torture
The Best and Worst of 2011
The Pet Peeves of 2011
Follow @Mr_CWebb
Follow @411mania
Follow @411wrestling
Follow @411moviestv
Follow @411moviestv
Follow @411games
Follow @411mma
---
"The plural of Chad is Chad?"
–From the movie Recount
NULL