Nether Regions 10.04.12: Chimes at Midnight (Falstaff)
October 4, 2012 | Posted by
Nether Regions started as a segment of the Big Screen Bulletin in the movie-zone that meant to showcase films that have been discontinued on DVD, are out of print in the United States, are only available in certain regions outside the United States, or are generally hard to find. Now it is a column all its own! You might ask, "Why should I care about a film I have no access to?" My goal is to keep these films relevant because some of them genuinely deserve to be recognized. Every time I review a new film I will have a list of those I covered below so you can see if they have been announced for DVD release, or are still out of print.
100th Issue Intro
Well, here we are at my 100th Nether Regions column. Who'd have thought it? I'm sure 411's upper management is wondering how it lasted this long. The fact is I could keep this going for 100 more…and then some. Whether or not that happens remains to be seen. I have a few other column ideas I'm toying with, but who knows what my future holds. This is a column that's probably better to visit once you've seen one of the films I've reviewed. This column was never destined to get the most hits on the site, but if you've checked it out, I appreciate it.
MISSING:
CHIMES AT MIDNIGHT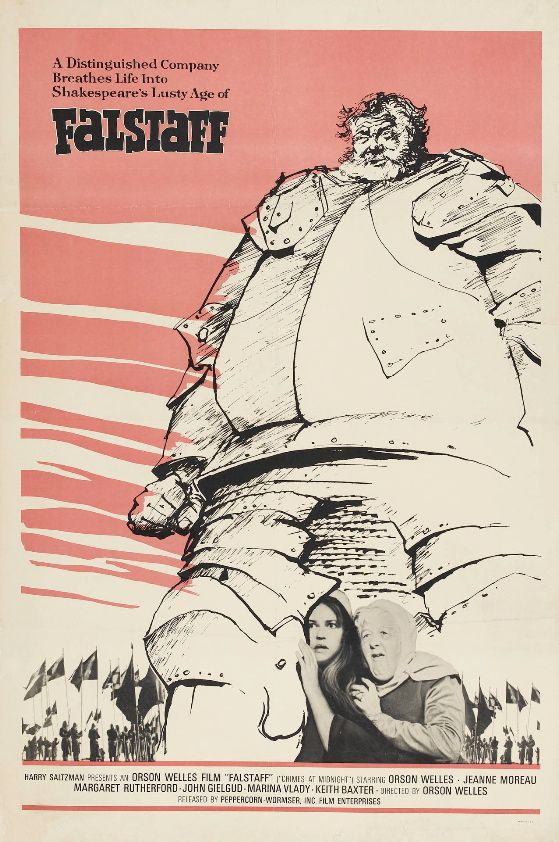 Starring: Orson Welles, John Gielgud, and Keith Baxter
Directed By: Orson Welles
Written By: Orson Welles (based on the plays of William Shakespeare)
Original Release Date: March 17, 1967
Running Time: 115 minutes
Missing Since: ?
Existing Formats: VHS and Various Import DVDs
Netflix Status: Not Available
Availability:Moderately Rare
Orson Welles' Chimes at Midnight was his 10th feature film. Filmed from September 1964 through April 1965, it did not hit US theaters until 1967. Also known as "Falstaff," Welles' screenplay combines multiple plays by William Shakespeare. Chimes at Midnight focuses predominantly on Henry IV, Part 1 and Henry IV, Part 2, but it also includes text from Richard II, Henry V, and The Merry Wives of Windsor. Like so many titles on his resume, it has a troubled production and distribution history, though admittedly far less problematic compared to The Magnificent Ambersons or Mr. Akadin. But amidst all the issues regarding funding, locations, or actor's schedules, the indisputable talent of Welles always manages to shine through. Chimes is a remarkable adaptation, even if it's not immaculate. Saturated with the famed filmmaker's trademark direction and impeccable choice of cast members, it is an inspired piece whose reputation has only improved with age.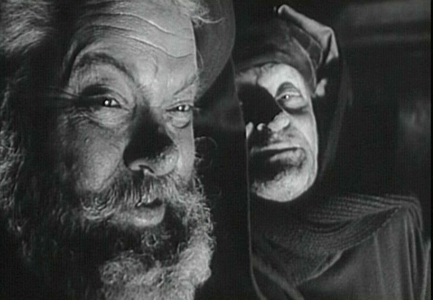 "We have heard the
chimes at midnight,
Master Shallow."
If we are to start from the very beginning, Welles' dream of translating Falstaff to the big screen begun in the late 1930's. Welles had always wanted to stage an ambitious grouping of several Shakespeare plays into one giant production. He called it Five Kings and it included the following plays: Richard II, Henry IV, Part 1, Henry IV, Part 2, Henry V, The Merry Wives of Windsor, Henry VI, Part 1, Henry VI, Part 2, Henry VI, Part 3 and Richard III. The audience must have packed for a weekend after purchasing those tickets. As a side note, the combination of Henry IV, Part 1, Henry IV, Part 2, and Henry V is often referred to as Henriad. Welles' Five Kings ended up only being partially staged. It would have been 5 and a half hours long, 46 scenes! Woo-ahh! Unfortunately, it was rehearsed infrequently because Welles would rather go out drinking and having fun with co-stars, specifically Burgess Meredith, who was starring as Prince Hal. Welles also implemented a revolving set of some sort and eventually cut 14 scenes to make it shorter. The premiere of Five Kings Part 1 was a disaster with missed cues, set malfunctions, and so on. The plan at first was for the show to travel to different cities. Well, when it landed in D.C. Welles had cut it further to 3 and a half hours, but that theater could not accommodate the revolving set, so it was scrapped after a few performances. Welles would return to the project in 1960 under a different stage director in Dublin, Belfast, and London, but those suffered from poor attendance and funding dilemmas, not to mention the fact that Welles was lured away to other jobs.
That brings us to 1964 when Welles befriended Spanish film producer Emiliano Piedra, who wanted to collaborate with him. Piedra felt that a Shakespeare adaptation was not marketable enough, so he opted to tackle a version of Treasure Island. Welles agreed to this on the condition that he be able to make Chimes at Midnight and Treasure Island. Piedra had no idea that Welles had no intentions of making Treasure Island. In fact, ever the trickster, Welles made sure the costumes and sets could pose for Treasure Island scenes and the actors were officially cast in both films, thus when Piedra visited, he wouldn't know the difference. Ultimately Chimes would go forward, but John Gielgud and Jeanne Moreau had only a handful of days between them to shoot, so certain sequences had to be done immediately. And then Welles ran out of money, so filming was delayed until Harry Saltzman opened his wallet. Oddly, Welles kept all of his scenes for the last possible minute because he apparently had stage fright. He was also nervous about shooting a love scene with Moreau and used a double whenever he could. According to the actors, Welles was incredibly cruel to the crew, whereas he was the opposite to the cast. Basically the whole soundtrack, including the dialogue, was post-dubbed months after filming. And numerous actors were dubbed over by someone else. Chimes is exceptional in many ways, but the poor audio quality is an enormous detriment whose effects are known from start to finish.
The tale commences with Sir John Falstaff (Orson Welles) and Justice Shallow (Alan Webb) entering the Boar's Head Tavern from the bitter cold outside. They reminisce on the past as the opening credits hit and the narrator (Ralph Richardson) explains that King Richard II has been assassinated by Henry IV (John Gielgud), making him the King of England. Richard II's true heir is Edmund Mortimer, who is a prisoner in Wales. His cousins, led by Henry "Hotspur" Percy, demand his rescue, but Henry IV dismisses this. As they concoct a plot to overthrow the King, Henry IV himself is upset that his own son, Prince Hal (Keith Baxter), spends all of his time drinking and leading an irresponsible life under the immense size and decadence of Falstaff along with criminals and other shady people. With the King's health is in question and war looming, Hal realizes that he will not have the luxury of leading this reckless, carefree life forever. He warns Falstaff that some day their relationship might not be the same. As that period draws closer, Hal must choose between his two father figures and decide how he wants to embrace his future.
Prince Hal at
the bedside of his
dying father.
Welles stated that Falstaff was "the most difficult part I've ever played." I'm not sure that sentiment is conveyed on screen, but Falstaff is without a doubt another exemplary performance from Welles. In this case his skills as a writer and director were more impressive, but having said that, I can scarcely think of another person better suited and prepared to portray the obese Falstaff then or now. Welles' Falstaff is an intriguing interpretation on the traditional, faithful manner of tackling Shakespeare characters. His approach to Falstaff was that of a tragic figure, but one who was amusing as well. Sir John is a thief, a liar, and a drunk, yet also a lovable oaf and fun buddy to toss back a cold one with; all of which Welles captures brilliantly. Welles obviously wants the viewer to sympathize with Falstaff leading up to that heartbreaking exchange at the end and this novel perspective is appreciated. A little twist on the Bard never hurt. Chimes is bursting with life when Welles is on screen. One of the trends with observing Welles is that the level of richness, aplomb, and overall quality he affords is a step above the rest. Now this streak might not be unbroken throughout his career, but more often than not he controls the spotlight, purposely or otherwise, especially as Falstaff.
Do not let my praise for Welles insinuate that the rest of the cast is weak by comparison. Quite the contrary. John Gielgud is second to Welles in terms of scene-stealing moments as Henry IV. As King he is stern and at times callous, but not totally uncaring. You can sense his shame for Prince Hal's behavior. His speech as he gazes out the window, contemplating his impending death, is very moving, but one expected nothing less from a Shakespearean pro such as Gielgud. Keith Baxter is competent, appropriately stirring, and convincing as Prince Hal, but one wonders if a superior thespian could have filled those shoes. Anthony Perkins asked Welles if he could have the role, but it was already guaranteed to Baxter. Perkins had finished Psycho in 1960 and The Trial with Welles in 1962, but it was not to be. Baxter does manage the transitions and abrupt mood changes of Prince Hal with dignity and ease. Initially Prince Hal comes across a bit obscurely, as if Welles' aim is cloudy on who the concentration is on: Falstaff, Hal, or their friendship. This does become clearer and with that, Baxter's turn improves as Hal's destiny awaits. The surprise of the lot was Norman Rodway as Hotspur. Rodway possessed more energy and gusto than any other member of the pack. He has laid out his mission and is set on retrieving his vengeance, consequences be damned! Rodway's appearance and enthusiasm evoked memories of Kenneth Branagh, who wouldn't emerge until decades later, but similarities do exist between the two (and Branagh listed Chimes as a main influence). Hotspur's showdown with Hal is one of the many sequences that should be iconic from Chimes. The entire supporting cast is excellent, though Jeanne Moreau pretty much just plays a crazy prostitute, but Margaret Rutherford is sensational as the hostess of the Boar's Head Tavern, Mistress Quickly.
A claim made by Welles is that the funding quandary could have been alleviated sooner had he accepted the alleged numerous offers to film Chimes at Midnight in color. An enhanced budget would only have helped Welles, but I'd take the underfunded, black & white version over a hokey colorized take any day of the week. Few will deny that Chimes wasn't superlatively made, but Welles and director of photography Edmond Richard did not experiment with his customary methods either. The low angle camera shot and deep focus cinematography are prevalent, yet as common a signature as they were from Welles, the scenes still radiate sophistication, elegance, and beauty. The Battle of Shrewsbury has been lauded as one of the greatest, most impactful battle sequences of all-time, and I won't disagree. Considering what supplies Welles had at his disposal, it is amazing. A six-minute segment took 10 days to shoot and six weeks to edit. Only 180 extras were available, but it seems like two full armies of thousands. This is one of Welles finest attributes as a filmmaker. He can manipulate the substance, even if he has little on hand to draw from, and exhibit the vast, epic characteristics of the project. Chimes was not a fast shoot, but to the untrained eye it is a fluid, constantly moving production. Welles accentuates the pageantry of the circumstances and swirling emotions of the players with such assurance. He is a master of establishing location, perhaps not time necessarily, but informing the audience of how large the Kingdom is, how relevant the situation is, and the urgency within the characters hearts.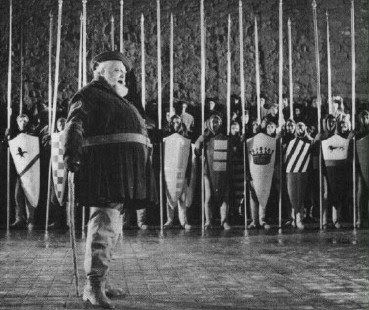 Falstaff greeting
the new King.
I did not find it shocking that Chimes at Midnight received generally negative reviews upon its release and only in recent decades has it garnered the reputation as one of Welles' best offerings. Roger Ebert sang its praises from the get-go, but many did not. The reason for this surrounds the audio, which is a catastrophe. The post-dubbing of the cast would drive nitpicky viewers crazy, and even for those who are more patient than others, it looks horrible. The lucidity of the dialogue is dismal. It was impossible to understand the lines at various junctures as anyone on screen could be too quiet, patchy, fuzzy, or just completely indecipherable. A portion of that fault lies with the transfer, which is mediocre at best. The DVDs on Amazon are region 0 (all regions), which means they were likely copied from the VHS, itself of poor quality. However, taking the funding into account, the blame primarily rests with Welles. Some factors were his choice and others were out of his hands, but still, this flaw has prevented Chimes at Midnight from being universally recognized as the masterwork that Jonathan Rosenbaum and Peter Bogdanovich say it is. Another aspect is that Chimes is an amalgamation of Shakespeare that also recycles William's dialect. If you are familiar with each of these plays, understanding Welles' mishmash might be simple, but to those that aren't, following the action and grasping the dialogue is no easy task. Admittedly, I am not an expert on the plays used here, thus a handful of exchanges were baffling. The point of this is, Chimes at Midnight is better adored over time, which is why its legacy has grown gradually. A second or third viewing and everything will make more sense.
The imperfections notwithstanding, Orson Welles honors Shakespeare while also altering a detail or two and putting his own spin on a bunch of stories. Just that by itself has maintained the freshness of Chimes at Midnight. Having always loved adaptations of Shakespeare, I am also quite demanding of them and it is from those reviews that any of my purist tendencies come out. Branagh's Henry V and Hamlet are in my mind, the best to date. I am not solely a literal-minded Shakespeare critic, but it is difficult for filmmakers (past or present) to be both faithful and inventive without leaning too hard on one side or the other. Crucial passages could be left out, the sets could be barebones, or the modernization of the play could just be ridiculous. The top tier efforts locate the groove that encapsulates the best of both worlds. Despite the language complications, Orson Welles finds that notch with Chimes at Midnight in a way that surpasses his Othello. Sadly the rights of Chimes are still being contested to this day. This will happen when money is borrowed from many people and promises kept to even more. You will not see this on Netflix anytime soon, but I do recommend picking up the DVD. After all, it might be the only pathway you can take to see it.
I leave you with a memorable quote from Chimes at Midnight, one which will no doubt be uttered to me one day by some writer at 411mania: "I know thee not old man."
Final Rating = 9.0/10.0
—Out of Print—
The Taking of Pelham 123 (1998-TV)
The Stepfather 3
Latin Lovers
State Fair (1933)
Sleuth (1972)
Assembly
High Noon Part II: The Return of Will Kane
Ishtar
The Prehysteria! Trilogy
Only Yesterday
Ocean Waves
The Little Norse Prince
Breaking the Waves
Cruel Story of Youth
Two Rode Together
Love with the Proper Stranger
Betrayal
Willard (1971)
Ben
The Wizard of Speed and Time
Return from the River Kwai
Clarence
It Happened One Christmas
Napoleon (1927)
A Brighter Summer Day
Little Darlings
Karen Carpenter Double Feature
The Crimson Pirate
Roman Polanski's Pirates
The Mighty Thor: 1966 Cartoons
Hulk: The 1966 Cartoons
Mr. Boogedy Double Feature
Stanley Kubrick's Boxes
Shanks
7 Women
Last Summer
We Sold Our Souls for Rock 'N' Roll
Saxon – Heavy Metal Thunder: The Movie
Christopher Columbus: The Discovery
1492: Conquest of Paradise
The Decline of Western Civilization (1981)
The Decline of Western Civilization Part II: The Metal Years
The Decline of Western Civilization Part III
Execution of Justice
The Gambler
Death of a Salesman (1951)
Italianamerican & American Boy
Greed
The Godfather Saga: A Novel for Television
The Legend of Nigger Charley
The Soul of Nigger Charley
Wuthering Heights (1939)
The Defiant Ones (1958)
Revenge of the Stepford Wives
The Stepford Children
The Stepford Husbands
The Emigrants
The New Land
A Bittersweet Life
Johnny Stecchino
—Available on Netflix, Instant Watch (But Not to Purchase)—
The Heartbreak Kid
Cinemania
Richard Burton's Hamlet
Orson Welles' Othello
The Keep
The Swimmer
Only the Lonely
The Cook The Thief His Wife & Her Lover
SubUrbia
—Available through Amazon Video on Demand Only—
Barfly
Seconds
King Solomon's Mines (1937)
—Now Available on DVD—
The African Queen
A Return to Salem's Lot – Available Through Warner Archives
Phantasm II
Red Cliff Part 1 and Part 2 – All Versions Available
The Stepfather
The Stepfather 2
Homicide
America, America
Cavalcade – Available in the 20th Century Fox 75th Anniversary box set
Ensign Pulver – Available Through Warner Archives
Children of the Corn 2: The Final Harvest
The Unholy Three – Available Through Warner Archives
The Magnificent Ambersons – Available with Citizen Kane Blu-Ray set
Salem's Lot
1-900
I'm a Cyborg, But That's Ok
Captain America – The 1979 Movies
Captain America (1990) – Available through MGM Limited Edition Collection
Wings
World on a Wire
The Portrait of a Lady – Available on Blu-Ray 11/20
Reykjavik-Rotterdam
No Holds Barred
Johnny Guitar
North – Available Through the Sony Choice Collection
Quadrophenia
—Other Articles to Read—
Fathom Events: Frankenstein & The Tempest
The Artist: Analyzing Its Popularity
When Going to the Movie Theater Became Torture
The Best and Worst of 2011
The Pet Peeves of 2011
Follow @Mr_CWebb
Follow @411mania
Follow @411wrestling
Follow @411moviestv
Follow @411moviestv
Follow @411games
Follow @411mma
---
"The plural of Chad is Chad?"
–From the movie Recount

NULL