Nether Regions 10.05.10: Betrayal
October 5, 2010 | Posted by
Nether Regions started as a segment of the Big Screen Bulletin that meant to showcase films that have been discontinued on DVD, are out of print in the United States, are only available in certain regions outside the United States, or are generally hard to find. Now it is a column all its own! You might ask "Why should I care about a film I have no access to?" My goal is to keep these films relevant because some of them genuinely deserve to be recognized. Every time I review a new film I will have a list of those I covered below so you can see if they have been announced for DVD release, or are still out of print.
MISSING:
BETRAYAL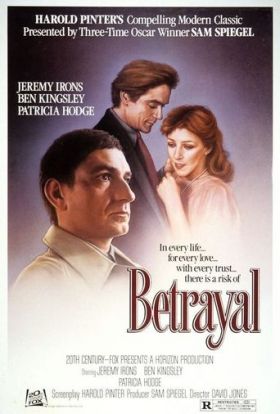 Starring: Jeremy Irons, Ben Kingsley, and Patricia Hodge
Directed By: David Hugh Jones
Written By: Harold Pinter (based on his play)
Running Time: 95 minutes
Release Date: February 19, 1983
Missing Since: Judging by the overly huge old school case, the 80's
Existing Formats: VHS
Netflix Status: Not Available
Availability: One of the Rarest
Reverse chronology stories are nothing new. The concept has been used in literature, theater, film, comics, and television since the 1930's. Yet whenever the technique is employed it raises heads and is almost always intriguing. Christopher Nolan's Memento is probably the most famous example, but other titles like Peppermint Candy, Irreversible, and The Sweet Hereafter used it as well to varying results. Betrayal, based on the play by Harold Pinter, is an earlier reverse chronology experience. The film, directed by David Hugh Jones, is incredibly faithful to the source and in truth, that's all it needs to be as Pinter's words and approach unravel the secrets between three people.
Ben Kingsley has
un-Gandhi like
hair as Robert.
The events in Betrayal occur over a period of 9 years and begins with an argument between Emma and her husband Robert. The following day Emma has lunch with Jerry, the "close friend" of Robert's with whom she had carried on an affair for 7 years. It is now 2 years after their break up and she has informed Jerry that her marriage is ending. She explains to him that she and Robert were up all night talking, and when Jerry becomes worried that she told of their relationship, she admits that she confessed it the previous night. The rest of the film travels back in time from that point at 1 and 2 year jumps. With Betrayal, one can either divulge everything or as little as possible. I have elected to go the latter route because my manner of describing the interactions might not do them justice. I will say that various acts of betrayal are committed during the 9 years.
Nothing is heard during the initial fight between Emma and Robert, but the audience acts as a voyeur through the window. Body language reveals enough information, and it is precisely that which is so important in Betrayal. As an observer, we are aware of every agenda, so even though the plot does possess jaw-dropping twists, paying attention to dialogue, expressions, and even the slightest mannerisms brings its rewards in this hypnotizing study of lies and deceit. Pinter and Jones focus on how different the participants view the adultery from when it starts, to its climax, and to its inevitable end. Betrayal is about our memories and regrets, and the reverse storytelling process enhances the gradually shifting emotions and the irony of it all as we sit back knowing almost the entire story.
I became associated with Harold Pinter's play through reviews of The French Lieutenant's Woman, which Pinter also wrote. In one random article was a comment about Betrayal and the fact that it used the reverse chronology technique 17 years before Memento. I decided to go out and pick up a copy of the play, and I loved it. Once I learned a movie existed and that it was exceedingly rare, I did my best investigative work to track it down. The only way to see this is by forking over the cash, and lots of it I might add since copies of the VHS tape are very old and becoming scarce.
Jeremy Irons and Patricia Hodge
embrace as
Jerry and Emma.
The plot centers on Emma, but the film belongs to Jeremy Irons and Ben Kingsley, how they communicate, what they're hiding from one another, and how the situation alters their friendship slowly but surely. Irons operates Jerry with firm but caring subtlety through each leap in years. The first sequence, after the affair, shows him as awkward, aloof, and edgy, next when the affair is on the verge of ending he is more frantic and upset, and during the affair he is blissful and carefree, or so he thinks anyway. The climactic moment where Jerry unburdens his passion for Emma is as forceful as a speeding train. It's a cinematic exchange with profound and sophisticated use of words as he gazes deeply into her eyes, but it leaves a wallop.
Ben Kingsley's Robert is harder to measure because he radiates the impression of a man who bottles up his emotions. They seem to explode during the beginning "silent" fight with Emma, but proof of the way he suppresses his pain can be heard when he describes walking alone in Venice. Robert reacts to Emma and Jerry during various scenes as if he is always one step ahead of them. He's playing a game with them too, and despite the anguish of knowing what they're concealing, he presents himself as icy and intelligent. Kinglsey's memorable close-ups where his eyes grow wider with a piercing stare are unnerving, especially since we know what he knows, while Jerry and Emma are often times guessing or tiptoeing around his words.
Patricia Hodge might not strike everyone's fancy as Emma, but then again, this is not about how stunning Emma is. The message lies in the title. We need only believe that Jerry is head over heels for her. Helen Mirren was originally cast as Emma, but producer Sam Spiegel deemed her butt to be too big for the part. Now we must spend the whole movie wondering if Mirren's derriere would have distracted us. Emma's control over Jerry as the ordeal rewinds is fascinating. Even 2 years after their relationship has dissolved, she still aims to manipulate him and re-fuel her aplomb from his jealousy. To grasp Emma one must learn to read between the lines.
A rare alternate
movie poster.
Does Jerry whole-heartedly long for Emma, or is it just a passing fulfillment of spontaneity? Is Robert fragile and broken, or simply furious with rage? And does Emma love one of these men, both, or neither? Betrayal does not answer these questions straight on, but we can't know every nook and cranny. The viewer knows the secrets, but not all the real emotions beneath the façade of the characters. That is not as easy to penetrate. The composed and reticent affectations of Robert, Jerry, and Emma is where Betrayal captures inherent human nature. Perhaps the aforementioned questions can be answered, but perhaps this trio is a blend of what they ask. Only they truly know, or do they? Remember that they are moving forward without fully comprehending their own mental states, whereas we judge them according to what will transpire in their futures.
Betrayal features a respectable score from Dominic Muldowney, whose music only darts in for the year-to-year transitions. It is a deft combination of British period piece and film noir sounds. David Jones and cinematographer Mike Fash have constructed a stagy picture, sticking to single rooms and shots. This is not a flaw because Betrayal can't and does not necessitate an expansive universe. Putting a face to Jerry's wife Judith or the enigmatic writer that Jerry discovered might lead to disappointment and would threaten to damage the dynamic between our subdued threesome.
Harold Pinter wrote Betrayal about the extramarital affair he took part in for 7 years with television presenter Joan Bakewell, who was married to producer-director Michael Bakewell, while Pinter was married to actress Vivien Merchant. It would later inspire the Seinfeld episode called "The Betrayal." Pinter designed his story so that we observe the events from this backward perspective. Memento employed reverse chronology as just a device, which is fine, but Pinter aims for an examination of an ordinary affair from the end to the beginning. The arrangement makes artificiality impossible. If any contrivances existed, they would be obvious and transparent. He forces us to be aware of the deceptions, vulnerabilities, and consequences of the cheating right away, acknowledging why it was a mistake, and how it started as a fleeting crush.
Final Rating = 9.0/10.0
Archives
—Out of Print—
The Heartbreak Kid
The Taking of Pelham 123 (1998-TV)
The Stepfather 3
Latin Lovers
State Fair (1933)
Sleuth (1972)
Assembly
Ishtar
The Prehysteria! Trilogy
Only Yesterday
Ocean Waves
The Little Norse Prince
Breaking the Waves
Cruel Story of Youth
Two Rode Together
Love with the Proper Stranger
Betrayal
Willard (1971)
Ben
The Wizard of Speed and Time
Return from the River Kwai
Clarence
It Happened One Christmas
Napoleon (1927)
A Brighter Summer Day
Little Darlings
Karen Carpenter Double Feature
Barfly
King Solomon's Mines (1937)
Roman Polanski's Pirates
The Mighty Thor: 1966 Cartoons
Hulk: The 1966 Cartoons
Mr. Boogedy Double Feature
Stanley Kubrick's Boxes
The Swimmer
Shanks
7 Women
Last Summer
We Sold Our Souls for Rock 'N' Roll
Saxon – Heavy Metal Thunder: The Movie
Christopher Columbus: The Discovery
1492: Conquest of Paradise
The Decline of Western Civilization (1981)
The Decline of Western Civilization Part II: The Metal Years
The Decline of Western Civilization Part III
Execution of Justice
Death of a Salesman (1951)
Italianamerican & American Boy
Greed
The Godfather Saga: A Novel for Television
The Legend of Nigger Charley
The Soul of Nigger Charley
The Defiant Ones (1958)
Revenge of the Stepford Wives
The Stepford Children
The Stepford Husbands
The Emigrants
A Bittersweet Life
Johnny Stecchino
Chimes at Midnight (Falstaff)
The Terrorizers
Rabbit Test
Twice Upon a Time
Human Highway
A City of Sadness
The Star Wars Holiday Special
—Available on Netflix, Instant Watch (But Not to Purchase)—
Cinemania
Richard Burton's Hamlet
Orson Welles' Othello
The Keep
Only the Lonely
The Cook The Thief His Wife & Her Lover
—Available through Amazon Video on Demand Only—
The Gambler
The Crimson Pirate
The New Land
SubUrbia
—Now Available on DVD—
The African Queen
A Return to Salem's Lot – Available Through Warner Archives
Phantasm II
Red Cliff Part 1 and Part 2 – All Versions Available
The Stepfather
The Stepfather 2
Homicide
America, America
Cavalcade – Available in the 20th Century Fox 75th Anniversary box set
Ensign Pulver – Available Through Warner Archives
Children of the Corn 2: The Final Harvest
The Unholy Three – Available Through Warner Archives
The Magnificent Ambersons – Available with Citizen Kane Blu-Ray set
Salem's Lot
1-900
I'm a Cyborg, But That's Ok
Captain America – The 1979 Movies
Captain America (1990) – Available through MGM Limited Edition Collection
Wings
World on a Wire
The Portrait of a Lady
Reykjavik-Rotterdam
No Holds Barred
Johnny Guitar
North – Available Through the Sony Choice Collection
Quadrophenia
High Noon Part II: The Return of Will Kane
Seconds
Wuthering Heights (1939)
Follow @Mr_CWebb
Follow @411mania
Follow @411wrestling
Follow @411moviestv
Follow @411moviestv
Follow @411games
Follow @411mma
---
"The plural of Chad is Chad?"
–From the movie Recount
NULL