Nether Regions 10.11.11 – Christopher Columbus: The Discovery
October 11, 2011 | Posted by
Nether Regions started as a segment of the Big Screen Bulletin in the movie-zone that meant to showcase films that have been discontinued on DVD, are out of print in the United States, are only available in certain regions outside the United States, or are generally hard to find. Now it is a column all its own! You might ask, "Why should I care about a film I have no access to?" My goal is to keep these films relevant because some of them genuinely deserve to be recognized. Every time I review a new film I will have a list of those I covered below so you can see if they have been announced for DVD release, or are still out of print.
MISSING:
CHRISTOPHER COLUMBUS: THE DISCOVERY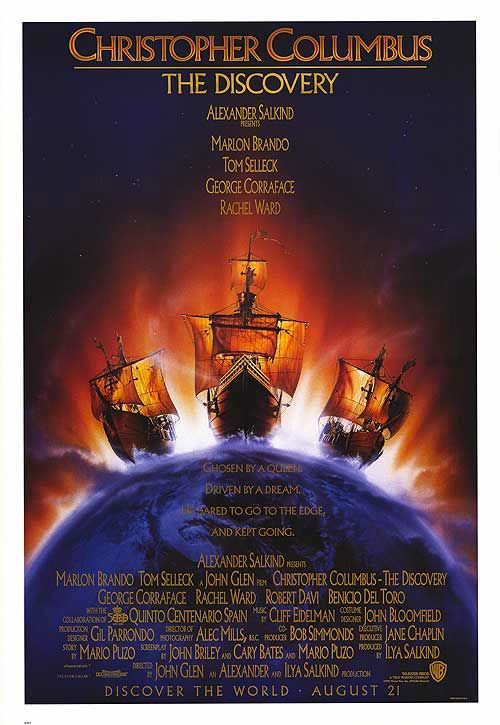 Starring: Georges Corraface, Marlon Brando, and Tom Selleck
Directed By: John Glen
Running Time: 121 minutes
Original Release Date: August 21, 1992
Missing Since: July 7, 1994
Existing Formats: VHS
Netflix Status: Not Available
Availability: Moderately Rare
Columbus Day kind of snuck up on me, but I've been waiting for this time to write about the two out of print films that focused on the legendary voyage of Christopher Columbus. Columbus was also thought to have been born between August and October, so this struck me as the proper time to tackle them. Of course we all remember that "in 1492 Columbus sailed the ocean blue," and in 1992 Hollywood celebrated the 500th anniversary of his first voyage by making a pair of competing films. Originally, Alexander Salkind wanted Ridley Scott to stand at the helm for Christopher Columbus: The Discovery at Warner Bros. But Scott rejected the offer and launched work on his own film at Paramount. This ticked the Salkinds off to no end, and they even tried to sue Scott for stealing their idea, but it was discovered that the producers of 1492: Conquest of Paradise proposed the project before the Salkinds, so they were forced to deal with it.
Columbus finally
reaches land. Yay.
Nonetheless, both films hit theaters in 1992, but The Discovery landed first…and bombed first. 1492: Conquest in Paradise will be covered next week. It was a wise decision to separate them because I needed some time to recover after The Discovery, a clear example of failed biopic if their ever was one. Critics sunk their fangs into The Discovery without hesitation for its horrendous casting, laughable acting, not to mention the poor direction of John Glen and one of the shoddiest jobs of editing these eyes have seen in quite awhile. Here is a telling of one of history's most famous figures, and his great accomplishment, and it is about as exciting and gripping as the pod race in Star Wars Episode I. Having visited Genoa, Italy, the birthplace of Columbus, I viewed this movie as a history buff who has never been less interested in the importance of 1492.
The 120 minute excursion begins with Columbus (Georges Corraface), referred to properly as Cristobal Colon, getting into a sword fight, because if anything needs to proven, it's how handy the explorer is with a blade. Columbus the mapmaker and navigator is attempting to obtain funding so that he can sail to the Indies, according to this film to find higher quantities of gold, silk, and other fine luxuries. Obviously the goal is a western route to the Orient, but The Discovery makes Columbus out to be a fashionista. Columbus presented his plans to King John of Portugal, but was denied. It goes without saying that at this time, the ideas Columbus was announcing about the world being shaped as a sphere and so forth were not universally agreed upon. In The Discovery, we know Columbus' views were not popular because the villagers point and snicker like school children. Eventually, after endless lobbying to King Ferdinand (Tom Selleck) and Queen Isabella (Rachel Ward) of Spain, they grant him the three ships (Nina, Pinta, Santa Maria), ragtag crew members, and funds needed to complete the quest in order to defeat rival countries with regard to the spice trade. And so Columbus sails onward, but a spy from Portugal has been sent to assassinate him, and it is not long before the crew grows weary of the endless sailing without any sight of land. I will refrain from elaborating further. After all, some may not know what happens.
The cast is comprised of a truly bizarre group of individuals. Many of them were the 2nd or 3rd choices for the roles. Timothy Dalton was initially selected to portray Columbus, but walked away three days prior to the start of production. He was replaced at the last minute by Georges Corraface, who struts around in cheap period garb like a Columbus aching to be on the cover of 15th century GQ. He has the shiny dark hair combed back and a pompously big smile as he exudes confidence in every frame. He would be right at home with Errol Flynn in the dashingly adventurous department. Corraface is silly and ridiculous, playing Columbus as more of an action hero than an explorer. Columbus' struggle is never profoundly examined, and Corraface's only mode is to puff out his chest and act bold and self-assured. He does have a funny segment where he is depressed, showcasing scraggly beard. There are excessively long scenes where Columbus frolics with his woman of choice, Beatriz, depicted with grating ditzy exuberance by Catherine Zeta-Jones. At the time I'm writing this, I have just now realized that Corraface is the same person to play Cuervo Jones in Escape from L.A.. Wow.
Tom Selleck is King Ferdinand II, looking and sounding very un-Magnum P.I.-ish, sans stache in favor of ugly five 'o clock shadow. Mark this down as one of the worst portrayals of a King. Selleck's primary responsibility is to walk in giant strides and look intimidating. Rachel Ward's Queen Isabella has most of the screen time with Columbus before his voyage. There is an underlying romance that Glen seems to hinting at, but it amounts to nothing. Isabella appears to see "something" in Columbus no one else does, and it is she who approves his mission much to the chagrin of her husband. Ward stepped in for Isabella Rosselini, who also backed out at right before production commenced. Marlon Brando shows up as Grand Inquisitor Tomas de Torquemada, who does not support Columbus' theories or plan. Brando tries to hunker down in his mammoth black robes so no one recognizes him and speaks his lines with as little effort as humanly possible. Granted, Brando's fraction of oomph is normally better than the best afforded by many, but at this stage of his career, Brando was notorious for "phoning in" his performances. This is one of his weakest. He received top billing and $5 million for a part than is a smidgen more than a cameo. After all that, he requested his name be taken off the film even before it was released. He was allegedly upset that The Discovery did not accurately display Columbus' complicity in the genocide of Native Americans. Elsewhere you can see Robert Davi as the Captain of the Pinta. Davi is fun in certain movies (The Goonies, License to Kill), but as a Spanish ship captain in 1492…umm no. A young Benicio del Toro assumes the "pesky villain" role on the ship as he turns on Columbus almost immediately after they set sail.
John Glen directed all the 1980's James Bond installments, widely considered to be worst decade of the long-running franchise. He foolishly tries to bring an action-geared atmosphere to what should be a historical epic. What we're left with a chronicling of Columbus' journey in the guise of a swashbuckler. Glen integrates a sword fight, on-deck scuffle, or other violent encounter every chance he can. It's as if he is trying to make Mutiny on the Bounty, since he is obviously disinterested with Columbus's character, his flaws, or pretty much anything he achieved. John Briley, Cary Bates, and Mario Puzo delivered the paper-thin screenplay, which lacks coherency and passion. Puzo collaborated with the Salkinds on the first two Superman films, Briley wrote Gandhi, and Bates was a writer on the TV series Superboy. The script is an amalgamation of those three titles. Think about that. The editing in the beginning, which details how Columbus gets permission, is so botched and poorly translated that I was actually confused, which says a lot since I, like so many, learned about this in grade school. Cliff Eidelman's score is too overbearing and sweeping for Glen's confined filmmaking style, and is out of place as a result.
The Chief's daughter:
a bare-breasted welcome
for all.
Christopher Columbus: The Discovery is a severely misguided effort. To make matters worse, Glen inserts shark attack sequences for no reason whatsoever. When Columbus finally does reach the New World, the camera is set permanently on the exceptional chest of the Indian Chief's daughter. Columbus' interaction with Native Americans is fleeting, as if they were a nuisance. On a side note, a brief shot of a rat departing the boat for the water and subsequently land is the only indication of the disease Columbus brought with him. Glen's Columbus can overcome all odds, and do it for the glory of Christendom. That is what the Queen desired, more converts. God might as well receive top billing with Corraface since his sharp wind changes and St. Elmo's fire guides Columbus to his destiny. This is certainly at the bottom of the historical epic/biopic pile. The acting is wooden from everyone, John Glen's direction has no firm methodology, and the audience learns absolutely nothing. Columbus got the funds, he sailed, he reached land, he returned to Spain. That's about it. Oh you can toss in a whiny and pedantic crew in there somewhere.
My favorite scene occurs before Columbus' three ships leave the docks. To build a crew, he enters a bar and demonstrates a trick with an egg. He challenges anyone to make the egg stand on a table. No one does, until Columbus forces it down until the bottom cracks and sits comfortably, proving the impossible can happen I guess. I know, that's really reaching for a "best scene," but there isn't much to choose from. I doubt Scott's offering is much worse than this. Thankfully I purchased the VHS for $1 when Hollywood Video was going out of business. It is doubtful that Christopher Columbus: The Discovery will ever see a DVD release, but it does belong to Warner Bros. as far as I know, so conceivably this could be a Warner Archive DVD-R in the future. No one would bow to their price tag though.
Final Rating = 2.5/10.0
Fun Trivia – Tom Selleck won a Razzie for Worst Supporting actor, and the film was bludgeoned with five other nominations, including: including; Worst Picture, Worst Supporting Actor – Marlon Brando, Worst New Star – Georges Corraface, Worst Screenplay – Mario Puzo and Worst Director – John Glen.
Archives
—Out of Print—
The Heartbreak Kid
The Taking of Pelham 123 (1998-TV)
The Stepfather 3
Latin Lovers
State Fair (1933)
Sleuth (1972)
Assembly
Ishtar
The Prehysteria! Trilogy
Only Yesterday
Ocean Waves
The Little Norse Prince
Breaking the Waves
Cruel Story of Youth
Two Rode Together
Love with the Proper Stranger
Betrayal
Willard (1971)
Ben
The Wizard of Speed and Time
Return from the River Kwai
Clarence
It Happened One Christmas
Napoleon (1927)
A Brighter Summer Day
Little Darlings
Karen Carpenter Double Feature
Barfly
King Solomon's Mines (1937)
Roman Polanski's Pirates
The Mighty Thor: 1966 Cartoons
Hulk: The 1966 Cartoons
Mr. Boogedy Double Feature
Stanley Kubrick's Boxes
The Swimmer
Shanks
7 Women
Last Summer
We Sold Our Souls for Rock 'N' Roll
Saxon – Heavy Metal Thunder: The Movie
Christopher Columbus: The Discovery
1492: Conquest of Paradise
The Decline of Western Civilization (1981)
The Decline of Western Civilization Part II: The Metal Years
The Decline of Western Civilization Part III
Execution of Justice
Death of a Salesman (1951)
Italianamerican & American Boy
Greed
The Godfather Saga: A Novel for Television
The Legend of Nigger Charley
The Soul of Nigger Charley
The Defiant Ones (1958)
Revenge of the Stepford Wives
The Stepford Children
The Stepford Husbands
The Emigrants
A Bittersweet Life
Johnny Stecchino
Chimes at Midnight (Falstaff)
The Terrorizers
Rabbit Test
Twice Upon a Time
Human Highway
A City of Sadness
The Star Wars Holiday Special
—Available on Netflix, Instant Watch (But Not to Purchase)—
Cinemania
Richard Burton's Hamlet
Orson Welles' Othello
The Keep
Only the Lonely
The Cook The Thief His Wife & Her Lover
—Available through Amazon Video on Demand Only—
The Gambler
The Crimson Pirate
The New Land
SubUrbia
—Now Available on DVD—
The African Queen
A Return to Salem's Lot – Available Through Warner Archives
Phantasm II
Red Cliff Part 1 and Part 2 – All Versions Available
The Stepfather
The Stepfather 2
Homicide
America, America
Cavalcade – Available in the 20th Century Fox 75th Anniversary box set
Ensign Pulver – Available Through Warner Archives
Children of the Corn 2: The Final Harvest
The Unholy Three – Available Through Warner Archives
The Magnificent Ambersons – Available with Citizen Kane Blu-Ray set
Salem's Lot
1-900
I'm a Cyborg, But That's Ok
Captain America – The 1979 Movies
Captain America (1990) – Available through MGM Limited Edition Collection
Wings
World on a Wire
The Portrait of a Lady
Reykjavik-Rotterdam
No Holds Barred
Johnny Guitar
North – Available Through the Sony Choice Collection
Quadrophenia
High Noon Part II: The Return of Will Kane
Seconds
Wuthering Heights (1939)
Follow @Mr_CWebb
Follow @411mania
Follow @411wrestling
Follow @411moviestv
Follow @411moviestv
Follow @411games
Follow @411mma
---
"The plural of Chad is Chad?"
–From the movie Recount
NULL