Nether Regions 10.18.11: 1492-Conquest of Paradise
October 18, 2011 | Posted by
Nether Regions started as a segment of the Big Screen Bulletin in the movie-zone that meant to showcase films that have been discontinued on DVD, are out of print in the United States, are only available in certain regions outside the United States, or are generally hard to find. Now it is a column all its own! You might ask, "Why should I care about a film I have no access to?" My goal is to keep these films relevant because some of them genuinely deserve to be recognized. Every time I review a new film I will have a list of those I covered below so you can see if they have been announced for DVD release, or are still out of print.
MISSING:
1492: CONQUEST OF PARADISE

Starring: Gerard Depardieu, Armand Assante, and Sigourney Weaver
Directed By: Ridley Scott
Written By: Roselyne Bosch
Running Time: 154 minutes
Original Release Date: October 9, 1992
Missing Since: January 1st, 1998
Existing Formats: VHS
Netflix Status: Not Available
Availability: Moderately Rare
Compared to a disaster like Christopher Columbus: The Discovery, one would assume critics might hail Ridley Scott's epic 1492: Conquest of Paradise as a masterwork when it hit theaters a few months later. That was not the case by a long shot. It received mixed reviews and flopped hard at the box office, debuting at #7. The problem could be the man himself. Everyone knows who Columbus is, but would they pay to see his story translated to the big screen? The public wanted nothing to do with the action-geared John Glen flick, and even less to do with Scott's offering. At least Conquest of Paradise had a clear-cut identity. This was a historical epic about a historical figure. Period. Another issue could have been the lack of a bankable star, or the running time, since the audience grows impatient when the two-hour mark passes. Whatever the reason, Columbus was not the box office champion Hollywood had hoped for.
Columbus encounters
Native Americans for
the first time.
Though far from spotless, 1492: Conquest of Paradise is a satisfactory excursion. The locations are picturesque and vivid, the camera movements intelligent and immersive, and the acting more profound and absorbing. But what Conquest illustrates is how difficult it is to make a biopic, especially when focusing on someone as noteworthy as Christopher Columbus. In cases such as this, it is virtually impossible to please everyone. It could be too long, too boring, or not historically accurate enough for some. Nevertheless, this film does not deserve to be buried as it has. At the very least it has warranted a regular DVD release.
This account of the events begins with a voice over from Columbus' son, who would go on to write a biography on his father. Soon that inevitable scene where Columbus (Gerard Depardieu) explains that the world is round is shown. This version is better than The Discovery, and he proves his point by watching a ship sail out to sea and disappear. The story then moves to Salamanca University, where Columbus needed the blessing and funds from the King of Portugal. The proposal was rejected, and behind his back Columbus was called a mercenary and a heretic. It ends up being Martin Alonso Pinzon (Tcheky Karyo) that helps Columbus to present his plans for Queen Isabella of Spain. He lies about how long it will take to sail across the sea, but after some disagreement on the terms and rewards, the Queen grants his request and he's sets sail with the Nina, Pinta, and Santa Maria. Of course he's searching for a western route to Asia, gold, and spices, but he is also spreading the word of God. Where Conquest differs is that instead of ending on Columbus finding the New World, it goes on and covers his other voyages, his shaky relationship with Spain, his tenure as Viceroy, and ultimately his recount of everything to his youngest son.
The early 1990's was the peak of Gerard Depardieu's popularity in the U.S. Having established himself as a star in Europe through the 80's, Depardieu received an Oscar nomination for Cyrano de Bergerac in 1990, and would appear in other films that were marketed heavily such as Green Card and My Father the Hero. But Christopher Columbus was/is easily his biggest role, and should have cemented the talented actor as a superb leading man. While certainly a recognizable name, Depardieu's best performances are found in films and shows not enough people have seen. As Columbus, Depardieu can be simultaneously disheveled and sophisticated, both necessary qualities for an explorer battling the odds, but he's also innocently ambitious, pompous, and delicate. What makes Depardieu so remarkable is the power and intensity he conveys from his face. The first steps he takes on land marks a truly special moment that is not only beautifully filmed, but believable. And his subtle heartbreak when he learns of Amerigo Vespucci hitting the mainland first, and eventually taking credit for what he would put in motion, is reminiscent of his brilliantly concentrated turn as Edmond Dantes in The Count of Monte Cristo.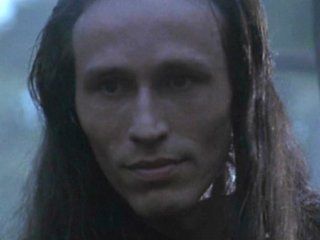 Michael Wincott:
Definition of Evil.
The supporting cast is mostly first-rate, even if the accents are a mixed bag. Ridley Scott always wanted Sigourney Weaver for Queen Isabella, but scheduling conflicts almost resulted in her getting replaced by Angelica Houston. Her fondness for Columbus is given more weight here, and though it would be silly to expand that sub-plot, the intended message is understandable unlike in The Discovery. Much levity exists in their relationship, which helps Weaver's acting because she is wobbly during the serious confrontations. Armand Assante is excellent as Sanchez, the banker who consistently has the Queen's ear after she meets with Columbus. Angela Molina is Beatrix, Columbus' main-squeeze, and thankfully the romance is cut down to a few crucial exchanges between loving and concerned companions. Fernando Rey, Frank Langella, and Kevin Dunn also emerge in fitting parts, as does Michael Wincott, a name and scratchy voice synonymous with villainy.
I was not bothered by the running time in Conquest of Paradise. As a matter of fact, I felt the bookends involving the son were wise and fulfilling. I suppose the initial discovery of San Salvador could have been allocated more time, but isn't that the section of Columbus' achievements we all know like the back of our hand? His walking onto the beach is a significant scene, complete with pounding score and slow-motion steps in the splashing salt-water, but what happened afterwards is where the debate lies. It should serve as no surprise that Scott's vision is not 100% historically accurate. This tends to be aggravating for purists, but my opinion on this issue is that if you desire a completely factual telling, go rent a documentary. Columbus has numerous I'm sure. To a degree, historical accuracy is important, but only if changing it damages the story or the flow. Similar to book adaptations, the key ingredient is capturing the spirit of the events and the person, not abiding by an encyclopedia. It is ridiculous to expect every sequence in a Hollywood film to pan out precisely as it did in real life, especially since many details on Columbus continue to elude historians. This is a two and a half hour film, so apart from common knowledge material I would not set my standards overly high.
I have observed over the past few years, via conversations, tweets, and Facebook posts, that the attitude towards Columbus, and having a day to celebrate his accomplishments, has shifted a bit. More often now, I hear comments about his complicity with the harsh treatment and genocide of the Native Americans. I know teachers who dislike educating the students about a man they feel should not be honored. In Conquest of Paradise, Columbus is exhibited as a freethinking idealist, an enlightened individual who approached the Indians as equals. This happy view does not last long over the course of his subsequent voyages and settlements, and Scott's angle and temperament of Columbus becomes increasingly vague. If I had to guess, I would wager that Columbus was more concurrent with the cruelty to the Taino people than Conquest lets on, but the fact is, we do not know. Concrete evidence about Columbus' stance during this period is not available and everything I have read suggests that there are a lot of unanswered questions.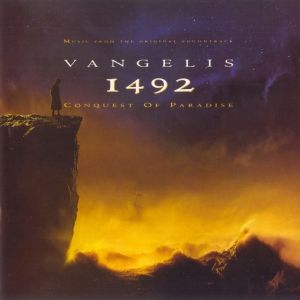 The cover for the
popular soundtrack.
Scott's visual prowess as a director was well-known by this point, and it is the sumptuous locations of Costa Rica (where this was shot), along with the glorious production design, art direction, and costumes that afford Conquest its dignity and exquisiteness. The lighting is purposely dim in some scenes so as to be appropriate for this age. The diligent work from the crew exudes the aura of the 15th century with class and distinction. The Spanish Inquisition is displayed as a dangerous, turbulent, and depressing era, adding more depth to the proceedings and giving the audience a better idea of what kind of world Columbus lived and prospered in. The action in Conquest unfolds naturally, and is not forced or too dramatically exaggerated. Scott's other notable strength is suspenseful and engaging battle sequences, which arrive late in the picture, but are saturated with a Last of the Mohicans vibe (also released in 1992). The score from Vangelis has developed a reputation of its own at this point, going on to be certified gold or platinum on over 20 countries. The musical compositions are indications of what to feel and when, but only as a historical epic could pull off, not annoyingly manipulative. Vangelis' album has been featured in sporting events, election campaigns, and much more. The hit single can be heard below.
The consequences of tackling a person like Columbus, whose motivations and inspirations are somewhat fuzzy, is that the filmmaker either has to confidently assume a side (hero/villain?) or attempt to find some comfortable middle ground. Roselyne Bosch's screenplay was adeptly researched, steadily paced, and possessed sharp dialogue, but by the conclusion, we're still not sure what she or Ridley Scott thinks of Columbus. It's a double-edged sword sometimes. 1492: Conquest of Paradise is a competently crafted epic, one I would watch again, but is too sanitized to be regarded as a classic. Had Scott strived for controversy, even a morsel, this might be a respected portion of his career, but since this was independently financed, and grossed around $7 million on a $47 million budget, he would not make another film for another four years. This struck me as one of those films you would watch in high-school, intriguing and well-acted, but extremely neutral. Not the brightest moment of his career, but not the worst either.
Final Rating = 7.0/10.0
-Note that the title in the trailer below is "Columbus," which was the original selection.
Archives
—Out of Print—
The Heartbreak Kid
The Taking of Pelham 123 (1998-TV)
The Stepfather 3
Latin Lovers
State Fair (1933)
Sleuth (1972)
Assembly
Ishtar
The Prehysteria! Trilogy
Only Yesterday
Ocean Waves
The Little Norse Prince
Breaking the Waves
Cruel Story of Youth
Two Rode Together
Love with the Proper Stranger
Betrayal
Willard (1971)
Ben
The Wizard of Speed and Time
Return from the River Kwai
Clarence
It Happened One Christmas
Napoleon (1927)
A Brighter Summer Day
Little Darlings
Karen Carpenter Double Feature
Barfly
King Solomon's Mines (1937)
Roman Polanski's Pirates
The Mighty Thor: 1966 Cartoons
Hulk: The 1966 Cartoons
Mr. Boogedy Double Feature
Stanley Kubrick's Boxes
The Swimmer
Shanks
7 Women
Last Summer
We Sold Our Souls for Rock 'N' Roll
Saxon – Heavy Metal Thunder: The Movie
Christopher Columbus: The Discovery
1492: Conquest of Paradise
The Decline of Western Civilization (1981)
The Decline of Western Civilization Part II: The Metal Years
The Decline of Western Civilization Part III
Execution of Justice
Death of a Salesman (1951)
Italianamerican & American Boy
Greed
The Godfather Saga: A Novel for Television
The Legend of Nigger Charley
The Soul of Nigger Charley
The Defiant Ones (1958)
Revenge of the Stepford Wives
The Stepford Children
The Stepford Husbands
The Emigrants
A Bittersweet Life
Johnny Stecchino
Chimes at Midnight (Falstaff)
The Terrorizers
Rabbit Test
Twice Upon a Time
Human Highway
A City of Sadness
The Star Wars Holiday Special
—Available on Netflix, Instant Watch (But Not to Purchase)—
Cinemania
Richard Burton's Hamlet
Orson Welles' Othello
The Keep
Only the Lonely
The Cook The Thief His Wife & Her Lover
—Available through Amazon Video on Demand Only—
The Gambler
The Crimson Pirate
The New Land
SubUrbia
—Now Available on DVD—
The African Queen
A Return to Salem's Lot – Available Through Warner Archives
Phantasm II
Red Cliff Part 1 and Part 2 – All Versions Available
The Stepfather
The Stepfather 2
Homicide
America, America
Cavalcade – Available in the 20th Century Fox 75th Anniversary box set
Ensign Pulver – Available Through Warner Archives
Children of the Corn 2: The Final Harvest
The Unholy Three – Available Through Warner Archives
The Magnificent Ambersons – Available with Citizen Kane Blu-Ray set
Salem's Lot
1-900
I'm a Cyborg, But That's Ok
Captain America – The 1979 Movies
Captain America (1990) – Available through MGM Limited Edition Collection
Wings
World on a Wire
The Portrait of a Lady
Reykjavik-Rotterdam
No Holds Barred
Johnny Guitar
North – Available Through the Sony Choice Collection
Quadrophenia
High Noon Part II: The Return of Will Kane
Seconds
Wuthering Heights (1939)
Follow @Mr_CWebb
Follow @411mania
Follow @411wrestling
Follow @411moviestv
Follow @411moviestv
Follow @411games
Follow @411mma
---
"The plural of Chad is Chad?"
–From the movie Recount
NULL