Nether Regions 10.24.12: The Terrorizers
October 24, 2012 | Posted by
Nether Regions started as a segment of the Big Screen Bulletin in the movie-zone that meant to showcase films that have been discontinued on DVD, are out of print in the United States, are only available in certain regions outside the United States, or are generally hard to find. Now it is a column all its own! You might ask, "Why should I care about a film I have no access to?" My goal is to keep these films relevant because some of them genuinely deserve to be recognized. Every time I review a new film I will have a list of those I covered below so you can see if they have been announced for DVD release, or are still out of print.
MISSING:
THE TERRORIZERS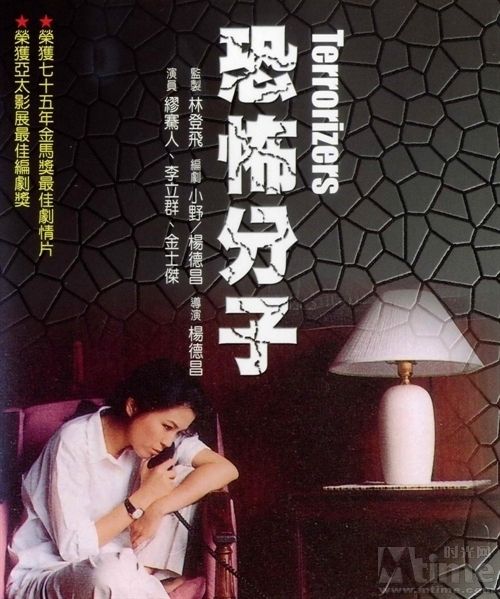 Starring: Miao Cora, Lee Li Chun, and Jin Shi-Jye
Directed By: Edward Yang
Written By: Edward Yang and Hsiao Yeh
Original Release Date: 1986 (Taiwan)
Running Time: 109 minutes
Missing Since: Forever
Existing Formats: Not Available on Anything
Netflix Status: Not Available
Availability: Rarest of the Rare
The Terrorizers was released in Taiwan in 1986 and hit the Toronto Film Festival in 1987. It would be over two decades before the film saw the light of day in a US theater, but even then it was an extremely limited engagement. Exactly one theater in New York City held a retrospective of director Edward Yang's efforts, but if you missed those few showtimes, you were out of luck. Perhaps The Terrorizers and other Yang titles will resurface again one day, but as it stands now, every single project he completed is near impossible to find (especially in America) except for Yi Yi, which is on Criterion. The Terrorizers is one of two Yang films that survive via weak bootlegs. I previously reviewed his epic A Brighter Summer Day for Nether Regions and in that article I wrote about Yang's philosophy selling films for money and how that has affected their availability: "One of his favorite themes was the relationship between business and art, and he believed that greed tends to corrupt art. He also stood firm on the grounds that selling films for money was not his primary purpose as a filmmaker. For those reasons, many of the titles in his canon are extremely difficult to find. While I understand his position and respect it, I don't see how preventing the world from experiencing these achievements is smart."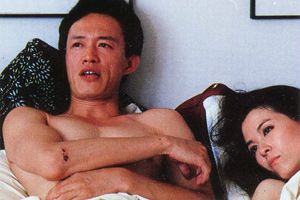 Youfeng doing the
nasty with an ex-bf.
Though you will not find it to be classified as one, The Terrorizers is certainly an earlier example of a hyperlink film, or a portmanteau as some might call it. This means you observe several separate storylines and characters, whose connections are slowly revealed to the audience, whether it be through obvious or delicate ways. This category dates back to the 60's and 70's, but up until the late 90's only a handful existed. But it is interesting to know that Edward Yang experimented with the approach and as The Terrorizers proves, he was successful. I wonder if he was capable of making a bad film. Even amidst a poor transfer such as this, his greatness shines. And when I say "poor transfer," I mean precisely that. The picture quality is mediocre at best, but that can be dealt with. On top of that however, the subtitles are an absolute nightmare. The font is white, which is always dangerous. In The Terrorizers, everyone wears predominantly white clothing, but they also talk in rooms with white walls, on beds with white sheets, and use props such as white or cream colored tables. This resulted in certain conversations being unknown to me or choppy as one word or two would be cut off depending on how the subtitle font blended in with the surroundings. And like my copy of A Brighter Summer Day, the subtitles fly by at a rapid pace. Nevertheless, I was able to grasp and admire the beauty, subtlety, and intensity of The Terrorizers even if I could not analyze every nuance.
The plot focuses on three couples and their unstable relationships. First we have the young male photographer who is obsessed with his hobby. He begins following a delinquent Eurasian girl (Wang An) after snapping a picture of her fleeing the scene of a shootout from police with a male gang accomplice. He deserts his family and his girlfriend to spy on her. That same female criminal soon partners up with a male boyfriend to commit a series of scams on random people. What does not help her situation is that her mother lays down the law firmly whenever she misbehaves, even keeping her at home. The third couple is doctor Li Lizhong (Lee Li Chun) and his wife Zhu Youfeng (Cora Miao), an author. He is eagerly waiting for a promotion at work in light of his superior's death, while she is struggling to finish her novel due to her marriage and role as a housewife. In addition, a reunion with old flame Xiao Shen (Jin Shi-jye) threatens to send her world into a tailspin as an affair commences. Set in the city of Taipei, these three interweaving threads convey modern life in the city and how one's expectations and reality can be totally different.
Yang introduces The Terrorizers with an intriguing sort of fake out as a cops and robbers shootout unravels with suspense and tension. Ultimately this serves as the sole action sequence of what is really a drama. One could argue that the opening is a red herring, but the tone and pace of the picture is pretty consistent from beginning to end. Of course, assuming that's true, the chases and bullets through the eyes of Edward Yang are not of the John Woo variety. This scuffle between the police and the lawbreakers they're pursuing is more calm and quiet than you might imagine. As a matter of fact, every scene Yang constructs, be it a wife acting unfaithfully or a casual conversation is handled with a poetic naturalness, a tranquil aggression. His style emphasizes an unforced momentum that few filmmakers can equal. Other than what is heard from regular everyday means, there is no musical soundtrack to The Terrorizers. That would defeat the purpose of this exercise; to capture an unfettered glimpse of urban ennui and volatile, disconnected relationships. His goal is to exhibit the abjection and precariousness, the unbalanced lifestyles of modern culture. A composed score in this instance might falsely manipulate the emotions of the audience, but honestly, it's not needed here. Yang is a patient, careful, sophisticated craftsman who can get us to truly feel without music, simply by his guidance of the cast and placement of the camera (along with Tsan Chang's superb cinematography).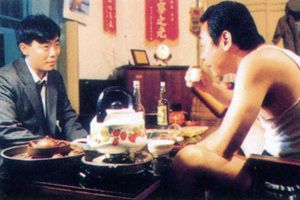 Lizhong lying to
his cop friend.
The performances of the cast are comparable to those in a piece by Robert Altman, who made this breed of film famous. He would often just let the camera run on the actors so they became immersed deeper into the personalities of their characters, thus obtaining loads of footage. Wang An, Lee Li Chun, Jin Shi-jye, and all the rest inhabit each part as if they've been residing in that skin for years. In order to communicate, silently or not, the desperation of these individuals, they must appear comfortable in these respective existences, even weary of them to a degree. Take Li Chun's conniving, oblivious Lizhong who frames a co-worker and friend for a better position and dismisses the woes of his wife's writer's block because it's "not a life or death" scenario. His mannerisms, reactions, and doings come across as ingrained, as if this husband has been treating his wife as inferior for decades. And to see him finally confronted by her in an exceptionally stirring and grounded monologue only heightens our fascination with these people. Wang An portrays a troubled young adult in a fairly straightforward manner, accentuating the mischievous, despondent, and/or annoyed expressions on her face depending on what is happening to her at that moment, being scolded, messing up someone else's life, or damaging her own. The shy, yet watchful photographer, who comes from a wealthy family, is played as someone who doesn't know when to stop digging. His infatuation with his subject drives him forward, but is he addicted to her, the activity, or both?
We are not meant to be sympathetic to the characters in The Terrorizers. In fact it is somewhat the opposite. Yang does not want us to completely identify with his players, merely to watch them, or at most understand their values, choices, and mistakes. He tends to keep moviegoers at a distance, preferring us to be voyeuristic or act as a fly on the wall. That is not to say scenes are absent of intimacy. Many are indeed, but in others we are observing from afar. The director disorients us without making us feel uneasy. Our perspectives shift from time to time, but our enthrallment to the circumstances does not. As with many great filmmakers, Yang recycles his favorite themes (alienation, relationship turmoil), yet maintains a freshness and urgency that is undeniably powerful. Like Yi Yi, we get the sense that we are watching three stories about the same central dilemma, but the fact that this is set in Taiwan is of no consequence. The reason it is a crime that Yang's offerings are so rare is that his messages and underlying statements about society are universal and timeless. Very few aspects of The Terrorizers are spelled out with maximum clarity. Questions are raised and not all are answered, but it is left up to us to uncover and absorb this compelling achievement. Edward Yang is recognized as one of the pioneers of Taiwanese New Wave, but he is also compared to Michelangelo Antonioni. Yes, there are palpable similarities, specifically the photographer sub-plot here which recalls 1966's Blow Up. That being said, in all the years I have been watching and writing about cinema, Edward Yang lies in a class all his own.
The ending has been much talked about over the years, but the only detail I can reveal without going overboard with spoilers is that there are two endings. These days, multiple conclusions, varying ideas of closure, and so forth are not nearly as surprising or inventive. Yang's is not trying to aggravate his audience though. In actuality, he is saying something. The Terrorizers is a profound, unusual, thought-provoking, and affecting examination of city life, the apathy, the desires, and our interconnectedness. I feel like this ending would be increasingly noteworthy if The Terrorizers was easily accessible to fans and those curious about this influential director. I sincerely hope that Criterion or someone changes the fate of Yang's canon because a better transfer is needed to fully appreciate them. After doing some research, it seems that an edition of this movie with standard picture, sound, and subtitles might still be floating around in Asia. Good luck tracking it down. Until then, check out the clip below:
Final Rating = 9.0/10.0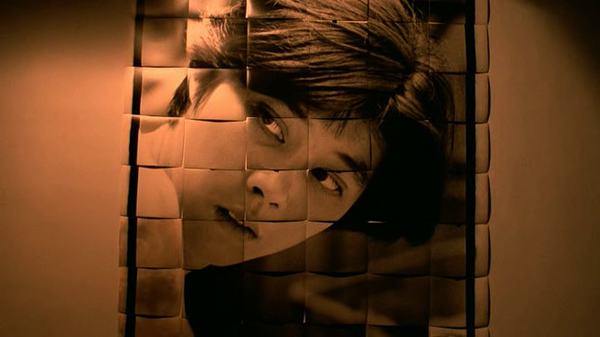 —Out of Print—
The Taking of Pelham 123 (1998-TV)
The Stepfather 3
Latin Lovers
State Fair (1933)
Sleuth (1972)
Assembly
High Noon Part II: The Return of Will Kane
Ishtar
The Prehysteria! Trilogy
Only Yesterday
Ocean Waves
The Little Norse Prince
Breaking the Waves
Cruel Story of Youth
Two Rode Together
Love with the Proper Stranger
Betrayal
Willard (1971)
Ben
The Wizard of Speed and Time
Return from the River Kwai
Clarence
It Happened One Christmas
Napoleon (1927)
A Brighter Summer Day
Little Darlings
Karen Carpenter Double Feature
The Crimson Pirate
Roman Polanski's Pirates
The Mighty Thor: 1966 Cartoons
Hulk: The 1966 Cartoons
Mr. Boogedy Double Feature
Stanley Kubrick's Boxes
Shanks
7 Women
Last Summer
We Sold Our Souls for Rock 'N' Roll
Saxon – Heavy Metal Thunder: The Movie
Christopher Columbus: The Discovery
1492: Conquest of Paradise
The Decline of Western Civilization (1981)
The Decline of Western Civilization Part II: The Metal Years
The Decline of Western Civilization Part III
Execution of Justice
The Gambler
Death of a Salesman (1951)
Italianamerican & American Boy
Greed
The Godfather Saga: A Novel for Television
The Legend of Nigger Charley
The Soul of Nigger Charley
Wuthering Heights (1939)
The Defiant Ones (1958)
Revenge of the Stepford Wives
The Stepford Children
The Stepford Husbands
The Emigrants
The New Land
A Bittersweet Life
Johnny Stecchino
Chimes at Midnight (Falstaff)
—Available on Netflix, Instant Watch (But Not to Purchase)—
The Heartbreak Kid
Cinemania
Richard Burton's Hamlet
Orson Welles' Othello
The Keep
The Swimmer
Only the Lonely
The Cook The Thief His Wife & Her Lover
SubUrbia
—Available through Amazon Video on Demand Only—
Barfly
Seconds
King Solomon's Mines (1937)
—Now Available on DVD—
The African Queen
A Return to Salem's Lot – Available Through Warner Archives
Phantasm II
Red Cliff Part 1 and Part 2 – All Versions Available
The Stepfather
The Stepfather 2
Homicide
America, America
Cavalcade – Available in the 20th Century Fox 75th Anniversary box set
Ensign Pulver – Available Through Warner Archives
Children of the Corn 2: The Final Harvest
The Unholy Three – Available Through Warner Archives
The Magnificent Ambersons – Available with Citizen Kane Blu-Ray set
Salem's Lot
1-900
I'm a Cyborg, But That's Ok
Captain America – The 1979 Movies
Captain America (1990) – Available through MGM Limited Edition Collection
Wings
World on a Wire
The Portrait of a Lady – Available on Blu-Ray 11/20
Reykjavik-Rotterdam
No Holds Barred
Johnny Guitar
North – Available Through the Sony Choice Collection
Quadrophenia
—Other Articles to Read—
Fathom Events: Frankenstein & The Tempest
The Artist: Analyzing Its Popularity
When Going to the Movie Theater Became Torture
The Best and Worst of 2011
The Pet Peeves of 2011
Follow @Mr_CWebb
Follow @411mania
Follow @411wrestling
Follow @411moviestv
Follow @411moviestv
Follow @411games
Follow @411mma
---
"The plural of Chad is Chad?"
–From the movie Recount

NULL