Nether Regions 11.21.12: Twice Upon a Time
November 21, 2012 | Posted by
Nether Regions started as a segment of the Big Screen Bulletin in the movie-zone that meant to showcase films that have been discontinued on DVD, are out of print in the United States, are only available in certain regions outside the United States, or are generally hard to find. Now it is a column all its own! You might ask, "Why should I care about a film I have no access to?" My goal is to keep these films relevant because some of them genuinely deserve to be recognized. Every time I review a new film I will have a list of those I covered below so you can see if they have been announced for DVD release, or are still out of print.
MISSING:
TWICE UPON A TIME

Featuring the Voices Of: Lorenzo Music, Judith Kahan, and Marshall Efron
Directed By: John Korty and Charles Swenson
Written By: Bill Couturie, Suella Kennedy, John Korty, & Charles Swenson
Original Release Date: April 9, 1978
Running Time: 75 minutes
Missing Since: August 5, 1983
Existing Formats: VHS
Netflix Status: Not Available
Availability: Rarest of the Rare
Twice Upon a Time was released in 1983 with George Lucas named as Producer for the first time in his career. It is a bizarre, acid-trip of a movie, yet enormously entertaining and hilarious all the same. Wikipedia lists it as one of the most important films in the history of stop-motion animation. How true that is I don't know, but this ballsy anomaly does drum its own unique beat, that's for sure. Like numerous titles highlighted in this column, it has acquired a cult following. With luck somebody will grab this off the shelf and wipe the dust clean in the near future so Twice Upon a Time can reach a new generation.
The story takes place in the city of Din, populated by regular people the characters refer to as Rushers. These folks lead a fast-paced lifestyle and stop only for rest. Din resides between two worlds that bring dreams to the Rushers. Frivoli is a happy place where Greensleeves (Voice of Hamilton Camp) and his Figmen drop some sort of dust that gives people sweet dreams. The other is Murkworks, a dark factory led by Synonamess Botch (Voice of Marshall Efron) and his vultures responsible for dropping nightmares. He hatches a scheme to kidnap Greensleeves and the Figs, but Greensleeves manages to send out a letter to Frivoli requesting help. Meanwhile, Ralph (Voice of Lorenzo Music), the All-Purpose Animal, (because he can shapeshift) and his silent friend Mumford are punished for their incompetence at work. They are sent to a garbage dump. It is there they meet Flora Fauna (Voice of Julie Payne), the niece of Greensleeves, who has found his letter and wants assistance finding him. Botch overhears this and approaches the trio pretending to be Greensleeves' pal. He says that in order to save Greensleeves, they need to take the main spring from the Cosmic Clock. This will actually allow Botch to stop time and employ permanent nightmares forever. So Ralph and Mumford are sent out to Din, determined to prove themselves.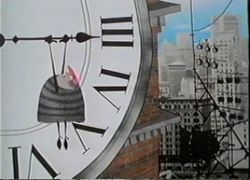 This nightmare features
a nod to Harold Lloyd's
Safety Last!
That might sound convoluted, but trust me when I say it's engrossing and endlessly clever. Admittedly, it might take a second viewing or two to fully absorb the characters, their motivations, the various plot threads and the labyrinthine universe, but the movie is witty and inventive enough that you won't mind revisiting. The form of animation utilized is called "Lumage," in which cut-outs of plastic and fabric are illuminated by a light table. They even combine this with live-action stills, hence the "Rushers" of Din in 50's black-and-white. The visuals are colorful, distinct, and eye-catching, similar to Terry Gilliam's Monty Python effects or Yellow Submarine. I would cite South Park's style as a comparison as well, but as good as that series can be, Twice Upon a Time unleashes astonishingly vivid and often gorgeous sequences. Take the moment where Ralph and Mumford get caught by a nightmare bomb in an office building. The dingy, creepy images exhibit all the supplies and utensils attacking them, pencil sharpeners shooting bullets, scissors chopping at them, and so on.
The voice acting is basically flawless. Leading the charge is Lorenzo Music, who was famous as the voice of Garfield. I grew up with Music as Garfield and as Peter Venkman on The Real Ghostbusters, so I was delighted when I heard that same low-toned speech as Ralph, the All-Purpose Animal. Ralph tends to have trouble morphing into whatever he feels like, but his regular state is a cross between a dog and a bear. Ralph's sidekick Mumford never utters a word. He keeps trying magic tricks as the adventure escalates and comes off as a half Charlie Chaplin, half Penn & Teller. Marshall Efron is hysterical as Botch, the evil villain we even see bathe. He also gives a tour of his home and show off his collection of lava lamps, salami, stretched cat furs, and the underside of movie seats. Someone must have been high when thinking of this material. Julie Payne and Judith Kahan are fabulous as Flora Fauna and the Fairy Godmother, each notable accent aiding the memorable personas. The Fairy Godmother has a priceless line: "Call me FGM; I hate excess verbiage." James Cranna voices multiple characters, Scuzbopper and Rod Rescueman being the central ones. Rod Rescueman might be in my Top 10 favorite animated characters. He is a professional hero who can fly and saves damsels in distress basically for the reward of their affection. After helping Flora Fauna, he tries to woo her by giving her a tour of his apartment. Every piece of furniture is also exercise equipment.
The history behind this production and its subsequent rare status is a bit complicated. It was distributed by The Ladd Company, which was on the verge of bankruptcy as they were preparing to release this. They were forced to choose between a wide release or a limited one and opted for the latter. The result was Twice Upon a Time failing at the box office. The same scenario unfolded for the company's The Right Stuff. They ended up shutting down. Warner Bros. presumably has control of it now.
The Fairy Godmother tries to
get Rod Rescueman
to save her.
Now onto the war of editing. The version I first saw, and the one that is more readily available, is the cut co-director John Korty approved. There were an unknown number of cuts, but Korty's was rated PG. Korty did not like many of the lines from the original script, but voice actor Marshall Efron thought his dialogue was great so he emphasized the raunchier aspects of his character. Producer and co-screenwriter Bill Couturie included many of the adult lines (such as profanity) unbeknownst to Korty. Opening night arrived and Korty noticed lines he did not agree to. Years later, HBO aired the movie, but it was the Bill Couturie version. Korty discovered this and immediately contacted HBO, threatening legal action. Couturie's cut was broadcast 3 times until HBO was given Korty's edited one. Unfortunately for HBO, they then received complaints of "censored" movies being shown on their channel. Ultimately, they decided never to air it again. Eventually Showtime got the rights to air it, but only Korty's edition. In 1991, Twice Upon a Time was finally released on VHS and laserdisc, but again, it was Korty's.
Copies of the Bill Couturie, HBO cut are floating around (as you can see below), but you never know when they'll get pulled off the internet. Having seen both, I can say with a certainty that the uncut, adult version is superior. Korty makes unsophisticated, noticeable changes. A few sequences are simply left out, making several transitions awkward and jarring. Amazingly, the alluring strangeness and charm are present even in the butchered cut. It was available on Amazon's video on demand service for a brief time, but quickly taken down. Warner Home Video has not given any updates recently as to whether or not this will ever see the light of day on DVD, but since Korty has gotten his way on all the recent video releases, who knows what version will survive if that day ever comes. In an interview from 2007, writer Taylor Jessup, who has done more research on Twice Upon a Time than anyone, discussed many different scenes that did not make it into either final cut. Jessup also describes the dated 80's soundtrack (cheesy, but spectacular) as the small, but crucial factor that might be preventing a DVD release. Though, with the steady rise of Warner Archive, those qualities and the risk of what revenue the picture would generate don't seem like a huge issue anymore.
I do think the adult language adds some edge and gusto to the film, but both cuts warrant a release. Both versions are excellent, but it's just funnier to hear Botch yell "So come on, you garlic breathing, garbage sucking dipshits. Move out! I'm not talking tomorrow! Haul ass, you mothers!" There's also smoking and drinking alcohol. No, the mature cut is probably not the one you'll want the kids to watch, but despite the ridiculous weirdness, I can see children still enjoying Twice Upon a Time. Some random trivia for you, David Fincher (Fight Club) and Henry Selick (A Nightmare Before Christmas) both worked on Twice Upon a Time and both provided thoughts to Jessup's own article which interviewed various crew members for the 20th anniversary of its HBO showing. And from what I've read, 2012's Rise of the Guardians carries a similar plot. Not a lot of people know about Twice Upon a Time and they don't really have reason to hear about since no household name is associated with it except maybe George Lucas who isn't known for animation and likely doesn't care about it since selling Lucasfilm to Disney. I'm glad former 411mania colleague Will Helm suggested it to me years back. It's a fantastic, under the radar achievement in any incarnation.
PG Cut = 8.0/10.0
Adult Rated Cut = 9.0/10.0
The VHS Cover
—Out of Print—
The Heartbreak Kid
The Taking of Pelham 123 (1998-TV)
The Stepfather 3
Latin Lovers
State Fair (1933)
Sleuth (1972)
Assembly
Ishtar
The Prehysteria! Trilogy
Only Yesterday
Ocean Waves
The Little Norse Prince
Breaking the Waves
Cruel Story of Youth
Two Rode Together
Love with the Proper Stranger
Betrayal
Willard (1971)
Ben
The Wizard of Speed and Time
Return from the River Kwai
Clarence
It Happened One Christmas
Napoleon (1927)
A Brighter Summer Day
Little Darlings
Karen Carpenter Double Feature
Barfly
King Solomon's Mines (1937)
Roman Polanski's Pirates
The Mighty Thor: 1966 Cartoons
Hulk: The 1966 Cartoons
Mr. Boogedy Double Feature
Stanley Kubrick's Boxes
The Swimmer
Shanks
7 Women
Last Summer
We Sold Our Souls for Rock 'N' Roll
Saxon – Heavy Metal Thunder: The Movie
Christopher Columbus: The Discovery
1492: Conquest of Paradise
The Decline of Western Civilization (1981)
The Decline of Western Civilization Part II: The Metal Years
The Decline of Western Civilization Part III
SubUrbia
Execution of Justice
Death of a Salesman (1951)
Italianamerican & American Boy
Greed
The Godfather Saga: A Novel for Television
The Legend of Nigger Charley
The Soul of Nigger Charley
Wuthering Heights (1939)
The Defiant Ones (1958)
Revenge of the Stepford Wives
The Stepford Children
The Stepford Husbands
The Emigrants
A Bittersweet Life
Johnny Stecchino
Chimes at Midnight (Falstaff)
The Terrorizers
—Available on Netflix, Instant Watch (But Not to Purchase)—
Cinemania
Richard Burton's Hamlet
Orson Welles' Othello
The Keep
Only the Lonely
The Cook The Thief His Wife & Her Lover
—Available through Amazon Video on Demand Only—
Seconds
The Gambler
The Crimson Pirate
The New Land
—Now Available on DVD—
The African Queen
A Return to Salem's Lot – Available Through Warner Archives
Phantasm II
Red Cliff Part 1 and Part 2 – All Versions Available
The Stepfather
The Stepfather 2
Homicide
America, America
Cavalcade – Available in the 20th Century Fox 75th Anniversary box set
Ensign Pulver – Available Through Warner Archives
Children of the Corn 2: The Final Harvest
The Unholy Three – Available Through Warner Archives
The Magnificent Ambersons – Available with Citizen Kane Blu-Ray set
Salem's Lot
1-900
I'm a Cyborg, But That's Ok
Captain America – The 1979 Movies
Captain America (1990) – Available through MGM Limited Edition Collection
Wings
World on a Wire
The Portrait of a Lady – Available on 12/11
Reykjavik-Rotterdam
No Holds Barred
Johnny Guitar
North – Available Through the Sony Choice Collection
Quadrophenia
High Noon Part II: The Return of Will Kane – Now Available!
—Other Articles to Read—
Fathom Events: Frankenstein & The Tempest
The Artist: Analyzing Its Popularity
When Going to the Movie Theater Became Torture
The Best and Worst of 2011
The Pet Peeves of 2011
Follow @Mr_CWebb
Follow @411mania
Follow @411wrestling
Follow @411moviestv
Follow @411moviestv
Follow @411games
Follow @411mma
---
"The plural of Chad is Chad?"
–From the movie Recount

NULL