Nether Regions 11.28.12: Human Highway
November 28, 2012 | Posted by
Nether Regions started as a segment of the Big Screen Bulletin in the movie-zone that meant to showcase films that have been discontinued on DVD, are out of print in the United States, are only available in certain regions outside the United States, or are generally hard to find. Now it is a column all its own! You might ask, "Why should I care about a film I have no access to?" My goal is to keep these films relevant because some of them genuinely deserve to be recognized. Every time I review a new film I will have a list of those I covered below so you can see if they have been announced for DVD release, or are still out of print.
MISSING:
HUMAN HIGHWAY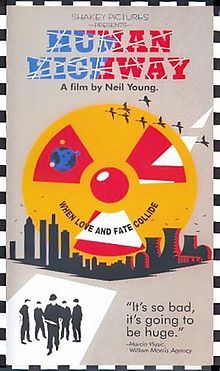 Starring: Neil Young, Russ Tamblyn, and Dean Stockwell
Directed By: Neil Young (as Bernard Shakey) and Dean Stockwell
Written By: Neil Young, Jeanne Field, Russ Tamblyn,
James Beshears, and Dean Stockwell
Original Release Date: June 1983
Running Time: 88 minutes
Missing Since: August 8, 1995
Existing Formats: VHS
Netflix Status: Not Available
Availability: Extremely Rare
An acid trip of epic proportions, Human Highway is a film so strange that an appropriate word has not been created to describe it. Under the pseudonym Bernard Shakey, Neil Young directed this smorgasbord of weird with the help of co-star Dean Stockwell. If you're not overly familiar with Young, let me enlighten you. The amount of work he has started, occasionally finished, and/or that was made available in small quantities briefly only to fade into obscurity is vast and would likely have trouble squeezing into the Grand Canyon. One assumes that certain projects were just swept under the rug and forgotten, but in some cases, he just hasn't gotten around to finishing them for proper release. His ongoing "Archives" box sets are beginning to change that, but Human Highway does indeed fall into the category of "rare and abandoned" Neil Young exploits. Perhaps it is better left that way.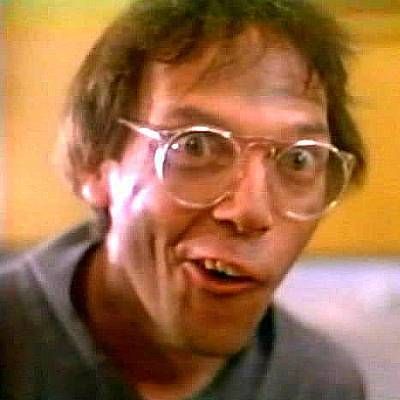 Neil Young as Lionel.
No, he wasn't auditioning
for Swamp People.
Human Highway kicks off post-apocalypse, with a character by the name of Booji Boy (Mark Mothersbaugh) reciting baffling, incoherent prose at the devastated gas station-diner that will be the central location of the story. The opening credits then start, and a title card emerges that was presumably written by a 3 year-old in red crayon. We then return to "present day" prior to the apocalypse as nuclear garbage men from the Cal-Neva Power Plant load radioactive waste onto a truck. They mishandle the waste regularly and dump it in the nearby town of Linear Valley. Meanwhile, the dimwitted backwater duo of Lionel (Neil Young) and his buddy Fred (Russ Tamblyn) ride their bicycles to work, at the gas station-diner. The previous owner, Old Otto (Dean Stockwell), has passed away due to radiation poisoning. This leaves his son, Young Otto (Dean Stockwell), in charge of the business. He does not hesitate to make changes. Young Otto's scheme is to torch the place and collect the insurance money, but one of the waitresses, Irene (Geraldine Baron), overhears him talking about this and demands to be involved. Unfortunately, their plan does not go smoothly as visits from one kooky personality after the other, the threat of nuclear war, and other odd occurrences get in the way.
The above summary made the plot sound much more normal than it really is, trust me. Human Highway took over four years to complete and Young spent approximately $3 million of his own money for the production. The rough sketch was to portray a day in the life of Lionel and his friends during Earth's final hours. What developed was a mishmash of improvisational comedy and stories that were made up as they went along. As you can read above, Young, Stockwell, Russ Tamblyn, and others are credited as screenwriters, though what was actually put on paper and not conjured on the fly under the influence of drugs is a mystery for the ages. This movie was shot during an unusual, experimental period for Young. He was dealing with the medical issues of his second disabled son Ben and that meant he didn't spend a lot of time writing or recording songs. What material he did record had a new wave tone and was a stylistic departure from his normal sound. Because he was evidently up for anything, one can guess that meant bestowing this otherwordly randomness on the world.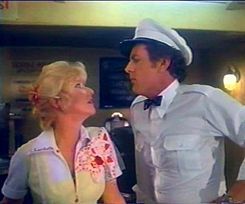 Charlotte throws herself
at Earl Duke, the Milkman.
This venture was his third offering as a director. Journey to the Past was released in 1974 and is just as peculiar from what I've read. That was out of print for decades, but can be unearthed in the first volume of his "Archives" DVD box set. The second was a concert documentary, Rust Never Sleeps, which is excellent. In Human Highway Young stars as Lionel, and I'm not quite sure if the character is supposed to mentally challenged, goofy, or Young just acting zonked out on set. Who knows? Lionel's expressions and the close-ups on his face as he wanders around and swoons over Charlotte the waitress will creepily stick in your head for days after you're done viewing. Russ Tamblyn as his pal Fred and Dean Stockwell as Young Otto strike me as the grounded members of this eclectic troupe, but I could be totally off base. The radiation disposal team are depicted by the group Devo. They are always glowing red, but only Booji Boy speaks. The high-pitched, ear-piercing volume of his voice had me inches away from shutting the movie off on several occasions. Maybe followers of Devo know Booji Boy well. I'm not sure why he wears the mask of a child. We're just supposed to accept that. I can promise that this will be the very last time I encounter him in my internet travels or in the form of audio/video.
Everyone, except for possibly Stockwell, overacts in a ridiculous manner and you get the sense that this fact was aided by one or two illegal substances. But nobody goes over the top like Dennis Hopper does. He has two roles, and as a matter of fact a handful of the cast members partake in double duty, but Hopper is unbelievably wacky as the diner cook Cracker and later a stranger from out of nowhere with a horrendous wig. Hopper had been performing knife tricks on set with a real knife. Sally Kirkland, who plays fired waitress Kathryn, attempted to take the knife from him and ended up severing a tendon. She would file a lawsuit claiming Hopper was "out of control." He would admit to drug use during this time years down the road. Gerard Castle of Devo said the band felt out of place while observing the rampant abuse of drugs and alcohol on set. It's not hard to see why they felt that way. While it does hit many of the "so bad it's good" buttons, there doesn't appear to be any rhyme or reason to what is transpiring. Eventually the impression is that Young and his friends were just messing around, inserting whatever they felt like into the final cut.
Amidst one of his mechanical blunders, Young's Lionel is knocked unconscious and a dream sequence commences, the most bugged-out, freaky, perplexing dream sequence I have EVER seen. Had it not been for the Wikipedia summary, much of what unfolds on screen during this interlude would have been confused me to the point of dizziness. How about Young receiving a milk bath and then having it sucked from his body through a straw by himself and Irene? Yep, it's there. Wanna see Lionel fantasizing about himself as a rock star with a collection of wooden Indians as his band? Look no further! Do you fancy a hippie Pow Wow with disappearing buses, bonfires, and river rafts? Human Highway has you covered. Now let's touch on the painfully eccentric moments that aren't apart of the dream. Dennis Hopper feeds his pet raccoon. Young and Tamblyn exchange double entendres regarding sex and pumping gas. See Young refer to one patron as a "towelhead" and then that particular individual (an Arab sheik) offers the milkman money in return for "whiteness." Elsewhere you can find space ships, tools and limousine spoilers used as musical instruments, a stairway to heaven, and so on.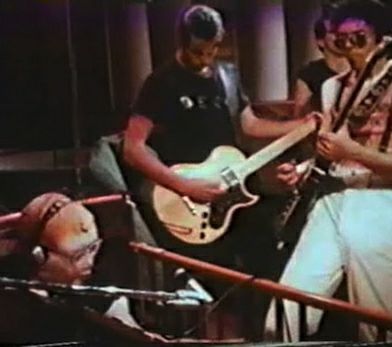 Neil Young and Devo
jam during a
dream sequence.
The two main set pieces in Human Highway, and the only ones I can afford ever-so faint praise, occur late in this seventh circle of psychedelia Hell. The latter half of Lionel's confounding dream showcases Neil Young in a jam session with Devo for the tune "Hey Hey My My (Into the Dark)." The track is ok, but it serves no purpose in an apocalyptic tale. Near the end of the picture, the entire cast breaks into song and dance…with shovels. They put all their passion of this inane 90 minutes into this choreographed bit. Think the closing credits of The 40 Year-Old Virgin, but with a cast and crew that are clueless and you have an idea what this looked like. A handful of songs by Young end up in the film as one might expect, but Mark Mothersbaugh supplies the score. It was his first, as he would go on to compose for Rugrats, Nick and Norah's Infinite Playlist, and more. Young and Stockwell's collaborative direction can best be summed up as watching a blind man stumble through a minefield, but some writers have stated that the use of hyper-real sets inspired Tim Burton and the general style influenced Paul Morrissey and John Waters. I certainly hope that's not true, but if so, it might explain a lot about those filmmakers.
If I had been as wasted as the makers of Human Highway, I might "get" the humor and consider this is fine entertainment. But I'm not, so my verdict is that this movie sucks. I have the slight urge to say this is worth watching merely because of its unwatchability, but I doubt most people out there care unless you're a hardcore Neil Young completist. I was curious and now look; precious time from my life is gone. I can only imagine how many factors are preventing this from receiving a DVD upgrade (it's dated, it's offensive, there's no audience), but in all seriousness, it probably comes down to good ole Neil not taking the time to do it himself. Even if he put it in stores tomorrow, how many would notice? How exactly do you market this? "Hey fans of Neil Young's music! He made some movies also. They have a cast and crew and are in COLOR!" Aside from landing in only a small amount of theaters initially, Human Highway was a lost relic until it hit VHS in 1995. Copies of that will lighten your wallet anywhere from $30 to $100. This is one gamble for Nether Regions that I'm glad I did not take. Luckily I was able to pin down a stream online. If you crave the bottom of the cinematic barrel, give this a whirl and get back to me. Otherwise, stay away and as this teaches us, stay sober.
Final Rating = 2.0/10.0
—Out of Print—
The Heartbreak Kid
The Taking of Pelham 123 (1998-TV)
The Stepfather 3
Latin Lovers
State Fair (1933)
Sleuth (1972)
Assembly
Ishtar
The Prehysteria! Trilogy
Only Yesterday
Ocean Waves
The Little Norse Prince
Breaking the Waves
Cruel Story of Youth
Two Rode Together
Love with the Proper Stranger
Betrayal
Willard (1971)
Ben
The Wizard of Speed and Time
Return from the River Kwai
Clarence
It Happened One Christmas
Napoleon (1927)
A Brighter Summer Day
Little Darlings
Karen Carpenter Double Feature
Barfly
King Solomon's Mines (1937)
Roman Polanski's Pirates
The Mighty Thor: 1966 Cartoons
Hulk: The 1966 Cartoons
Mr. Boogedy Double Feature
Stanley Kubrick's Boxes
The Swimmer
Shanks
7 Women
Last Summer
We Sold Our Souls for Rock 'N' Roll
Saxon – Heavy Metal Thunder: The Movie
Christopher Columbus: The Discovery
1492: Conquest of Paradise
The Decline of Western Civilization (1981)
The Decline of Western Civilization Part II: The Metal Years
The Decline of Western Civilization Part III
SubUrbia
Execution of Justice
Death of a Salesman (1951)
Italianamerican & American Boy
Greed
The Godfather Saga: A Novel for Television
The Legend of Nigger Charley
The Soul of Nigger Charley
Wuthering Heights (1939)
The Defiant Ones (1958)
Revenge of the Stepford Wives
The Stepford Children
The Stepford Husbands
The Emigrants
A Bittersweet Life
Johnny Stecchino
Chimes at Midnight (Falstaff)
The Terrorizers
Rabbit Test
Twice Upon a Time
—Available on Netflix, Instant Watch (But Not to Purchase)—
Cinemania
Richard Burton's Hamlet
Orson Welles' Othello
The Keep
Only the Lonely
The Cook The Thief His Wife & Her Lover
—Available through Amazon Video on Demand Only—
Seconds
The Gambler
The Crimson Pirate
The New Land
—Now Available on DVD—
The African Queen
A Return to Salem's Lot – Available Through Warner Archives
Phantasm II
Red Cliff Part 1 and Part 2 – All Versions Available
The Stepfather
The Stepfather 2
Homicide
America, America
Cavalcade – Available in the 20th Century Fox 75th Anniversary box set
Ensign Pulver – Available Through Warner Archives
Children of the Corn 2: The Final Harvest
The Unholy Three – Available Through Warner Archives
The Magnificent Ambersons – Available with Citizen Kane Blu-Ray set
Salem's Lot
1-900
I'm a Cyborg, But That's Ok
Captain America – The 1979 Movies
Captain America (1990) – Available through MGM Limited Edition Collection
Wings
World on a Wire
The Portrait of a Lady – Available on 12/11
Reykjavik-Rotterdam
No Holds Barred
Johnny Guitar
North – Available Through the Sony Choice Collection
Quadrophenia
High Noon Part II: The Return of Will Kane
—Other Articles to Read—
Fathom Events: Frankenstein & The Tempest
The Artist: Analyzing Its Popularity
When Going to the Movie Theater Became Torture
The Best and Worst of 2011
The Pet Peeves of 2011
Follow @Mr_CWebb
Follow @411mania
Follow @411wrestling
Follow @411moviestv
Follow @411moviestv
Follow @411games
Follow @411mma
---
"The plural of Chad is Chad?"
–From the movie Recount
NULL