Nether Regions 12.05.12: A City of Sadness
December 5, 2012 | Posted by
Nether Regions started as a segment of the Big Screen Bulletin in the movie-zone that meant to showcase films that have been discontinued on DVD, are out of print in the United States, are only available in certain regions outside the United States, or are generally hard to find. Now it is a column all its own! You might ask, "Why should I care about a film I have no access to?" My goal is to keep these films relevant because some of them genuinely deserve to be recognized. Every time I review a new film I will have a list of those I covered below so you can see if they have been announced for DVD release, or are still out of print.
MISSING:
A CITY OF SADNESS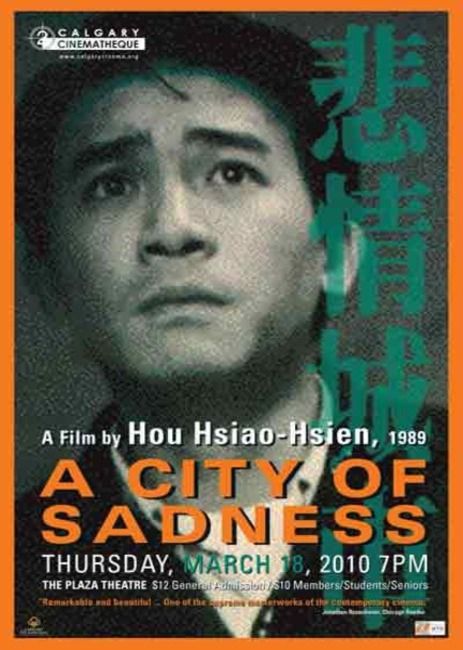 Starring: Tony Leung, Shufen Xin, and Sung Young Chen
Directed By: Hou Hsaio-hsien
Written By: Chu T'ien-wen and Nu Wien-Jen
Original Release Date: October 6, 1989
Running Time: 157 minutes
Missing Since: Never Released On Any US Format
Existing Formats: Amazon Page – All Out of Stock
Netflix Status: Not Available
Availability: Extremely Rare
Along with Edward Yang, who was previously highlighted in this column, Hou Hsiao-hsien is one of the leading figures of the Taiwanese New Wave film movement. It is a fare bet to say that most of you are not likely to see many of his films. A generous portion of his canon remains unavailable in the US, but the offerings that are in circulation are decidedly uncommercial. A City of Sadness has been widely regarded as his pinnacle achievement, but it was not easy to track down. An intense, organic, and poignant period drama based on real events, A City of Sadness deserves the royal treatment on DVD in every country.
This was the first motion picture to deal openly with the "White Terror" in Taiwan. This describes the suppression of political dissidents after Taiwan was turned over to China from Japan. From 1949 to 1987, Taiwan was under martial law. After their arrival from Mainland China, the Kuomintang government (under Chiang Kai-shek) rounded up, imprisoned, and/or shot thousands of Taiwanese people. A specific tragedy, referred to as the 228 Incident (it took place on February 28, 1947), involved the massacre of thousands. The story focuses on the Lin family during this tumultuous time (1945-1949).
The Lin family.
First we have Wen-heung (Chen Sown-yung), the oldest of four Lin brothers. He is desperately trying to reaffirm the bond within the family with the support of Ah-lu (Li ten-lu), the patriarch. He has transformed his Japanese bar into a family restaurant called "Little Shanghai," but it is constantly being undermined by gangsters. The second brother, Wen-sun, disappeared in the Philippines and is long thought dead, though his wife holds out hope. He is never seen. Because of the recent war, the third brother, Wen-leung (Jack Kao) has mental problems and is confined to a local hospital. Wen-ching (Tony Leung) is the fourth brother and is also a deaf-mute. He runs a photography studio and has collaborated with anti-government socialists such as his friend Hinoe (Wu Yi-fang). The group is forced to flee to the mountains to avoid capture. Wen-ching wishes to join, but is persuaded to stay home and care for Hinoe's sister Hinomi (Xin Shu-fen), a nurse. Eventually the two develop feelings for each other.
A City of Sadness is probably the most action-packed of all Hou Hsiao-hsien's films. I don't want to mislead anyone however. Hou's style is aggressively minimalist with a deliberate, steady pace. Audiences tend to expect a tale, even a slow-paced one, to build towards a climax. This is rarely the case with Hou. He challenges viewers, opting to have the camera evaluate the happenings from a distance, remaining impartial and allowing the characters and their experiences to unfold naturally. This could be infuriating to some and one might hastily assume that "nothing is going on," but as I soon realized from watching Hou's titles, that is the definitely not true. His films benefit from discussion afterwards or perhaps even a second sitting to full absorb all the subtleties and depth of the story.
Hou uses no close-ups at all, which is impressive for a picture that clocks in at nearly 160 minutes. The difficult task of the writer is attempting to convey how rewarding and engrossing A City of Sadness is without making it sound like a chore. Hou's approach enables him to exhibit a great deal of information in a short span of time, whereas other filmmakers would try to spell every detail out. There are fights and beat downs, which is not altogether common for Hou. But the manner in which he shoots two men battling with knives is atypical and gloriously choreographed, reminiscent of Edward Yang's The Terrorizers. Hou perches the camera in certain spots, refusing to be blatantly invasive, yet sliding between a hidden observer and an active contributor to what is transpiring. The tones do not necessarily click, but maybe they're not meant to blend seamlessly. The opposite could be the intention for this instance. Hou inches toward what we now know as a docu-drama technique without actually becoming that.
The character seen most often on screen is Tony Leung's Wen-ching. The fourth brother began ordinarily enough, but due to Leung's inability to speak Taiwanese or Mandarin convincingly, he was turned into a deaf-mute. What might have been perceived as a setback quickly morphed into a brilliant way to establish how coldhearted the ROC Administration was. Leung is among my favorite actors. He is a giant of Asian cinema and has appeared in numerous hits such as Infernal Affairs, In the Mood for Love, and Hero are just the tip of the iceberg. His limitations as an actor amount to very few and as Wen-ching he gives one of his finest performances. He brings heart, conviction, and raw power to the role. He leads the pack partially because it is the showiest part, but Hou never ceases to elicit unassuming turns from his cast as a unified whole. They disappear into their respective personas, lending sincerity and care to a touchy subject matter. Xin Shufen is mesmerizing as Hinomi, and she also provides a gentle voice-over sporadically throughout. Jack Kao is a tense swirl of emotions as Wen-leung, the brother battling insanity, and Wu Yi-fang is searing and thoughtful as Hinoe. These are nuanced, complex depictions, each handled with profundity and dedication.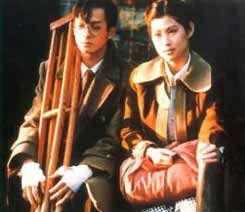 Hinoe returns home
with Hinomi after a
getting injured by soldiers.
The elliptical narrative will initially be gauged as frustrating, but it results in an increasingly intelligent, sophisticated, and thought-provoking work. This basically means that Hou is making known all the information in a way that is not readily evident. That, in a nutshell, is what can be expected from Hou Hsiao-hsien as a director. A City of Sadness incorporates more dialogue than is normal for him, but this will be the case with such a massive scope, not to mention the amount of intricate characters. Communication is a key element in the film. Because the country was once controlled by Japan, you have multiple languages being spoken, five to be exact. This fact will not be recognized by everyone since subtitles are crucial to English-speaking viewers, but the disconnect of communication can be understood in other aspects of the plot: Wen-ching having to write down messages, Hinomi only being comfortable writing in her diary, or others using a translator. The point is that what one person thinks and what they end up saying can be different, confusing, and/or maddening to whoever is listening to them. This was a major issue at the time. With that in mind, you can grasp easier why the anger and hatred is heightened to a boiling point.
Because the "White Terror" and 228 Incident were considered taboo at the time, audiences flocked to the theater to see this first telling of the events. The public was disappointed that the killings were only hinted at. This could have been a standard history lesson, taking the perspective of a soldier and explicitly presenting the horror. Hou aims to show the indirect consequences on this family, the truth that everyone was affected, all citizens. This is not about the political machinations or that turmoil. There are no heroes to be found and Hou does not manipulate or play to false sentiments. This is a portrait of real life. The balance and neutrality occurs from treating all events equally, whether it be the slaughter of thousands or the private mental instability of one Lin son. The deep-focus photography from Chen Huai-en helps that goal and is beautiful to behold. The score is dated with its synthesizers and penetrating bass, but nevertheless memorable and unobtrusive.
Aside from the unforgettable still photo at the conclusion, what stuck with me is how engaging the casual conversations were. Hou Hsiao-hsien never caters to the moviegoer, so details both important and seemingly insignificant emerge and fade away with the same enthusiasm or lack thereof if need be. One of my favorite sequences is close to the beginning as the brothers and friends chat about not knowing how to fly the Chinese flag correctly when they took over. Later another story compares the falling of Japanese cherry blossoms with suicide. A City of Sadness is filled with lingering exchanges and impactful moments similar to those. It is an impeccably constructed accomplishment that is appropriately restrained, compelling, and well worth revisiting.
Hou Hsiao-hsien is another filmmaker that will only get his time in the sun in North America if Criterion restores and releases the many classics on his resume. Until then, do not anticipate a DVD release. A City of Sadness would be the first installment of a trilogy of films about 20th century Taiwan. The others are The Puppetmaster and Good Men, Good Women. My introduction to Hou was Flight of the Red Balloon starring Juliette Binoche, but if you're curious, I also recommend Three Times and Cafe Lumiere (he shares many Ozu qualities as well). A City of Sadness took home many awards, including the Golden Lion at the Venice Film Festival. Since it was shot on location in Jiufen, it also revived the village as a tourist attraction. Apparently you can find cafes with the movie's title.
Final Rating = 10.0/10.0
Unfortunately I can only find fan made trailers, so this is the best I could do:
—Out of Print—
The Heartbreak Kid
The Taking of Pelham 123 (1998-TV)
The Stepfather 3
Latin Lovers
State Fair (1933)
Sleuth (1972)
Assembly
Ishtar
The Prehysteria! Trilogy
Only Yesterday
Ocean Waves
The Little Norse Prince
Breaking the Waves
Cruel Story of Youth
Two Rode Together
Love with the Proper Stranger
Betrayal
Willard (1971)
Ben
The Wizard of Speed and Time
Return from the River Kwai
Clarence
It Happened One Christmas
Napoleon (1927)
A Brighter Summer Day
Little Darlings
Karen Carpenter Double Feature
Barfly
King Solomon's Mines (1937)
Roman Polanski's Pirates
The Mighty Thor: 1966 Cartoons
Hulk: The 1966 Cartoons
Mr. Boogedy Double Feature
Stanley Kubrick's Boxes
The Swimmer
Shanks
7 Women
Last Summer
We Sold Our Souls for Rock 'N' Roll
Saxon – Heavy Metal Thunder: The Movie
Christopher Columbus: The Discovery
1492: Conquest of Paradise
The Decline of Western Civilization (1981)
The Decline of Western Civilization Part II: The Metal Years
The Decline of Western Civilization Part III
SubUrbia
Execution of Justice
Death of a Salesman (1951)
Italianamerican & American Boy
Greed
The Godfather Saga: A Novel for Television
The Legend of Nigger Charley
The Soul of Nigger Charley
Wuthering Heights (1939)
The Defiant Ones (1958)
Revenge of the Stepford Wives
The Stepford Children
The Stepford Husbands
The Emigrants
A Bittersweet Life
Johnny Stecchino
Chimes at Midnight (Falstaff)
The Terrorizers
Rabbit Test
Twice Upon a Time
Human Highway
—Available on Netflix, Instant Watch (But Not to Purchase)—
Cinemania
Richard Burton's Hamlet
Orson Welles' Othello
The Keep
Only the Lonely
The Cook The Thief His Wife & Her Lover
—Available through Amazon Video on Demand Only—
Seconds
The Gambler
The Crimson Pirate
The New Land
—Now Available on DVD—
The African Queen
A Return to Salem's Lot – Available Through Warner Archives
Phantasm II
Red Cliff Part 1 and Part 2 – All Versions Available
The Stepfather
The Stepfather 2
Homicide
America, America
Cavalcade – Available in the 20th Century Fox 75th Anniversary box set
Ensign Pulver – Available Through Warner Archives
Children of the Corn 2: The Final Harvest
The Unholy Three – Available Through Warner Archives
The Magnificent Ambersons – Available with Citizen Kane Blu-Ray set
Salem's Lot
1-900
I'm a Cyborg, But That's Ok
Captain America – The 1979 Movies
Captain America (1990) – Available through MGM Limited Edition Collection
Wings
World on a Wire
The Portrait of a Lady – Available on 12/11
Reykjavik-Rotterdam
No Holds Barred
Johnny Guitar
North – Available Through the Sony Choice Collection
Quadrophenia
High Noon Part II: The Return of Will Kane
—Other Articles to Read—
Fathom Events: Frankenstein & The Tempest
The Artist: Analyzing Its Popularity
When Going to the Movie Theater Became Torture
The Best and Worst of 2011
The Pet Peeves of 2011
Follow @Mr_CWebb
Follow @411mania
Follow @411wrestling
Follow @411moviestv
Follow @411moviestv
Follow @411games
Follow @411mma
---
"The plural of Chad is Chad?"
–From the movie Recount

NULL