Nether Regions 12.21.11: The Gambler
December 21, 2011 | Posted by
Nether Regions started as a segment of the Big Screen Bulletin in the movie-zone that meant to showcase films that have been discontinued on DVD, are out of print in the United States, are only available in certain regions outside the United States, or are generally hard to find. Now it is a column all its own! You might ask, "Why should I care about a film I have no access to?" My goal is to keep these films relevant because some of them genuinely deserve to be recognized. Every time I review a new film I will have a list of those I covered below so you can see if they have been announced for DVD release, or are still out of print.
MISSING:
THE GAMBLER




Starring: James Caan, Paul Sorvino, and Lauren Hutton
Written/Directed By: Karel Reisz
Running Time: 110 minutes
Original Release Date: October 1974
Missing Since: May 14, 2002
Existing Formats: OOP DVD, VHS, and Amazon VOD
Netflix Status: Not Available
Availability: Somewhat Rare
Generally, there are two types of groups that fall under the sub-genre of "gambling movies." First are the more popular films that approach gambling as a sport, and the other focuses on the addiction of gambling. I have a fondness for certain entries of both camps, whether it be Rounders and The Grand in the former, or Owning Mahoney of the latter. The Gambler most definitely rests in the addiction category. This 1974 drama starred James Caan in one of his best portrayals as a professor with a problem. I tracked down a copy of this from a friend after learning that Martin Scorsese was interested in remaking it. The Gambler is a terrific piece of work, but the original did leave room for improvement, which is why it is perfect for the remake treatment.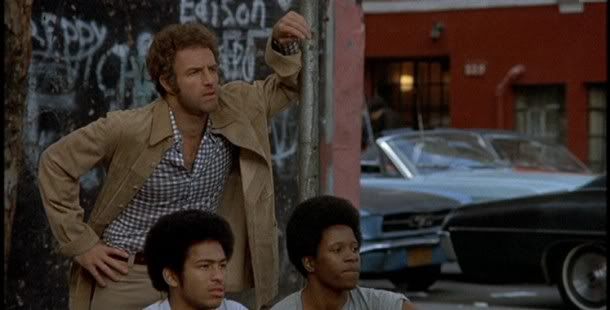 Axel about to challenge
a kid to a
basketball game.
Many sequences in The Gambler transpire in the classroom, and the discussions are used to relate to what is happening with Axel's gambling addiction. But the first of these moments occurs early on in the story where Axel converses with his students about Dostoyevsky (whose book The Gambler this is loosely based on) and how 2+2 can equal 5 instead of 4. His explanation of this is an absolutely mind-blowing metaphor as to why gamblers keep falling victim to the urge. Many people are addicted to something. It could be caffeine or drugs, but personally, I have never had an issue with gambling, mostly because I am extremely unlucky. Nevertheless, this scene, along with the others that would follow, caused me to understand not only the character of Axel, but people with similar dilemmas. It's safe to say I instantly fell in love with The Gambler after that.
Axel Freed (James Caan) is a literature professor with a gambling vice. It consumes him to the point that he will bet on anything for stakes. For Axel, it is not about the money, but the edge, uncertainty, the possibility of calamity or the rush of a winning streak. When we meet him, he has lost $44,000 that he did not have to bet in the first place. His paycheck is $1,500 per month. Because of his friend Hips (Paul Sorvino), a man employed by some of the shady criminals who loan Axel money, he has some time to acquire the necessary funds. Axel borrows from his reliable girlfriend Billie (Lauren Hutton) and his mother Naomi (Jacqueline Brookes), who is a respectable medical doctor. He also has a wealthy grandfather, A.R. Lowenthal (Morris Carnovsky), who is a self-made millionaire from a chain of furniture stores. The central predicament is a common one. Axel must pay back his debt or he must suffer the consequences, which could mean his life. Despite the impending threat, Axel's addiction to gambling has not ceased.
Even though The Gambler includes Paul Sorvino with a full head of dark hair, James Caan steals the movie by a wide margin. This is the benefit of such a role after all. True, everyone else is a supporting character, but Caan thrives at every plentiful opportunity. Take his moving birthday toast to Grandpa Lowenthal, which is accompanied by a life lesson that once again echoes his own situation. Caan is so naturally dynamic and reservedly passionate as Freed that one wonders how such an authentic depiction was achieved. Director Karel Reisz and screenwriter James Toback paint more of a romantic picture of Freed than they do a contemptible one, but this becomes an accurately tragic portrait more than anything else. The level of intensity and concentration in Caan's performance gives the film energy and life. Axel truly has no control over his addiction. When life can get increasingly predictable and routine, Axel depends on taking a chance; the mentality that he does not know the outcome, but believes it will end up in his favor.
Nobody on the supporting cast really stands out, but all lend fairly competent turns with conviction. Lauren Hutton is adequate at best as his dependable Texan girlfriend Billie (whom Axel calls "Rebel Pussy"), and thankfully Reisz never affords her more than she can handle since trying to compete with Caan in any scene would be impossible. Paul Sorvino is fantastic as a mob lackey who desperately tries to help Axel out. A superb exchange between the two occurs late in the story when Sorvino's Hips tries to educate Axel on gamblers. Burt Young has a neat little segment as a collector, which includes a convincing beat-down on some schmuck. Had the female lead been stronger, The Gambler could very well have risen to greatness.
Adeptly written by James Toback, The Gambler avoids many clichés of the genre, or rather pedestrian/routine outcomes. One scene exhibits Axel on a winning streak in a casino, and in other movies, he would have stayed at one game and ended up losing it all later at the same location. In this case, Axel walks away having doubled his money, but it isn't until a day later that he can't help but make a huge bet with his recent riches. That time elapsed also reveals the results of three bets he placed on college games. His teams were leading, he deemed that a good omen, and walked away happy. Sadly, the direction of the casino scene (and overall throughout the story) is less than stellar. Reisz and cinematographer Victor Kemper settle on a straightforward and ordinary approach to the material, which is consistent and balanced, but lacks flair of any kind. This was not a flaw found in any of his offerings that predated The Gambler, but was a factor here. Credit is due for Editor Roger Spottiswoode, who would go to become a director in his own right (Tomorrow Never Dies), establishing a smooth, yet snappy pace.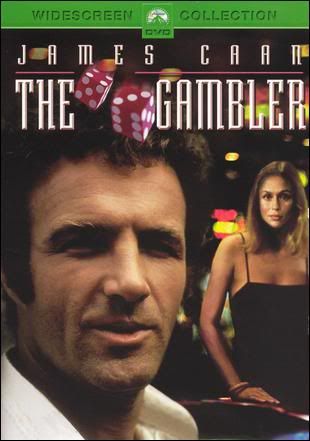 The out of print
DVD you might be able
to find.
What makes Axel such a hypnotizing personality, and a prime candidate for character studying, is that he is a compulsive gambler that seemingly never hesitates to acknowledge his obsessive tendencies. He might not admit that he has an addiction out loud as if he was starting a 12-step program, but he knows what he's doing. This is an educator of the next generation, lecturing on E.E. Cummings and William Carlos Williams. He continues to roll the dice because of the thrill, not the desire to become wealthy like many would assume. His Grandfather is exceedingly rich, yet he doesn't seem to be jealous of that, more like indifferent until the debt deadline looms closer. And it is the ache for this buzz that leads to the exhilarating, perfect conclusion. Perhaps Caan is so extraordinary in the role because he possessed real life drama to draw from. Truth be told, Caan was battling his own addiction to cocaine at the time.
This could easily be considered a "performance" picture, or a movie that serves simply to showcase the lead actor, but the script is intelligent enough that The Gambler warrants repeated viewings and should rise above that label. Additionally, most people probably associate this effort with Caan more than Reisz. The director's most popular film is The French Lieutenant's Woman, starring Meryl Streep and Jeremy Irons from 1981. Sadly that is still not on DVD, but the rumor mill says Criterion might change that soon. Overall, I would put it about level with The Gambler in terms of quality. If someone were to say Caan carries this movie, that statement is meant literally. He is the foundation, without which the whole house of cards would collapse. The Gambler is an overlooked jewel from the 1970's that is well worth checking out. It is to gambling what Leaving Las Vegas and The Lost Weekend are to alcoholism, Requiem for a Dream is to drug use, and so forth.. With luck, the progress of the proposed remake will get this a new DVD release.
If you really want to see this film, it is available to rent for $2.99 via Amazon video on demand, so it's not the rarest of the titles I've covered, but it does deserve better than a barebones disc that is out of print.
Final Rating = 8.0/10.0
—Out of Print—
The Taking of Pelham 123 (1998-TV)
The Stepfather 3
Latin Lovers
State Fair (1933)
Wings
Sleuth (1972)
Johnny Guitar
Assembly
High Noon Part II: The Return of Will Kane
Ishtar
The Prehysteria! Trilogy
Only Yesterday
Ocean Waves
The Little Norse Prince
Breaking the Waves
Cruel Story of Youth
Two Rode Together
The Portrait of a Lady
Love with the Proper Stranger
Betrayal
Willard (1971)
Ben
The Wizard of Speed and Time
Return from the River Kwai
Clarence
It Happened One Christmas
Napoleon (1927)
A Brighter Summer Day
Little Darlings
Karen Carpenter Double Feature
The Crimson Pirate
Roman Polanski's Pirates
The Mighty Thor: 1966 Cartoons
Hulk: The 1966 Cartoons
Mr. Boogedy Double Feature
Captain America (1990)
World on a Wire
Stanley Kubrick's Boxes
Shanks
7 Women
Last Summer
We Sold Our Souls for Rock 'N' Roll
Saxon – Heavy Metal Thunder: The Movie
Christopher Columbus: The Discovery
1492: Conquest of Paradise
The Decline of Western Civilization (1981)
The Decline of Western Civilization Part II: The Metal Years
The Decline of Western Civilization Part III
Execution of Justice
—Available on Netflix, Instant Watch (But Not to Purchase)—
The Heartbreak Kid
Cinemania
Richard Burton's Hamlet
Orson Welles' Othello
The Keep
The Swimmer
Only the Lonely
North
The Cook The Thief His Wife & Her Lover
SubUrbia
—Available through Amazon Video on Demand Only—
Barfly
Seconds
King Solomon's Mines (1937)
—Now Available on DVD—
The African Queen
A Return to Salem's Lot – Available Through Warner Archives
Phantasm II
Red Cliff Part 1 and Part 2 – All Versions Available
The Stepfather
The Stepfather 2
Homicide
America, America
Cavalcade – Available in the 20th Century Fox 75th Anniversary box set
Ensign Pulver – Available Through Warner Archives
Children of the Corn 2: The Final Harvest
The Unholy Three – Available Through Warner Archives
The Magnificent Ambersons – Available with Citizen Kane Blu-Ray set
Salem's Lot
1-900
I'm a Cyborg, But That's Ok
Captain America – The 1979 Movies
—Other Articles to Read—
My Blog featuring Mini-Reviews of New Releases!
The Best and Worst of 2010
Top 50 Films of the Decade (2000-2009)
When Going to the Movie Theater Became Torture
Follow @Mr_CWebb
Follow @411mania
Follow @411wrestling
Follow @411moviestv
Follow @411moviestv
Follow @411games
Follow @411mma
---
"The plural of Chad is Chad?"
–From the movie Recount