Paranormal Activity 4 (Blu-Ray/DVD Combo Pack) Review
February 6, 2013 | Posted by
Paranormal Activity 4 (Blu-Ray/DVD Combo Pack) Review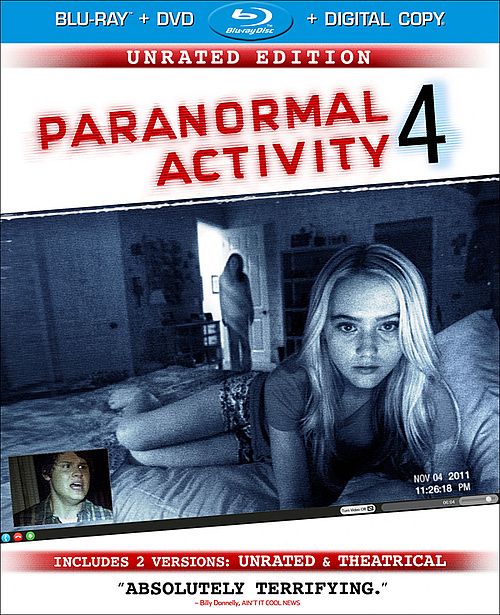 Sequels are a part of Hollywood, whether I like it, you like it, or anyone likes it. They are the reality of Hollywood and as long as there is money to be made, sequels will be churned out. The Paranormal Activity movies are similar to the Saw movies in that they have low budgets, relatively unknown actors, and a built-in fanbase. That is a recipe for success each and every year until audiences grow tired of it. From the standpoint of quality, it's clear that the Paranormal Activity movies have grown stale and are out of ideas. They are content to follow a formula and milk it for all the money they can.
The film is set in 2011 and follows Alex (Kathryn Newton), a teenage girl whose parents are having problems, which leads her to wonder if they are going to get a divorce. She spends a lot of time video chatting on the computer with a horny teenage boy named Ben, played by Matt Shively. Her parents are generally pretty clueless to what's going on in her life, as they are too preoccupied with their issues. When their neighbor becomes sick, they end up babysitting her son, Robbie, who gives Damien from The Omen a run for his money in terms of child creepiness.
As soon as Robbie arrives, strange things start to happen at this house. Of course, the parents brush it off, even as chandeliers are falling from the ceiling and Robbie jumps into bed with Alex. Her parents just say, 'Oh, he's going through a tough time, honey.' I understand that horror parents and teens are known for stupidity, but the parents and teens in this movie are completely oblivious. It makes it a particularly infuriating and unpleasant experience even in the horror genre, which is not known for producing the most intelligent of characters.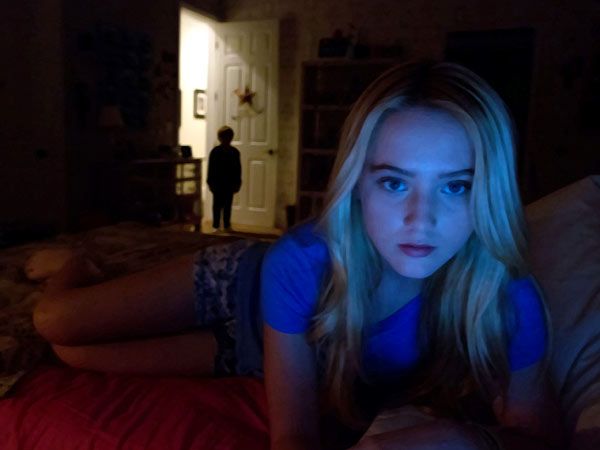 The first hour of the film is basically a tease, as nothing really happens of note and the film sort of meanders on screen. The usual gotcha moments are not even present in this film, and it's rated R, which doesn't make a whole lot of sense. Yes, they use the F-bomb, but they didn't use any gore, which is fine, but I imagine the R-rating would make it difficult for many young teenagers to see this movie. That's a big chunk of their audience that can't see it because of the R-rating.
In the end, Paranormal Activity 4 is a lazy, cheap, and boring sequel that is completely scare-free. As I was watching it, I was able to call out everything that was going to happen before it happened. When the finale occurs, it's completely underwhelming and predictable. Nothing about the film is surprising, shocking, or scary. That's a cardinal sin when you're making a film like this. You can only disappoint the audience so many times before they stop coming back to the theater for these films. I imagine it's only a matter of time before audiences grow leery of this franchise, if they haven't already after this film.
Blu-Ray Info: Paranormal Activity 4 is released on a two disc DVD and Blu-Ray combo pack from Paramount Pictures. It also includes an unrated version with nine minutes of extra footage. There's also a digital copy if you would like to upload it to ITunes.
Video Info: The film is presented in 1080p high definition and looks great on Blu-Ray. It's crystal clear, bright, and the colors shine on this release. With a low budget release like this, it really is enhanced on Blu-Ray and looks more professional and concise.
Audio Info: The Audio is English 5.1 DTS-HD Master Audio along with French and Spanish 5.1 Dolby Digital. Subtitles are presented in English, French, Spanish, and Portuguese. The audio was terrific on this release. I was able to keep my volume at around 8-9, which is almost unheard of for most movies and hear it just fine. The sound increases for the more dramatic moments, but that is to be expected.
Special Features:
The Recovered Files: (28:56) This includes footage that was not shown in the theatrical release of the film. So you get an extra nine minutes of unrated footage on the Blu-Ray and also almost a half hour of footage here. I found it completely unnecessary for the most part. I wasn't crazy about the film, so I didn't need any more footage, that's for sure. We see some more scenes with Ben and Alex. It's the typical boy/girl interaction on camera.
The 411: Paranormal Activity 4 is for hardcore fans of the franchise only. I consider myself a mild fan, with 2 being my personal favorite, and this one did nothing for me. It's filled with clichés: a creepy kid, annoying teens, and clueless parents. The first hour is tedious, boring, and a waste of time. When things do pick up in the final act, it's a major disappointment and left me feeling completely underwhelmed. The Blu-Ray looks great and offers extra footage from the film, so if you liked the film, you will be happy with this release. If not, pass on this one.

 
Final Score:  4.0   [ Poor ]  legend