ParaNorman (Blu-Ray) Review
December 7, 2012 | Posted by
ParaNorman (Blu-Ray) Review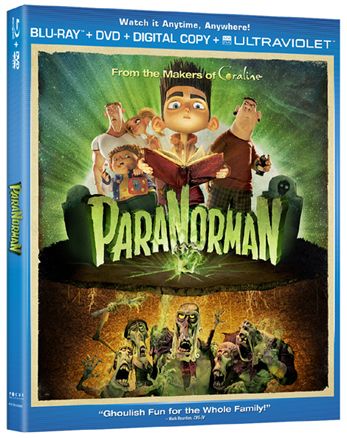 ParaNorman has been described by many as a horror movie for young kids, which is a rarity these days. Most of the horror films released today are too graphic and bloody for young children, so it leaves them feeling left out. Everyone loves to be scared, even young kids, but there is a limit to what they can handle. Along comes
ParaNorman, a PG-rated stop motion film that is scary for young kids, but not too scary. It also has a sense of humor which adults can get into and have some fun with while watching the film.
Norman (Kodi Smith-McPhee) is an outcast and an outsider due to his ability to see dead people in his everyday life. Most think he's whacky and a few cans short of a six pack, which often leaves him feeling like he doesn't belong. He does have one friend, however, in Neil (Tucker Albrizzi), who understands what it feels like to be bullied and picked on, as he's teased about his weight. Norman is hesitant to let Neil into his life, but before long, it's hard to resist his charm and persistence. Their friendship is the heart and soul of the film, as they have some really moving moments together.
Before long, it's up to Norman to save Blithe Hollow from a curse, and if there is one man or kid that can handle all of the various creepy creatures thrown his way including zombies, it's him. The stop motion animation here is used incredibly well and really adds a whole new level of creepiness to the mix. The film is from the studio behind Coraline, and it's clear that they know what they are doing with this type of animation, as the different creatures are so unique and expressive.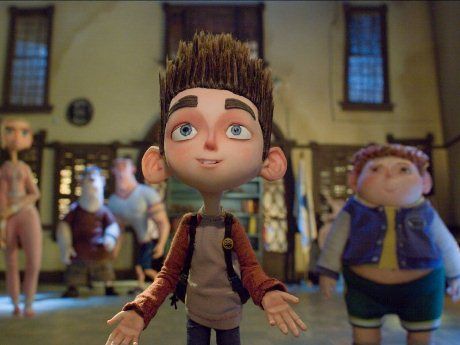 The film suffers from not being all that original and everything unfolds in the fashion that one would expect. As much as I responded visually to the creatures, some of the humans are rather one dimensional. You have the bully who is only there to be a bully and pick on people. Norman's parents, played by Leslie Mann and Jeff Garlin, are funny at times, but also rather forgettable, as their sole purpose is to be disapproving and judgmental. Visually, the film is gorgeous and doesn't hit a false note. As far as the script, it's a little too familiar for its own good.
Overall, there is enough good here to give it a slight recommendation. The film has a winning heart, some great visuals, and isn't terribly long, so it's worth seeing. It knows what it wants to do and succeeds more than it fails. If only the script had a little bit more of a surprise element to it, it would have been a great film. It's still a good film thanks to the visuals, the heart, and some of the humor. What's really refreshing about the film is that it truly succeeds in being entertaining for both children and adults. ParaNorman gets it right.
Blu-Ray Info: ParaNorman is released on a two disc Blu-Ray and DVD Combo pack which also includes a digital copy from Universal Home Entertainment. I've had very positive things to say about Universal and their Blu-Ray releases, and I'm going to continue to say them, as they have really made a conscious effort in both the audio and visual aspects of their Blu-Rays.
Video Info: Going deeper into what I talked about in the previous paragraph, wow, the video here is glowingly beautiful. Animated films really seem to shine on Blu-Ray. This is not a colorful film like The Lorax, due its dark nature, but the dark tones are extremely well done. The mood of the film is sufficiently portrayed on 1080p with an aspect ratio of 2.40:1.
Audio Info: The spooky soundtrack can be listened to on English: DTS-HD Master Audio 5.1, French: DTS 5.1 or Spanish: DTS 5.1. Subtitles are also included in English, Spanish, and French. The soundtrack knows when to slow down and when to pick up the pace. No audio issues here, as everything sounds great.
Special Features:
Peering Through the Veil: Behind the Scenes of ParaNorman (40:49): Nine segments are included here and they are titled Weird and Wonderful, Angry Aggie, Bring the Undead to Life, Reading the Game, Making Faces, Building Characters, Voicing ParaNorman, Creating a World, and That's ParaNorman. If you had any questions about what went into making this film, this will surely answer all of your questions. The attention to detail here is second to none, and it's amazing how much hard work, dedication, and craftsmanship goes into making a film like this.
Commentary with Chris Butler and Sam Fell: This is clearly a labor of love, and you can tell the passion from their voices. No stone is left unturned in this commentary track, as they give you an even deeper look into the film, as it's happening. If you want to know how certain things were done, they answer your questions and then some.
Featurettes (14:53): These featurettes include You Don't Become a Hero By Being Normal, A Norman Childhood, Playing as a Profession, Making Norman, This Little Light, Have You Ever Seen A Ghost?, The Zombies of ParaNorman. These are short and to the point and mostly fluff pieces, but they do their job.
Preliminary Animatic Sequences (09:09): Three scenes are included here and they give you a glimpse into what it looked like before it was all put together.
The 411: ParaNorman is not a great film, which is disappointing considering it had the potential to be one. Still, it's worth watching for the visuals and some of the spooky characters along with its humor and heart, which it wears proudly on its sleeve. Universal, as usual, is amazing with their presentation of this Blu-Ray release and there are plenty of informative and engaging some special features. I give it a slight recommendation.

 
Final Score:  7.0   [ Good ]  legend