Patriots Day (Blu-Ray Combo Pack) Review
March 28, 2017 | Posted by
Patriots Day (Blu-Ray Combo Pack) Review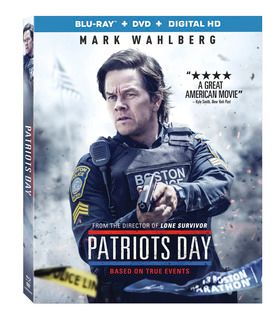 Hollywood has always been known to take tragic real-life events and turn them into movies. In some cases, they can be seen as exploitation while in other cases they can pay tribute to the heroes and make sure the event is never forgotten. They talk in Patriots Day about how love is always going to win, and even in the darkest times in the world, something positive can come out of it. Patriots Day is one of the best films of 2016 and it does just about everything right in terms of paying tribute to the police and other first responders. They do give credit to the people of Boston for helping with information, but they also did their part in the heat of the moment as well.
Patriots Day is about the Boston Marathon Bombings, which took place on Monday, April 15th, 2013. The lead in the film is Mark Wahlberg, and he plays Tommy Saunders, a sergeant with a bad leg and a bad attitude when the film starts because he is in the doghouse over his actions. Once he patrols the Boston Marathon, he will be in the free and clear, according to Commissioner Ed Davis (John Goodman). Little does he know, that day is going to change his life forever and the city of Boston forever.
By now, people know the sad and horrific story of what happened on that day as two brothers set off a series of bombs at the Marathon. People were losing their limbs and there were fatalities, including an eight-year-old boy. After it happens, the FBI gets in charge, which includes Kevin Bacon, as they try to piece together what happened and find the two brothers. Tommy knows his way around Boston and he is able to piece together the men thanks to cell phone footage from people that were at the Marathon. Now, it is a matter of finding them, capturing them, and keeping Boston safe.
The film works in a few ways such as being a thriller/drama, a moving film that is likely to give anyone with a pulse goose bumps along with tears, and also keep them glued to their seat during the manhunt. It also gives people hope and faith. It is no secret that police are under fire right now and have been for a while, but it reminds people of all the good they do and how far they are willing to go to protect people. They were really burning the midnight oils on this one in a period of over 100 hours. Director Peter Berg keeps the audience up-to-date on what is happening and shows the brutality without lingering on it.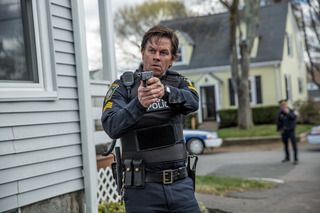 This is an incredible movie, and Mark Wahlberg is the perfect lead actor for this film. He takes his emotion to another level here. Everyone knows about his loyalty to Boston, and it shows in his performance. There is also fine work from J.K. Simmons, John Goodman, and Kevin Bacon. Everyone treats the material with respect and that starts with the director, of course. There are also backstories on the people that were affected by this event, which adds another human element to it. The real-life people are shown at the end of the film as well.
The film did not perform very well at the box office, and one could imagine that is because people do not want to relive this day, even in a movie theater. It is understandable a lot of people might not see this as entertainment and they do not wish to see the awful things that are happening. As mentioned in the review, there are a lot of positive things to take away from this, especially when hearing from the survivors now and how it has changed their lives. It is also a testament to the first responders and everyone that did their part. It is entirely up to the viewer if they wish to see it, as that is their prerogative, but for those that do, they will walk away moved.
Blu-Ray Info: Patriots Day is released on a two-disc Blu-Ray, DVD, and Digital HD combo pack from Lionsgate Home Entertainment. The digital copy can be watched on iTunes or on Ultraviolet Digital HD. The film is rated R for violence, realistically graphic injury images, language throughout, and some drug use. It has a running time of 133 minutes.
Video Info: The 1080p High Definition 16×9 2.40:1 presentation looks crystal clear, bright, and very in-your-face. The film is shot in some ways like a documentary, which adds to the realism of the day. Again, none of this is done to exploit the day, as it is done to give a vivid picture of what really happened.
Audio Info: The audio formats are English DTS: X Audio, DTS Headphone: X Audio, Spanish 5.1 Dolby Digital Audio, French 5.1 Dolby Digital Audio, English 2.0 Dolby Digital Audio Optimized for Late-Night Listening, and English Descriptive Audio. There are subtitles in English, Spanish, and French. The audio comes in with no problems. I'm a big fan of the English DTS: X Audio format, which adds new levels to the sound.
Special Features:
Boston Strong: True Stories of Courage (21:34): This can be watched using the play-all option and it features interviews with Dr. Jeffrey Kalish, Dun Meng, and Sgt. Jeff Pugliese. They share their memories of that day.
The Boston Bond: Recounting the Tale (21:43): The actors, director, and other members of the crew share what it was like working in Boston. This is the third film that Peter Berg and Mark Wahlberg have done together, and initially, Mark was hesitant to tell the story. Clips from the movie, on-set moments, and interviews are also included here. Mark Wahlberg was incredibly passionate about it, and he talks about the responsibility he felt to get it right.
The Real Patriots: The Local Heroes' Stories (19:48): Peter Berg starts off this special feature where he talks about how grueling filmmaking is. At this point in his career, he wants to take on things that are important to him. There are also interviews with a producer, Ed Davis, the former Boston Police Commissioner, John Goodman, who plays Ed Davis, Sgt. Jeffrey Pugliese from the Watertown Police Department, J.K. Simmons who played him in the film, Dun Meng, along with the actor that played him, Jimmy O. Yang. This special feature allows the viewer to hear from the real patriots as well as the actors that played them. It is a good side-by-side piece to see how the actors handled the role of playing them and how the people involved that day and the days after dealt with it.
The Cast Remembers (05:51): The cast talks about how they first heard about the bombings and their individual reactions at the time.
Actors Meet Real-Life Counterparts-A 2 Part Series (18:13): John Goodman, Ed Davis, Dun Meng, and Jimmy O. Yang sit down and talk with one another. This can be watched one at a time or using the play-all option. I really felt like the actors looked like the real-life people they were portraying and captured the essence of the person as well. They talk about how they worked together and their relationships off set in preparing for their roles.
Researching the Day (11:22): Peter Berg, producers, the technical advisor, co-screenwriter, and Mark Wahlberg talk about how they researched it and how vital it was in getting the realism right and the reality of the situation.
8.5
The final score: review Very Good
The 411
Patriots Day shows off a new side of Mark Wahlberg that really surprised me. I've always found him to be a good actor, but I've never been ready to put him in the great category. I don't know if one film will change that, but he does achieve greatness in this. From viewing all of the wonderful special features, which I recommend you check out, this is something that was inside of him and something he had to do. He took it to a whole new level. Again, this film might not be something people want to seek out or watch because of the subject matter, but I assure you it is done the right way with the right people involved. If you are up for it, you won't walk away disappointed. This one is a first-day purchase in my mind. It is a piece of our history, and a lot of good came out of something that was terrible. It is important to remember the good and the love, which the film talks about in a great speech. The audio and the visual aspects are also top of the line. Right now, I think I have 30 films as the best of the year for 2016, and I need to get it down to 25, as it is more for my personal list. It is going to be hard, but this film was simply stunning and it flew by in terms of time. It works as entertainment, drama, and inspiration.
legend