Savages (Blu-Ray/DVD Combo Pack) Review
November 13, 2012 | Posted by
Savages (Blu-Ray/DVD Combo Pack) Review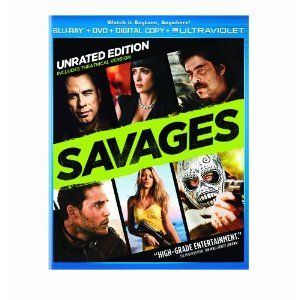 Oliver Stone's Savages is sick, twisted, gritty fun for adults. I will admit that when the trailer was released, I didn't really have any interest in checking it out. It looked rather bland and forgettable. I guess that's why they say you can't judge a book by its cover, because Savages is a blast from start to finish and one of the most enjoyable experiences I've had at the movies this year. I love being surprised by a movie, and I was pleasantly surprised by this one. It's one of my favorite films of the year.
Ben and Chon (Aaron Johnson and Taylor Kitsch) are entrepreneurial brothers who sell pot and also share the same girlfriend in O, played by Blake Lively. It's a messed up love story, but it works for them. Ben is the Buddhist of the group who doesn't really believe in violence and is the more sensitive of the brothers. Chon is a former Navy SEAL who lives by the motto of, ''If you let people believe that you are weak, sooner or later you're going to have to kill them." They function thanks to the dirty DEA agent played brilliantly by John Travolta. Let me tell you, it is great to see Travolta in an interesting role once again.
Things are beautiful for the brothers in sunny California until the Mexican Baja Cartel wants to partner up with them and go into business. When they respectfully decline, the Cartel take matters into their own hands and kidnaps the lovely O and uses her as bait to get to the brothers. The Cartel is led by the vicious and maniacal Elena, played by Salma Hayek, as the kind of woman that would cut your throat and smile about it later. Her right hand man is Lado, played with menacing conviction by Benicio Del Toro. He is ruthless and unforgiving, devoid of any emotion or feelings.

Savages, which runs at two hours and ten minutes, is paced perfectly and not a moment in the film is boring, dull, or uninteresting. It's a cat and mouse game with consequences and tons of twists and turns. Oliver Stone gives all of his actors plenty of time to breathe and interact with each other. The dialogue is juicy, well-written, and moves the story along just perfectly. Stone was wise in having the author of the source material which this is based on, Don Winslow, as one of the screenwriters. It feels like the essence of the material is in the film. Composer Adam Peters also has put together an incredibly fun soundtrack along with Budd Carr. The music is all over the map and really adds to the film.
At the end of the day, the acting is what is going to keep the audience engaged from start to finish. Travolta plays a slime ball manipulator that is looking out for himself and his sick wife that is dying, and it's clear he's relishing this opportunity to work alongside Oliver Stone. Benicio Del Toro chews up the scenery in every scene he's in and gives the type of performance that is worthy of an Oscar nomination. Salma Hayek is a mean woman with a whole history of secrets that make her human, so at times, she can even be sympathetic. It's a multi-layered performance. Even the younger cast is up to the task of hanging with these well-versed actors.Savages hits on all cylinders.
Blu-Ray Info: Savages is released on a two-disc Blu-Ray combo back which also includes a DVD copy of the film as well as a digital copy which can be added to your Ipod or watched on your mobile device via Ultraviolet. The unrated cut of the film features eleven minutes of extra footage.
Video Info: This film is absolutely gorgeous on Blu-Ray and I loved it even more the second time thanks to the precision and craft that was put into this Blu-Ray. The outdoor shots in particular are magical and enchanting. When the film gets gritty, it also shines as the down and dirty look is just right when the scene calls for it. This is a great looking Blu-Ray. It's presented in widescreen 2:40:1 The resolution is 1080p and the video codec is MPEG-4 AVC.
Audio Info: The audio is also amazing, as the soundtrack from the film is one of the better movie soundtracks I've heard in quite a while. I interviewed the music supervisor Budd Carr, which you read here , if you would like more information about the music of film. It's a moody soundtrack and the audio, English DTS-HD Master Audio 5.1 is pitch perfect. The soundtrack really hooks you into the film.
Special Features:
Stone Cold Savages: This five part special feature includes The Origins, Savages , Real Savagery , A Savage Set, and Savage Cuts. It runs at thirty minutes and fifty three seconds and focuses on the hard work and effort that went into making this film. They had an advisor on set for just about everything to make sure this film was done right.
Deleted Scenes: Nine deleted scenes which total sixteen minutes and one second are included here. At over two hours, I found the film to be just fine and not really needing any extra scenes. However, if you are inclined to see what didn't make the cut, there is plenty to choose from here.
Feature commentary with Oliver Stone: Stone is a fascinating director and person, so this was great to listen to while watching the film. Everything has a purpose in his films, and he talks about his decisions in great detail here. This is very informative and engaging.
Feature commentary with producers Moritz Borman, Eric Kopeloff, Co-screenwriter/Novelist Don Winslow, Executive producer/Co-Screenwriter Shane Salerno and Production Designer Tomas Voth: If you are looking for a different perspective on the film from other people involved in the film, everyone here offers something unique and worthwhile. Stone really knows how to hire the best people for the job.
The 411: Oliver Stone's Savages will be on my list of the top ten films of the year 2012, most likely in the bottom half. Between the acting, the music, the look and feel of the film, this is one of Oliver Stone's best moves in a long while. Stone is unflinching and doesn't shy away some of the unsavory material in the film. Yes, these people are savages and behave in such ways, but they are quite entertaining and interesting. This one is worth adding to your collection.

 
Final Score:  8.0   [ Very Good ]  legend