Sing (Blu-Ray Combo Pack) Review
March 21, 2017 | Posted by
Sing (Blu-Ray Combo Pack) Review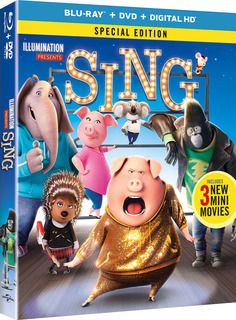 Sing is a film that is further proving that Illumination Entertainment is really improving with each film they make as this comes on the heels of The Secret Life of Pets. While one can argue that if they never see another Minion again, it would be too soon, as they are completely overexposed, they are figuring out what works for them. Sing is a film that brings some really big names to the game such as Academy Award Winners Matthew McConaughey and Reese Witherspoon to go along with Scarlett Johansson and many others. Anyone that is a fan of both music and film together is sure to enjoy Sing, regardless of their age.
Sing starts off showing Buster Moon (Matthew McConaughey) struggling to keep The Moon Theater, once owned by his father, alive. He has not had a big show there in a while, and things do not appear to be looking up. He has one employee, an elderly lizard named Miss Crawly (voiced by writer/director Garth Jennings), and she has a fake-eye that pops out here and there. The bank keeps calling and the money is about to run out unless he comes up with a brilliant idea and fast. That idea is to host a singing competition, and the film is wise to acknowledge the fact that there are already too many of those out there. It is self-aware in that fact.
At first, Buster promises the winner a $1,000 prize, which is all they have to their name at the theater, but due to an error by Miss Crawly, it ends up being typed up as a $100,000 prize instead. Even though they have nowhere near that much money, Buster goes with it as he is a koala with a lot of guts and solutions. He holds tryouts, which bring out a lot of interesting characters in addition to a lot of cool takes on some modern and classic music hits.
Since this film is set entirely in a world occupied with animals and ones that are not seen every day, that is a refreshing touch for the film. There is a porcupine named Ash voiced by Scarlett Johansson. This allows her to branch out and show off her true personality away from her boyfriend. There is a pig voiced by Reese Witherspoon who is a mother of 25 piglets but wants to show off her creative side as well. There is also a shy elephant named Meena (Tori Kelly), a flamboyant German pig named Gunter (Nick Kroll), a gorilla in a leather jacket that does not want to be part of his father's gang named Johnny (Taron Egerton), and an overconfident mouse (Seth MacFarlane).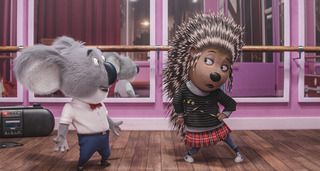 In an animated film where there is a lot of music, one looks for songs that are going to stick with someone after they are done watching it. There were plenty of those in this film, which is a sign of success. It is also great that a lot of the voice actors, especially Matthew McConaughey, are not that noticeable. They really inhabit the animals/characters they are portraying. There might be times where their voices are noticeable, but they are not over done in a way where one can point it out all of the time.
Most of all, animated films need humor and heart. This film has a lot of humor from the facial reactions, the way the actors/actresses read their lines, and from the situations they find themselves in throughout the film. There is also a really strong message that is thrown in near the end of the film as well. It really catches the audience by surprise. There are also not too many clichés here as well. They really went out of their way to make something unique, fun, and very entertaining. They succeeded here, as this film was delightful.
Blu-Ray Info: Sing is released on a two-disc Blu-Ray, DVD, and Digital HD combo pack from Universal Studios Home Entertainment. The film runs at 108 minutes and is rated PG for some rude humor and mild peril. For the Digital HD copy, it can be watched on Ultraviolet or on iTunes.
Video Info: The stunning Blu-Ray of the film mixed with the bright, vivid, and gorgeous animation is just perfect. This film looks flawless and stands out in a colorful way that really brightens up the TV. It comes on 1080p High Definition Widescreen 1.85:1.
Audio Info: The audio formats are English ATMOS Dolby True HD/DVS 2.0, Spanish Dolby Digital 7.1, and French Dolby Digital 5.1 (Canadian). The subtitles are in English, Spanish, and French. It goes without saying, but I'm going to say it, anyways, that music on a music-based film is really important to get right. Here, the audio is out of this world and it really feels like a concert type experience with tremendous sound.
Special Features:
The Making of Sing (04:40): Christopher Meledandri and Janet Healy, two frequent voices on Illumination Entertainment special features, talk about the film here. Christopher talks about how he wanted to do a music-driven film and make music part of the narrative. Over 400 people worked on this film.
Finding The Rhythm-Editing Sing (02:44): Editor Gregory Perler talks about how it was not so much about getting rid of bad scenes. He says that it was more about making editing changes based on the scene and what it called for.
Character Profiles (12:25): This can be watched using the Play-All feature. It focuses on the characters of Buster Moon, Rosita, Meena, Johnny, Gunter, and Miss Crawly. The actors that voiced them talk about how they approached the character and what appealed to them about doing this film.
Don't You Worry 'Bout A Thing Music Video Starring Tori Kelly (03:11)
Making a Music Video with Tori Kelly (02:52): This is a brief behind-the-scenes look at what it is like making the music video for the song mentioned above.
Faith Music Video (02:46)
Faith Lyric Video (02:49)
Set It All Free Lyric Video (03:40): This was my personal favorite song from the film.
SING & Dance! Faith (06:31): Aakomon Jones (Dancer and Choreographer), Amy Allen, and Codie L. Wiggins team up to show the moves for the song Faith and also give a shout out to the choreographer on the film in Wayne McGregor.
The SING Network: These promos are pretty entertaining as they focus on Gunter's Dance Studio (01:22), Rosita's Babysitting Gizmo (01:03), The Moon Theater (00:43), and Miss Crawly's Matchmaking Service (00:55). Finally there is one that can be viewed using Play All and it runs at (09:09). It is called In the News and features Buster Moon, Gunter, Rosita, Johnny, Meena, Ash, and Mike. It is similar to something you would see on the E! Network.
Best Of Gunter (01:03): This features some of his best moments from the film.
Three Mini Movies: These are three highly entertaining mini movies. They are called Gunter Babysits (03:47), Eddie's Life Coach (04:16), and Love at First Sight (04:18). There is also The Making of The Mini Movies (05:56), which features Christopher again along with the directors of the mini movies as they talk about their approaches to the mini movies and how much fun they had making them.
8
The final score: review Very Good
The 411
Sing is a film that I highly recommend as a first-day purchase for children and adults. I believe this is a film for everyone. They are able to blend that delicate balance of entertainment for children along with parents. There are a lot of great special features here that were short but to the point, which was appreciated. They give out a lot of information without going on for too long. As stated in the review, Illumination Entertainment is really growing and they are really finding their niche. While they are not on the level of Pixar just yet, they might be in a few years. I know the Minions have made them a lot of money and there is a third Despicable Me coming out soon, but films like this along with The Secret Life of Pets show off more that they can do. The audio and visual aspects are always outstanding on a Universal Blu-Ray. This is a film where I walked into it not knowing what to expect, and it really made me smile and laugh. Sing is worth watching multiple times and owning, especially with the music.
legend