Sleepaway Camp 2: Unhappy Campers (Blu-Ray/DVD Combo Pack) Review
June 9, 2015 | Posted by
Sleepaway Camp 2: Unhappy Campers (Blu-Ray/DVD Combo Pack) Review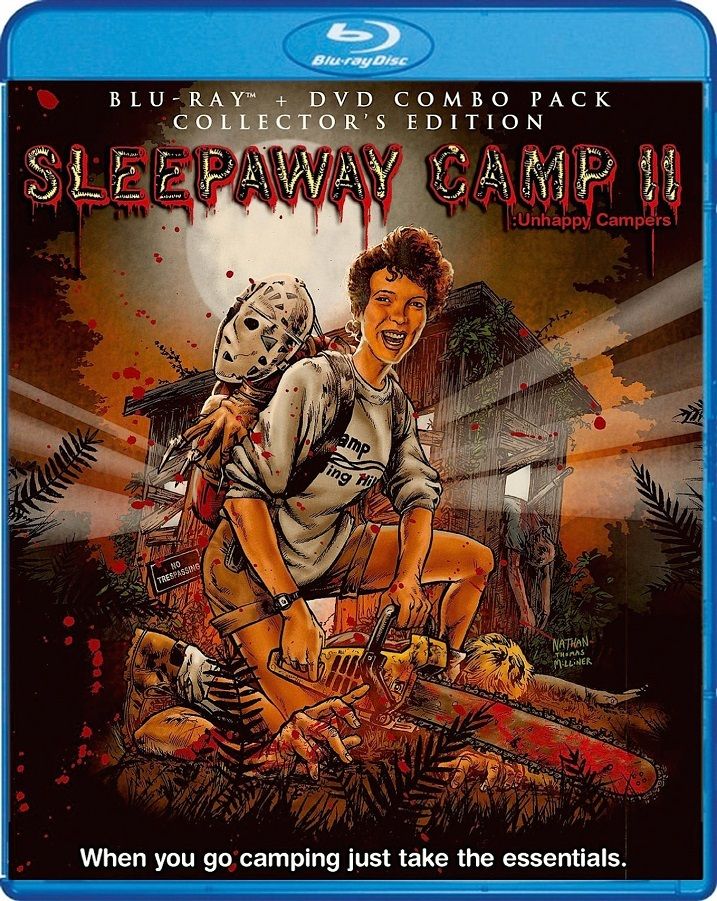 The horror genre loves to partake in sequels and it seems like sometimes they can't get enough of them. As long as there is fan interest, it seems like they will churn out films. At the end of the day, that is what it is all about: the fans. When a particular horror director is making a sequel, he has the fans in mind. I really enjoyed the original Sleepaway Camp and its surprise ending, so of course I had to check out some of the other sequels to the film, Sleepaway Camp 2: Unhappy Campers and Sleepaway Camp 3: Teenage Wasteland. I confess that I have yet to see the other films in the series. There is no Felissa Rose this time, however. Instead, we are introduced to Pamela Springsteen (sister of Bruce Springsteen).
The film opens with one of those campfire stories intended to scare all of the campers as they tell the story of what happened previously at Camp Arawak. Angela Baker (Pamela Springsteen) is a counselor in charge of the girls, so she wants to put an end to this story right away. It's not exactly a spoiler that Angela is THE Angela from the previous film just played by a different actress. This time, she has a lot more personality and spunk and even partakes in singing a camp song. Not many of the girls can stand her and think she is a lesbian.
She does form a connection with one girl, however, and that is Molly, played by Renée Estevez. In the eyes of Angela, she is the only good girl at this camp. Because of this, she wants to be a mentor of sorts to her and help her out as she navigates through camp. She sees lots of fornicating, foul language and just a general bad attitude by many of the campers. This doesn't sit well with Angela, who won't stand for such obscene behavior. From here on out, I think you can piece together what happens if you have seen any horror film of any kind.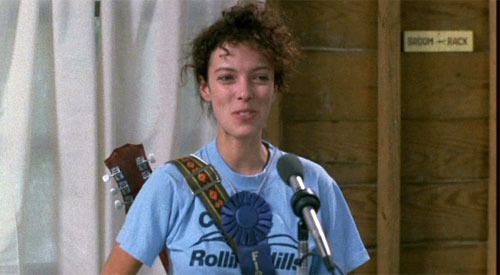 The switch from Felissa Rose to Pamela Springsteen is a rather effortless one, to be honest. For those who have seen the original Sleepaway Camp, we remember that the Angela character wasn't exactly talking anybody's ear off. On the special features, they praise the comedy that Pamela Springsteen brought to the role and she provides that in droves. According to IMDB, the first film is described as horror/thriller whereas this one is described as horror/comedy. There is a lot more comedy to it and it's easy to see that Pamela is having a great time and is really relishing this role.
The rest of the campers also bring a lot of personality and spunk to their parts. What I also really loved about this film, much like the first one, is the fact that it has a short running time. The first one was 84 minutes and this one is 80 minutes. There is truly no need for these films to be overly convoluted or overly long. I'm very happy to add Sleepaway Camp 2: Unhappy Campers to my collection along with Sleepaway Camp 3: Teenage Wasteland. I can now say that I proudly own the first three films, and they all look great, thanks to Scream Factory/Shout! Factory. I can't say it enough: I love the respect and dedication they are giving to these releases.
Blu-Ray Info: Sleepaway Camp 2: Unhappy Campers is released on a two disc Blu-Ray and DVD Combo Pack that is called the Collector's Edition. It is released from Scream Factory/Shout! Factory, and the film runs at 80 minutes. It is, of course, rated R.
Video Info: The 1080p high definition widescreen (1.78:1) video looks out of this world. I had watched it on Netflix a while back and this is a much better looking version of the film. There are no grainy spots or images and I couldn't notice a single thing wrong with the transfer. The colors really glow on this Blu-Ray and the picture is dazzling, vibrant, and crystal clear. They knocked it out of the park with this one, just like they did with the original.
Audio Info: The DTS-HD Master Audio Mono also allows for the inventive and imaginative kills to be heard without any background noise getting in the way. I might sound repetitive here and if so, I apologize, but they have enhanced the audio in ways that I didn't think were possible. Subtitles are included in English.
Special Features:
Audio Commentary with Michael A. Simpson and Writer Fritz Gordon: You can tell that the writer and director knew what they were making when they put this film together. They come off as very intelligent and very entertaining. They offer some great behind the scenes stories as well as some interesting stories about shooting the film. I would have loved to have heard from Pamela Springsteen on this, but she is no longer involved in the acting business.
A Tale of Two Sequels-Part One (28:06): This includes interviews with the special make-up effects creator Bill "Splat" Johnson, Director Michael A. Simpson, cinematographer Bill Mills, and editor John David Allen. They talk about the limited budget and some of the age issues that came up due to the sexual scenes. They wanted this film to have more humor and be more stylized.
Abandoned-The Filming Locations of Sleepaway Camp 2 and 3 (15:28): On this special feature, we get to see some of the shooting locales that were used in the film, according to the press release. It's kind of neat.
Behind the Scenes Footage with commentary by Michael A. Simpson (13:21): This is exactly as described as we see some footage of them filming Pamela Springsteen and some of the makeup and gore while the director talks over it.
Home Video Promotional Trailer (02:24)
Short Film: Whatever Happened To Molly? (0:50): This is described as a visualization of Molly's possible fate and is based on page 94 of Fritz Gordon's (screenwriter) original script for the film. It is introduced by someone from Sleepawaycampfilms.com.
Still Gallery
7.5
The final score: review Good
The 411
I really enjoyed Sleepaway Camp and I must say I also really enjoyed Sleepaway Camp 2: Unhappy Campers. I can't say I enjoyed it any more or any less than the first film. It was different, and I liked the added humor thrown into the mix. I just consider it a continuation of the franchise, and I was fine with what they put together on screen, especially the performance of Pamela Springsteen. She is a trooper and really sells the film. On the special features, everyone gives her so much praise and she deserves it. She's a big part of the movie and without her the movie doesn't work as well as it does. Because of her, we have a very entertaining horror movie that thanks to Scream Factory/Shout! Factory is worth adding to your collection if you own the original film. I raved about the technical aspects in my review of the original and I'll do it again. I applaud and salute Scream Factory/Shout! Factory for their respect to the horror genre. So often, it gets overlooked, forgotten about, or ignored. Not anymore. As per usual, they load up on the special features. This comes highly recommended for horror fans. There is one particular kill that made me look away and it was just plain disgusting. I mean that in the best possible way.
legend