Sleepless (Blu-Ray Combo Pack) Review
April 18, 2017 | Posted by
Sleepless (Blu-Ray Combo Pack) Review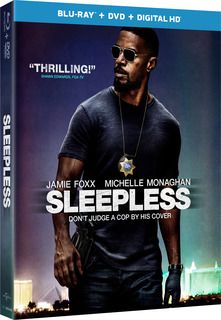 Let's cut right to the chase: Sleepless is one of the worst films of 2017. It is the type of project that one would expect from VOD/Direct to DVD kings Nicolas Cage or Steven Seagal. The fact the lead actor is Jamie Foxx, and it also includes Michelle Monaghan, Scoot McNairy, Dermot Mulroney, and Gabrielle Union, is even more baffling. It was a bomb at the box office and a bomb with critics. It is easy to see why from the acting to the screenplay to the stupid decisions that are made throughout the course of the movie. Everything could have been kept simple, but in order to move the plot along, people had to make idiotic moves.
Jamie Foxx stars as Vincent Downs, and he works in Internal Affairs. He has been undercover, which has been a strain on his relationship with both his son and his ex-wife, played by Gabrielle Union. He tries to explain why he misses all of his games and why he is late picking him up to things, but because of his job, he has to keep things flying under the radar. His partner in the film is played by T.I., and one night, they get mixed up with the wrong people.
This leads to them kidnapping Vincent's son in exchange for the 25 kilos of cocaine that Vincent and his partner took. Vincent also gets stabbed, but once he patches himself up, he is good to go, as he runs around, flies around in action scenes, and takes a beating. Logic often gets thrown out the window in action flicks, but at some point, there needs to at least be an attempt at realism. This film does not believe in that, and they mention on the special features it can be seen as escapism with real characters. However, the characters are beyond moronic and it does not even work as a fun action flick with its short running time of 96 minutes.
One problem that people often bring up when it comes to haunted house movies is why the family doesn't just move out. I read online where someone mentioned for this film that all of this could have been resolved rather quickly. It is frustrating when they are trying to drag things out just to have a full-length movie when there is really nothing there. The villains, played by Scoot McNairy and Dermot Mulroney, are laughably bad and trying way too hard to act menacing. It is comical but not for the right reasons.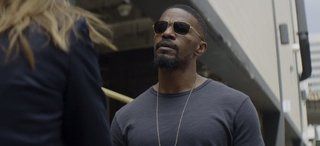 The film mostly takes place in a Casino in Las Vegas, although the film was actually shot in Atlanta, Georgia. It makes the film feel overcrowded and too sloppy. Whenever there is aspirin needed while viewing a film, it is too overbearing on the senses during the action scenes. All of the talk about characters being realistic on the special features is also a joke because these are cardboard cutouts. You have the concerned mother, the good cop, some dirty cops, and one-dimensional villains.
Again, this is a film that should have been released straight-to-DVD, and it did not deserve a theatrical release. This is why they always talk about most January movies being so dreadful, and Sleepless definitely falls into that category. It gets dumped into the theaters and they hope they can con some people into actually paying money to see this. Jamie Foxx is an Academy Award-winning actor with a real presence on screen, but since his Oscar win for playing Ray Charles, he has had way more misses than hits. It is a real shame to see his talent wasted as he has a lot to offer, and he should be getting A-list parts with A-list directors.
Blu-Ray Info: Sleepless is released on a two-disc Blu-Ray, DVD, and Digital HD copy from Universal Pictures Home Entertainment. The Digital HD copy can be watched on iTunes or through UltraViolet. It has a running time of 96 minutes and is rated R for strong violence and language throughout.
Video Info: Usually, I praise the Blu-Ray releases of Universal, but this 1080p High-Definition 2.40:1 transfer is merely just OK or a little above average. There is nothing wrong with it exactly, but it doesn't stand out in the way I would expect from this sort of flick. It didn't enhance the film or add anything to it in terms of the visual style.
Audio Info: The same can be said for the audio formats of English DTS-HD Master Audio 5.1 and DVD Dolby Digital 2.0 with subtitles in English, Spanish, and French. It is nothing special, and I found myself having to turn up my volume a lot more than I'm used to when watching a Blu-Ray, especially from Universal. There was nothing really working with this flick.
Special Features:
Deleted Scenes (05:19): Five deleted scenes are here, and they are Theater Tickets, The Bottle Threat, Banging Around, Got To Go, and You Know My Voice. They add nothing to the film except to further pound home the point that the bad guys are really, really bad and Vincent's son has to use the washroom.
One Long Night: The Making of Sleepless (04:23): The key principal actors are interviewed here, and they talked about how they liked the fact that the characters seemed like real human beings. Did I miss something? They also discuss some of the stunts like the time Michelle Monaghan accidentally punched Jamie Foxx in the teeth.
3
The final score: review Bad
The 411
Sleepless is a film that I expected to be at least watchable or somewhat mindless entertainment. It is neither of those. It is just plain bad. The blame goes to everyone involved from the actors to the writer and the director. I know Hollywood does not always release hit after hit after hit, but it is shocking to see so many good to great actors in this mess. The film lost money, it stinks, and it is a waste of everyone's time, especially the viewers. At least the actors were paid to be there. I can't recommend this film in any fashion, even as a rental. The action is even hokey, as mentioned, and it does not look particularly well done. The special features are bland and even the Blu-Ray does not look or sound good. This is a pure dumpster fire from start to finish. What a bummer.
legend