Southside With You (Blu-Ray) Review
December 13, 2016 | Posted by
Southside With You (Blu-Ray) Review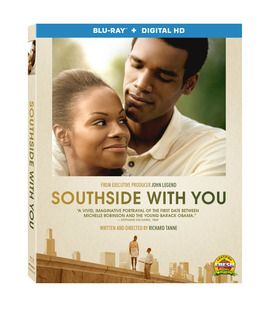 Southside With You, which is about the first-date between Barack Obama and Michelle Obama, shows off the simplicity of film. That is meant as the best possible praise. Oftentimes Hollywood thinks they have to make things too complicated or complex. As an audience, sometimes all that is needed is two good actors, a simple story, and a director with the patience and dedication to let it unfold. Southside With You has a running time of 84 minutes, although the credits start rolling at the 76 minute mark. It is a beautiful film about love, romance, and getting to know someone and figuring out who they really are, where they come from and where they have been in their lives.
One of the great things about this film is that the actors, Parker Sawyers and Tika Sumpter, are not trying to impersonate Barack and Michelle. He doesn't try to mimic his voice or just copy him. As it is often talked about when playing someone that people have plenty of video on, it is important to get the essence of the man or woman. Parker Sawyers has captured the essence of Barack Obama from his charm to his personality to the way he deals with people. Tika Sumpter has also done a fantastic job of showing off the powerful and determined Michelle.
At first, she does not even think it is a date, even though everyone else says otherwise and notes that she is putting an awful lot of time into her appearance for something that is not a date. Barack, on the other hand, is clearly smitten with Michelle and very persistent in his attempts to win her over. They work at the same law firm, and she does not want anything to get in the way of her work or for her to be seen differently by anyone because of her dating or being seen with Barack Obama.
The film is set in 1989 and he tells her they are going to an important event, but fails to inform her that the event is not for four hours. They also go to an art exhibit and end up seeing Spike Lee's Do The Right Thing as well throughout the day. While at this event, she gets to see Barack in action and see how he can command a room, inspire people, and really make serious changes. The film is one of those what you see is what you get films. It shows them on the date, getting to know each other, finding out their history, and sometimes hitting it off and sometimes butting heads.
It is like any date: there are going to bumps and bruises, but if there is chemistry there, it can be hard to deny. It's a great thing that they filmed in Chicago, as that really adds to the authenticity of the sense of place. It was a real treat to see two people, take away for a second the fact that the audience knows they are going to go on to become famous, just chatting and having a dialogue with one another. There is something beautiful about that and this is a beautiful film. It is also one of the best films of 2016.
Everyone has to start somewhere, and it is interesting to see the president with a hole in his car, smoking, and almost seen as just another guy trying to win over a girl. She is not easily wooed, which makes it all the more interesting. He has a certain aura of confidence about him and it shows on screen. This was a phenomenal film and the type of film that more audiences would love to see. Again, it was great they didn't use big name actors or try to just copy Barack and Michelle. It allows the audience to take them in as people and get to the core of what is important to them, which was helping people.
Blu-Ray Info: Southside With You is released on a single-disc Blu-Ray from Lionsgate Home Entertainment. It comes with a Digital HD UltraViolet copy as well and runs at 84 minutes. It is rated PG-13 for brief strong language, smoking, a violent image, and a drug reference.
Video Info: I really enjoyed the 16×9 Widescreen 2.35:1 Presentation of the film. It is gorgeous looking and if a director, especially a first-timer like Richard Tanne, is going to get a first-date/love story right, it needs to shown in a way that is subtle but beautiful at the same time.
Audio Info: The audio format is English 5.1 DTS-HD Master Audio with subtitles in English and Spanish. It sounds great, especially some of the street noise, the dialogue, and the inner moments of them taking in the date and each other.
Special Features:
Commentary with Writer/Director Richard Tanne: This is a very informative commentary track as he takes the audience though the process of getting this film made as well as the research he did while writing the script. He also talks about the casting process and filming in Chicago. He covers a lot of ground.
Original Artwork and Animations
8.5
The final score: review Very Good
The 411
Southside With You might be short and sweet, but there is not a moment wasted by Writer/Director Richard Tanne. He picked the perfect actors in Parker Sawyers and Tika Sumpter to portray Barack and Michelle, and they did them justice. I don't tend to get caught up in the looks or the little things when it comes to portraying famous people, but, again, as mentioned, the essence, which is talked a lot by actors, is there. They are the two main stars of the show here, with other actors sprinkled in, and even though it is short, they carry it and make it a great story to watch that put a smile on my face. Love is always wonderful and sweet to watch, especially when it is told in this tender and honest way. The commentary track is terrific and it looks and sounds fantastic on Blu-Ray. It would have been neat to have some special features where Parker Sawyers and Tika Sumpter talk about their approach to their roles, but maybe a little bit of mystery is not a bad thing. Again, this is one of the best films of 2016 and also one of the most overlooked and underrated. It has done well critically, but I don't feel like enough people are talking about it. This is worth purchasing if you enjoy a love story told the right way. A true love story is always the best.
legend