Sully (Blu-Ray Combo Pack) Review
December 22, 2016 | Posted by
Sully (Blu-Ray Combo Pack) Review
Tom Hanks is the type of actor that can transform himself into just about any type of role that is offered to him. He really seems to excel when he is playing real-life figures. Captain Phillips was a terrific film, and he really did the man justice as well as the film, as it was one of my favorites of that particular year. Here, in 2016, he is playing Chesley 'Sully' Sullenberger, the man that successfully landed US Airways Flight 1549 in the Hudson River. In the process, he saved 155 lives, and not a single person perished. It was a daring and bold move, one that turned him into a hero and an overnight sensation for the media.
However, he was never quite comfortable with being called a hero. He felt as though he was just doing his job, and he was grateful for all of the rescue workers, passengers, police, and firemen that did their jobs to make sure everyone survived after the plane landed in the Hudson River in freezing temperatures. He had to make a decision and it was a decision that required him to use all of his previous skills because as he points out on one of the special features, it was a matter of life or death.
The airplane had lost both engines because of a bird strike. The weather was 36 degrees with a wind-chill of -5. With him every step of the way was First Officer Jeff Skiles (Aaron Eckhart). Even though the world sees Sully as a hero, the NTSB is wondering if he had something to drink, if he had done any drugs, or if he was having problems at home. They wonder why he did such a move instead of simply going back to LaGuardia. He even starts to second-guess himself and suffers from nightmares, sleepless nights, and a ton of stress.
His whole career and everything that he stands for is being looked at and analyzed. Laura Linney plays his wife, and she is a terrific actress, but there is only so much she gets to do in the film. She is seen talking to him on the phone, as she is worried about him and wonders if he will fly again. It is a rather thankless role and it does not really show any type of chemistry or love between the two of them, which is a shame. That is a flaw with the film, but it is the only flaw, thankfully.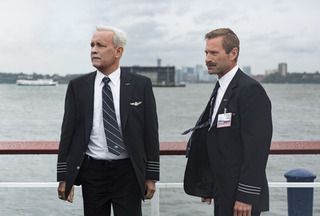 The legendary Clint Eastwood directs the film, and he is a master behind the camera. All of his films are so elegant looking and dignified. He knows how to tell a story with the camera, get out of the way, and his films have a certain look to them that is classic and esteemed. It was actually the first time he worked with Tom Hanks, which is hard to believe when one thinks of all of the classic films that Eastwood has directed and Hanks has been the lead actor in throughout their respective careers. It should have happened a lot sooner after seeing this flick.
Tom Hanks does so many subtle things that turn into big things. From the look of regret and fear on his face to the worries that consume him constantly, the audience is able to see what he is going through and understand his pain. They also get to see Sully as he has to adapt to a new lifestyle and face questions on a job that he has done for over forty years. After seeing the real Sully, it is apparent he did his research on this man. It is another great performance by Tom Hanks, which is to be expected with the way he approaches his craft.
Sully has a great actor and a great director and they are on the same page. That is a formula for a great film. This is one of the best films of 2016, and it should be remembered come Oscar time, even though it was released in September. Tom Hanks deserves another nomination for his work on this film, as does Eastwood as a director. The film shows how fragile life can be and how it can hinge on the decisions people make. It also shows how these people were seconds away from dying. As the fortune cookie in the film reads, "Delay is better than disaster." Sully always had a plan and he prevented a disaster from happening by doing what he knew was right and because of his experience.
Blu-Ray Info: Sully is released on a two-disc Blu-Ray, DVD, and Digital HD Combo Pack from Warner Brothers Home Entertainment. I'm very happy to see they have brought back the combo pack for this film as well as my favorite, the slipcover! The film runs at 96 minutes and is rated PG-13 for some peril and brief strong language.
Audio Info: The audio formats are Dolby Atmos: English, English Descriptive Audio 5.1, Dolby Digital 5.1, French 5.1 (Dubbed in Québec), and Spanish 5.1. There are also subtitles in English, French, and Spanish. The audio is terrific and it captures all of the nuances along the way such as the sound of the plane, the water, and the dialogue. Everything is picked up and it sounds great.
Video Info: This crystal clear video transfer is amazing, and the film looks outstanding on Blu-Ray on 1080p High Definition 16×9 2.4:1, which is my favorite aspect ratio. It is a dazzling looking film that really is magnificent and comes to life on Blu-Ray. There were so many scenes that were simply stunning to behold.
Special Features:
Sully Sullenberger: The Man Behind The Miracle (19:49): This features interviews with Sully, his wife, one of his daughters, and Jeff Skiles. It talks about him growing up and loving planes since he was five-years-old. He started getting lessons at age sixteen. He also shares his experience in The Air Force Academy and also relives the day in the Hudson River and how it changed his life forever in both good and bad ways. Now, he is focusing his attention on helping others with safety. If anyone would know, it is Sully.
Moment By Moment: Averting Disaster on The Hudson (15:44): Voice recordings from the landing are heard on this special feature, which also includes interviews with Sully, Jeff Skiles, and the air traffic controller Patrick Harten. They relive the day and talk about exactly how it went down and what was going through their heads at the time and how they handled it.
Neck Deep In The Hudson: Shooting Sully (20:17): This project got off the ground thanks to Sully's book, although the screenplay ended up being written after they met Sully. He told the principal players a story that stuck with them. On this special feature, Tom Hanks, Aaron Eckhart, and a whole host of actors and producers share their thoughts on making the film. Eastwood said he was the right director for the job because he survived an actual emergency water landing at age 21. The actors talk about how Clint has a quiet set and likes to let them try things out. Tom Hanks discussed how he had a grueling six-year period of film after film and was ready to take a break until he got his hands on this screenplay and couldn't turn it down. There is a ton of great stuff here. Tom Hanks talks about when he plays a specific role or person, it is very important to him that he knows the person and everything they would know.
9
The final score: review Amazing
The 411
This film, without a shadow of a doubt, is a film that would make the perfect Christmas present. As the old adage goes, Clint Eastwood is like a fine wine, he just gets better with age. He is just the man for this job. He treats the story and the man with just the right amount of respect. The film has a running time of 96 minutes and it moves at just the right pace. The story is told, the landing is shown, and there is plenty of time to understand Sully and how he thinks and how he operates. Even though Tom Hanks is subtle in the best possible way as an actor, he is powerful in the way he comes across on screen and the way he represents Sully. Sully is a prideful man and he knows what he is doing, even if doubts creep in at times because of the pressure. His biggest concern was making sure that all 155 people survived, and they did. It was the "Miracle on the Hudson" and it translates well on Blu-Ray from an emotional and visual perspective. Sully might have been the big name, but the film gives everyone credit in terms of how they played their part in making sure everyone survived. Eastwood plus Hanks plus a great Blu-Ray with terrific audio and visuals plus terrific special features on the man himself makes this one an easy choice to make for movie fans. Sully is one of the best films of 2016 and it is a must-own.
legend