Ten Deep 12.13.12: Top 10 Christmas Movies
December 13, 2012 | Posted by
"Top Ten Christmas Movies"
The holiday fun continues! Last year the gentlemen of 411 Mania pooled their collective genius and brought forward some of their favorite Holiday movies as a part of the site's weekly Top 5. Sadly I was unable to participate and I have harbored bitter resentment in my heart ever since. Luckily, that all goes away this week as I bring you my Top Ten Christmas Movies.
The true impetus for this list grew out of last week's roundup of the Top Ten Christmas Specials. I realized while gathering information for that Ten Deep that all too often it seemed people lumped the specials and the movies into the same pile. That is not the case here! Each of the films listed here are feature length outings with some produced exclusively for television and most released in the cinema. Pour yourself an egg nog, splash in some extra rum and get ready for your final dose of Christmas overload!
10. A Very Brady Christmas
With Christmas approaching Carol & Mike Brady decide it is time to get their massive brood, new grandchildren included, back together at the familiar homestead. And in this made for TV movie, the original cast does indeed reunite to update us on their not so perfect lives. Well, except for Susan Olsen who was the original Cindy, she was apparently on her honeymoon during the filming of this one. The film is brimming with cheesy family drama, heavy handed lessons, and wacky non-sequiturs from Alice the maid, all of the things you know and love about the original show.
I will not spoil the dire circumstances that befall one of the family members during the movie nor will I spoil the resolution of the danger, but you can check it out in this clip from the ending. Nothing says Christmas quite like Florence Henderson singing!
9. Miracle on 34th Street
There have been many remakes of
Miracle on 34th Street
but none stands up quite like the 1947 original starring Maureen O'Hara, Edmund Gwenn and a young Natalie Wood. What I really think sets this one apart from other Christmas fare is its involved plot and well developed characters. It is not often you see a lawyer in court working to prove a man the true Santa Claus or that man bringing together the heads of two retail giants.
Miracle on 34th Street
might not actually prove that Santa Claus is real but it will certainly make you wish it were so while you are watching it.
Here is the film's imaginative original trailer.
8. Nightmare Before Christmas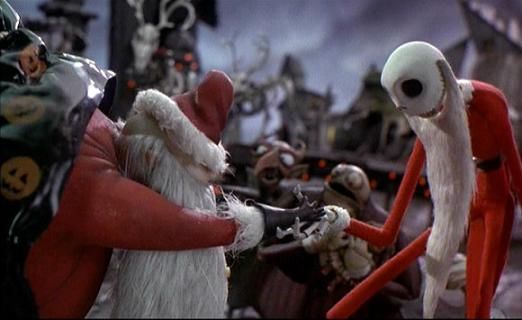 I sometimes personally struggle with the question of whether
Nightmare Before Christmas
is a Christmas movie, a Halloween movie, or something entirely different. This week I decided that the answer to this question didn't really matter as it is one of the best movies of all time. A true Tim Burton masterpiece this classic is brimming with magical animation, fantastic music, and a plot that doesn't play dumb for a younger audience. Jack Skellington is a true holiday icon rivaling "Sandy Claws" himself.
Check out Jack's big musical number as he discovers Christmas for the first time. Here is "What's This?":
7. Elf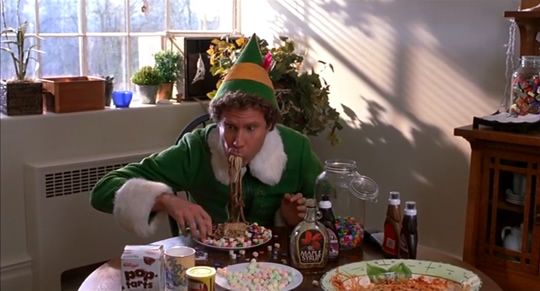 If this list was decided by laughter and quotability, there is a good chance that
Elf
would have come in much higher up the ranks. It is the newest addition to the cadre of Holiday films out there but became an instant classic upon its release. The story of Buddy, the all too human elf, seems to appeal to all audiences, young and old. It features just enough elements of the classic Christmas stories to captivate kids but is riddled with more than enough adult humor and story to hold the rapt attention of an older audience. Will Ferrell's exuberance and energy as Buddy is infectious making this film a must see as the holidays approach.
Here we have a compilation of some of the film's funniest moments.
6. It's a Wonderful Life
It feels a bit cliché to include this icon of schmaltz here but I can't fight the fact that
It's a Wonderful Life
is well, a wonderful film. Certain films evoke certain times of the year and this one has Christmas written all over it. The story of George Bailey's evening of "what if" drives home the message of just how essential all the people are in our lives and what better season to recognize them for that impact. The performances in this film are what really brings this story to life and will keep it in our hearts and minds for decades to come.
Take a look at the film's climax, as George returns from his alternate universe. Who knew this was an early sci-fi film?
5. The Muppet Christmas Carol
The Muppets are one of the only acts to make both of this year's Christmas lists and while I strive to provide you with variety, there is no denying the fact that
The Muppet Christmas Carol
deserves a spot here. There are so many takes on this story that it is up to the performers and their interpretation to give the well-worn tale a fresh spin, and the Muppets do just that with a little help from Michael Caine.
It is very easy to get swept away in this Muppet telling of the story of Scrooge and his ethereal visitors but I will say there is one moment where you do snap to attention and ask, "What the heck am I watching?" and that is when Michael Caine sings. Check it out!
4. National Lampoon's Christmas Vacation
Please don't throw fruitcakes and sugar plums at me but I have to admit that I am kind of late to the party on this one. You see it was just last year that I finally saw
National Lampoon's Christmas Vacation
in its entirety for the first time and I can gladly say that I immediately understood all of the accolades it receives from my peers. While there is no actual vacation travel in this outing for the Griswolds they deliver a well skewered take on a family holiday, just as they have other iconic family moments in their previous films. There is a certain undercurrent of misery that permeates an extended family gathering at the Christmas season and this film shines a hilarious spotlight on that fact.
The following scene from the family's Christmas dinner proves my point.
3. Die Hard
Ok, there is no Santa in this one nor is this any real holiday magic but
Die Hard
is one of the most memorable films set during the Christmas season. Without Christmas there would be no party full of hostages for the terrorists and John McClain would have no reason to set off on his excellent adventure. I find that
Die Hard
is a great film to pull out when you are tired of all the Christmas joy & happiness and really just want to see some bad guys get mowed down with a machine gun. It definitely helps relieve that holiday stress!
Of course there can be no discussion of this film without a reference to its most famous line…
2. White Christmas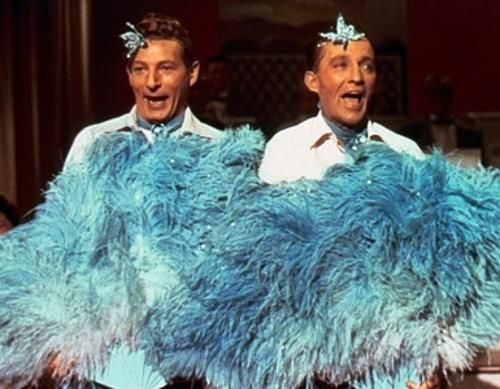 I love
White Christmas
because it is a movie inspired by a Christmas song that was first featured in another movie! That's right, you may not know this but the song "White Christmas" by Irving Berlin was first featured in the film
Holiday Inn
and coincidentally enough both star Bing Crosby. But it is
White Christmas
that stands out as a fantastic holiday film. In it, two song and dance men travel to the Vermont inn of their former commanding officer. The inn has fallen on hard times and it is up to these two stars to save it for their friend. It is the least they owe him. I do have to thank for my father for making me watch this film as a kid, as it is his favorite. The story and its over the top cinematic ending with the titular song craft one of the most classic holiday film moments.
In the film Vera-Ellen and Rosemary Clooney are performers who end up a part of the plot and romantically involved with the leads, Bing Crosby and Danny Kaye. Here we have one of their most memorable musical numbers, "Sisters."
And lastly…
1. A Christmas Story
A Christmas Story
clinches the top spot easily here because of the way it captures the spirit of Christmas like no other film. The film is not necessarily about the magic of the season, or about Santa Claus, or a challenge to a celebration. Instead it boils down to Christmas to one of its baser elements, a child's wish for a certain toy. The movie uses comedy and wild exaggeration to get into this with its story but I feel that there is such truth on screen when we see the actions Ralphie is willing to take to get his beloved BB gun. Heck, we even get to hear his thoughts, and in this instance I feel that the narrator is truly enhancing the film. Instead of sounding too directive or over explanatory, the narrator in
A Christmas Story
gives us true insight into Ralphie's plight. Overall the film tells a story about one family's holiday season that will truly warm your heart in the end, while tickling your funny bone along the way.
If this film taught us one thing, it's that giving a kid a BB gun can only lead to trouble! Check out this compilation of the film's trademark "You'll shoot your eye out!" moments.
Was this week's list our Christmas wish come early or am I the Grinch stealing your holiday joy by leaving out your favorite film? Sign up for an account and comment below with your thoughts!
Bored? Please bookmark http://www.411wrestling.com. Are you using Twitter? You can follow me and 411mania's zones on these pages:
My Twitter Account
411Mania's Main Twitter
411Mania's Wrestling Zone
411Mania's Movie and TV Zone
411Mania's Music Zone
411Mania's Game Zone
411Mania's MMA Zone
NULL