The 2012 411 Movie Awards 1.07.13: Best In Film
January 7, 2013 | Posted by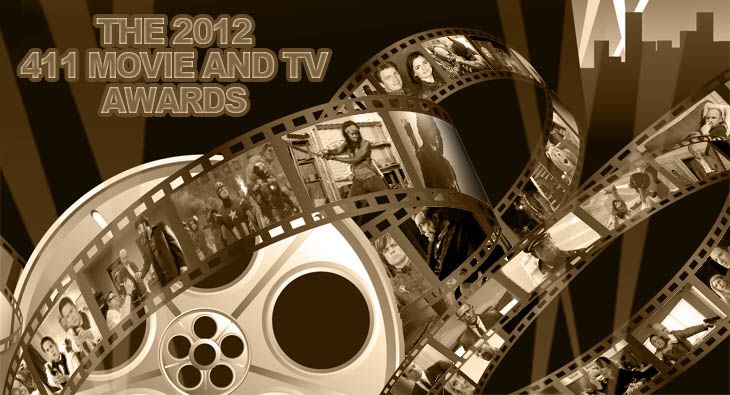 All banners courtesy of Velcronius
Hello, and welcome back one and all to the second half of The 2012 411 Movie and TV Awards! Yes, indeed, this is the annual year-end kudo fest where many of the 411 staff shares their insights with regards to what the consensus felt was the very best entertainment to be had in pop culture in the year 2012. I am your host, Ben Piper.
The movies of 2012 were quite a fantastic lot. There were of course the two most anticipated blockbusters in years, each of them delivering in their own right. We got the best James Bond movie we've seen in some time. Comedies that ran the gamut of various hilarious possibilities tickled our collective funnybones. And on the more serious side of things, not only did the more dramatic movies themselves deliver in spades, the performances that we were treated to were absolutely stellar.
The nominations were determined by the 411 staff. Each writer was given the opportunity to nominate up to three choices in each of the categories. Top five vote getters received nominations, and in the cases of ties (which were several) more than five were permitted into the final tally.
The final voting process which determined the winners and runner's up was simple; each staffer got to vote for only one of the nominees in each of the categories. Based on that simple criteria, that is how we've arrived here.
I'd like to thank everyone on the staff that voted and took part in shaping this up to what it eventually became. I shall now list them for the record, in no discernable order;
Shawn S. Lealos; Jeremy Thomas; Mike Gorman; Porfirio Diaz; Trevor Snyder; Joseph Lee; Andy Critchell; Michael Weyer; Steve Gustafson; Arnold Furious; Al Norton; Rick Tym; George H. Sirois; T.J. Hawke; Dimitri Dorlis; Chad Webb; Jeremy Wilson; Nolan Woodford; Larry Csonka; Bryan Kristopowitz, Todd Vote; Tony Acero; Michael Ornalas; Tony Farinella; John Dotson & Ernest Lin.
And yes, I voted as well, but it would be kind of weird to thank myself for doing so.
So let's get started! We're now moving onto the Movie side of things. Here to introduce the first category is Chad Webb!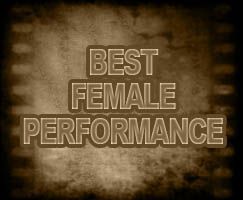 It goes without saying that there are good years and bad years in terms of the quality of performances, for men and women. 2012 was an interesting year for female actors. While there have certainly been stand-outs, it has not been the strongest crop of turns. It is a bit more difficult to pinpoint an obvious choice for the best female performance. That being said, many women deserve credit for their outstanding contributions, and we've tried to showcase some of them here.
What strikes me most about the 411mania nominees is how brave and aggressive the roles were for the talent. Sally Field wasn't necessarily aggressive in Lincoln, but she exhibited a different side to a known historical figure. Lena Headley and Anne Hathaway both made an impact in action-thrillers, using their precious time on screen to create memorable characters. While the world has seen great child performances before, Quvenzhane Wallis separates herself from the pack due to the sheer power and guts of her portrayal. She is hard to shake. But amidst all of that, this has proven to be another banner year for Jennifer Lawrence, a young actress who has proven she can do anything, whether it be starring in a blockbuster franchise or sticking in our minds as a feisty dance partner for Bradley Cooper.
Females of all ages and various degrees of experience have thrown their hats into the ring. Even if 2012 on the whole isn't as great for the gender as in previous years, this group of nominees has warranted any accolades they have coming and have delivered nothing less than 100%. This is a versatile assemblage with heart and conviction, displaying the promise of aspiring youths and the consistency of veterans. -Chad Webb
And The Nominees Are;
Sally Field- Lincoln
Anne Hathaway- The Dark Knight Rises
Lena Headley- Dredd
Jennifer Lawrence- The Hunger Games
Jennifer Lawrence- Silver Linings Playbook
Quvenzhane Wallis- Beasts Of The Southern Wild
Runner Up- Anne Hathaway, The Dark Knight Rises: The news of Hathaway's casting as Catwoman in The Dark Knight Rises raised a lot of skeptical eyebrows, which is sort of strange – you would have thought Nolan's casting had earned the benefit of the doubt after Heath Ledger silenced all the similar naysayers with his incredible Joker performance. But, still, I kind of get it, too. There was little in Hathaway's previous work that made it easy to picture her stepping into a role already so iconically played by actresses Michelle Pfeiffer, Julie Newmar and Eartha Kitt. But, of course, this is Nolan's Batman universe, and it turned out Hathaway was perfect for this less cat-like take on Selina Kyle. Hathaway perfectly captured both the character's cunning deviousness and powerful sexuality, but most importantly also captured her desire to start over and her inability, when push comes to shove, to not do the right thing. Hero, villain, seductress, victim…this is the most complex version of Catwoman that we've seen on screen yet…and arguably the best. Like Ledger before her, Hathaway silenced the critics, and just about stole the show. -Trevor Snyder
Winner- Jennifer Lawrence, Silver Linings Playbook: In normal years, there seems to be one woman up for Best Actress that will clearly win the award and then four contenders who vary from decent to average. However, 2012 was a strong year for actresses in Hollywood. Jennifer Lawrence, who took a break from her big budget career shooting arrows and morphing her skin to play a manic depressive in David O. Russell's Silver Linings Playbook, is our Best Actress of 2012.
The fact that she beat out names like Helen Mirren and Jessica Chastain shows how great she is as an actress. Lawrence has already been an Oscar nominee and should pick up her second nomination this year as well. While Bradley Cooper had easily the star-turning performance in the movie, Lawrence perfectly complimented him and never let his amazing performance overshadow hers. If Lawrence continues to play the "one for the studio, one for the indies" game, we should get one of these performances every couple of years. -Shawn S. Lealos
In contrast to the females, 2012 was simply a spellbinding years for male actors. It seems that just about everyone brought their A-game from legends and past Oscar winners to talents that are still establishing the pattern of their careers and new hopefuls. There were so many brilliant depictions that it is hard to narrow down any list. But we did our best and you should appreciate our selections.
This assortment was constantly raising the bar, exceeding expectations, and demonstrating how far one's dedication can go. Watching some our finest actors has been a joy this year. Joaquin Phoenix returned with absolutely no rust in The Master. Varying types of alcoholics have popped up over the decades, but Denzel Washington put forth another unforgettable one in Flight. Javier Bardem made his mark as one of the best Bond villains in recent memory with the enormously successful Skyfall. Bradley Cooper asserted his range as the mentally unstable as Pat in Silver Linings Playbook. And while Ben Affleck's reputation behind the camera is only growing, he reminded us that he is still incredibly gifted as an actor in Argo. Tom Hardy's intense turn as bane in The Dark Knight Rises is remarkable because he brought a villain to life in a manner few thought possible.
But the game automatically changes when Daniel Day-Lewis enters the fray. His abilities are on another level, indescribable yet mesmerizing. He conquers all again in Lincoln. What makes the staff picks of 411mania intriguing is that this is only a handful of the fabulous work from men in 2012. If you were to scratch these nominees, finding 5 or so more would not be a problem. Time will tell which performance ages well, which ones are iconic, and which ones will fade away, but I have a feeling that one of two of these will be remembered for a long time. -Chad Webb
And The Nominees Are;
Ben Affleck- Argo
Javier Bardem- Skyfall
Bradley Cooper- Silver Linings Playbook
Daniel Day-Lewis- Lincoln
Tom Hardy- The Dark Knight Rises
Joaquin Pheonix- The Master
Denzel Washington- Flight
Runner Up-Tom Hardy, The Dark Knight Rises: Similar to that of Heath Ledger, people doubted just how Tom Hardy was going to pull off the monster that is Bane. Even with the real-world feel of Christopher Nolan's Gotham, there was doubt. True, there may not have been as many eyebrows raised as when Heath was in the running for The Joker, but for those that have seen Tom Hardy, they must have figured just how this guy who, although could have some body mass, would pull off the look of Bane. Photos went out and there were still people who felt it wasn't "Bane." A six minute preview of the film was released in theatres, and complaints about the voice were heard. All in all, there was a lot of pressure for Nolan and Co. to do justice.
Then the film came out, and suddenly all of that vanished. Tom Hardy took the role and made it his own, just as Heath did with The Joker. Bane wasn't a venom pumped buff guy, he was a vicious and mentally superior villain. Tom Hardy had a mask that covered his face, meaning only his eyes spoke to us at times, and those eyes spoke volumes. While there are those who were fans of the man long before this such as myself, this must have really opened the door for him. His moments on film, even those with minimal dialogue, were powerful and showed that there are times an actor can speak without speaking. He was vicious, imposing, and down right bad ass in the film, and deserves every accolade that comes with it. -Tony Acero
Winner- Daniel Day-Lewis, Lincoln: There are only a handful of all-time greats that come along in any generation. Daniel Day-Lewis didn't need his work in Steven Spielberg's Lincoln to further prove his career as one of the best of his era. However, his turn as the 16th President of the United States and what will almost assuredly be his third acting Oscar does certainly elevate the conversation beyond merely this generation. We may be fortunate enough to be watching the career of one of the greatest actors in the history of the medium. For that peripheral discussion alone it would be worth it to see his performance in Lincoln. The fact that it is a great movie as well only adds to the film and performance's power.
Gone is the sturm und drang of his work as Daniel Plainview in There Will Be Blood and Bill The Butcher in Gangs of New York. What is so remarkable in Lincoln is how quiet and reserved Day-Lewis' portrayal is of what many consider to be America's greatest president. Day-Lewis instills a gentle strength in Lincoln, not only in his character, but in the way he spoke to others. He also brings out a sense of humor in Lincoln that you don't necessarily see often in serious, period prestige pictures. With the help of an excellent script from Tony Kushner and what has to be some of the most reserved direction from Spielberg in ages, Day-Lewis is able to lose himself in the role without ever losing control. That's the mark of a great performance and a great actor; when you sit back and marvel at the screen, genuinely believing you are watching Abraham Lincoln. Day-Lewis had big shoes to fill by taking on Lincoln. In the end, he more than filled them. -Jeremy Wilson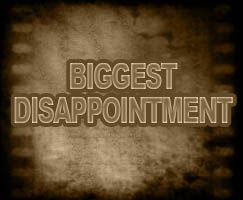 Not every movie screen experiences the same love from moviegoers. Over here you have films acclaimed by the mass majority for its 90+ minutes of quality entertainment and over there you have rather crummy outings that make your wish you could punch the big screen into submission until it never bothers anyone else ever again. Then you have a pile of frustration somewhere in the middle – films technically done with the upmost care but just could not jump the wall of your expectations. Sometimes it didn't even try. There it stands, leeching in the power of its name value to get critical recognition. Those films fail to excite – both in terms of public woefulness and ticket hit points. Box office results doesn't necessary determine what films we find to be the biggest disappointments, but it can be a good indicator. That and whether the film turned out to be really crummy. Frustratingly crummy.
The nominees below share a common theme: they were each disappointing in their own way and managed to tick off the masses hoping for a certain level of enjoyment. It doesn't mean the films were awful – you still might even find some of them pleasing. They just didn't live up to the potential we had for it based on material source or past history or being another Spider-man movie. -Porfirio Diaz
And The Nominees Are;

Abraham Lincoln- Vampire Hunter
The Amazing Spider-Man
Dark Shadows
John Carter
Wanderlust
Runner Up- Wanderlust: I know what you're thinking. These 411 guys voted Wanderlust as the year's runner-up for Biggest Disappointment? Really? Yep, we did and with good reason. Usually the films up for "Biggest Disappointment" are big Hollywood spectacles that come up short in the quality and entertainment department. I mean, just look at the rest of this year's crop of nominees. That makes Wanderlust's inclusion all the more stark and interesting. Here is a mainstream Hollywood comedy that came out at the beginning of the year with an appealing and talented cast and the kind of concept that seemingly should have worked. It stars Paul Rudd, one of the most likable stars working in movies today and directed by David Wain who has delivered numerous quality comedies including the excellent Role Models and Wet Hot American Summer. And yet, Wanderlust crashed and burned, becoming an insufferable, unfunny, irritating mess of a movie. It also serves as a clear example of the flip-side to improvisation; while it can deliver all-time great, laugh-out-loud comedies, it can also be one giant swing-and-miss full of unfunny and monotonous gags and an over-reliance on crude humor in place of smart writing. When you laugh more during the unused outtakes in the closing credits than during the entire length of the film, you know something has gone awry.
Wanderlust is shockingly unfunny, painfully boring and thematically inept. It's that last aspect of the film that is really disappointing. It is completely flat, one-dimensional hippie humor and really an embarrassment in trying to shed any sort of light about relationships, materialism or the current world we live in, which it only meekly attempts to do in the first place. Whatever momentum Jennifer Aniston gained from her surprise turn in Horrible Bosses is gone and Paul Rudd's track record continues to deteriorate after his work in this and Judd Apatow's very disappointing This is 40. It may not have been one of the year's biggest movies or flops, but Wanderlust is definitely a disappointment in every sense of the word. -Jeremy Wilson
Winner- John Carter: First, a caveat – I'm not sure where the other 411 writers were coming from when they voted for John Carter in this category. It's possible they just really didn't enjoy the movie. I, however, come not to bury Andrew Stanton's massive sci-fi epic, but rather to bury Disney's ridiculously misguided handling of it. The film itself is not without its flaws, I admit – how many movies are? I'ts plagued by a bloated run-time, an at-times overly convoluted plot and a weak wrap-around story device. But, at the same time, the things that work in the film – like Woola, the alien-dog sidekick, or Dejah Thoris, one of the strongest and best female characters to grace an action movie in a LONG time – work quite well. Overall, I quite enjoyed the movie, which reminded me of the fantasy-adventure movies from the '80s that I grew up on. What WAS disappointing, however, was the movie's treatment, both from critics all too ready to write it off before even seeing it (like the gleefully harsh Nikki Finke), and from its own studio, who made blunder after blunder in its promotion (saddling it with a boring name; dumping it in March even though it was a clear summer movie; and creating strange, misleading trailers that gave no indication of the story's important and influential heritage). Both Disney and Stanton (who, admittedly, might have bit off a bit more than he could chew for his first live-action movie) made mistakes that ultimately condemned the movie to a sad fate it didn't deserve. Hopefully, time will be kind to John Carter and it will find the audience it deserves. But its shot at being the franchise starter Disney might have hoped for is certainly dead, and that's a darn shame.
The previous year was an otherwise satisfactory affair for movie comedies. Not to say it was the pinnacle of mainstream hilarity, but at least 2012 can hold up a foul mouthed teddy bear like it was The Lion King with pride and proclaim it within the pages of its almanac. Also in 2012's yearbook of comedy: Christopher Walken and Woody Harrison playing a rousing game of Shih Tzu keep away, Will Ferrell and Zach Galifianakis doing backflips in a political circus tent, and Sacha Baron Cohen learning you can never be too famous for pandering extremely offensive anecdotes in a post-9/11 world. More importantly, where were you when Channing Tatum – traded in his steppin' shoes for a fashionable male stripper's outfit and succeeded in doing so – emerged as the bona fide star? If we look at the hard numbers, you'll see 21 Jump Street ($138 million) and Magic Mike ($113 million) occupying two slots in the top 5 of box office comedy movie performances. C-Tates! The man is money – money in funny bro! (He's quite capable in being shirtless a lot as well but I'm sure you've noticed it a time or two). Of course every year has its fair share of misses and this one was no different. That list begins with Three Stooges remake and ends with Eddie Murphy's A Thousand Words. Adam Sandler throwing whoopee cushions at people with monocles currently fills out the rest.
So which movies did we find to be the best bone tickler of 2012? (As opposed to boner tickler – see: The Avengers.) -Porfirio Diaz
And The Nominees Are;

7 Psychopaths
21 Jump Street
The Cabin In The Woods
Ted
Wreck-It Ralph
Runner Up- The Cabin In The Woods: To be totally honest, I didn't nominate or vote for The Cabin in the Woods in this category. I feel silly for not having done so, now that I think about it. The brainchild of Joss Whedon and Drew Goddard is more clever than laugh-out-loud funny most of the time, although there are no shortage of laugh-worthy moments. But the film is undoubtedly a comedy and there is no other such film that entertained me more than this one. This horror film had a long and involved struggle to get to theaters, with the film first being delayed in order to investigate the possibility of a 3D post-conversion process (which was eventually and wisely abandoned) and then being put on the shelf due to MGM going through bankruptcy issues. In the end, it was probably better for the film that it was delayed because in the meantime Chris Hemsworth became a god of thunder and the film's release just a month before The Avengers meant it got some press due to that film's star and filmmaker connection to this one.
No matter which way you slice it though, this is quite possibly the most clever and inventive deconstruction of horror that we've ever had the pleasure of seeing. I still am adamant about not saying too much about the plot in order to avoid spoilers because I know some people have not seen it and I won't ruin the fun for anyone. The film subverts almost every horror trope you've ever seen and does so intelligently and with good humor; the performances of Richard Jenkins and Bradley Whitford are particularly instrumental to bringing the comedy, not to mention Tom Lenk as Ronald the intern. It's as much a horror film as a comedy and there are some good, nasty scares to be had too. The performances are solid across the board and the references to other film franchises are great. Horror comedies are some of the hardest to pull off right and this one did it with flying colors. -Jeremy Thomas
Winner- 21 Jump Street: The last couple of years we have seen many film-makers transition over to live action cinema. In fact, our two biggest contenders for "Best Comedy" were directors who started out in television animation. Phil Lord and Chris Miller used to have a show on MTV known as Clone High which sadly ended after one season. The show was clever, random, and always hilarious in its execution. If you haven't seen it, I urge you to check it out. The directing duo went on to direct Cloudy with a Chance of Meatballs, which I thought was one of the most hilarious animated features of the last decade. Which brings me to 21 Jump Street. This is one of the best satirical high school comedies in recent memory. Lord and Miller's style of off-the-wall comedy worked wonders for the screenplay that was pieced together by Michael Bacall and Jonah Hill. One of the best things about 21 Jump Street is that it realizes in today's high school world, geeks are king. No longer is it not cool to be the smartest kid in class or to be a science freak. Geeks rule the planet, and society is proving this fact just in box-office receipts alone. The smart direction by Lord and Miller made the comedic executions incredibly unpredictable and hilarious from start to finish. Without a doubt, 21 Jump Street is the comedic champ of the year… And Korean Jesus agrees! -John Dotson
We all know what it is that we want when we go to see the so-called 'tentpole' flicks that dominate the box office; explosions galore, breakneck paced action, maybe a car chase or an alien invasion or two. When we pay our money to go see these kinds of movies, sometimes we just want to unplug our brains and get spoonfed oodles and oodles of pretty, pretty eye candy for two hours. But when we're truly lucky, we are encouraged to actually use the grey matter that resides in between our ears and engage either intellectually or emotionally with a big blockbuster movie to the point that it actually connects with us, as viewers.
To be completely honest, even throughout the nomination process in this category, this was always setting up to be a three horse race. On one hand you have James Bond at arguably his best, so that's not too shabby. Then you have the conclusion of Christopher Nolan's truly epic Dark Knight trilogy, which admittedly wasn't as good as its predecessor, but still kind of great in its own right. Then you had this little ensemble flick with very little hype behind it about individuals that cannot get along but must do so to save the Earth, or "make damn sure (they'll) Avenge it."
All that said, I'll point it out before the trolls beat me to it; Where the hell is The Hunger Games in all this? After all, it was only the third biggest box office movie of the year! Hey, what can I say, I voted to nominate it, as I thought it was pretty outstanding in its own right. But either the rest of the staff either decided it wasn't good enough (some of them nominated it for the "disappointment" category) or completely forgot about it entirely. What the hell?
With the big three that I previously mentioned getting the vast majority of nominating votes, the rest of the field was completely wide open, and as such, the two other nominees present only needed a second or third vote to earn their way into the proceedings. Not that it really did them any good with regards to actual winning outright.
You know the old catchphrase "it was just an honor to be nominated"? All of those in the running didn't stand a chance against what we, the 411 staff voted as The Best Blockbuster of 2012, by an overwhelming margin. -Ben Piper
And The Nominees Are;
The Avengers
The Dark Knight Rises
The Expendables 2
Prometheus
Skyfall
Runner Up: The Dark Knight Rises: The third entry in Christopher Nolan's Bat-Trilogy was unquestionably the most hyped up film of 2012. With great hype comes a great expectation from the fans and cinema world respectively. Was The Dark Knight Rises as good as 2008's The Dark Knight? No, but it did it really have to be? The answer again is NO. All that "Rises" had to be was a respectable end to a prestigious Batman story. One of the best blessings we now have thanks to the Bat-Nolan trilogy, is the new industry use of IMAX film. Over an hour of The Dark Knight Rises was shot using IMAX technology, and the outcome was nothing short of breathtaking. Back when the prologue was released in front of Mission Impossible- Ghost Protocol, my audience went crazy over the Bane introduction. Wally Pfister's IMAX cinematography does something that James Cameron's 3D will never accomplish, which is putting you in the experience without the use of glasses.
I've heard a lot of fans and critics complain about different aspects of the film. All I can say is, in several years when we look back at The Dark Knight Rises, fans will hopefully realize how lucky they were to get such an impressive conclusion to Batman. Just think back at the Joel Scumacher Batman and Robin version of Bane, and then try to find reasons to hate the Tom Hardy performance, which I loved by the way. This property may never be this great again, and we should all be grateful that we were able to witness a prestigious end to Batman on cinema. -John Dotson
Winner- The Avengers: When Joss Whedon was announced officially as the man that would bring The Avengers together, it was met with equal parts glee and derision on the internet. Fans of Whedon's previous works were overjoyed and thrilled with the prospect, while his detractors were quite vocal and adamant that he would single-handedly ruin the entire four year long build-up.
Happily, the naysayers were wrong.
Whedon, whom had spent years juggling large casts both on the TV screen via his various produced series and through his work writing X-Men comics for Marvel, knew quite well what he was doing. What he delivered was pound for pound, the most entertaining and fun escapist movie, not only of 2012, but quite arguably, of the past few years. Smart, witty, action packed and evenly balanced, The Avengers not only met but surpassed expectations, not only in terms of the box office, but with the rabid comic book fanbase, and the casual viewer as well.
While Robert Downey, Jr. was allowed to throw his movie star charm out all over the place with his performance, he didn't overwhelm things at the expense of his fellow cast. Whedon allowed room for the characters to breathe and each have their own heroic moments in their own right. He gave us a reason to care about both ScarJo's Black Widow and Renner's Hawkeye, whom up to now, were periphery characters, not to mention Clark Gregg's thankless exposition role as Agent Coulson. Hemsworth's Thor and Evans' Captain America avail themselves very well and often. And not only was Mark Ruffalo's take on Bruce Banner completely spot on, for once the big screen representation of The Hulk didn't disappoint.
The hype leading up to this was humongous. So while on one part I must partly agree that it would have been a hit no matter what, the fact that it turned out as good as it did, made people want to watch it again, and again, and again.
And that has to be directly attributed to Whedon, who not only knew the characters very well, but utilized them in such a way that while he didn't make a perfect movie, by any means, he pretty much nailed it. Between this and Cabin In The Woods (which admittedly, should have come out two years ago) he is far and away the movie industry's creative MVP of 2012 in my humble opinion.
Bring on Phase Two. -Ben Piper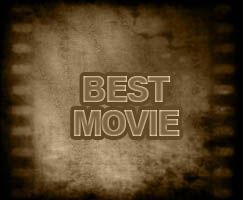 2012 was an interesting year in movies. Throughout most of the year, I kept hearing complaints about the lack of quality movies that came out, but month after month, movies began to break records left and right. For every person who complained there was nothing good in theaters, The Avengers made over $1.5 billion at the box office to move into third place all-time. Then Skyfall became the highest grossing movie in UK box office history. Dark Knight Rises broke $1 billion. Now, there are people who claim that those box office numbers don't matter, because "bad movies" make great box office numbers.
That is exactly the point.
If people are willing to spend a combined $1 billion to see a movie, it isn't that bad. No matter how many critics, or keyboard warriors, want to talk about how American audiences love bad movies, the fact they are popular means those critics and keyboard warriors are in the minority. The fact that Battleship was a financial success this year proves that it isn't only American audiences fault either.
We here at 411wrestling.com are not out to satisfy film snobs or make our awards fall in line with major critics groups. We know what we like and we proudly praise the movies we love, and damn the movies we hate. In a year with fantastic movies like Argo, Zero Dark Thirty, Django Unchained, The Avengers, Skyfall and The Dark Knight Rises, there were plenty to choose from. It wasn't easy, and not everyone agreed, but here is the 411wrestling.com movie of the year for 2012. -Shawn S. Lealos
And The Nominees Are;
Argo
The Avengers
The Cabin In The Woods
Looper
Skyfall
Runner Up- The Avengers: It was the film that, along with The Dark Knight Rises, divided fanboys like few others before it had been released. No other set of competing movies has ever given this level of division among comic book fans that I can remember. This was a war of "Avengers vs. X-Men" or "Civil War" proportions. And yes, I realize that by listing two major Marvel storylines here that I have declared what side I'm laying on. That being said, I certainly didn't take issue with The Dark Knight Rises; I actually think it was a great film of a different variety. However, for enjoyment factor The Avengers blew it out of the water for me. I've long been a fanboy of both the Avengers and Joss Whedon and so it goes without saying that this was a movie that I was unreasonably hyped for…but also somewhat concerned over. This was the film that would justify the rabid fandom that we Browncoats and Buffyians long professed Whedon of being worthy of…or make us look like the deluded, blind fanatics that some said we were.
Now that 2012 is over with, I think it goes without saying that we Whedonites are vindicated. Whedon took a Herculean task of balancing multiple characters with their own storylines into one cohesive story and ran with it, succeeding with flying colors. We got the best depiction of the Hulk in feature film history thanks to a smart characterization and a great performance by Mark Ruffalo, while the balance between the superhuman Avengers (Iron Man, Thor, Cap, Hulk) and the more mundanely-powered ones (Hawkeye, Black Widow) was done with a skill that made it look deceptively easy. The dynamic between the cast worked in every possible sense, allowing everyone to play off each other in a way that is incredibly fun to watch while Loki and his Chitauri army worked perfectly as villains. This is, to my mind, the perfect comic book film, and that's all that needs to be said about it. There isn't a single moment I didn't enjoy the hell out of and the bar has been raised very high indeed for future comic book films. -Jeremy Thomas
Winner-Argo: For most of the year, I felt Argo was the best movie I had seen in 2012. Only with my late critics screening of Zero Dark Thirty, did it drop a spot on my list. However, with most of the country not seeing Kathryn Bigelow's movie until 2013, Argo remains a solid No. 1 when looking at the remaining choices. Ben Affleck has done the impossible. He has turned himself into a great director, helming three fantastic movies already, each effort better than the last.
While everyone knows how Argo ends, Affleck is able to take the story and craft a film that keeps the viewer on the edge of their seat the entire movie. He brings out the best from his actors, with great performances coming from the Hollywood-people who helped put the entire rescue project together. In any other year, Affleck would be an easy choice for Best Director at the Oscars.
As it is, Affleck created one of the best movies of 2012 and easily the best film of his already great directing career. -Shawn S. Lealos
And with that, so ends the 2012 411 Movie & TV Awards. Thank you all for reading, and I hope that you all had a good time in doing so. Did you agree with our picks? If not, please let us know in the comments section. See you next time!
-BP
http://www.twitter.com/411s_Ben_Piper
http://www.twitter.com/411mania
http://www.twitter.com/411wrestling
http://www.twitter.com/411moviestv
http://www.twitter.com/411music
http://www.twitter.com/411games
http://www.twitter.com/411mma
NULL