The 411 Movies Top 5 04.06.12: Week 316 – Top 5 Sex Comedies
April 6, 2012 | Posted by
THE TOP 5 SEX COMEDIES
TREVOR SNYDER
5. Risky Business (1983)
Pretty much every teen has thrown a party at his or her place when their parents have gone out of town. But Joel Goodson (Tom Cruise) takes it to a whole other level – inviting over a prostitute, getting involved with criminals, demolishing his parents beloved Porsche, and eventually turning his home into a brothel for one night. The film that put Cruise on the map still holds up as an ultimate teen wish fulfillment fantasy, and Rebecca De Mornay's high-end escort Lana still holds up as one of the hottest women in sex comedy history.
4. Bachelor Party (1984)
Speaking of ultimate male fantasy, how many guys in real life do you think have been disappointed after their bachelor parties didn't end up being half as wild and out-of-control as the one depicted in this Tom Hanks comedy? Now, granted, you wouldn't think you would need a wild bachelor party if you were about to marry 80s-era Tawny Kitaen, but it's not like you're gonna pass it up, either. Sure, the movie sort of goes off the rails a little bit in the last act, with the men having to rescue the kidnapped bride-to-be from her crazy ex-boyfriend, but up until that point this is a pretty darn fun party movie, and has a lot of novelty value today as a reminder of a much different period in Hanks' career.
3. The Rocky Horror Picture Show (1975)
This might be true of a lot of the movies in this column, but this one is definitely not the sex-comedy for conservative viewers. Concerning an alien bi-sexual transvestite mad-scientist who creates his own living boy-toy and seduces both the man and the woman in the film's main couple, this one is pretty out there. But for that very reason – as well as ultra-catchy songs and great performances from a cast that "gets it" – it has become arguably the biggest cult film in history, and deservedly so.
2. The Graduate (1967)
I don't think a lot of people necessarily consider The Graduate a sex-comedy, but if you're willing to be a little lenient with the definition, you'll see that it fits right in. After all, it is about a young man being seduced by an older woman – which, again, has got to rank up there as one of the ultimate male fantasies. And Benjamin Braddock (Dustin Hoffman) gets the best of both worlds – a crazy fling with the older Mrs. Robinson (Anne Bancroft) and falling in love with her cute daughter, Elaine (Katherine Ross). The Graduate might be a "classy" sex-comedy, but it's still a sex-comedy.
1. Everything You Always Wanted to Know About Sex* (But Were Afraid to Ask) (1972)
Loosely inspired by the educational sex-manual of the same name, Woody Allen's fourth film is an absurd collection of often surreal and always ridiculous skits, each dealing with a different facet of human sexuality. Like his other early works, this one is more in line with crazy Monty Python-like humor than it is Oscar bait. Wanna see Gene Wilder as a doctor who falls in love with a sheep? Wanna see Regis Philbin as a contestant on a game show in which you try to guess a person's sexual perversion? Want to see Allen and others actually play sperm, here represented as paratroopers? If you do, this is the movie for you. Pervert.
BRYAN KRISTOPOWITZ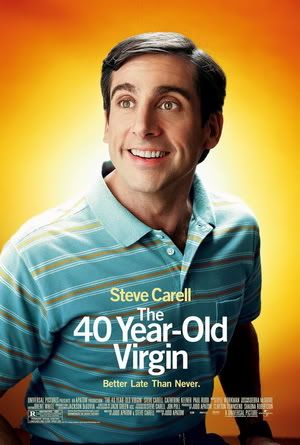 5. The 40 Year Old Virgin (2005)
The 40 Year Old Virgin is basically a teen sex comedy without teens in it, and I think that's why it works so dang well. You just don't expect it. Most of the male characters in the movie, aside from Steve Carell's Andy, act like piggish, crude teens "experienced" with sex, while Andy is the guy trying to get laid. However, unlike most protagonists in these kinds of movies, Andy doesn't try all that hard to get over the hump. His "sex crazed" co-workers certainly do try to push him towards sex, but he doesn't come off as all that interested. I mean, Andy is interested, the whole "virgin" thing does bother him on some level, but if his co-workers didn't push him and if he never met Catherine Keeners' Trish co-writer/director Judd Apatow could have easily made a sequel in 2015, The 50 Year Old Virgin.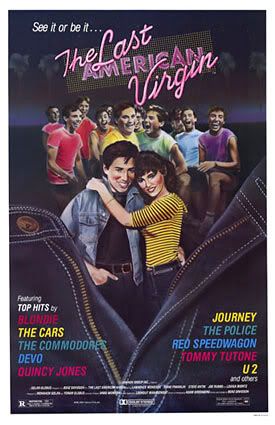 4. The Last American Virgin (1982)
The most striking thing about this comedy is that it doesn't end with a big laugh. In fact, the movie ends with crushing heart break, as the flick's hero Gary doesn't get to ride off into the sunset with Karen, the girl of his dreams. Karen instead goes back to her old boyfriend Rick, one of Gray's best friends. It's a fitting ending because Gary never really gets it on successfully throughout the movie. His buddies Rick and David are somewhat successful, but Gary fails just about every time. The scenes that lead up to Gary's major strike out are practically standard teen sex comedy bits. The guys buy a hooker (hilarious scene), they bang the hot older woman next door, etc. And then the big letdown. Can you imagine a modern sex comedy trying to have that kind of ending? Well, can you imagine a modern sex comedy with a character having an abortion? The Last American Virgin has that in it, too. Great flick.
3. American Pie (1999)
The raunchy teen sex comedy never really went away, but when American Pie hit cinema screens back in 1999 it basically reinvigorated the genre and made it "big" again. Quite a bit of that is due to Jason Biggs and his brave performance as the horny, hapless nerd Jim. There's the masturbation scene that starts the movie off; there's the big "fail" scene with Shannon Elizabeth's Nadia, the final "One time, at band camp…" scene followed by the "Say my name bitch!" scene, and, of course, the big "sex with an apple pie" scene. The version seen in theatres is pretty funny, but the "uncut" version is even funnier. If you haven't seen it, find it and watch it. It really is that funny. There's plenty of other great, funny stuff in the movie, but Jim is essentially the whole show. He's the one pretty much everyone remembers.
"We'll just tell your mother that… we ate it all." Ha.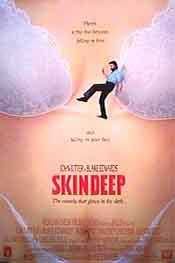 2. Skin Deep (1989)
Skin Deep, written and directed by Blake Edwards and starring John Ritter, isn't like the other movies on this list. It really isn't about a character pursuing sex for the sake of it; it's a major flaw, one of many, of Ritter's Zach. It's what he does to avoid figuring out just how messed up he really is (that and he drinks quite a bit). Sounds depressing, doesn't it? It really isn't. It's hysterical. I mean, there's a scene in it where Zach and another guy fight over a woman in the dark, and the only thing you see are the glow in the dark condoms the guys have on. Why would anyone put a scene like that in a depressing drama? The movie is required viewing.
1. Porky's (1982)
Porky's, written and directed by the great Bob Clark, is essentially the sex comedy that all other sex comedies try to be. Both nostalgic and timeless at the same time (Clark managed to do that twice in his career), Porky's deals with a group of high school guys trying to lose their virginity by going to the local bordello. The trip to the bordello doesn't exactly work out (the guys get robbed and dropped in the drink), and for the rest of the movie it's all about getting even with the bordello owner Porky and, well, losing their virginity in some other way. On top of all of that there's Kim Cattrall's Honeywell and the story of her sex scream, the "Cherry Forever" scene, and the girl's gym coach Balbricker trying to head off the boys from deflowering her girls (the shower scene and its aftermath are classic movie moments).
Great, great stuff. Will probably never be surpassed.
Agree with our choices? Disagree? Be sure to share your thoughts and your own Top 5's below. And don't forget to include suggestions for future Top 5 columns…we're always looking for the next great list.
Till then, for more of my movies views, check out Night of the Living Trev, my personal movie review page, as well as all the other great reviews and columns here at the Movies section of 411.
See you next week with a brand new topic.
MUST-READ 411 STORIES:
(function() {
var params =
{
id: "7a26260d-4489-454c-92f3-208a14eeaa91",
d: "NDExbWFuaWEuY29t",
wid: "10064",
cb: (new Date()).getTime()
};
var qs=";
for(var key in params){qs+=key+"="+params[key]+"&"}
qs=qs.substring(0,qs.length-1);
var s = document.createElement("script");
s.type= 'text/javascript';
s.src = "http://api.content.ad/Scripts/widget.aspx?" + qs;
s.async = true;
document.getElementById("contentad10064").appendChild(s);
})();
/* * * CONFIGURATION VARIABLES: EDIT BEFORE PASTING INTO YOUR WEBPAGE * * */
var disqus_shortname = '411mania'; // required: replace example with your forum shortname
var disqus_identifier = 'article_232699';
/* * * DON'T EDIT BELOW THIS LINE * * */
(function() {
var dsq = document.createElement('script'); dsq.type = 'text/javascript'; dsq.async = true;
dsq.src = 'http://' + disqus_shortname + '.disqus.com/embed.js';
(document.getElementsByTagName('head')[0] || document.getElementsByTagName('body')[0]).appendChild(dsq);
})();
Please enable JavaScript to view the comments powered by Disqus.
comments powered by Disqus
NULL