The Big Screen Bulletin 06.04.12: Snow White and the Huntsman #1 At The Box Office!
June 4, 2012 | Posted by
Welcome to the
Big Screen Bulletin
! My name is
Jeremy Wilson,
and this is where we hit the big movie news from the weekend and anything else going on in the world of Hollywood! I've seen a spate of movies this past week and to sum up:
Men in Black III = Fun, if a bit forgettable. More enjoyable than I was expecting and better than the second Men in Black film. My 411 rating: 7.0
Snow White and the Huntsman = Very pretty, outstanding effects and production design. Atrocious performances and serious miscasting. My 411 rating: 6.0
What To Expect When You're Expecting = Complete and utter dreck. Awful in every way imaginable, save Anna Kendrick and Chace Crawford's little story. My 411 rating: 2.0
Now, PROMO TIME!:
Be sure to check out 411's other Movie/TV news columns, including my very own Hush-Hush News Report. Last week we had news and thoughts on the major new villain being lined up for Thor 2, what Christopher Nolan and Christian Bale had to say about The Dark Knight Rises, plot details from The World's End, more bikini-filled photos from Spring Breakers and more!
Don't forget to check out Al Norton and his always excellent Two Tivos To Paradise. Last weeks Al gave an in-depth look at the most watched and top rated shows of the 2011-2012 season: from Modern Family to Once Upon a Time to New Girl to NCIS to American Idol! Also, Hatfields & McCoys set records, Clarice Sterling is coming to TV, and thoughts on the Awake finale!
I know what you're thinking…have no fear though. Scantily clad females haven't left 411 for good while Steve is away. You can still get your celebrity and hot girl fix with the ORIGINAL The Hollywood 5 & 1, as Jack McGee fills in for his friend Steve. This week: Bianca Beauchamp takes on Jamie Chung in Vs, the Green Lantern is gay, Arianny Celeste gets arrested for domestic battery, The Hatfields and the McCoys makes ratings history, Jennifer Lawrence is your "& 1" Model of the Week and more!
Did you know Steve started a blog? That's right! He posts 5 items of random cool things that everyone will be talking about next week! Give it a glance HERE! And tell a friend!
Do you enjoy the 5 & 1 format? Then check out the other fine 5 & 1 features on the site:
* Stewart Lange holds down the fort across the pond with his MMA 5 & 1! This week: Pamela Jean Noble is your "& 1" Model of the Week, Murillo Bustamante faces Nick Diaz in Vs, Dana White lies to his fighters, Arianny Celeste gets arrested for domestic violence, results from UFC 146 and more!
* Greg De Marco puts the Wrestling world in a headlock with his Wrestling 5 & 1! Last week: AJ battles Tiffany in Vs, a look at Dolph Ziggler's readiness for the main event, a look at TNA's first two Gut Check contestants in Alex Silva and Joey Ryan, NECW is in the independent spotlight, Hannah & Holly Blossom are your "&1" Models of the Week and more!
Meanwhile, don't forget to follow Steve on Twitter for random bits, news RT's, and updates! Only at http://www.twitter.com/stevethegoose! Also, check out some of Steve's previous interviews:
Check out his interview with Chyna!
Check out his interview with Playboy's Miss May Nikki Leigh!
Check out his interview with MTV's Jon Gabrus!
Check out his interview with Rocker Phil Varone!
Check out what his thoughts about HBO's new series VEEP!
Do you have $.99? Head here to support 411mania writer Tony Acero! His first published work, Driven, is gaining popularity! Jump on the bandwagon…NOW!
Now that all that plugging is out of the way, let's dive into things shall we?
CRAZIEST CASTING RUMOR OF THE WEEK!
WHO ELSE WILL BE CATCHING FIRE?
The hot fantasy casting of the past week has revolved around who will play the Adonis-like Finnick Odair in the next installment of The Hunger Games trilogy, Catching Fire. Rumors have been swirling with seemingly every young male Hollywood heartthrob being mentioned to some degree or another in connection with the role. Early last week, Robert Pattinson's name was floated (under what evidence I have no idea) but the Twilight star was quick to shoot it down. Next, a shortlist was reported in various outlets that included three names: Taylor Kitsch, Armie Hammer and Garrett Hedlund. However, Kitsch completely denied the rumor in an email, ruling himself out of possibly joining the franchise with a curt "not going to happen" to E! Online. That seemingly left Hammer (The Social Network) and Hedlund (Tron: Legacy), with Colton Haynes (Teen Wolf) also being purported to be in the running (courtesy of Hunger Games fansite mockingjay.net).
It seems that Hammer is the slight favorite at this point over Hedlund and Haynes (having your last name start with an "H" seems to get you in the running for this roles). He's a good-looking guy who has impressed Hollywood with his turns in The Social Network and J. Edgar. Plus, he'll be starring in The Lone Ranger which means he'll have an increased profile buy the time the next couple films are released. I can't say I'm the biggest Hammer fan (seriously, that makeup in J. Edgar seemed to really get to him, although who could blame him) and his part in Mirror Mirror might not help him. Pattinson's name seems like wishful thinking on the part of his very large, very vocal fanbase. I feel bad for Kitsch…he's actually a pretty good actor, but his box office failures (John Carter, Battleship) may permanently dent his hopes at becoming a major leading man or taking part in any major tentpole franchises. Ultiamtely, I think Hammer would be fine as the arrogant but complex Finnick, but I wish Kitsch was more interested, as he'd be my pick. To be honest, I'm a little surprised Alex Pettyfer – someone who has been talked about as one of the biggest "up-and-comers" among Hollywood's young male leads – isn't being discussed more.
YOUGOTTABEKIDDINME!
We could dedicate an entire column to the disastrous
G.I. Joe: Retaliation
delay. Maybe another time, after the film is released and we can all see how it all turns out. Who knows, perhaps what Paramount finally releases will be great, the 3D will be amazing and Channing Tatum's prolonged screen time will make all the difference. I root for movies; I try not to root against projects, even if every fiber in my being is telling me something has gone awry. And folks, something has gone awry.
If you missed what happened, here's a quick summary. G.I. Joe: Retaliation was scheduled to be released on June 29 of this year. Five weeks out from it's release into theaters, Paramount pulled the plug and delayed the film's release until March 29, 2013. Marketing had already gone into full swing , but the studio's official line was that the film was being delayed in order to be converted into 3D. That was the official line…which, of course, no one bought.
Rumors and speculation started swirling aroung the industry and internet: why would Paramount vacate a prime summer release date for a film that had better buzz than its predecessor? Why wasn't it shot in 3D in the first place? How would director John Chu react?
Well, it didn't take long for some of the real reasons behind the move to come out. Some of them were real doozies too (SPOILERS TO FOLLOW). The one reason that surprised many is one that seems to represent everything that is wrong with modern Hollywood (many folks reported on this, but Deadline's Nikki Finke was one of the first). Evidently, the studio was so concerned about the film's tracking and test scores – in particular, the effect of killing off Channing Tatum's character in the beginning of the film (just look at the poster) – that it was enough to send them running for the hills. That and the overall sluggishness seen in non-Avengers blockbusters at the box office. Test audiences evidently loved the Tatum-Rock dynamic and didn't like much else (Tatum's character is evidently killed off rather early in the film). Paramount was probably also concerned about killing of a budding Hollywood star and wondering why they wouldn't be utilizing Tatum more, especially after the relative success of 21 Jump Street and The Vow. Not to mention, Tatum has another film – Magic Mike – coming out that same June 29th weekend.
Back to financial concerns though, Hollywood studio execs are already jittery enough of late (except if you happen to work at Marvel). Big summer tentpole blockbusters like Battleship, Men in Black III have underperformed (some to astonishing degrees) while other major mainstream films like Dark Shadows, The Dictator, What To Expect When You're Expecting and Chernobyl Diaries have been victims of a sluggish box office and the rampaging success of The Avengers. Even though it left their summer slate very bare – really, Madagascar 3 is basically the studio's only "big summer movie" left – Paramount obviously felt they needed to take drastic action to try and salvage what they had. That mean taking it out of the hands of director John Chu and ordering reshoots, changes to the script and flow of the movie and post-converting it to 3D. I wrote last week about how Chu said they had decided against 3D, but this feels like Paramount never really let the idea go. 3D means higher ticket prices, which means Paramount are going to try and wring every last dollar out of a project that is going to need it.
As a studio insider told Deadline:
"This was a case of letting a schedule to fill a summer slot dictate the film not being in 3D even though we knew that would be the most commercial version of the film. Then in the spring there were 2 big events. First John Carter lost $200M despite the best efforts of the Pixar brain trust. But the 3D film managed to gross over $200M overseas, nearly tripling its U.S. take.

"Also Channing Tatum had a breakout spring, starring in The Vow and 21 Jump Street. In our first screening of the film the reaction from audiences was good but with 2 big concerns: 1) They didn't like the fact that Channing and The Rock really didn't have any time to develop a friendship before Channing died, and 2) Why wasn't it going to be in 3D? We went back and shot another week with Channing to develop more of his story with The Rock, which made the film play much better. But we didn't have the time to be in 3D.

"Then a week ago Battleship basically had the same performance as John Carter – $60M-$70M U.S. and just over $200M international. That was just a wake-up call that said to us we need to offer the best version of the film irrespective of summer market share to ensure the best possible performance. And not being in 3D will cost us a ton of business internationally."
Paramount can dither on about converting it to 3D all they want, but the fact of the matter is that they made a conscious decision not to do it before shooting began. Reports have stated that the studio kept Chu on a pretty tight leash and that their abrupt decision to change release date and add re-shoots left him "shell-shocked." Keep in mind…they pulled it FIVE WEEKS before it was hitting theaters. That is practically unheard of for a movie this size and for a studio who was building its summer release slate around it. We also don't know how a 9-month wait is going to affect costs. Let's just say it didn't help Men in Black III.They got scared and they might as well admit it and save John Chu the embarrassment of being jerked around. Now, the question is…will their gamble pay off?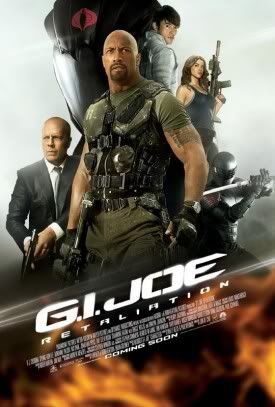 …The Fairest of Them All
It took 4 weeks for a movie to knock
The Avengers.
It only took one for another to knock off
Men in Black III.
This week's box office champ is
Snow White and the Huntsman,
starring Kristen Stewart, Charlize Theron and Chris Hemsworth. The film beat expectations by taking in $56.2 million over the weekend to easily put away the competition. In fact,
Snow White's
total nearly matched the weekend receipts of the rest of the Top 5 combined.
While Snow White and the Huntsman was seen as one of the bigger, more anticipated movies of the summer, it wasn't truly known how big it would be. Tracking numbers indicated the film would make slightly over $50 million, but those barometers have been well off much of the year (too low for The Hunger Games and The Avengers; too high for Battleship and Men in Black III). It's been so bad that Universal felt the need to lower expectations, stating that their "goal" was a total closer to $38 million. Whether they really felt that or if they were simply too jittery to follow the tracking numbers, they get the added bonus of having a film pleasantly surprise and exceed (if only slightly) expectations.
I did see Rupert Sanders' directorial debut and I think it was a mixed bag. The effects are really, really well done. It is a beautiful film and just from a purely aesthethic perspective, it's one of the better-looking live-action fantasy films. The rest of it, however, doesn't quite match those effects and production design elements. I thought the performances were pretty awful. I don't hate Kristen Stewart; I actually think she's shown some talent in her non-Twilight roles (like playing Joan Jett in The Runaways and her turn in Adventureland). However, this reminded me a lot more of her Bella Swan performances; evident are a lot of those same Twilight ticks and empty, expression-less closeups. She obviously should shoulder some of the blame, but the fact of the matter is that she is woefully miscast in this. I didn't think of Stewart when I thought of who would be a good Snow White, and she didn't do anything to change my mind.
However, she's not the only one. Unlike some, I thought Charlize Theron was pretty terrible as well; her performance is much more inconsistent than Stewart's. Admittedly, she does do some good stuff with Ravenna, but there's also an inordinate amount of SCREAMING AND SCREECHING. She's angry and evil…and I know this because Charlize was yelling half the movie, screeching like some drag queen who finished second in a pageant. Not good. Sam Claflin is so non-descript as The Prince, it's scary. Hemsworth was actually pretty good, but Sanders and company let him down a bit by not letting him go further. The Huntsman is by far the most interesting character in this movie, but is mostly there to fall for Snow.
What I worried about going in wasn't what actually bothered me coming out. I – like a number of other people – couldn't see Stewart being "fairer" than supermodel-turned-actress Charlize Theron. I thought it was a strange dynamic, especially since most of the marketing and advertising focused on Theron. Look at the poster for goodness sake. However, I actually think they did a really good job with that. Stewart has always been cute, but they gussied her up a bit and successfully ugly-fied Theron enough to have it not be a big deal.
The film averaged $14,910 from 3,733 theaters and added $39.3 million on the international side. That makes the film's total first-weekend gross $95.6 million from a budget of $170 million. Perhaps the film's biggest asset is its apparent "four-quadrant" appeal among moviegoers. In something of a surprise, the majority of those who saw Huntsman were 30 and older (52%). While it was expected that women would make up the majority who saw it (and they did at 53%), it was expected that younger girls and women would be the primary target audience. The film's success with men was a large factor in its big opening weekend and in topping this year's first Snow White-inspired film, Mirror Mirror.
Last week's box office champ, Men in Black 3 fell one spot to #2 with $29.3 million. The third film in the sci-fi comedy franchise had a solid hold, down only 43%. There was more good news for MIB3 from overseas: the film took in $78.6 million to up its international gross to $274.6 million and its worldwide figure to $386.9 million. While the film's budget is reported at $225 millions, other reports and industry analysts have said the true cost of the film runs closer to $375 million, which means the film still has work to do turn break even or turn a profit.
The Avengers continued to break records in its fifth week in release. It took in $20.2 million from 3,670 locations, lifting its overall domestic gross to $552.7 million. That puts it in front of "The Dark Knight" ($533M) as the No. 3 U.S. film all-time (not adjusted for inflation). The Marvel mega-hit is now third-highest grossing film ever at the worldwide box office with a total of $1.355 billion, passing "Harry Potter and the Deathly Hallows, Part 2" ($1.328B).
And in news that could portend happenings closer to home this upcoming weekend, Ridley Scott's Prometheus opened big overseas in 15 regions, getting to #1 in 14 of them. The sci-fi horror film took in an impressive $35 million from about a third of Snow White and the Huntsman's 45 overseas markets.
This all begs the question: Can Prometheus actually open huge at the American box office, especially in a head-to-head contest with Madagascar 3?
Prometheus's Awesome Exclusive IMAX Poster
I'm a sucker for movie posters. Especially good ones. So color me excited when I found out over the weekend that those attending the midnight IMAX screenings for
Prometheus
would be getting a special limited edition poster to mark the occasion.
Exclusively for IMAX fans – those attending the Prometheus midnight shows in North America in the first hours of June 8th receive an exclusive, limited edition poster. The never-before-seen artwork teases the mysteries unlocked in Prometheus, and is available as part of IMAX 12:01. Check for list of participating theatres on imax.com; while supplies last.
I already picked up my tickets for the midnight IMAX screening on Thursday, so this is just gravy. It's also a really cool poster, better than any of the "official" one-sheets that have been produced so far. It's got a great '70's look, which fits nicely with its origins (1979's Alien).
But that wasn't the only
Prometheus
poster floating around the internet over the weekend. There was also this fan-made poster that re-imagines
Prometheus
as a '50's or '60's drive-in B-movie. It's not official and you won't be getting your hands on it, but it's still pretty cool. Once again, the internet reminds me how creative some folks truly are.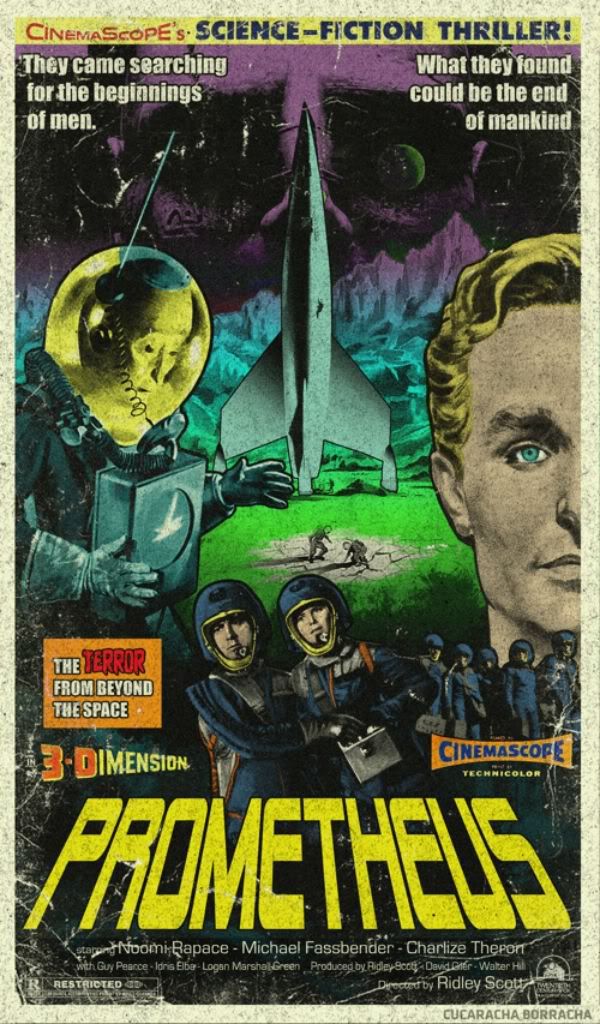 The Dark Knight Rises Gets The Marathon Treatment and Announced Running Time
AMC Theaters has announced that they'll be hosting a "Dark Knight" marathon on July 19th, leading up to the midnight release of
The Dark Knight Rises.
Much like they did for the Marvel cinematic universe in conjunction with the midnight release of
The Avengers,
AMC will be showing the first two Nolan Batman films (
Batman Begins, The Dark Knight
) before the big event. Tickets will go on sale June 11th at 12pm EDT.
As a result of this, AMC has listed
The Dark Knight Rises
at a whopping 2 hours and 45 minutes running time. To my knowledge, this is the first time we've heard about the film's expected running time and it blows away the previous running times for
Batman Begins
(2:20) and
The Dark Knight
(2:35). Granted, it's really only a 10-minute bump from the last film, but two hours and forty-five minutes is still a big block of time. So for those who are thinking of doing this or going to the midnight screenings…plan accordingly.
And try not to drink anything before going into the theater.
Avengers…ASSEMBLE ON BLU-RAY!
Now you can re-enact that AMC
Avengers
marathon you did in your own house, because the rumors are indeed true. Marvel has announced that they will in fact be releasing the
Avengers Assembled
10-disc, 6-movie Blu-ray Collector's Set. I hinted that there were rumours of such a set when they first announced
The Avegners
DVD/Blu-ray release (which is set for September 25th). As of now, there is no word on what the release date will be for the set, but Amazon lists an announcement coming on July 15th, which would lead one to believe a 2012 release is likely. According to
Amazon
, the limited edition collection will include:
Marvel's The Avengers (Blu-ray 3D and Blu-ray)
Captain America: The First Avenger (Blu-ray 3D and Blu-ray)
Thor (Blu-ray 3D and Blu-ray)
Iron Man 2 (Blu-ray)
The Incredible Hulk (Blu-ray)
Iron Man (Blu-ray)
Bonus Disc – "The Phase One Archives" (Blu-ray)
Collectible packaging with exclusive memorabilia from the Marvel Cinematic Universe
Marvel diehards will likely want to get their hands on this, even if they already own a number of the films on Blu-ray. Just remember that 3 of the 10 discs are the 3D versions.
First Set Photos For The End of the World
Not to be confused for
The World's End,
which I've talked about in recent weeks, or even this summer's
Seeking a Friend for the End of the World
with Steve Carrell and Keira Knightly,
The End of the World
is an upcoming comedy from Seth Rogan and Evan Goldberg (the writing partners are making their directorial debut) that is shooting as we speak. The difference between the films is that Rogan and Goldberg's action-comedy is shooting for the stars…literally. Nearly every under-40, Apatow-used comedy star appears to be in this movie (and they may or may not be playing themselves) and while the pair promised a lot of celebrity cameos…I don't think people were expecting this many all at once!
The film's main cast includes Seth Rogen, Jay Baruchel, Danny McBride, Jonah Hill, James Franco, and Craig Robinson, and the story finds the aforementioned actors attending a party at Franco's house (he's playing himself) when the apocalypse begins. Also appearing are Emma Watson, Jason Segel, David Krumholtz, Michael Cera, Aziz Ansari, Rihanna, Kevin Hart and Paul Rudd. That is one seriously stacked cast. The film previously known as Jay and Seth vs. The Apocalypse (aka The End of the World) is scheduled to hit theaters on June 14th, 2013.
Trailer Talk
If you went to see Snow White and the Huntsman over the weekend, you saw the first trailer for the highly anticipated update of Les Misérables. The thing that struck me about it was how much better and more powerful it was on the big screen and through the theater speakers than it was seeing it on my computer. Somehow, Anne Hathaway's voice went from somewhere between fine-to-good, to all of a sudden bordering on really good. I have little doubt that Les Misérables will be a serious contender come awards season, and it would be really nice if it could actually be deserving. It's really hard to screw this particular musical (one of the best) up and while I may have an issue or two, I'm definitely looking forward to seeing it around Christmas.
I'm also very pleased to see them use the traditional image in their first official one-sheet. It is one of the most iconic images in all of art and entertainment and is totally synonymous with Les Misérables. With such a large, big-name cast, it wouldn't have been much of a shock to see the faces of Jackman, Crowe, Hathaway and Seyfried on the first released poster.
It looks good to me, but what do you all think? Has this trailer peaked your interest?
BOX OFFICE BREAKDOWN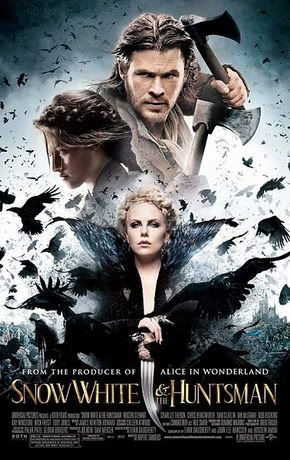 1.
Snow White and the Huntsman
$56.3 million ($56.3 million total)
Read the review!
2.
Men in Black 3
$29.3 million ($112.3 million total)
Read the review!
3.
The Avengers
$20.3 million ($552.7 million total)
Read the review!
4.
Battleship
$4.7 million ($55.1 million total)
Read the review!
5.
The Dictator
$4.7 million ($50.8 million total)
Read the review!
6.
The Best Exotic Marigold Hotel
$4.6 million ($25.5 million total)
Read the review!
7.
What To Expect When You're Expecting
$4.4 million ($30.7 million total)
Read the review!
8.
Dark Shadows
$3.9 million ($70.8 million total)
Read the review!
9.
Chernobyl Diaries
$3 million ($14.4 million total)
10.
For Greater Glory
$1.8 million ($1.8 million total)
Box Office Survey!
Instead of me just repeating what you can see, how about we ask some questions about the weekend box office? Answer in the comments and NO CHEATING!
* Are you surprised at the strong showing for Snow White and the Huntsman?
* Will MIB3 be able to recoup its costs?
* Are you planning on seeing anything that has come out already, or are you waiting for Prometheus?
Before I say GOODBYE!
Well that didn't take long. In the past week 411wrestling.com passed 4,000 fans on Facebook. Now, the slow but steady march to 5,000 begins. Are you a fan of 411mania on Facebook? Do you know someone who might not know us? Keep up-to-date on news and contests…and occasional CoCo pictures!
Are you following 411mania on Twitter?
Follow Jeremy Wilson
Follow @411mania
Follow @411wrestling
Follow @411moviestv
Follow @411moviestv
Follow @411games
Follow @411mma
As always, "Thank you!" to John Meehan for providing Steve's banner, which I simply added my name to. Yay banners!
That's all the time I have for now. See you back here next week for another Big Screen Bulletin. 'Til we meet again, good night, and good luck.
NULL