The Big Screen Bulletin 11.26.12: The Twilight Saga: Breaking Dawn Part 2 Stays First!
November 26, 2012 | Posted by

Welcome to the
Big Screen Bulletin
! My name is
Steve Gustafson
and this is where we hit the big movie news from the weekend and anything else going on in the world of Hollywood!
I've been selected to be a speaker at CatalystCon East in March. I'll be presenting presenting 'Sex in the Media: From Pitch to Print; What Does Sex Really Sell?'. They gave me this pretty nifty button to share
Some reading suggestions before we start:
My Hollywood gossip (and anything else!) Hollywood 5 & 1!
Stewart Lange holds down the fort across the pond with his MMA 5 & 1!
Tony Acero puts the Wrestling world in a headlock with his Wrestling 5 & 1!
Follow me on Twitter for random bits, news RT's, and updates! Only at http://www.twitter.com/stevethegoose!
BOX OFFICE BREAKDOWN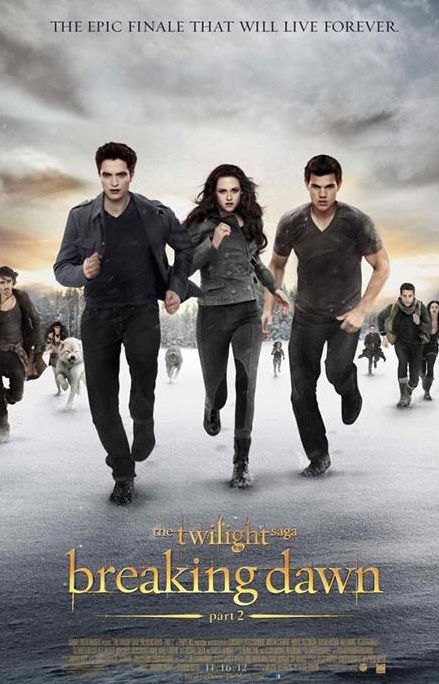 1.
The Twilight Saga: Breaking Dawn – Part 2
$64 million ($227 million total)
READ THE REVIEW!
2.
Skyfall
$51.1 million ($221.7 million total)
READ THE REVIEW!
3.
Lincoln
$34.1 million ($62.2 million total)
READ THE REVIEW!
4.
Rise of the Guardians
$32.6 million ($32.6 million total)
5.
Life of Pi
$30.2 million ($30.2 million total)
6.
Wreck-It Ralph
$23.3 million ($149.5 million total)
READ THE REVIEW!
9.
The Silver Linings Playbook
$5.9 million ($6.5 million total)
10.
Argo
$5.1 million ($98.1 million total)
READ THE REVIEW!
Box Office Survey!
Instead of me just repeating what you can see, how about we ask some questions about the weekend box office? Answer in the comments!
* Should Rise of the Guardians and Red Dawn have done better?
* Will Life of Pi earn back it's budget?
BULLETIN BOARDy
The Ninja Turtles reboot may have come in for its fair share of flak with the involvement of Mr. Michael Bay and his planning to tinker with the origin story. However, franchise co-creator Peter Laird remains enthusiastic about the project, and claims that the script has been informed by films like The Avengers.
"From what I've seen of the script it's fantastic," he said. "We're talking about being inspired by movies like The Avengers for scope and roots origin and The Raid: Redemption for fight scenes and Rise Of The Planet Of The Apes as far as computer-quality style."
Meanwhile, original star Corey Feldman has also chipped in with his opinion, and claims that he may return to reprise his role as Donatello.
"Michael Bay and I have become social acquaintances," says Feldman. "We have traded cell phone numbers. We have been in communication. I have let him know that I support the project. He has let me know that he is a fan of my work.
"We are communicating," he continues. "I wouldn't say there has been a formal offer, or anything like that. It's not even really going to be Michael Bay's decision. It's going to be the director's decision."
All this Ninja Turtle talk has me thinking…
Casting of the Week!
Not too much
Star Wars
news to share but while we wait to hear who will direct
Star Wars: Episode VII
, writer Michael Arndt has already turned in a 40-50 page treatment for the whole new trilogy and is supposed to write Episode VII on his own. Now we have word on who will script
Episode VIII
and
Episode IX
. Heat Vision reported that
Empire Strikes Back
writer
Lawrence Kasdan
and
Sherlock Holmes
writer
Simon Kinberg
will write the other two sequels, but it's not clear who will write which one.
In addition, the two would also produce the films. Now we need a director to kick-off the franchise just right. If it's not Steven Spielberg or J.J. Abrams then it's anyone's guess. Jon Favreau is passionate about the saga but nothing solid from anyone involved.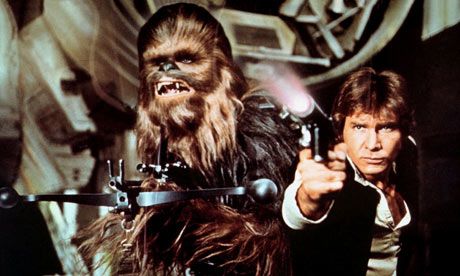 GottaBeKidding!
RadarOnline.com has reported that
Emma Stone
, who is currently dating her
Amazing Spider-Man
co-star,
Andrew Garfield
, made a sex tape before she was famous.
"Emma Stone has a sex tape and that's a fact," the source told RadarOnline.com. "She made it long before she started dating Andrew Garfield, and before she really became a household name. She was just young and probably thought nothing would ever come of it."
Currently the homemade sex video tape has not been shopped around so don't expect to find a leaked version of it online. At this time. "The tape remains in the hands of the person she made it with," the source said. "But that doesn't mean there's any guarantee that it won't eventually hit the market. The higher Emma's star rises, the more valuable that tape becomes."
The source is said to be a "close pal" of the actress. They say Emma has no interest in becoming the next Kim Kardashian or Paris Hilton and would "fight" to keep the racy tape from surfacing.

Wolverine!
Russell Crowe
got
Hugh Jackman
the Wolverine part in
X-Men
, after turning it down himself.
In an interview with Australian radio station Triple M 104.9FM., Jackman said: "
Bryan Singer
asked Rusty (Crowe) to do Wolverine, and he said, 'Nah mate I've just done
Gladiator
, it's not for me but you should look at this guy…' "
Luckily he was talking about Jackman, whose portrayal of the clawed mutant was a big hit with movie fans. He's since appeared as the character a further three times, with a second X-Men spin-off flick The Wolverine due out July 2013.
Hugh, who is friends with Russell, says he has learned a lot from his mate. He said: "He's a great guy in every way, I have so much time for him and to watch him work, everyone says he is a great actor, when you actually get to work with someone like that… He's that good when it matters, in that moment, in that close up tough moment, you just sit back and watch you know someone's got that confidence and is going to deliver. I learnt a lot from him."
Anyone else wonder what a Crowe Wolverine would have been like?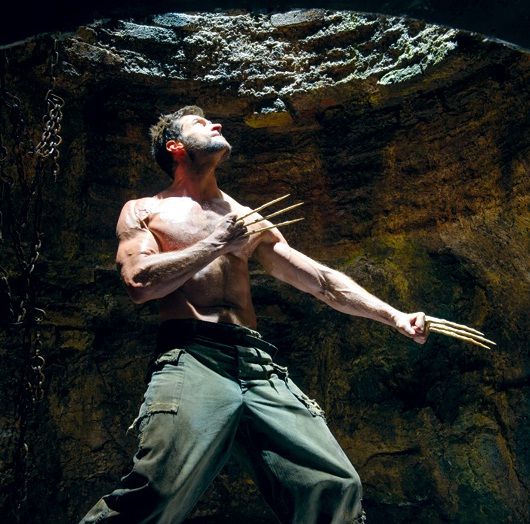 Hobbits!
Total Film
magazine visited the set of
Peter Jackson's
The Hobbit: An Unexpected Journey
, the epic Middle-earth-set prequel to
The Lord Of The Rings
.
Here's a little taste of what Jackson had to say about his reluctant hero, Bilbo Baggins (played by Martin Freeman).
"He really wants to be left alone, to put his feet up in front of a fire," Jackson explained. "And then suddenly he's dragged off on an adventure. So there's a lot of comedic opportunities.
"But you want to feel the truth of those moments. You don't want them to be played just for laughs. When he's holding the sword and faced with a troll, you want the sense of danger, and Martin's brilliant at juggling the tone, that ability to have one foot in the dramatic world and one in the comedic world."
Check out a little featurette from the set:

Thor!
Set photos for scenes for Marvel's much-anticipated
Thor: The Dark World
involved 'Jane Foster' and 'Erik Selvig' actors
Natalie Portman
and
Stellan Skarsgård
. Via the Daily Mail, these pictures feature the pair running from or to an unknown danger, likely to be the London invasion of Dark Elves. What's more interesting is some sort of plot device Portman is holding as the cameras roll. This past week is reportedly the last day we'll see principal cast members of the
Alan Taylor
-directed
Thor
follow-up. Detailing what took place today, Tumblr user Princehals reports:
Apparently they were still shooting Jane & Selvig scenes, and we saw Natalie Portman coming to and from set a couple of times. Other than that, not much else was going on – at about one o'clock, it started to rain, so they began clearing up. Several crew members saw us stood in the rain and explained that all the main cast had left for the day; also that Unit 1 were leaving today, and that from now it'll just be Unit 2 until Sunday, which apparently means stunts, explosions, extras, and no main cast. Somewhat more interesting though – I went and checked the name on the trailer door; the one that began as Jane's, and was then Malekith's – it now says "Ian [Boothby]."

Batman!
With the upcoming DVD/Blu-ray release of The Dark Knight Rises, another featurette has appeared online showing the transformation of Tom Hardy into the film's villain, Bane.
Stunt coordinator Tom Struthers talk through the difficulties of changing Hardy from his previous role's thinner physique to the much bulkier Bane, as he added 30 to 35 pounds to his frame.

Mirada!
A new promo video for
Guillermo del Toro's
special effects studio, Mirada, has appeared online.
The video showcases the amazing work his FX team do as highlighted by the examples of Pan's Labyrinth, Hellboy II: The Golden Army, and even Disney's Mickey Mouse.
Trailer Talk
In the fast-paced action thriller SNITCH, Dwayne Johnson stars as a father whose teenage son is wrongly accused of a drug distribution crime and is looking at a mandatory minimum prison sentence of 10 years. Desperate and determined to rescue his son at all costs, he makes a deal with the U.S. attorney to work as an undercover informant and infiltrate a drug cartel on a dangerous mission — risking everything, including his family and his own life.
What do you think?
Before I say GOODBYE!
Playboy
has been kind enough to release me on the lovely Playmates. Here's some interviews to keep you entertained!
Miss January 2012
Miss February 2012
Miss May 2012
Are you a fan of 411mania on Facebook? Keep up-to-date on news and contests!
Are you following 411mania on Twitter?
http://www.twitter.com/411mania
http://www.twitter.com/411wrestling
http://www.twitter.com/411moviestv
http://www.twitter.com/411music
http://www.twitter.com/411games
http://www.twitter.com/411mma
If you have some down time and are looking for a great place for great fun, check out Tiger Flash Games!
As always, "Thank you!" to John Meehan for providing my banner!
That's all the time I have. See you next week!
NULL