The Blu-Ray Dissection: Flight (Blu-Ray+DVD+Digital Copy)
February 5, 2013 | Posted by
The Blu-Ray Dissection: Flight (Blu-Ray+DVD+Digital Copy)
Denzel Washington: Whip Whitaker
Kelly Reilly: Nicole
Don Cheadle: Hugh Lang
Bruce Greenwood: Charlie Anderson
Nadine Velazquez: Katerina Marquez
Melissa Leo: Ellen Block
Brian Geraghty: Ken Evans
John Goodman: Harling Mays
Directed By: Robert Zemeckis
Written By: John Gatins
Theatrical Release Date: November 2, 2012
Blu-Ray Release Date: February 5, 2013
Running Time: 138 minutes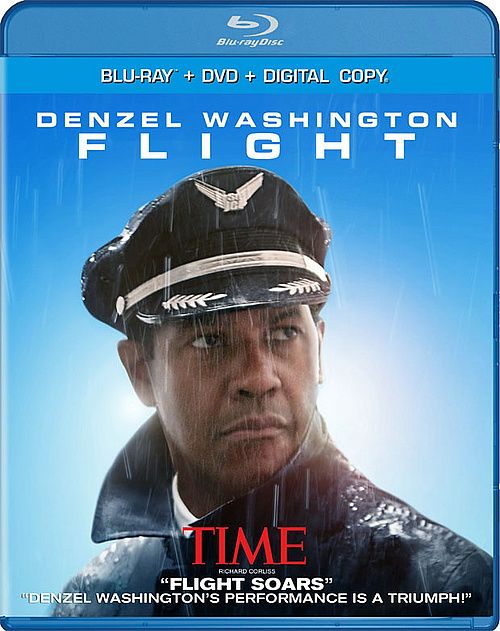 Rated R
The Film
Flight is the first live-action film that Robert Zemeckis has directed in 12 years, his last being Cast Away. He is a filmmaker who has received plenty of praise over the years, but who also has a small group of outspoken detractors. Flight continues that trend as it garnered predominantly positive reviews, but not universal acclaim. Despite giving the world more than a few classics that have stood the test of time, he is the target of one common criticism. Some people refer to him as strictly a special effects showman, which is incredibly unfair and only proves that those who make such a statement need to see more of his movies.
In fact Flight does begin with a spectacular special effects sequence as Captain Whip Whitaker (Denzel Washington) speeds flight 227 through a severe storm and eventually lands the malfunctioning plane in a most miraculous way, saving 96 out of 102 souls on board. What makes the opening so great is not just the CGI, but the manner in which the technology is integrated with the unwavering display of the unfolding events, the realistic terror of the passengers, and the calm, cool, collected attitude of the pilot. Most agree that the first 20 minutes are intense, breathtaking, and brilliant. It's what occurs afterwards that stirs divisive reactions.
Whip is a one of a kind pilot for sure. Judging from his incredible save, he appears to be a magician in the skies. On land however, he is a volatile mess. The night and morning prior to taking off from Orlando for the memorable trip to Atlanta, he was up drinking and cavorting with fellow crew member Katerina (Nadine Velazquez). He evidently did not sleep much, yet awakens to a phone call from his ex-wife, requesting a tuition check for their son. With the day's flight upon him, he snorts some blow to rev himself up and he's ready to go. He survives the crash with a concussion, eye lacerations, and a busted knee. He is a hero, but many suspicious details emerge from the NTSB investigation. Immediately following the incident, Whip vows to stop drinking. He is an alcoholic. During his brief dry period, he dumps all of his booze, which he has hidden, amazingly in every nook and cranny of his grandfather's farm. One wonders what he had stashed in his condo.
Whip's union representative Charlie Anderson (Bruce Greenwood) assigns lawyer Hugh Lang (Don Cheadle) to handle the criminal misconduct allegations. The blood toxicology report reveals startling results as to the condition of its pilot. What triggers his falling off the wagon is the knowledge that he could very well go to jail for manslaughter. When it was merely a close call, he decided to change his lifestyle. When others discovered the problem, Whip's freedom to drink (or not) was threatened. It's a standard obsessive, dangerously habitual personality. But as he declares himself, "No one could have landed that plane like I did." Yet he was heavily inebriated. As Whip struggles with the hold alcohol has over him, he forms a relationship with Nicole (Kelly Reilly), a woman whose heroin addiction has damaged her innate beauty and spark for life. As he sinks deeper, the moment looms closer when he will be forced to answer for what exactly happened in the air and whether or not his .24 BAC is connected.
One of the primary complaints about Flight is that the story never recovers from the mastery of the beginning sequence. I question if this would have been as significant an issue had every viewer paid for a ticket without seeing the trailer. The preview flaunted a mystery action thriller about an averted plane disaster, but the story delivered an gripping drama about addiction, morals, and ethics. This sort of clumsy marketing and misinterpretation happens all the time, though the film always gets blamed for assuming a guise it never intended to in the first place. This is a character study. The focus is not limited to the flight itself, but also what that flight causes. It could have been a bus or a train. Wait, Denzel already did Unstoppable. Nevermind. I digress.
Others shout that Flight is hackneyed and predictable. What's interesting about this opinion is that I found the sudden focus on Whip being an alcoholic to be rather unexpected. Fair is fair though. Zemeckis and screenwriter John Gatins did not complete Flight without leaving behind conventional traits. However, a lesson we should have known already, yet was hammered home with Avatar is it's not how familiar a story is, but how well that familiar story is told. If you said that Flight had a lot of clichés and used them poorly, I would understand. I respectfully disagree, but I get it. Sadly, it is rare to hear an explanation of this critique. All we hear is " We've seen this before and that's why I don't like it." Funny how so few are consistent with this belief when a barrage of other trendy premises like, say zombies or superheroes, hit theaters.
I know people who rate movie drunkenness in terms of how organic or exaggerated it comes across. Personally, I enjoy watching new films about alcoholism and excessive drinking not just because it's a problem still worth examining, but it's akin to seeing a different version of the same play over and over again. You had Ray Milland in The Lost Weekend, Mickey Rourke in Barfly, and Nicolas Cage in Leaving Las Vegas just to name a few. There will always be fresh depictions of this behavior, the addiction, or the disease. And in truth isn't that what happens in real life? Alcohol affects people in different ways and that's one reason it can be fascinating to observe the interpretations in a feature. Having said that, Flight is not just about an alcoholic, but rather who that alcoholic is. Whip Whitaker committed an act of heroism, and while doing so ingested substances he shouldn't have. The comparisons with modern day athletes are intriguing. Whip is a person in the public eye, whose reputation is at stake, whose livelihood could disintegrate. Escaping the situation scot free is relatively simple as long as he lies, but where does one draw the line? Is it right for Whip's BAC to be covered up due to the plane going down from an "Act of God"? Flight might not be the most groundbreaking piece of work, but it is profound and thought-provoking.
Zemeckis knows how to elicit peak performances from existing icons. He did so with Tom Hanks and accomplishes that again with Denzel Washington, who definitely earned his Oscar nomination. Washington communicates many standard characteristics of an alcoholic, but his subtleties transform his turn into a marvelous exhibition. This is a role which he slips into smoothly like a glove and exceeds expectations. His chugging of beer cans while driving, ordering a drink from the barkeep, or passing out after a long session of guzzling is unassuming, natural, and filled with conviction. The goal is not merely to stumble around and slur your words. Washington fully inhabits the persona, conveying the shell of a doomed man who is truly in jeopardy. Zemeckis' camera moves around Whip's cravings in a sly and suspenseful manner. Whether it is gradually scanning the room as a coffee table packed with empty beer bottles is unveiled after a night of binging, or teasing us as Whip chooses to walk away from a hotel room refrigerator jammed front to back with tiny bottles or sample each one the night before his crucial court date.
Flight is Denzel's show, but he is backed up by a supporting cast that holds their own. Don Cheadle is excellent as Hugh Lang, the blunt lawyer attempting to ensure that Whip completes the process unscathed. Bruce Greenwood is fabulous as Charlie Anderson, the union rep tagging along for the ride. John Goodman owns his two major scenes as Harling Mays, his friend and drug dealer, bringing welcomed humor to the emotionally draining plot. Melissa Leo and Brian Geraghty are quite exceptional in their minor parts as Ellen Block, the woman who will be grilling Whip on the crash, and his co-pilot Ken Evans. Kelly Reilly shines as Nicole, the junkie Whip befriends in the hospital. She wants to get better at a much faster speed than Whip does, hence their period together has his hills and valleys to say the least. The scene in which they meet is one of my favorite in the film as Whip, Nicole, and a terminal cancer patient (an enthralling James Badge Dale) converge on a stairwell to share a cigarette. They talk about control over your destiny, fate, and God's place, all themes Zemeckis loves to touch on.
Denzel Washington is someone audiences adore almost instantly, so it is a testament to the actor's abilities that he superlatively fleshes out a detestable person while also unraveling his background, his childhood, and his sympathetic qualities in adequate bursts. Under the capable hand of Mr. Zemeckis, Washington reaffirms his greatness. Zemeckis' direction is fluid and confident. The camera movements possess a sense of urgency and exhilaration that match wonderfully with the low-key, reserved facets of the story. The music cues are spot-on and occasionally obvious, but that is a trademark of his and they're effective even if The Rolling Stones' "Sympathy for the Devil" needs to be retired from cinema. Still, Joe Cocker's "Feelin' Alright" is terrific as Whip strides to his flight with the sunglasses shielding his eyes. That's not to argue that Flight is perfect. The symbolism, although appropriate, is not as elegantly managed and the conclusion is one of those "it only happens in the movies" endings. On the other hand, when you think about it, there are only so many avenues Zemeckis could have taken. He maintains a steady momentum after the key stage-setting sequence and bravely sticks with Whip's downward spiral. Despite the blemishes, Zemeckis and Washington's collaborative achievement borders on triumph because of the star's portrayal and the director's energy. Flight is a remarkable, complex picture.
The Video
Flight lands on Blu-Ray with a fantastic transfer. The vibrant colors are gorgeously accentuated, illumination every nook and cranny of the production. Zemeckis keeps a clear, refined picture whether the sun is out or characters are in dimly lit rooms. Every detail is rich and accurately presented. The 1080p resolution is utilized to the fullest extent. The colors do not bleed and the black levels are sufficiently deep. The skin tones are also top-notch. You will not detect zero defects like grain, blurriness, or over-saturation. This is a clean, sharp transfer that will look great on your television. By the way, this set includes a standard DVD as well, which is first-class in both audio and video.
The Audio
The sound department is fulfilling as well, though the main action occurs at the beginning. The tense, white-knuckling opening is aided by the crispness and proportion of the sounds. The combination of alarms, radio calls, turbulence, etc creates a frighteningly convincing environment. Zemeckis wants us to almost project ourselves to the aircraft with the passengers and crew and believability of the noises helps accomplish that. The DTS-HD master audio mix is distinguished and sports no issues. Background noise meshed seamlessly and did not overwhelm the dialogue. All the characters were lucid and understandable and my volume knob did not have to be adjusted to any extreme. You also have alternate language tracks in Dolby 5.1 Spanish, French, and Portuguese, not to mention subtitles in English SDH, French, Spanish, and Portuguese.
The Packaging
Flight is distributed in a standard slimline blue keep case. It houses both the standard DVD and Blu-Ray on the front and back covers. There is one insert, directions and a code for the digital copy and one for the Ultraviolet stream. Is it just me, or does anyone else have nightmarish flashbacks of the movie Ultraviolet whenever they see one of these inserts? Moving on…the menu screen contains images from the film and the cover art is simply a photo of Washington in his uniform.
The Extras
Origins of Flight (10:29) – All of the extras are exclusive to the Blu-Ray version and they do reveal spoilers, so I would recommend watching them after if you have never seen the movie. This one has screenwriter John Gatins chatting about how he came up with the idea and how Washington and Zemeckis then became attached.
The Making of Flight (11:31) – This is a basic "making-of" featurette with interviews from the cast and crew, behind-the-scenes footage, and various tidbits of info. For instance this was shot in 35 days on a pretty thin budget of $35 million. They were also not able to shoot on a real tarmac.
Anatomy of a Plane Crash (7:46) – This is self-explanatory, though certainly interesting. I actually saw a preview of this bonus feature during those specials on the screen before the movie starts at the theater. It displays how the green screens and a rotating section of plane were used with the actors. It's cool.
Q&A Highlights (14:18) – This is a short question and answer session about the movie hosted by John Horn of The Los Angeles Times with no Denzel, but it does include Gatins and Zemeckis, along with actors Brian Geraghty, Tamara Tunie, Don Cheadle, Melissa Leo, John Goodman, Bruce Greenwood, and James Badge Dale. Among the topics are why no deleted scenes.
The Film: 9.0/10.0
The Video: 10.0/10.0
The Audio: 10.0/10.0
The Packaging: 8.0/10.0
The Extras: 6.5/10.0

The 411: Flight is a powerful film about the nature of heroism and addiction, the moral and ethical dilemma one can face, and how to survive the dependency. Robert Zemeckis' newest film does indeed have broad humor and noticeable music cues, but that didn't bother me as much as it did others and I don't think it undermines the seriousness of the subject matter. Zemeckis returns to live-action and has little difficulty settling into a groove and translating a compelling script from John Gatins to the screen. This is not a flawless motion picture and it explores territory we've visited previously, but it is not self-conscious, has an amazing cast of talent, and causes our emotions to swirl as we watch the character of Captain Whip Whitaker descend from a phenomenal act. The Blu-Ray has superb technical specifications. The picture and sound transfers are basically faultless. The extras leave a little to be desired, but at least something is included. It's tough not to reveal too much about the plot of Flight, but the less you know the better. If nothing else, see it for Denzel's performance.

Final Score:  8.5   [ Very Good ]  legend