The Driller Killer (Blu-Ray Combo Pack) Review
December 13, 2016 | Posted by
The Driller Killer (Blu-Ray Combo Pack) Review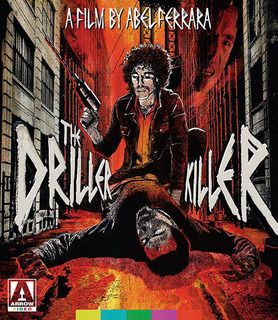 The Driller Killer is a film that thinks it is far more important than it actually ends up being when it's all said and done. It is truly a chore to sit through, as it goes nowhere, is loud, uninteresting, and quite boring. The film is directed by Abel Ferrara, and he also plays the lead role in the film as Reno, although he went under the name Jimmy Laine as an actor. From what has been read about the film, it is considered a video nasty. The back of the Blu-Ray tells the audience to forget films such as Taxi Driver, The Warriors, and The New York Ripper, as this is the definitive look at NYC's Underbelly.
As mentioned in the opening paragraph, Reno (Abel Ferrara) is a starving artist that is trying his best to finish a piece of artwork called The Buffalo. He faces pressure to pay the bills and stay afloat, as he has a girlfriend named Carol Slaughter (Carolyn Marz) and another roommate named Pamela (Baybi Day). Pamela is only interested in getting drugs while Carol is upset that she is often forced to pay the rent and uses her alimony checks from her ex Steven. Reno keeps talking about finishing it, but he never seems satisfied with it, which causes his boss Dalton (Harry Schultz) to become quite upset with him.
There is also a band that has moved in the apartment building called The Roosters, and they play some of the loudest and most obnoxious music quite possibly ever heard in music or in film. Between the headaches from the music, the stress of finishing The Buffalo, and an uneasy relationship with his girlfriend, Reno has had enough. He decides to purchase the Porto-Pack, which allows anyone to plug something into his or her belt and get electricity out of it. He decides that his weapon of choice is the drill.
He starts off by killing homeless people on the street for the fun of it and then takes it to another level, as it becomes an obsession for him. The film is filled with quick cuts, loud music, drillings that aren't all that interesting (minus the drill to the head, which was pretty impressive), and very, very bad acting. Basically, it is a mess of a film, and it tries way too hard to be stylish with its use of music, blood, gore, and lighting. After about an hour into the film, one realizes this film is a complete and utter dud.
The title of the film and the premise sounded interesting enough, but as they say, this is all style and no substance. It is trying to make some big statement one would suppose, but whatever statement it is trying to make can either be seen as being beaten over the head of the audience or lost in the mess that was described earlier. This film was a real disappointment, and it feels like a director that is more interested in his own vision than actually making anything that is going to be interesting or worthwhile to the audience. The Driller Killer is a film to forget as soon as one is finished watching it. This flick was a drag and a bummer.
Blu-Ray Info: The Driller Killer is released on a two-disc Blu-Ray and DVD combo pack from Arrow Video. It comes with the pre-release version, which runs at 101 minutes, and the theatrical cut which runs at 96 minutes. It is not rated. It also comes with a reversible sleeve featuring original and newly commissioned artwork by the Twins of Evil. There is also a booklet with the Blu-Ray, which includes two essays and information about the restoration, cast and crew, and Mulberry St. Crew. The film was released in 1979.
Video Info: It comes with a brand-new 4K restoration from the original camera negatives of the never-before-seen pre-release and the theatrical cut, according to the back of the Blu-Ray. It has a high-definition transfer (1080p) with aspect ratios of 1.85:1 and 1.37:1. Personally, I watched the 1.85:1, which was a mixed bag. It started out very grainy and sloppy looking, but it improved as the film went on and finished up, thankfully.
Audio Info: According to the back of the Blu-Ray, it comes with original uncompressed Mono PCM audio with subtitles in English. The audio is very, very irritating and gave me a serious headache, no joke, although perhaps that was the point. Nevertheless, I didn't like it.
Special Features:
Audio Commentary by Director/Star Abel Ferrara, Moderated by Brad Stevens (Author of Abel Ferrara: The Moral Vision): I like how Arrow Video has some of their audio commentary tracks moderated, as sometimes when certain directors or actors are left by themselves, there can be a lot of silence and dead moments in the audio. Here, Brad keeps it going and asks a lot of questions that get Abel Ferrara talking. Considering he is an author on a book about him, it is no surprise that he knows his stuff.
Laine and Abel: An Interview with the Driller Killer (17:31): This was recorded in March 2016, so it is fairly new. He talks about his early fascination with film and making films in high school. He then goes into how all of this led him to The Driller Killer and his experience working on it such as shooting nights and how the writer was writing scenes as they went along. He also discusses the casting.
Willing and Abel: Ferrarology 101, a New Visual Essay Guide to the Films and Career of Abel Ferrara by Alexandra Heller-Nicholas, Author of Cultographies: Ms. 45 (34:19): While I didn't particularly care for The Driller Killer, this makes me want to check out some of his other films. This is very extensive and it is clear she has done her homework.
Mulberry St. (01:27:00): This was done by Abel Ferrara himself back in 2010, and it shows off the people, the sights, and sounds of New York. It is rather bizarre and odd and rather unwatchable.
Trailer (00:32)
3
The final score: review Bad
The 411
I was drawn into the title of this film, the premise, and the fact Arrow Video was releasing it. As mentioned in my review, I realized after an hour, that nothing was happening and nothing was going to happen in the film. I was looking forward to some pretty intense and over-the-top kills, and the only good one is the drilling to the head. I was looking forward to a portrait of a madman that has been pushed to his limits. Instead, there is too much going on with the camera and it is overly simplistic in terms of its narrative. It was one of those films that just didn't work, although there was promise that is for sure. The audio and visual aspects are hit and miss. The audio is irritating, and I seriously still have a headache even two hours after watching the movie. The video starts out poorly, and eventually it does improve, but it is hard to ignore those rough patches early on in the film. The special features are also a mixed bag, but when I don't like a film, it is hard to get too excited about the special features. This is an Arrow Video release that should be avoided at all costs. This one is ugly, messy, sloppy, and instantly forgettable.
legend