The Founder (Blu-Ray Combo Pack) Review
April 18, 2017 | Posted by
The Founder (Blu-Ray Combo Pack) Review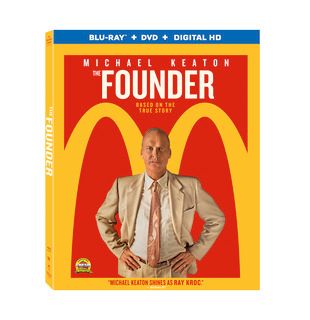 A movie about the man or men behind McDonald's probably doesn't sound all that interesting to moviegoers. Then again, it is a popular franchise, so there might have been some slight interest in it. Truth be told, on my own, I can't remember the last time I have stepped foot in a McDonald's. Now that there are so many other places to eat that produce better quality food at around the same price, I don't quite see the appeal. As a film, however, The Founder turns out to be interesting as a historical footnote, but as far as what genre to put it in, that is where the problem lies with the film.
The film follows Ray Kroc, played by Michael Keaton, and he is one of those traveling salesmen in the 1950s going around and coming up with new ideas left and right. He has the right attitude and is good with people, but he just can't seem to find an idea that fits or connects with people. Ray Kroc's luck changes when two brothers out in San Bernardino, California, purchase his multi-mixer in large quantities. They are played by Nick Offerman as Dick McDonald and character actor John Carroll Lynch as Mac McDonald. They have created a formula that has changed the game.
Back then, there were a lot of drive-thru fast food joints that didn't work all that fast and they also messed up a lot of people's orders. They also attracted the wrong kind of crowd. McDonald's, on the other hand, with its single restaurant at the time, was different. The food was ready in thirty-seconds, came in a bag, and they had a system that was efficient and drawing big crowds. One of the better moments in the film is when the brothers give Ray Kroc a behind-the-scenes tour of how they operate even down to how many pickles are on each burger.
This inspires Ray Kroc to pitch the idea of franchising McDonald's to the brothers. Dick is very hesitant as he points out they have tried it before and it was too hard to keep the quality going at so many locations. He is big on quality and doing it the right way. His brother Mac is a little more gullible and wants to see Dick's dream come true as he came up with The Golden Arches. They come up with a contract that should protect them, but it does not take them long to realize that Ray Kroc is a loose cannon and not exactly the easiest person in the world to deal with on a daily basis.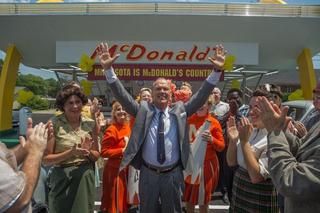 The Founder is a film that starts off with a bang but it ends with a whimper. Overall, the story of McDonald's has some interesting parts, but it does not end up being all that entertaining as an almost two-hour film and it runs out of steam. On IMDB.com, the film is called a Drama, Biography, and History. On the back of the Blu-Ray, Richard Roeper raves about how funny the film is. In my view, the film does not work as a comedy or a drama. It shows how McDonald's became what it is, but there is really no drama or any comedy to be had while watching the film.
In the end, it is not a terrible film or a good film. It is an average film that will likely leave audiences feeling indifferent to it. Film is either supposed to entertain audiences, move them, or make them laugh. They can teach them something, but it needs to have something extra going for it. Michael Keaton turns in a fine performance and he handles all of the nuances of the performance, but it is not enough. The film also wastes Laura Dern, Patrick Wilson, and Linda Cardellini with thankless roles. It also does not help that Ray Kroc is a flat-out overbearing jerk, and while Keaton does his job, it is hard to overlook the way he went about doing things.
Blu-Ray Info: The Founder is released on a two-disc Blu-Ray, DVD, and Digital HD Combo Pack from Anchor Bay Entertainment/The Weinstein Company Home Entertainment. The digital copy can be watched on iTunes or with UltraViolet. It runs at 115 minutes and is rated PG-13 for brief strong language.
Video Info: The film is released on 1080p High Definition 16×9 Widescreen 2.40:1 presentation. The transfer is incredibly clear and colorful. It really looks spectacular on Blu-Ray and pops.
Audio Info: The audio formats are English 5.1 DTS-HD Master Audio and Spanish 5.1 DTS-HD Master Audio with subtitles in English and Spanish. Everything with the audio, including all of Keaton's fast-talking and bravado can be heard just right.
Special Features:
Behind the Scenes Gallery (Featurettes) (20:10): These are little special features that can be all played at once or they can be played one at a time. They are called The Story Behind the Story, Michael Keaton as Ray Kroc, The McDonald Brothers, The Production Design, and Building McDonald's: Time Lapse Video. They cover a lot of ground in terms of how the film was made, how they designed McDonald's, Michael Keaton's performance. It also includes clips from the film along with interviews with the actors and other key crew members as well. It is clear McDonald's was a big part of some of their childhoods. They did a lot of research to get this film right.
Press Conference with Filmmakers and Cast (37:44): This is a press conference that was done in early January of this year in Los Angeles, and it includes Producer Don Handfield, Producer Jeremy Renner (yes, that Jeremy Renner), Aaron Ryder (Producer), Jason French (Dick McDonald's grandson), Corey French (the younger brother of Jason French), Robert Siegel (Writer), John Lee Hancock (Director), Actors Nick Offerman, Michael Keaton, John Carroll Lynch, and Laura Dern. They also field some questions from the audience as well. There are tons of great questions asked here and they offer a lot of unique perspectives on the film. This is just as good as a commentary track.
6
The final score: review Average
The 411
The Founder is a film worth seeing as a Redbox rental and as a one-time view. It does not strike me as the kind of film that people need to purchase and view over and over again. On the press conference special feature, the director talks about how he started out rooting for Ray Kroc but he had different emotions as he found out more. That was my exact reaction. The old rule of cinema, which I believe I first heard from Roger Ebert, was not every character has to be likable; they just have to be interesting. Truthfully, I did not find Ray Kroc interesting as a human being. His story is interesting, but as the film moves along, I did not care for him at all or like him. When the film is wrapped up and they show what happened to everyone, I had mixed emotions but the strongest was just disgust at what he did to these honest and good-hearted brothers. It just didn't sit well with me. This is not a spoiler as it is talked about all over and even on the back of the Blu-Ray disc. It just doesn't work as a major motion picture because it is not dark comedy, comedy, or drama. This was probably better suited for a documentary, but since most of them are now passed away, that would have been hard to do unless they included the grandchildren and historians. The special features are informative and the audio and visual aspects have no problems, but, again, check it out when it hits Redbox or even wait for HBO.
legend