The Hollywood 5 & 1: 01.26.13: Scarlett Johansson VS Keeley Hazell VS Susan Coffey Edition!
January 26, 2013 | Posted by
A WORD FROM STEVE…
Welcome back! How was your week? Have you taken a second to vote for
Leola Bell
? As you may or may not have heard, voting for Playmate of the Year has started. Leola has been a friend of mine and a friend to 411wrestling.com and she gets endorsement. Click on the
LINK
and vote daily! Thanks!
Who's greeting us this week? It's none other than…Bobbi Billard! I should have an interview with Bobbi in the next couple of weeks, so what better way to wet your whistle?

Interesting results last week.
Jennifer Love Hewitt, Sophia Vergara,
and
Mila Kunis
went at it and this was the result:
Jennifer Love Hewitt 40.36%
Mila Kunis 34%
Sophia Vergara 25.42%
I would have thought Sophia and Mila would have battled it out for first but Jennifer took them down easily.
This week we have Scarlett Johansson, Keeley Hazell, and Susan Coffey. Early word is Scarlett will roll over the other two. But you never know!
Scarlett Johansson VS Keeley Hazell VS Susan Coffey
VOTE!
PIC OF THE WEEK!
Don't let it be said that this column is all about hot chicks. Sometimes those hot chicks are wearing mustaches!
Yes, that's Katy Perry rocking the lip fur with Ellen. Sadly, I know some of you out there will find this exciting and taboo. Some of you may even use this image for some sick fantasy.
I love my demographic. Filthy animals.
WHAT THE HELL?
Calm down! It's not the end of the world. Or is it? You tell me. Man Of Steel seems set to risk the anger of Superman fans by apparently recasting Jimmy Olsen…as a girl…named Jenny.
IMDb lists actress Rebecca Buller as playing a character named Jenny Olsen, with nobody listed as playing Jimmy. Sounds like it's all change at the Daily Planet.
And for those suspecting an error on IMDb's part, a screenshot taken from the trailer clearly shows Perry White fleeing the Planet with Buller in tow.
What do you think? Reason to riot?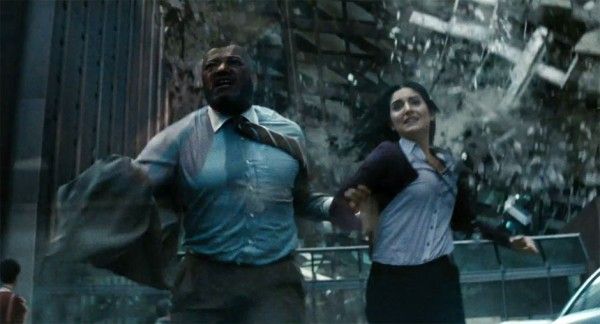 TWITTER-A-GO-GO!
Make sure you're following all the comings and goings around 411mania on Twitter! Follow me for some witty tweets from time-to-time as well.
Dana White, Jesse Jane,
and
Larry Csonka
follow me. What are you waiting for?
http://www.twitter.com/stevethegoose
http://www.twitter.com/411mania
http://www.twitter.com/411wrestling
http://www.twitter.com/411moviestv
http://www.twitter.com/411music
http://www.twitter.com/411games
http://www.twitter.com/411mma

Darth Abrams!
Here. We. Go.
J.J. Abrams
is set to direct
Star Wars: Episode VII
, according to The Wrap and other industry sources.
While the initial report was met with some doubt, it has been followed up by a Deadline article and a tweet from The Hollywood Reporter's Borys Kitt.
The latter suggest negotiations are ongoing, but Deadline calls it a done deal. It seems as if Lucasfilm president Kathleen Kennedy has been courting Abrams for some time. Ben Affleck was also said to be in the running. The possibilites.
If true, expect the interweb to explode! As soon as there's an official announcement from Disney, you'll know. Abrams has been vocally against taking the directing job, saying, "It comes with the burden of being that kind of iconic movie and series… I am looking forward more than anyone to the next iterations of Star Wars, but I believe I will be going as a paying moviegoer."
Can one man direct both Star Wars AND Star Trek? Star Wars: Episode VII is set to open in 2015.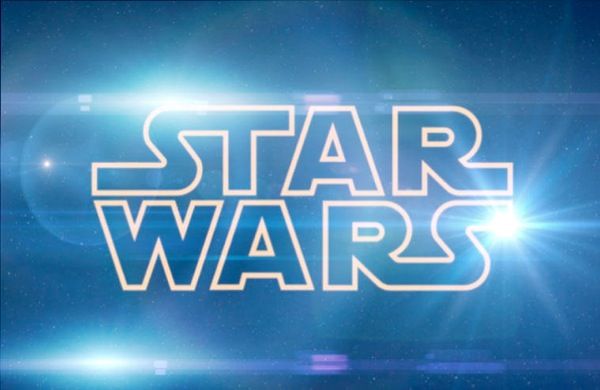 This has been making the rounds online.
Lovelace!
In an interview with Indiewire, Amanda Seyfried talked about her role in Lovelace and the most important thing to remember is she's not bothered by being topless in the film.
On being comfortable with nudity: "I don't know why I'm comfortable. Nudity: whatever! Sex: we all do it. There's a time and a place to be naked (laughs). There's no part in this movie that makes me think, 'Oh, wow, she's naked.' She's a porn star! We simulated some scenes but there's no graphic content in this movie, at all. I mean the graphic stuff is when he's raping me on my wedding night. You see my skirt go up over my head when I'm being gang raped, but it's like so perfectly done. Chloe is so graphic. And this is not."
On getting intimate with Peter Saarsgard in the film: "Both of us are not shy about our private parts. We also weren't walking around with our genitals out; our bottom half genitals. That might have been a little strange for me. I don't really have any interest in people seeing my vagina. It's just a personal thing. I don't mind seeing other people's vaginas. I guess I'm just insecure in that way. Peter… same thing. He was always covered up in that way. I think it's just our mutual understanding of we needed to be naked a lot of points in the movie and it wasn't a big deal. It's like a costume. I don't know why I feel comfortable. To be honest, when I was younger, I was terrified of sex. I don't know what happened over the years. I now have an appreciation for it, for people who don't put so much heaviness on it."
On if it was a hard film to watch: "No, it was just the critical aspects. I'm very critical of myself. I didn't have a hard time watching it at all. From another angle, I think it's fun to see something that you worked so hard on put together. It's nice to see something come together in a really good way."
She looks comfy with herself.
Phase Two!
MTV News spoke with Marvel Studios president and producer Kevin Feige about Iron Man 3 and future projects including The Avengers sequel.
Feige stated, "It's still early days, but I told [Whedon] after reading the first sketch outline he delivered — and there's a lot of work still to do, he has to sit down and turn this into a movie — but there are already seven things in there that are worth the price of admission alone."
Feige also talked about the early groundwork for The Avengers 2 to start in Iron Man 3, but fans won't know quite what to look for. On that Feige said: "I would say that the exercise of this film is very much standalone, more so than any Iron Man film since the first one. But because we are in Phase Two and we're heading towards another Avengers movie, there's certainly a road that's being paved — you just might not notice it. While you're driving on the road, not knowing where it's going, you might not realize that there are road signs and signals and lane changes that we're setting up now — they might not be readily apparent the first time you see the movie."
Regarding how Iron Man 3 will set up Avengers 2, Feige teased, "In this one, it has less to do with any sort of larger S.H.I.E.L.D. or cosmic overlay, but much more about Tony, his frame of mind, his viewpoint and the things he wants to pursue."
On the rest of Phase 2, Feige is excited, "It's pretty exciting to be this early out and already have things that I could pitch you on in a room — if you weren't a journalist who was going to print all of this — and you would go, 'Oh my god, that's going to be awesome,'" he said.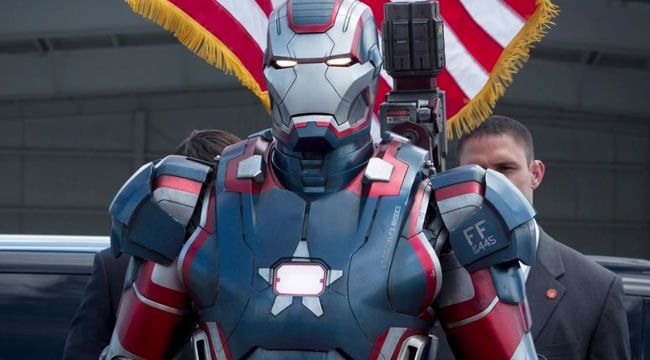 Phase 3, anyone?
Kim VS Kris!
He said. She said. Radar Online reported that Kim Kardashian offered Kris Humphries $10 million to settle their divorce but he turned her down.
Not so fast. TMZ has a different take on the story. They claim that Kardashian has refused to pay Humphries anything and wants him to cover all of her attorney fees.
Humphries allegedly demanded $7 million to leave the marriage but Kardashian refused. They deny recent reports, including the one below, that she offered him money to settle. Kardashian believes that Humphries made money by marrying her and so she doesn't owe him anything.
She also thinks that he has dragged on the proceedings for too long and cost her a lot of money in legal fees and other expenses. The fees are said to be around $250,000 and Humphries has also spent around that amount.
Kardashian is happy for the case to go to trial because she thinks she'll win. The earliest their divorce trial will begin is the middle of June because of Humphries' basketball schedule. Kardashian will likely still be married to Humphries when she gives birth to her baby with Kanye West in early July.
Poor Kanye. Stuck in the middle.
What's the VIDEO BUZZ?
This was good stuff. Matt Damon took revenge on years of taunting from Jimmy Kimmel on Thursday night, by kidnapping him and taking over his show. With Kimmel tied up at the back of the stage, a parade of celebrities stopped by to chat with and praise Damon, basically rubbing his star power in the deposed host's face.
But to add insult to injury, Damon also brought Kimmel's former girlfriend — and Damon's former sex partner — Sarah Silverman, to explain why dating Jimmy was just like eating a disgusting hot dog for five years.
What do you think?

Welcome back to the
& 1 Model of the Week
! I'm going to use this area to introduce a lovely young lady that you might not be familiar with. Sometimes I'll ask them some questions, so we can get to know them a little better.
This week our & 1 Model is …Jade Bryce!
Ladies and Gentlemen, I present… Jade Bryce!
For more go to Twitter @thejadebryce!
Before I say GOODBYE!
Playboy has been kind enough to release me on the lovely Playmates. Here's some interviews to keep you entertained!
Miss January 2012
Miss February 2012
Miss May 2012
Do you enjoy the 5 & 1 format? Then check out the other fine 5 & 1 features on the site:
* Stewart Lange holds down the fort across the pond with his MMA 5 & 1!
* Tony Acero puts the Wrestling world in a headlock with his Wrestling 5 & 1!
Give my blog a glance HERE! And tell a friend!
Make sure you check out my Big Screen Bulletin every single Monday! All the movie news and rumors that you missed over the weekend!
I started a suicide prevention resource site. Give it a look and share! www.youcanendure.com . If you or someone you know is feeling isolated, don't hesitate to call the National Suicide Prevention Hotline 1-800-273-8255.
Finally, if you have some down time and are looking for a great place for great fun, check out
Tiger Flash Games!
All pictures courtesy of Maxim Magazine, Complex, Huffington Post, V Magazine, People, FHM, Details magazine, www.cnn.com, and www.imdb.com.
NULL