The Hollywood 5 & 1: 02.09.13: Arianny Celeste VS Kate Upton VS Sarah Shahi Edition
February 9, 2013 | Posted by
A WORD FROM STEVE…
Welcome back! How was your week? Have you taken a second to vote for
Leola Bell
? As you may or may not have heard, voting for Playmate of the Year has started. Leola has been a friend of mine and a friend to 411wrestling.com and she gets endorsement. Click on the
LINK
and vote daily! Thanks!
I took a few minutes to interview The Canyons' James Deen! We talked about the Lindsay Lohan situation, Cowboys & Engines, and Betty White!
Who's greeting us this week? It's none other than…Teresa Palmer! You might recognize Teresa from the the recent Twilight-like Warm Bodies currently entertaining females and tweens in the theaters right now!

I have to say that I'm a little surprised by the results from last week.
Mya Jane, Holly Peers,
and
Penelope Cruz
shared the VS. spotlight and this is what we got:
Holly Peers 53.23%
Mya Jane 28.5%
Penelope Cruz 18.27%
First, last week had our lowest voting totals in a while, which was perplexing because of the ladies involved. I also thought it would have been much, much closer between Holly and Mya but Peers easily took the top spot.
Alright, how about Arianny Celeste, Kate Upton, and Sarah Shahi? A good little mix and this one has the makings of being a tight race across the board!
Arianny Celeste VS Kate Upton VS Sarah Shahi
VOTE!
PIC OF THE WEEK!
Check out the threads! The first official image from Behind The Candelabra has emerged online, featuring Michael Douglas and Matt Damon in what has to be a new look for both of them.
Douglas plays flamboyant pianist and entertainer Liberace, while Damon is his younger lover Scott Thorson in this HBO biopic from director Steven Soderbergh.
The film will follow the tempestuous five-year love affair conducted by the pair between 1977 and 1982, from their first meeting to their very public break-up. The first image shows both Douglas and Damon sporting some very loud suits, with a pair of luxuriant hairdos that appear to contain a can of hairspray apiece. Co-starring Rob Lowe, Dan Aykroyd, and Paul Reiser, Behind The Candelabra will open later this year.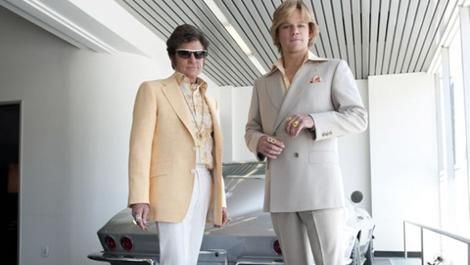 NOT SO FAST! Two pictures this week!
The Amazing Spider-Man 2
already has a couple of villains on board in the form of Electro and Rhino, but a recent image released by director
Mark Webb
has got fans twisted on whether there might yet be another in store.
They sure do love to stuff these movies full of villains, don't they?
The image shows what looks like a locker in a morgue, marked with the number 14. Webb accompanied the pic with a brief caption, reading, "Day 3. #happybirthday". Breaking it down, Webb might be playing to the true aficionado of the comics since they know that Peter Parker and Eddie Brock discovered Venom in a similar locker at Oscorp, again marked with the number 14.
What does this mean? Anything?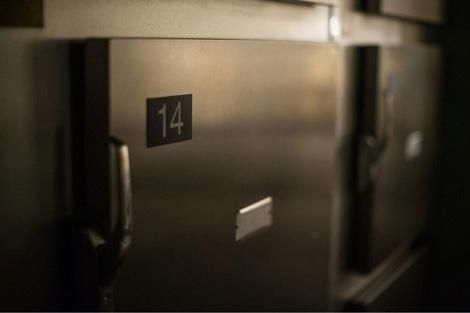 WHAT THE HELL?
What are we going to do with
Lindsay Lohan
? She has become more famous for her lawsuits and troubled life than anything else. At this point, any chance of an acting comeback is almost moot. Odds are it will be in her 60s. If she makes it that far. The latest: TMZ reported that a photographer named
Grigor Balyan
is suing Lindsay for crashing into him in her car outside of a Los Angeles nightclub in 2010. Lindsay was in the passenger's side of the car and her assistant was driving. Lohan wasn't hurt but Balyan had to go to the hospital.
In new legal documents, he said his attorney has been trying to get Lohan in for a deposition but she says she's too busy. This upset them after they saw photos of her partying at different locations. Balyan claims Lohan said she couldn't come to Los Angeles last week for the deposition but she did arrive for the other car accident that she is currently dealing with in criminal court. Balyan wants a judge to order Lohan to participate in the deposition. He also wants her to pay $4,842.43 for his legal fees.
Here we go. How interested are you in having our 2nd Celebrity Blackout Vote NEXT WEEK for Lindsay Lohan?
TWITTER-A-GO-GO!
Make sure you're following all the comings and goings around 411mania on Twitter! Follow me for some witty tweets from time-to-time as well. Dana White, Jesse Jane, and Larry Csonka follow me. What are you waiting for?
http://www.twitter.com/stevethegoose
http://www.twitter.com/411mania
http://www.twitter.com/411wrestling
http://www.twitter.com/411moviestv
http://www.twitter.com/411music
http://www.twitter.com/411games
http://www.twitter.com/411mma

Solo Han!
Last week on the 5 & 1 I quoted
Robert Rodriguez
and his wishes to direct a Han Solo spin-off. On Wednesday, the internet exploded with the news that Disney is reportedly in preliminary discussions to make standalone
Star Wars
movies focusing on, respectively, Yoda, Boba Fett, and, you guessed it, Han Solo.
The outlet describes the stories as, "a young Han Solo saga, focusing on the wisecracking smuggler's origin story, and a bounty hunter adventure with Boba Fett at the center of a rogue's gallery of galactic scum."
The Solo adventure is thought to take place sometime after the events of Revenge Of The Sith, while the Boba Fett story will be set between A New Hope and The Empire Strikes Back.
Since the Han Solo movie is taking place early on, the part will have to be recast with a new actor. Obviously. Names as wide ranging as Joseph Gordon-Levitt to Garrett Hedlund to Taylor Kitsch have been suggested.
What are YOUR thoughts on the spin-offs?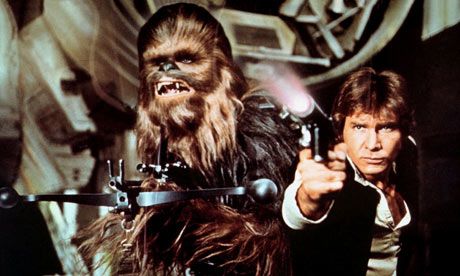 Expect a Jar-Jar cartoon.
Justice!
While The Avengers made all the right moves, Justice League can't get itself any good press these days. Right now it's a project in deep trouble and has given media outlets plenty to write about. That includes El Mayimbe of Latino Review, a frequent source of rumors that have a decent track record of proving to be true.
El Mayimbe recently tweeted that when Ben Affleck was approached to direct Justice League, Warner Bros actually wanted him to star in it, as Batman.
SAY WHAT?
Affleck's confident directing himself, and has moved up through ever more ambitious projects since his helmer debut on Gone Baby Gone. His take on the superhero genre would be an intriguing prospect. I'd be curious about his take on Batman, especially having to fill Christian Bale's Bat-shoes.
Moving on…It keeps on coming! Mark Millar has shared his opinion on Justice League, citing outdated characters and mismatched superpowers as potential downfalls. Breaking it down, Justice League, will unite the likes of Superman, Batman, Wonder Woman, and Green Lantern against a big time bad guy.
"I actually think the big problem for them is the characters are just too out of date," Millar said, in an interview with SciFiNow. "The characters were created 75 years ago, even the newest major character was created 68 years ago, so they're in a really weird time.
"Now the stuff I grew up with… I adored the DC stuff growing up but really, how do you do a movie about Green Lantern? His power is that he manifests green plasma from his imagination and uses them as weapons against someone? Even that in itself if you just imagine then watching a fight scene with a guy who's like a hundred feet away making plasma manifestations fight someone – it's not exactly raucous, getting up close and personal."
Millar went on to highlight similar logical problems with The Flash and Aquaman, before concluding, "The actual logistics of each member of the Justice League is disastrous, and you put them all together and I think you get an excellent way of losing $200M."
The superhero team-up, which failed to launch when George Miller was attached as a director in 2008, will have its work cut out reconciling the powers of invincible extra-terrestrial Kal-El and resourceful and rich playboy Bruce Wayne.
Maybe DC should stop looking at Marvel for ideas. Yes, Marvel managed to get Thor and Tony Stark existing in the same cinematic universe but they don't have to think that's the ONLY blueprint.
You're thoughts? Justice League is expected to open in 2015. Maybe.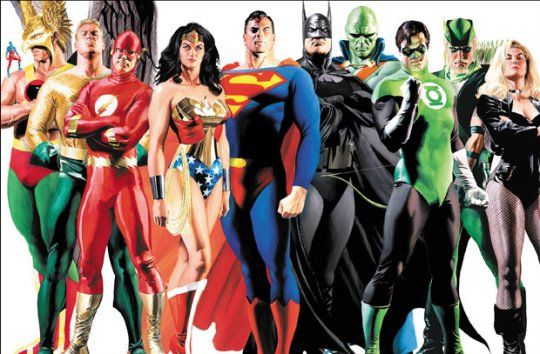 What about a Power Girl movie?
Sexy Betty!
Who would have guessed it? Betty White's 2nd Annual 90th Birthday Special aired this past week and the reigning queen of comedy had nothing but brilliant words to say about her turning the big 9-1. "Best thing about being in your 90s is you're spoiled rotten," People magazine quoted. "Everybody spoils you like mad and they treat you with such respect because you're old. Little do they know, you haven't changed. You haven't changed in [the brain]. You're just 90 every place else."
"Now that I'm 91, as opposed to being 90, I'm much wiser," the actress continued. "I'm much more aware and I'm much sexier."
And that sexy, wise attitude might just land Madame White in office. As a special birthday surprise, President Bill Clinton announced via video message that he has a 2016 presidential candidate in mind and it's none other than the Golden Girls star herself.
"In a time when our nation is still bitterly divided, it's important to have a leader who's won the respect and affection of our nation in the way that Betty has," Clinton said. "After all, she's gained praise all the way from President Obama to George W. Of course I'm talking about Presidents Barack Obama and George Washington."
Be honest. Who out there has given a little thought for one night with Betty White?
Could anyone beat her in a VS?
Oh, Vanessa!
I guess this was her first experience with Method Acting. While speaking to Vulture about her new film Spring Breakers, Vanessa Hudgens revealed that she watched two topless women make out on the set.
*GASP*
If you're not aware, the film is directed by Harmony Kroine and features four bikini-wearing girls who rob a restaurant to pay for a spring break trip.
Hudgens said: "Harmony would literally put us with real spring breakers. We were filming this party scene, and there were these two girls, actual spring breakers, on the ground, topless, making out with each other. And then the bottoms started to come off, and I was like, OH MY GOD! And, literally, you see it in the movie, I'm wearing this, like, candy necklace, and I'm like, Ahhh, and freaking out because these girls are naked, two feet away from me, and they were just insane."
She added that it left her boyfriend, Austin Butler "shocked". He said: "I came out of it shaking."
He must be a great actor if he got her to believe that.
I can see why he would lie though.
What's the VIDEO BUZZ?
This one doesn't need a big set up or some semi-funny quip from me. It's Fast & Furious 6.
What do you think?

Welcome back to the
& 1 Model of the Week
! I'm going to use this area to introduce a lovely young lady that you might not be familiar with. Sometimes I'll ask them some questions, so we can get to know them a little better.
This week our & 1 Model is …Dollicia Bryan! She's been in the 5 & 1 before but wanted to shine a little light her way. I can't ignore a pretty face. Among other things.
Ladies and Gentlemen, I present… Dollicia Bryan!
For more go to Twitter @DolliciaB!
Before I say GOODBYE!
Playboy has been kind enough to release me on the lovely Playmates. Here's some interviews to keep you entertained!
Miss January 2012
Miss February 2012
Miss May 2012
Do you enjoy the 5 & 1 format? Then check out the other fine 5 & 1 features on the site:
* Stewart Lange holds down the fort across the pond with his MMA 5 & 1!
* Tony Acero puts the Wrestling world in a headlock with his Wrestling 5 & 1!
Give my blog a glance HERE! And tell a friend!
Make sure you check out my Big Screen Bulletin every single Monday! All the movie news and rumors that you missed over the weekend!
I started a suicide prevention resource site. Give it a look and share! www.youcanendure.com . If you or someone you know is feeling isolated, don't hesitate to call the National Suicide Prevention Hotline 1-800-273-8255.
Finally, if you have some down time and are looking for a great place for great fun, check out
Tiger Flash Games!
All pictures courtesy of Maxim Magazine, Complex, Huffington Post, V Magazine, People, FHM, Details magazine, www.cnn.com, and www.imdb.com.
NULL