The Hollywood 5 & 1: 04.28.12: Rosie VS. Lindsay Edition!
April 28, 2012 | Posted by
BEFORE WE BEGIN…
I'm
Steve Gustafson
and we're back for another week of celebrity gossip, hot women, and goofy fun. I read through all the tabloid magazines and gossip sites so you don't have to. If you are easily offended by hot women…
STOP READING NOW!
Give my blog a glance HERE! And tell a friend!
Do you enjoy the 5 & 1 format? Then check out the other fine 5 & 1 features on the site:
* Stewart Lange holds down the fort across the pond with his MMA 5 & 1! This week: News and thoughts on Gina Carano's burgeoning acting career, Logan Stanton is your "& 1" Model of the Week, GSP and Randy Couture have a rematch in Vs, thoughts on UFC 145 and more!
* Greg De Marco puts the Wrestling world in a headlock with his Wrestling 5 & 1! Last week: Eve Torres faces Maria Menounos in Vs! Plus thoughts on TNA Lockdown, exclusive details of the GLOW revival becoming a disaster, Alpha 1 and PWG presenting indy shows this weekend and more! Plus, Ryan Shamrock is your "& 1" Model of the Week!
Make sure you check out my Big Screen Bulletin every single Monday! All the movie news and rumors that you missed over the weekend!
Do you have $.99? Head here to support 411mania writer Tony Acero! His first published work, Driven, is gaining popularity! Jump on the bandwagon…NOW!
POLL RESULTS!
Last week I asked if YOU would vote for Kim Kardashian. The results were a little surprising. Surprising that 11.73% voted YES! I can only hope you were reading this while hungover. The remaining 88.27%, of course, said no. Now we wait to see what happens next in the real world.

Our OFFICIAL
HALL OF BANG
!
Stacey Dash
Salma Hayek
Jennifer Love Hewitt
Sofia Vergara
Mila Kunis
Scarlett Johansson
Keeley Hazell
Mya Jane
Susan Coffey
Holly Peers
Denise Milani
Penelope Cruz
Arianny Celeste
Kate Upton
Sarah Shahi
Gina Carano!
The REAL March April Madness is right here! Welcome back to the official Miss Bang Tournament Series 1! The first 16 members of the Hall will do battle in a single elimination tournament to determine who's the Queen of them all!
The pairings were done by random. Each week I'll do two match ups. The one with the most votes wins and moves on. It's that simple. If you're a fan of a certain beauty, tell your friends to vote. Voting stops the Thursday after and I'll post a "VOTING CLOSED" comment below to signal you. Same picture during each match of the tournament. Any ties will lead to a tie-breaker. 3 members of the 411mania will be emailed to vote. Their vote will determine the winner. Let's take a look at the bracket: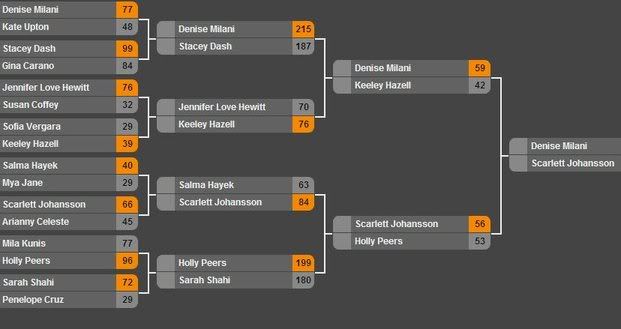 Here we are. It's all come down to this. We started this tournament with 16 beautiful ladies. Now we have 2. Who will win it all? Let's find out. Last week
Denise Milani
and
Keeley Hazell
went at it. While Keeley put up a great fight, she was no match for Milani. Denise beat her out 59 votes to 42.
The second contest wasn't so simple. Scarlett Johansson and Holly Peers met to see who would go on to the championship round. While Scarlett went out to a quick lead, Peers was never beat. The final vote ended in a tie at 53 votes each.
I went to the tie-breaker. 3 random 411mania members were emailed to cast their vote.
Scarlett Johansson wins!
One VS. this week. Winner takes all! Vote NOW!
Denise Milani VS. Scarlett Johansson
VOTE BELOW!
TWITTER-A-GO-GO!
Make sure you're following all the comings and goings around 411mania on Twitter! Follow me for some witty tweets from time-to-time as well. Dana White, Jesse Jane, and Larry Csonka follow me. What are you waiting for?
http://www.twitter.com/stevethegoose
http://www.twitter.com/411mania
http://www.twitter.com/411wrestling
http://www.twitter.com/411moviestv
http://www.twitter.com/411music
http://www.twitter.com/411games
http://www.twitter.com/411mma
IT'S A MYSTERY!
I present to you a pick of a mystery rack or rump and YOU tell me who it is. Easy, right? For some of you this might present a challenge so I'll give you a couple clues each week. But you'll have to really look hard to figure it out!
Who was it last week? Last week I went old school on you. Again, our resident winner MNM got it right! The rack belonged to our favorite gal out of 90210…Jennie Garth!
Let's keep it going. Clues for this week:
* She's been in the headlines recently.
* She's got a unique look going on.
Gentlemen, start your guesses!
Stop by next week for the reveal!
VIDEO-O-GO-GO
I'm a sucker for some stop-motion fun. This comes from the Toys "R" Us Hong Kong division. They hired the guy who did that cool Cloud Strife vs. Sephiroth But Also Some Gundams toy animation, to make the above stop-motion promo for the Transformers Kre-O line.
Alright, let's get to the actual Hollywood 5 & 1
. I go through 5 things out of Hollywood this past week that made me scratch my head plus our "& 1" Model of the Week! Let's go!

Rosie VS. Lindsay!
Strange. I think this is the first time I've ever agreed with
Rosie O'Donnell
on something. Rosie believes that if
Lindsay Lohan
doesn't change her life she will end up just like
Whitney Houston
. Rosie went back on the
Today
show to expand on why she doesn't believe Lindsay should have been cast as
Liz Taylor
in an upcoming Lifetime movie. Or get ANY role for that matter.
O'Donnell suggested Lindsay is heading down a similar path as Whitney and believes the only way she can be saved is if she takes time away from the Hollywood machine. She went on to explain why she feels obligated to speak out about Lindsay saying, "Watching Whitney Houston's funeral I remember thinking, 'Why didn't more people say what they knew?' We all knew." She continued, "We watched 'Being Bobby Brown'. It was like watching Sid and Nancy. They were people in the throes of addiction. But all anyone cared about was that the show was getting ratings…To look at Lindsay Lohan, you can't help but feel for her and I do not think she's untalented, I think she's quite talented."
She makes a very valid point.
Of course Lohan is in utter shock after Rosie's comments. Lohan has been telling friends, she's always had a great relationship with Rosie. Or so she thought. Sources close to Lindsay told TMZ there was never any bad blood between the two actresses and Lindsay and Rosie were always on great terms. According to sources, Lindsay always had a special fondness for Rosie because one of Lindsay's first ever talk show appearances was on Rosie's old show back in 1998 when a 12-year-old Lindsay was promoting The Parent Trap.
More at 411mania: Lindsay and Ali Lohan have some bonding time!
Will Rosie be able to do what NO ONE else has been able to do?
More Money for the Kardashian Fund!
This should make plenty of you happy. If you were concerned that the Kardashian family might be in financial peril, worry no more! They will continue living life on TV for the next three years!
The E! Entertainment network said Tuesday it had reached a deal with the Kardashian franchise to make three more seasons of Keeping Up With the Kardashians. TMZ reported the family will be paid over $40 million for the 3 seasons, making the deal the richest contract in reality TV history.
$40 Million.
Let's dig the numbers. The sixth season of the show averaged 3 million viewers on Sunday nights, the cable networks' top series. Five of the 10 most-watched shows in the network's history, in fact, involved the Kardashians. E! said the entire family is covered by the deal: Kim, Kourtney and Rob Kardashian, Khloe Kardashian Odom, and Bruce, Kris, Kendall and Kylie Jenner. E! will continue to have the first crack at any spinoff projects.
The network would also not say whether musician Kanye West would be included in the series. West and Kim Kardashian have been seen together lately amid reports that they are a new couple.
Time for a poll:
More at 411mania: Kim ends the feud with Jon Hamm!
$40 Million.
No More, Brother!
Has anyone seen it? The pythons? Hulk Hogan is freaking out over screen grabs of his "alleged" sex tape that have leaked onto the Internet. He's not laying down yet and will be taking legal action to keep us from seeing his lil Hulkster. Yes, Hogan is sending in his lawyer to clean up the XXX mess. The black-and-white pics, which appear to show a naked Hulk doing the deed with an unidentified female, surfaced on TheDirty.com last week. And more pics followed.
Hulk had his lawyer fire off a cease and desist letter to TheDirty.com editor Nik Richie, demanding Nik take down the pics or face a lawsuit. The lawyer writes, "As you know, should a sex tape or photographs of Mr. Bollea exist, they were taken without his consent and therefore the same would constitute a felony in the State of Florida." Word is Nik and TheDirty.com have no plans to remove the pictures in question. Things are about to get interesting!
More at 411mania: Linda Hogan Apologizes to Hogan for gay allegations!
Steel cage match next?
Oh Miley!
I've never really give Miley Cyrus any shine in these parts. Should I? She's sort of become a Lindsay Lohan in training. For someone who claims to be very paparazzi-shy and has gone on record as saying she hates being in the media, she does a lot of questionable things.
Like this.
Miley tweeted a suggestive photo of her long legs while clad in lacy shorts the other day. The 19-year-old singer and actress wrote "As you can see i have a very busy Monday" on her Twitter page, accompanied by a photo of her tanned stems with blue toenail polish in front of a fire.
Thoughts on Miley?
More at 411mania: Has Miley been cutting herself?
Keep on eye on her.
What's the VIDEO BUZZ?
One of my favorites! Julia Louis-Dreyfus takes her comedic talent to Conan. Check out this clip and check out her new show on HBO called VEEP. Great stuff!

Welcome back to the
& 1 Model of the Week
! Where we search this thing called the internet to find a lovely lady to appreciate in all her beauty.
The & 1 Model of the Week brings us…Heidi Klum! Klum's hasn't made an appearance in the 5 & 1 in a while so I decided to give her a spin and see how she does.
Ladies and Gentlemen, I present…Heidi Klum!
VS. worthy?
Stop back next week for another & 1 Model of the Week
Before I say GOODBYE!
Playboy has been kind enough to release me on the lovely Playmates. Here's some interviews to keep you entertained!
Miss January 2012
Miss February 2012
Finally, if you have some down time and are looking for a great place for great fun, check out Tiger Flash Games!
If you or someone you know is feeling isolated, don't hesitate to call the National Suicide Prevention Hotline 1-800-273-8255.
All pictures courtesy of Maxim Magazine, W, People, FHM, Details magazine, www.cnn.com, and www.imdb.com.
NULL