The Hollywood 5 & 1 12.01.12: Denise Milani Vs Stacey Dash Edition
December 1, 2012 | Posted by
A WORD FROM STEVE…
Welcome back! It's the first day of December. This year has flown by, hasn't it? I wanted to mention something about
Star Wars
rumors. It seems they are a daily occurence. Just today the big question that came out, "Is
David Fincher
on the not-so-short list to direct
Star Wars: Episode VII
?" Buried in a new piece on Deadline.com by
Mike Fleming Jr.
about celebrities self-immolating themselves on the internet is word that Fincher "might be game" to direct one of the new
Star Wars
sequels. That puts Fincher on a list that includes
Matthew Vaughn, Jon Favreau,
and perhaps
Joe Johnston
, among others.
You might not know that Fincher's first job was as an assistant cameraman for Industrial Light and Magic on Star Wars: Episode VI – Return of the Jedi. Makes it interesting.
OK, so who's greeting us this week? Why it's Vida Guerra! She's still making tongues wag, especially on Twitter. You can catch her on the main page from time to time when she posts something sexy. Which is quite often.
VS
It wasn't much of a VS last week when Scarlett Johansson tookon Arianny Celeste. Scarlett easily handled Arianny, 634 votes to 304.
Let's see if this weeks will be any closer! One of my favorite VS of all time is when Denise Milani took on Stacey Dash. Let's do one more retro VS and see who comes out on top!
Denise Milani VS. Stacey Dash
VOTE!
PIC OF THE WEEK!
With another baby possibly on the way, Jessica Simpson cradles her little lady, 7-month-old Maxwell, as she arrives at LAX on Thursday.
What's the deal with celebrity baby rumors? Tabloids receive a huge bump in sales whenever they run one.
WHAT THE HELL?
TMZ reports that those close to Lindsay Lohan say that she has been drinking heavily for months now, as much as two liters of vodka per day.
WHOA! That's almost 411mania's Tony Acero levels!
Lohan has been so stressed by her financial situation and legal problems from her car crash this past summer that she's drinking to cope. She has had problems with substance abuse in the past and even has a DUI conviction. She often began drinking as soon as she woke up and continued through the day.
On the morning of the nightclub brawl in New York City, she was drinking all day. She showed up at the Justin Bieber concert drunk and continued to drink all night. Her friends have given up trying to help before because she has a history of being a violent drunk, which explains her arrest for assault.
I drank two liters of vodka too after watching Liz & Dick.
TWITTER-A-GO-GO!
Make sure you're following all the comings and goings around 411mania on Twitter! Follow me for some witty tweets from time-to-time as well. Dana White, Jesse Jane, and Larry Csonka follow me. What are you waiting for?
http://www.twitter.com/stevethegoose
http://www.twitter.com/411mania
http://www.twitter.com/411wrestling
http://www.twitter.com/411moviestv
http://www.twitter.com/411music
http://www.twitter.com/411games
http://www.twitter.com/411mma
Here we go! 5 things in pop culture that have people talking!
Heath as the Dark Knight!
In a recent chat with The Film Society of Lincoln Center, Christopher Nolan discussed the Batman films. During the chat, he revealed that he had actually wanted Heath Ledger to play Bruce Wayne in Batman Begins, and that they had preliminary talks. Here is a short recap of that talk…
"Nolan originally sat down with Heath Ledger for a preliminary talk about possibly playing Bruce Wayne; Ledger said at the time that 'he'd never do this kinda film.' But when time came to cast The Joker, Ledger had warmed up to it. 'He had a vision for something,' Nolan said. He added that Ledger 'didn't like to work too much,' so he was 'hungry' for the role when he was approached. Ledger was also cast before the movie was completely written, so he had a long time to prepare for it."
Thoughts on how Ledger would have been as Batman?
It would be tough to imagine him any other way.
Half Man in the News!
It's been a busy week for actor Angus T. Jones or Two and a Half Men fame. Drama on the show, an offer from Charlie Sheen, and a rumored girlfriend, celebrity superfan "Stalker Sarah."
Jones is reportedly dating Sarah M, known online as "Stalker Sarah", an Internet phenom who has posed for photos with hundreds of Hollywood stars, according to Celebuzz. Multiple sources confirmed to the website the two have been romantic since meeting last year and that Jones made the first move. "He reached out to her dad and asked to be introduced to her," a source told Celebuzz of Jones and Stalker Sarah. "She was brought onto the [Two and a Half Men] set and that's how they know each other."
The actor, who blasted his CBS sitcom as "filth" in a religious "testimony," and the Sarah also attend the same church in Toluca Lake, Calif., Celebuzz reports. "I don't think her dad knows the extent of their relationship," a source said. "She isn't shy about talking about the relationship, but doesn't post kissing pictures. She only posts their goofy pictures, but she does call him her boyfriend."
Sarah has numerous photos with Jones posted to her Flickr account. In one particular photo from August, she writes that she is "thankful" to have Jones in her life and that "his approval really meant the world to me."
But Jones may have some competition if David Archuleta comes around. When asked who her celeb crush is during a 2011 interview, Sarah named the "American Idol" contestant.
This photo just yells, "AWKWARD!"
Sir Magneto!
On Tuesday, Bryan Singer tweeted that Sir Ian McKellen and Sir Patrick Stewart will both reprise their roles as, respectively, Magneto and Professor X in the next X-Men movie, X-Men: Days of Future Past.
Earlier on Thursday, The Huffington Post spoke to Sir Ian about his return to the X-Men universe and his opinions on Michael Fassbender as Magneto. Here's what he had to say:
Bryan Singer announced that you're playing Magneto again. Is that something you've been wanting to do? This will be your fourth movie with Bryan Singer, did that help persuade you?
What a gas! I mean, Patrick Stewart and I have been have just been playing "Waiting for Godot" throughout England and in the West End of London. So, we've stayed in touch. We can't believe it [laughs]. I thought these were Fassbender and McAvoy's parts, but — no, no — we're back. We'll give them a run for their money. I mean, I haven't read the script, so I don't know how much we've got to do. But, to be back in that world, and for Bryan to be doing it — with all the success he's had in the meantime — it's wonderful. Wonderful.
What did you think of Michael Fassbender as Magneto in X-Men: First Class?
Yeah! I thought he was exactly that: first class. Excellent.
You never thought, Hey, I've got my eye on you. That's my part.
[Laughs] No. No. I thought he was better than me. But, we weren't quite playing the same character because he was so much younger than me. And the scope of Magneto, one day a Jewish actor will play it. Clearly, he's Jewish. We first meet him in at Auschwitz and there's scope for all sorts of people to pay Magneto. But, I was just the lucky guy who got to play him first.
I know some of you wanted a pic of Sir Ian but how about the retired Keeley Hazell instead?
Family Guy: The Movie!
EW.com reported that Seth MacFarlane spoke about the possibility of a Family Guy movie while at mtvU's Stand In series, to announce a search for college students to present Oscar statues.
He said: "It's just a matter of when. It's hard to do that while you have the series going on at the same time; I think that's why it took The Simpsons 20 seasons to figure out how to do it. We do know what the Family Guy movie will be. The Simpsons movie, I thought, was hilarious, but the one criticism I would have is that it's a story they probably could've done on TV. There could've been an episode that had that plotline. That's the challenge with animation. You pretty much can do any story you want, so what is the reason for the movie? We finally hit on the answer to that question, and it will be something that would be impossible to do on TV."
When asked about what the story would be, he added: "I can't tell you what that is."
Family Guy movie. Yay or nay?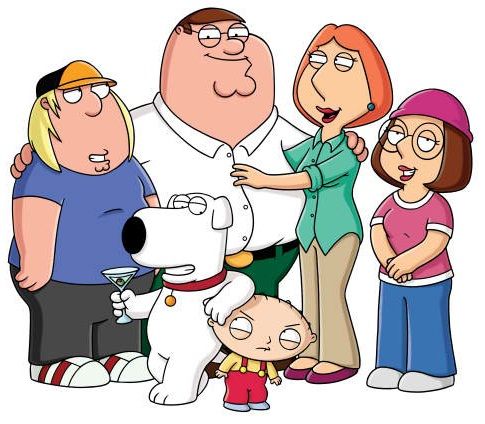 Thoughts in the Comments section!
What's the VIDEO BUZZ?
This is for you Megan Fox fans out there! Writer/director/producer Judd Apatow brings audiences THIS IS 40, an original comedy that expands upon the story of Pete (Paul Rudd) and Debbie (Leslie Mann) from the blockbuster hit Knocked Up as we see first-hand how they are dealing with their current state of life.
And Fox in a bikini.
Welcome back to the
& 1 Model of the Week
! I'm going to use this area to introduce a lovely young lady that you might not be familiar with. Sometimes I'll ask them some questions, so we can get to know them a little better.
This week our & 1 Model is …Tara Beaulieu ! This Austrailian beauty has been making waves for a while now and she's on the verge of major attention!
Ladies and Gentlemen, I present… Tara Beaulieu!
For more go to www.tarabeaulieu.com
Before I say GOODBYE!
Playboy has been kind enough to release me on the lovely Playmates. Here's some interviews to keep you entertained!
Miss January 2012
Miss February 2012
Miss May 2012
Do you enjoy the 5 & 1 format? Then check out the other fine 5 & 1 features on the site:
* Stewart Lange holds down the fort across the pond with his MMA 5 & 1!
* Tony Acero puts the Wrestling world in a headlock with his Wrestling 5 & 1!
Give my blog a glance HERE! And tell a friend!
Make sure you check out my Big Screen Bulletin every single Monday! All the movie news and rumors that you missed over the weekend!
I started a suicide prevention resource site. Give it a look and share! www.youcanendure.com . If you or someone you know is feeling isolated, don't hesitate to call the National Suicide Prevention Hotline 1-800-273-8255.
Finally, if you have some down time and are looking for a great place for great fun, check out
Tiger Flash Games!
All pictures courtesy of Maxim Magazine, Complex, Huffington Post, V Magazine, People, FHM, Details magazine, www.cnn.com, and www.imdb.com.
NULL