The Hollywood 5 & 1 12.15.12: Salma Hayek Vs Scarlett Johansson Edition!
December 15, 2012 | Posted by
A WORD FROM STEVE…
Welcome back! How was your week? I was toying with the idea of doing an ALL WRESTLING 5 & 1 today to thow off everyone and cause hysteria but realized wrestling fans take things too serious and didn't want to upset the boss! Who would have guessed guys wrestling around in underwear would be so popular among men?
Who's greeting us this week? Why it's bad girl in training Amanda Bynes! Radar Online reported that the two misdemeanor charges against Bynes were dismissed against her in a Van Nuys, California court this week. A source said: "Amanda Bynes was able to reach a civil compromise in both of her hit and run cases. The two separate victims agreed to dismiss the charges after a financial settlement was reached with both. This is routinely done when both sides are able to come to an agreement, and there really is no need to pursue legal charges because damages to their respective vehicles was paid for. Amanda's lawyer, Richard Hutton, advanced the case and went in early to avoid the media, and the judge (Wednesday) signed off on the deal in which the prosecutor also approved. Amanda took responsibility for her actions, and the court recognized that."
Good for her!

Now this is more like it! After a couple of weeks of one-sided match ups, last week we had us a close one!
Jennifer Love Hewitt
inched out
Keeley Hazell
, 442 votes to 403!
This week we have a battle between two actresses. Salma Hayek takes on Scarlett Johansson. Remember! We're not judging their acting talent so don't base your votes on that! I'm putting together an interesting spin on VS for next week. Make sure to stop by for that!
Salma Hayek VS Scarlett Johansson
VOTE!
PIC OF THE WEEK!
I got an email a couple days ago from a reader named John. He attached a photo of Erica Grisby and asked if she could be the Pic of the Week. I was tempted to make her the "& 1" Model of the Week but figured you can't ever have enough eye candy. Thanks John!
And please save comments saying, "Too many hot chicks! This is supposed to be a Movie/TV column! Waah!" I laugh and make fun of you with my friends.
WHAT THE HELL?
Who here is sad that we're losing
Jersey Shore
? The last offered a surprise for the cast, though it may not have turned out to be a good one.
Mike "The Situation"
reached into his bag of tricks and pulled out some stripper moves at their last Sunday dinner together at the house.
Have mercy! He had revealed earlier in the episode that he used to be a stripper; his stage name was Vito Durado. As the routine progressed, doubt began to grow. Pauly D said, "Mike really has no moves and I'm starting not to believe that Mike used to do this for a living."
He may have. Just not very well.
At one point, he picked Jenni up and flipped her over, putting her butt near his face. She seemed to get the worst of his attention during this particular performance. "If I was Jenni and Mike's face was in my crotch, I'd probably fart on his face," Snookie said.
And THAT folks, is my LAST Jersey Shore story for the 5 & 1!
TWITTER-A-GO-GO!
Make sure you're following all the comings and goings around 411mania on Twitter! Follow me for some witty tweets from time-to-time as well.
Dana White, Jesse Jane,
and
Larry Csonka
follow me. What are you waiting for?
http://www.twitter.com/stevethegoose
http://www.twitter.com/411mania
http://www.twitter.com/411wrestling
http://www.twitter.com/411moviestv
http://www.twitter.com/411music
http://www.twitter.com/411games
http://www.twitter.com/411mma

Darkseid of the Moon!
Nothing confirmed but having broken the news that Justice League's bad guy will be Darkseid, Latino Review has now revealed a few more snippets as to what we can expect from the plot of the movie.
According to the site, Will Beal is currently adapting the script from three issues of the comic-book, specifically issues 183 – 185, which were released back in 1980.
The storyline sees Darkseid devise a fiendish plot to destroy Earth and to move his home planet Apokalips into its place. Pretty basic stuff. It would be departure in terms of realism for the film to tackle, particularly given the tone of the recent DC outings have been. However, with Thanos making his way into The Avengers 2, maybe this kind of thing is the new superhero trend.
We'll know more once Man Of Steel arrives, with Zack Snyder promising that film "keep them on course" for a later film. Justice League is expected to open in 2015.
Thoughts on Justice League? Feeling confident?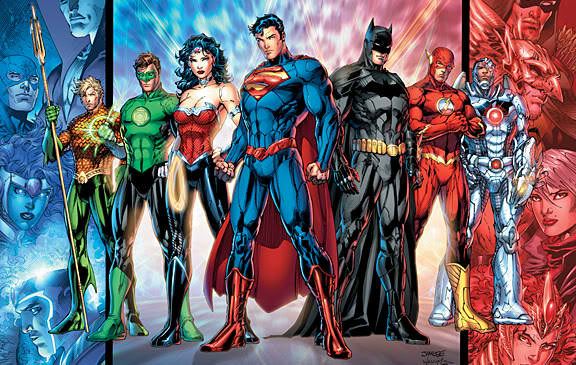 I'm not so sure about this one.
Spidey!
Casting call! The Amazing Spider-Man 2 may very well have cast itself another villain, with actor Asim Ahmad claiming to have been cast as one Michael Morbius.
Fans of the comic-books will know that Morbius is a prize-winning biochemist who drastically alters his physical makeup when attempting to treat himself for a rare blood condition. Employing electro-shock therapy and…vampire bats…his experiment goes wrong, and Morbius is transformed into a vampire-like creature himself.
Really?
"Morbius is only mentioned in two pages, not a big part," tweeted Ahmad, suggesting that the casting is either a brief nod to the fans or a brief set-up for a later appearance. Given the relative anonymity of the actor, I wouldn't bet on a major swerve.
Directed by Marc Webb and co-starring Andrew Garfield, Emma Stone, and Jamie Foxx, The Amazing Spider-Man 2 will have us chewing on rumors for a while.
Hmm…A picture of Morbius or a picture of Sofia Vergara?
Coming to a Club Near You?
TMZ reports that the Scores strip club in New York City is offering to pay the $16,000 bill that Lindsay Lohan owes on her storage locker, which will be auctioned off later this month if she can't come up with the money.
The club has sent a letter to Lohan's lawyer saying they'll pay the bill if she does work for their online site, ScoresLive.com. They don't want her to get naked, just be an online video chat host. It's unknown how many chats she would have to host. Scores has also offered to pay the rent for Lohan's Beverly Hills mansion for the next few months.
Lohan has yet to comment on the offer. Honestly, this wouldn't be the worst thing she's done.
Should she do it?
I wonder what they'd give her to take it off?
Charlie's a Good Guy!
How about some GOOD news about Charlies Sheen? The little girl with cancer who received a $75,000 donation check from Charlie told TMZ that she's never seen a single episode of Anger Management but she's still the actor's biggest fan.
If you didn't hear, Charlie and his stunt double Eddie Braun donated a combined $100,000 to 10-year-old Jasmine Faulk, the daughter of a Hermosa Beach police officer, after they caught wind of the girl's dire situation from another officer. Charlie donated $75,000 and Eddie donated $25,000.
Now, Jasmine wants to publicly thank Charlie and Eddie for their overwhelming generosity, telling TMZ, "I think they have a great heart … They don't even know me." As for Anger Management and Two and a Half Men, Jasmine says, "I don't really watch those shows. I watch kids shows."
Smart kid.
Charlie is giving me an idea…
What's the VIDEO BUZZ?
Pacific Rim, Guillermo del Toro's epic sci-fi actioner, has revealed a first trailer, which you can watch below.
I like how the marketing so far has played it low with only a minimal amount of stills released. Now things are heating up and this trailer got people talking!
The premise is pretty simple: Jaegers (giant humanoid robots piloted by Earth's finest) are called into action to fight off the global threat of incoming Kaiju (enormous monsters in the Godzilla vein). Pretty cool, right?
What do you think?

Welcome back to the
& 1 Model of the Week
! I'm going to use this area to introduce a lovely young lady that you might not be familiar with. Sometimes I'll ask them some questions, so we can get to know them a little better.
This week our & 1 Model is …Amber Priddy ! Originally from Charlotte, NC, Priddy has relocated to Atlanta! She has shot for Black Men's, Smooth, SHOW, XXL, Straight Stuntin', and was Black Men's model of the year in 2011. "I am a make up fanatic, and I admit I am a label whore," Amber said with a laugh. "I like shoes, I am a huge Sak's Fifth Ave fan that is my favorite store."
Ladies and Gentlemen, I present…Amber Priddy!
For more, follow Amber on Instagram and Twitter @AmberPriddy and check out her lipstick line at www.PriddyLips.com.
Before I say GOODBYE!
Playboy has been kind enough to release me on the lovely Playmates. Here's some interviews to keep you entertained!
Miss January 2012
Miss February 2012
Miss May 2012
Do you enjoy the 5 & 1 format? Then check out the other fine 5 & 1 features on the site:
* Stewart Lange holds down the fort across the pond with his MMA 5 & 1!
* Tony Acero puts the Wrestling world in a headlock with his Wrestling 5 & 1!
Give my blog a glance HERE! And tell a friend!
Make sure you check out my Big Screen Bulletin every single Monday! All the movie news and rumors that you missed over the weekend!
I started a suicide prevention resource site. Give it a look and share! www.youcanendure.com . If you or someone you know is feeling isolated, don't hesitate to call the National Suicide Prevention Hotline 1-800-273-8255.
Finally, if you have some down time and are looking for a great place for great fun, check out
Tiger Flash Games!
All pictures courtesy of Maxim Magazine, Complex, Huffington Post, V Magazine, People, FHM, Details magazine, www.cnn.com, and www.imdb.com.
NULL