The Last Stand Review
January 21, 2013 | Posted by
Directed by: Kim Jee-Woon
Written by: Andrew Knauer
MPAA Rating: Rated R for strong bloody violence throughout, and language
Runtime: 107 Minutes
Starring:
Arnold Schwarzenegger – Ray Owens
Forest Whitaker – Agent John Bannister
Luiz Guzman – Mike Figuerola
Johnny Knoxville – Lewis Dinkum
Zach Gilford – Jerry Bailey
Jaimie Alexander – Sarah Torrance
Eduardo Noriega – Gabriel Cortez
Sonny Landham – Henry
Peter Stormare – Burrell
Genesis Rodriguez – Agent Ellen Richards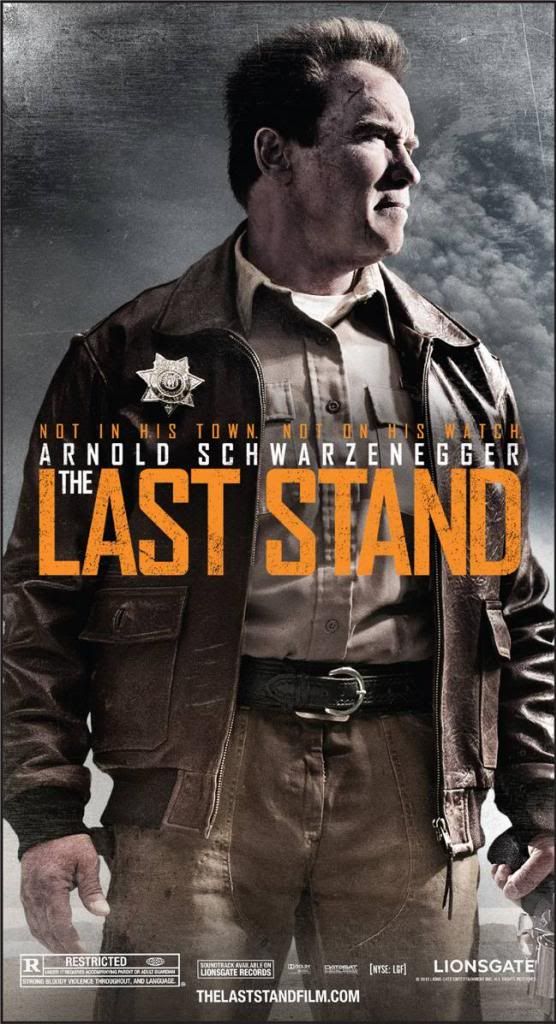 It's been quite a long time since the Governator has handled the difficult task of carrying a lead role. Now, after a decade-long career in the world of politics, Arnold is back to reclaim the throne of action hero all-star. His first re-entry back into action will not be quite what you expect. The Last Stand, is a strange little action movie that takes Arnie into genre territories that we're not used to seeing him tackle. Thanks to the unique direction of Kim Jee-Woon (I Saw the Devil, The Good, the Bad, and the Weird), the new career of Schwarzenegger begins with a subtle bang.
Schwarzenegger plays Ray Owens, an ex-LAPD narcotics officer who has settled in the quiet town of Sommerton Junction. After seeing all the excitement he could handle from his previous job, the quiet town brings him all the action he demands from a life in law enforcement. Things for the sheriff are rather peaceful until a fugitive named Gabriel Cortez escapes his arrest in Las Vegas and brings bloodshed and chaos through the town. Sheriff Ray is forced to assemble his team of lawmen and takedown Cortez and his gang in order to bring safety to his people.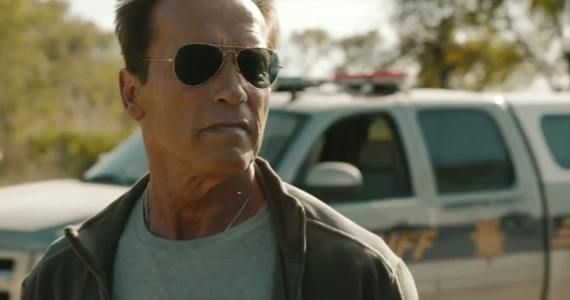 The film's story is quite formulaic but you can obviously grasp that it was the film-maker's intention. The town folk are goofy and everyone knows everyone. Arnold is in the role of an old school lawman that is very similar to a ton of past western film sheriffs. He has his silly incompetent deputy sidekicks that have way less experience than he does. On top of a villain, and his gang of bandits who are wreaking havoc on the sheriff's town. However, what makes The Last Stand fun is the unique style Kim Jee-Woon brings to the overdone genre clichés. You know what's coming, but the execution is really what keeps you invested for the ride.
The Last Stand is very similar to Kim Jee-Woon's South Korean action film, The Good, the Bad, and the Weird. With that film, he brought his unique humor and style to the western genre. This movie is no different. This is just High Noon with Arnold and company having an old fashioned gun fight between cowboys and outlaws. Only one of the cowboys is an Austrian death machine that cannot be stopped. It was actually refreshing to see Arnold pick a property like this because of how different it felt from previous efforts.
The action sequences in this film are definitely impressive. If you are in any way familiar with Kim Jee-Woon's film work in Korea, then you are most likely aware that the man has an eye for action. Some of the action beats he has put together here are very unique. For example, there is a sequence in the movie involving a car chase in a corn field that I don't believe I have ever seen attempted before. Also, a really cool gunfight sequence at night that I thought was very affective. Besides the corn field chase, many of the other getaway chases towards the beginning were shot with such tremendous skill. The movie has a scene involving a Corvette C6 ZR1 pursuit which made some of the best Fast and the Furious moments seem like go-cart racing. When you see it flying at speeds of 197 miles per hour, you can feel the weight of it.
All that aside, what is it we really want to know about The Last Stand? Whether or not Arnold rocks the house again, right? Well, my fellow readers, he certainly does, just not in the way you would expect. Schwarzenegger picked the most subtle action role to make his way back in the cinema world. In fact, most of the film he takes the back seat to let other characters progress the tension until he is needed. If it had been any other major film such as a Terminator sequel, I'm pretty sure there would be more remarks on his age. However, with this choice of character, Schwarzenegger used his age to his benefit here. He's an old sheriff, who has seen too much and just wants to have peace, and he plays the part quite well. Don't get me wrong, he does take an ass kicking in the film, as well as puts foot to ass himself, but generally in the first half of the movie, he's hanging back relaxing until he has to deliver Arnold carnage. It's almost as if he wanted to start off slow before he begins with the larger scale stuff again, which I can't honestly blame him.
The 411: Overall, The Last Stand is not an extreme action re-entry for Arnold, but it will definitely work for now. If you are a hardcore Schwarzenegger fan, then you will have plenty to chew on here. The direction of Kim Jee-Woon made this a very unique experience in the Schwarzenegger archive. Your life isn't going to end if you don't catch this one in theaters, but it's definitely worth checking out at some point. Bottom line, Arnold Schwarzenegger is back and has given himself room to build upon the next phase of his career.

 
Final Score:  7.0   [ Good ]  legend