The Perks of Being a Wallflower (DVD) Review
February 13, 2013 | Posted by
The Perks of Being a Wallflower (DVD) Review

There are good movies about the high school experience and then there are bad movies. The bad ones narrow it down to clichés, stereotypes, and insult your intelligence. The good ones strike a chord and really make you think about your own experience and the people you shared it with during your time in high school. The Perks of Being a Wallflower is a great high school movie that has a lot to say and does so in a smart, moving, and sometimes painful way. It is based on the novel by Stephen Chbosky, who also directed the film and wrote the screenplay, which ensures the authenticity will be in place.
Charlie, played brilliantly by Logan Lerman, is a shy freshman that keeps to himself until he meets Patrick (Ezra Miller) and Sam (Emma Watson), two confident and flamboyant individuals that help him break out of his shell. He goes to parties, meets other friends, and feels accepted and understood. Patrick is gay and is secretly dating someone on the high school football team while Sam is in a relationship with someone who doesn't exactly treat her right. Charlie, on the other hand, is wounded by a past he's never fully embraced or dealt with in his life.
His parents played by Dylan McDermott and Kate Walsh are nice folks and they aren't the usual clueless parents that we see in most high school movies. They aren't exactly involved, but they try the best with what Charlie gives them. The film is filled with characters that are more than what they seem, which is refreshing in a film like this. Even the football player that Patrick is dating, there is more to him that is discovered during the course of the film. We might see a glimpse of someone in high school, but we don't know their whole story.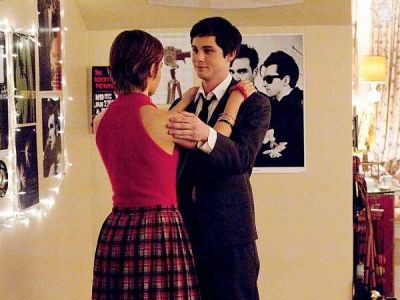 The film slowly builds and builds until the final act when it hits its breaking point and everything begins to make sense. When that happened, I was moved and touched by the film on so many levels. I especially liked the teacher character played by Paul Rudd. He has genuinely made an impact in Charlie's life and they have helped each other in a way. The film doesn't try too hard to be cutesy or hip, as everything unfolds naturally and just feels right. This is an intelligent film that captures the feelings, fears, and emotions of high school.
The Perks of Being a Wallflower is one of the great surprises of 2012 in the movies. It is well-acted, emotional, patient, powerful, and meaningful. I enjoyed spending time with these characters and all of their unique personality traits that made them who they are. Because it's written and directed by the author of the novel, you know it's in good hands and he understands this story better than anyone. Because of that, it's made me want to seek out the book and see what it's all about. This is a rare movie that is worth owning and watching multiple times.
DVD Info: The Perks of Being a Wallflower is released on single disc DVD from Summit Entertainment. It also includes a digital copy for ITunes or Ultraviolet.
Audio Info: The audio is DTS Surround Sound and it is fantastic and really shows off the impressive soundtrack. Subtitles are included in English and Spanish as well.
Video Info: The film is presented in widescreen format and the picture is clear, vivid, and brings the film to life on the screen. No grainy moments of any kind.
Best Summer Ever (5:00): This is your standard behind the scenes special feature which focuses on the film and putting it together.
The Dailies with commentary (07:04): These come with commentary from the director.
Twelve Deleted Scenes (23:11): These also come with commentary from the director. Honestly, I felt like the film was paced perfectly, edited perfectly, and came together perfectly. There are some interesting scenes here and there, but it's clear why they weren't included in the film.
Commentary with Director Stephen Chbosky: On this commentary track, he's by himself and he offers great insights into making the film, the book, the cast, and so much more. If you enjoyed the film as much as I did, this is worth listening to, for sure.
Commentary with Director Stephen Chbosky and cast Logan Lerman, Emma Watson and Ezra Miller: If you are looking for the perspective of the actors, this commentary track will provide that and then some. It's clear the three of them had great chemistry on and off set and that's a big part of the reason the film works as well as it does.
The 411: The Perks of Being a Wallflower is a film that is relatable, hopeful, inspiring, but most of all, rewarding. Sometimes you walk into a film not knowing what to expect, and you are completely blown away. That was the case with this film. I highly recommend it. You will probably see a lot of yourself in these characters or people that you grew up with in high school. Highly recommend.

Final Score:  9.0   [  Amazing ]  legend