The Top 10 X-Files Guest Appearances
January 21, 2016 | Posted by
The most difficult part of creating any top ten list is narrowing down the field. The X-Files featured guest stars by the dozens. What's more, it's a 90's show—which means that plenty of the people who appeared on the X-Files have gone on to be hugely famous. For the purposes of this list, I treated both kinds of actors equally. This only made it more difficult to narrow down.
Let me first tell you a few people that didn't make the list—but totally would have if it were longer. These include future Breaking Bad stars like Bryan Cranston, Aaron Paul, and Dean Norris. Most of you no doubt know that the X-Files head writer was none other than Vince Gilligan. A few other big names that didn't make the top ten include Brad Dourif, R Lee Ermy, Michael Emerson, Luke Wilson, Lucy Lawless, Jane Lynch, and Nora Dunn. When you point out your own favorite guest spot that I missed—do be kind!
#10 Steve Railsback (S2 E5-6). Fans of serial killer movies no doubt know the name Steve Railsback. His noteworthy turn as Charles Manson in the movie Helter Skelter was the stuff of nightmares. Later, he played killer and grave robber Ed Gein in a movie now titled By the Light of the Moon. In season two of the X-Files, Railsback plays Duane Barry, an alien abductee who is determined never to be taken again. Eventually, he kidnaps Scully in an attempt to be taken seriously. Railsback's appearance was not just gripping and tense—it also set up conspiratory alien goodness to come.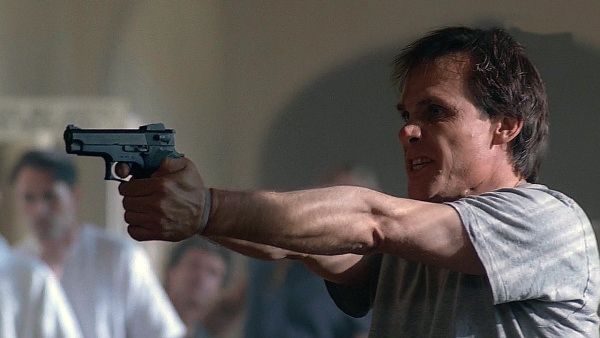 #9 The Lone Gunman (37 Episodes). One could argue that Byers, Langley, and Frohieke are minor characters rather than guest stars. After all, they did get a spinoff. I'm including them because 37 isn't that many out of 202 episodes (not counting movies), and because any time we see The Lone Gunmen, we know something awesome is gonna happen. Their ultimate fate was none too happy, but after Mulder, Scully, Krycek, and The Smoking Man, chances are these three together make up your favorite character.
#8 Giovanni Ribisi and Jack Black (S3 E3). This pic falls firmly on the side of unknown actors who blew up after they appeared on the X-Files. In the episode titled D.P.O. losery teen Darren Oswald (Ribisi) has a crush on his teacher and some monstrously strange electrical powers. His friend Zero, (Black) thinks they should just skip town and use Oswald's power to get rich and mack on some hot babes (remember, it's a 90's show). As you might imagine, things don't go so well for either teen. Still, seeing these guys so young and exuberant is still great today.
#7 Bruce Campbell (S6 E7). 411Mania readers were pretty bummed that Ash vs Evil Dead didn't show up in my 2015 in Horror article. This pic should assure them that I wish Bruce Campbell no ill will. After all, he hails from my home state of Michigan. In Terms of Endearment, Campbell plays a demon who's trying to make demon babies with as many wives as he can find. He's a bad man, for sure, but when he meets an even stronger demon—Yikes!
#6 Ed Asner and Lily Tomlin (S6 E6). When it was announced that enormous TV and movie stars Ed Asner and Lily Tomlin were to appear on a Christmas episode of the X-Files, there was much rejoicing. That's right kids, the old man from Up was totally a murder-happy ghost on the X-Files. In fact, both ghosts seemed to think murder was hilarious. Can you blame them? Over the top scares and blood permeate this wonderful episode, which was called How the Ghosts Stole Christmas. It's also one of those eps when we wonder if Mulder and Scully might get smoochy someday.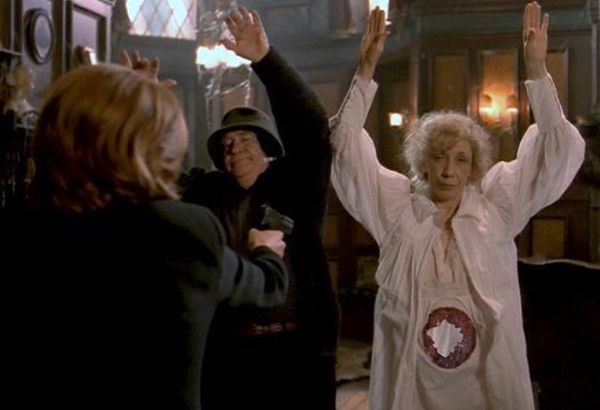 #5 Alex Trebek (S3 E20). This confounding cameo is even more bizarre when you consider that a man recognized all over the world would play a part called 2nd Man in Black. As a fun side-note, the 1st Man in Black was played by Governor "The Body" Ventura. It was revealed later that Trebek was cast after their first choice, Johnny Cash, proved unavailable. The episode is another that advances the overarching alien conspiracy narrative. We should have known all along that it was actually the Canadians!
#4 Richard Belzer as John Munch (S5 E3). This appearance was part of a crossover episode between the X-Files and Homicide: Life on the Street (AKA the first time Belzer played Munch). It's worth noting that Det Munch has appeared in no less than EIGHT different TV series. This ep is also a vital one, as it shows not only Mulder's first encounter with The Lone Gunmen—but also Byers, Langley, and Frohieke's first encounter with each other. Yes, it's a flashback. And it's a great one.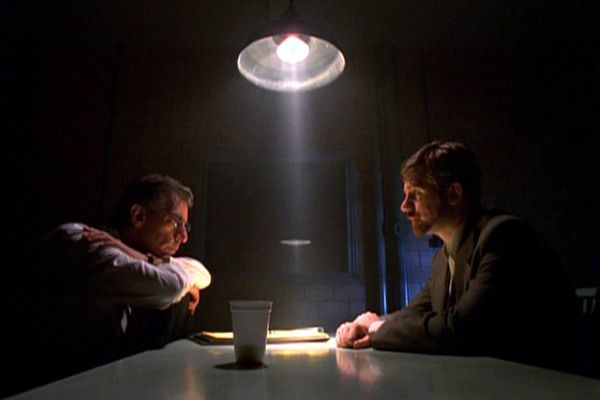 #3 Veronica Cartwright (5 Episodes). Veronica Cartwright is no stranger to television, and has some strong horror and SciFi cred after appearing in Hitchcock's The Birds as well as the original Alien. As Cassandra Spender, wife of the Smoking Man and mother to Special Agent Jeffrey Spender, she's another multiple abductee who is pretty much fine with her relationship to the aliens. Of course, there's much more to that story. But whenever fans see mother Spender, we know we're about to hear some crazy alien talk.
#2 Michael McKean (S6 E4-5). By this point in the series, the sexiness of David Duchovny was something of a running joke. When Area 51 Agent Morris Fletcher manages to switch bodies with Mulder, it's clear that he's stoked to suddenly be super hot. And without Squiggy dragging him down, LOL. Nora Dunn plays Fletcher's unhappy wife who ends up thinking he's having an affair with Scully. As if! Best of all though, this two-parter gave us this hilarious antic.
#1 Jodie Foster (S4 E13). An appearance from a huge Oscar winner like Foster was a huge "get" for the X-Files. Some fans were confounded that she'd play a character who was never actually seen—ie: the voice of a tattoo that was driving its owner insane. Foster was sublime as the winking ink unknowingly tainted with ergot (a powerful hallucinogen). She even tries to get her host to kill Scully at one point. Sorry Jodie, even you can't take Scully down.
I'll be back to review all six parts of the new X-Files series, starting January 24th. See you's then!
The final score: review Torture
The 411
After so many seasons and the staggering number of guest appearances, narrowing down the Top Ten Guest Stars was a daunting task.  But we at 411 Mania are more than up to the challenge.
legend