The TV List 12.23.12: Top 10 Favorite Holiday TV Episodes
December 23, 2012 | Posted by
Happy holidays! Whatever you're celebrating this year, we made it past the Mayan apocalypse and assumedly will see 2013! That is exactly why next week's column will be a super special "best of 2012" that addresses many top 10s from this year. I would love suggestions for categories in the comments. So far I'm planning on top 10 dramas, top 10 comedies, top 10 characters, 10 funniest characters, 10 guilty pleasures, and top 10 non-US shows. I have room for up to four more categories. Maybe animated shows? I don't know, but you can help decide!
This week, I'm diving into my 10 favorite holiday-themed episodes of shows, past and present. Having been raised Catholic, there are only a few episodes on this list that focus on something other than Christmas, but it's pretty much mentioned in all of them. That being said, let's get on with the list.
Just outside the top ten: My Own Personal Jesus (Scrubs), Kegel the Elf (The League), A Very Sunny Christmas (It's Always Sunny in Philadelphia), Red Sleigh Down (South Park), Unholy Night (American Horror Story – Asylum)
X color=green>size=8>
Mr. Hankey, the Christmas Poo (South Park)size=6>
South Park _ Mr. Hankey Construction Set
by hulu
South Park was the only show able to pull off two episodes on this list, and to be honest, they were very close to having three – the boys from Colorado know how to do Christmas. This is from the very first season of the show and, to my knowledge, was the first acknowledging of the trend involving deChristmasizing the holidays and making them much more religiously neutral. Of course, they all still end up celebrating Christmas, but the town takes Jesus out of the equation for Kyle's family is Jewish, and replace it with Mr. Hankey, the Christmas Poo (who, for most of the episode, was in Kyle's head and a justification for him to actually play with his feces in some pretty hilarious scenes). This is easily one of the funniest poop gags I can remember on TV, and led to a character that was much more popular than we should ever publicly admit as a society.
IX color=green>size=8>
Xmas Story (Futurama)size=6>
Futurama is consistently one of the best shows on TV that, despite the love it gets, still doesn't get enough love. In its first run, on FOX, they had a very solid holiday episode in "Xmas Story" – actually pronounced with the X. It's a twist on the conventional Christmas stories, in that Santa Claus is an evil robot who deems everyone naughty and kills them after dark on Xmas Eve. Of course, Fry stays out too late in an effort to get an Xmas gift for Leela, and the crew has to confront and defeat the metallic St. Nick. It's almost Terminator meets every Christmas cliché, and for Futurama, it just works and is a part of my traditional Christmas viewing each year.
VIII color=green>size=8>
A Very Venture Christmas (The Venture Bros.)size=6>
The tone of The Venture Bros. is different from pretty much any other animated comedy for some reason, and it works really well. I wish they had more episodes, but the four seasons we have to choose from are still pretty good. They even did a Christmas special, in which The Monarch takes advantage of Dr. Venture's tradition of putting his porcelain Jesus in the manger at midnight by booby trapping it to blow up and ruin Venture once and for all. The episode has it all, from a krampus to a Wookiee "life day" reference from the wonderfully bad Star Wars Christmas Special. I actually just got into the show in the past year, but I will watch this on a yearly basis.
VII color=green>size=8>
Abed's Uncontrollable Christmas (Community)size=6>
I didn't like any of the clips I could find of the actual episode, so I included that gem from season 3's Christmas episode. I consider the second season of Community to be one of the best-crafted seasons of any comedy in television history. This episode was actually one of my least favorites of the season, and it was still good enough to make a top 10 list for something – that speaks volumes as to the quality of that season. I think some of the performances we're used to in the show were dragged down a little bit by the lack of a physical presence of the actors who were instead doing voice work for the Claymation stuff. What made this episode still work, however, was that it was all perfectly justified by being in Abed's head, and this season was largely about figuring out what made Abed the way he is. This was very good at being one of those "we now understand you a little better, Abed" episodes and I felt like the group was closer after it was all said and done. If you're not a fan of Community, you probably won't appreciate this one as much.
VI color=green>size=8>
Undeck the Halls (Modern Family)size=6>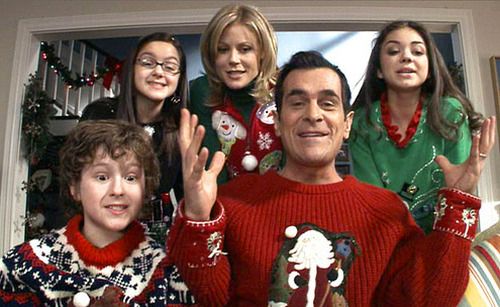 Modern Family really is the perfect family-focused modern sitcom (hence the show's name), and their first Christmas episode was their best so far. The Dunphy family is trying to get to the bottom of a burn mark on the couch, leading to Phil cancelling Christmas for the kids on account of he and Claire thinking that someone was smoking. Meanwhile, Cam deals with the caroling group he was kicked out of, and Jay gets used to Christmas with Colombians. Overall, it brought out the heart that this show has every week, and it's one of my favorite episodes of the first season.
V color=green>size=8>
A Woodland Critter Christmas (South Park)size=6>
This is so wonderfully twisted, and I'll never forget the first time I saw it. It was actually right around the time I started to get into South Park that this aired, and my mind was blown by how evil it was (and that it was actually allowed on TV). Words cannot do this episode of South Park justice, but it essentially starts off like every holiday classic, complete with rhyme and cute animals, but then it devolves into Satanism and the obligatory razzing Kyle for being Jewish. Maybe it's my dark sense of humor, but this is one of the best Christmas specials ever but it is definitely not for everyone.
IV color=green>size=8>
The Strike (Seinfeld)size=6>
This is such a strong episode of Seinfeld – every story hits on all cylinders. We have Kramer returning back to work after a 12 year strike, Jerry going out with the "two face" (girl who's attractive in the right lighting, but in the presence of darkness…not so much), Elaine getting her comeuppance for giving away the wrong number to guys she wasn't interested in, and, most importantly, Frank Costanza and the celebration of Festivus. The traditions are absolutely absurd – a Festivus pole, the airing of grievances, and feats of strength. The climactic dinner scene where all the stories converge is a Seinfeld classic, and Jerry Stiller was at his best. It's a Festivus for the rest of us.
III color=green>size=8>
Dear Santa, Go Fuck Yourself (Trailer Park Boys)size=6>
Trailer Park Boys is one of those shows I've been waiting to talk about in this column, and finally I have an opportunity. It sits atop my list of personal favorites along with Scrubs and Arrested Development, but due to its being from Canada, a lot of people aren't familiar with the series. It's one of those shows that starts out slow in terms of the plots, but once you know the characters, you are totally hooked (or at least that's how it worked for me). A lot of the best episodes, I'd have a hard time summing up the story because that's not what makes me like them. This Christmas episode is a flashback that aired after the fourth season, but takes place before the first season. It's kind of an origin story for Bubbles, but beyond that, it addresses Mr. Lahey's alcoholism and plays up Ricky's enjoyment of jail to great effect. I'm excited for the recently announced third movie in the franchise, and watching this special was how I celebrated the news this holiday season.
II color=green>size=8>
Cybernetic Ghost of Christmas Past from the Future (Aqua Teen Hunger Force)size=6>
For a show that has so many horrible episodes (or at the very least, ridiculously absurd), I think this special is an absolute riot. A lot of it has to do with the cadence the robot uses to speak, but the story about the origin of Santa Claus and the inclusion of Danzig and his blood obsession is so crazy that I can't help but crack up. This episode is both over-the-top and mundane at points that it just works. And Carl's Christmas past is so depressing that you can't help but laugh at his misfortune. Or maybe that's just me and I'm a terrible person.
I color=green>size=8>
Snowflake Day (Clone High)size=6>
This is indisputably my favorite "avoid Christmas because it's religiously exclusive" episode of any show, as well as just my favorite holiday special. Clone High was tragically cut short after only one season, but the premise was great, and I wish they'd gotten a chance to further dish it to teen dramas via historical figures. The running gag in this episode of Abe Lincoln's face continually getting sliced open with various things, Joan of Arc's hating Christmas, and the invention of the knork are all reasons I absolutely love this episode. It's a little bit more ridiculous than most things I watch, but there wasn't a single episode of this series that I didn't love, and this one topped my list. Also, Mandy Moore.
Again, thank you for reading and please post categories for my end of the year TV List Awards next week in which I'll do 8-10 top 10 lists chronicling the best of the year 2012. And let me hear YOUR favorite holiday episodes below!
Shows of which I have seen every episode (including shows still on the air):
Da Ali G Show; American Dad!; American Horror Story; Andy Barker, P.I.; Andy Richter Controls the Universe; Angry Boys; Aqua Teen Hunger Force; Archer; Arrested Development; The Batman; Batman Beyond; Batman: The Animated Series; Beast Wars; Better Off Ted; The Big Bang Theory; Big Bite; Black Mirror; Bob's Burgers; The Boondocks; Bored to Death; Boss; Breaking Bad; Brickleberry; Bunk; Burning Love; Childrens Hospital; China, IL; Clerks: The Animated Series; The Cleveland Show; Clone High; Comedy Bang! Bang!; Community; Conan (on TBS); The Critic; Curb Your Enthusiasm; Delocated; Dexter; The Drunk & On Drugs Happy Funtime Hour; Eagleheart; Eastbound & Down; Ed; Entourage; Episodes; Family Guy; Firefly; Flight of the Conchords; Franklin & Bash; Freaks & Geeks; Friends; Frisky Dingo; Futurama; Game of Thrones; Go On; Happy Endings; Harvey Birdman, Attorney at Law; Homeland; House of Lies; How I Met Your Mother; Human Giant; Hung; The Increasingly Poor Decisions of Todd Margaret; The IT Crowd; It's Always Sunny in Philadelphia; Jackass; Jon Benjamin Has a Van; Justified; Key & Peele; Kid Notorious; The King of Queens; The League; Louie; Lucky Louie; Luther; The Middle; The Mitchell & Webb Situation; Modern Family; Monk; Mr. D; Mr. Show with Bob & David; My Name Is Earl; NTSF:SD:SUV::; The Office (UK); The Office (US); Parks & Recreation; Party Down, Portlandia; Rhett & Link: Commercial Kings; Scrubs; Sealab 2021; Seinfeld; Sherlock; The Simpsons; Sons of Anarchy; Sons of Tucson; South Park; Spiderman: The Animated Series; Sports Show with Norm MacDonald; Spy; Star Wars: Clone Wars; The State; Summer Heights High; Superjail!; Tenacious D; That '80s Show; Tim & Eric Awesome Show, Great Job!; Titus; Todd & the Book of Pure Evil; Tosh.0; Trailer Park Boys; Twin Peaks; Ugly Americans; Undeclared; Unsupervised; Up All Night; Upright Citizens Brigade; The Venture Bros.; Viva La Bam; The Walking Dead; We Can Be Heroes; The Whitest Kids U' Know; Wildboyz; Wilfred; Workaholics; A Young Doctor's Notebook; 30 Rock
Shows I'm currently watching:
Avengers: Earth's Mightiest Heroes; Cheers; Chuck; Dinosaurs; Mad Men; Malcolm in the Middle; Manimal; The Mighty Boosh; Monty Python's Flying Circus; Most Extreme Elimination Challenge; The Powerpuff Girls; Psych; Rescue Me; Robot Chicken; Samurai Jack; Shameless (US); That '70s Show; Tiny Toon Adventures; Trigger Happy TV; The Wire
Shows on my radar, but haven't yet started
All in the Family; American Gothic; Animaniacs; Battlestar Galactica; Becker; Boardwalk Empire; Boston Legal; Boston Public; Boy Meets World; Californication; Castle; Chappelle's Show; Covert Affairs; Criminal Minds; Dallas; Death Note; Doogie Howser, M.D.; Downton Abbey; Dr. Who; The Drew Carey Show; Everybody Loves Raymond; Farscape; Frasier; The Fresh Prince of Bel-Air; Fringe; Gargoyles; Girls; The Good Wife; Greg the Bunny; Happy Days; Haven; Home Improvement; Home Movies; Homicide: Life on the Streets; House; In Living Color; The Jeffersons; Just Shoot Me!; The Kids in the Hall; King of the Hill; Legit; Lie to Me; The Life & Times of Tim; Lost; M*A*S*H; Metalocalypse; NewsRadio; Northern Exposure; Oz; Peep Show; Person of Interest; Pinky & The Brain; The PJs; Reaper; Reno 911!; Roots; The Shield; Six Feet Under; The Sopranos; Spin City; Sports Night; Stella; Suits; Taxi; That Mitchell & Webb Look; The Tick; The Twilight Zone; Weeds; The West Wing; White Collar; Will & Grace; The X-Files; 24; 3rd Rock from the Sun; 8 Simple Rules
Thanks again for reading – feel free to voice your agreements or disagreements below!
Also this:

NULL