The TV List 12.8.12: Top 10 Sons of Anarchy Characters
December 8, 2012 | Posted by
Welcome back, friends. I hope your holiday season is in full swing and you're feeling the cheer and joy instead of the anxiety that comes with shopping and making ends meet (a little glimpse into my personal life there). But one thing always relieves some stress for me, and that's good TV. After I posted my first or second edition of this very column, I got an overwhelming amount of suggestions to check out Sons of Anarchy. Well, last week I burned through seasons 3, 4, and 5 all in time to see the season finale as it aired. The show is uniquely phenomenal, and definitely one of the more overlooked dramas when it comes to award season. It's not the best show on TV, but I do think it's criminally underrated. Because the show has yet to conclude (it's been renewed for at least a sixth season), I can't do a top 10 episodes or top 10 moments list. However, I think it's fair to assume that the best characters have already been presented to us (although Jimmy Smits' character in season 5 is a new but welcomed addition to the cast). So let's dive in and look at my 10 favorite characters from Sons of Anarchy!
Warning: If you haven't watched the show through its most recent season's finale, there are spoilers in this column. Read at your own risk.
X color=green>size=8>
Filip "Chibs" Telfordsize=6>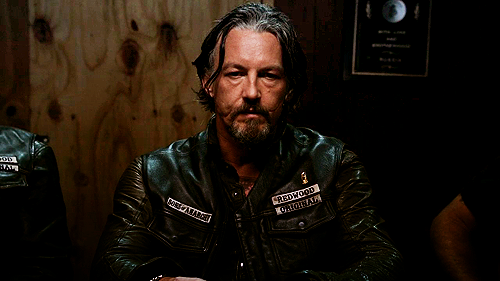 Chibs is one of the most likable characters on the show – he never seems conflicted with right or wrong (or at least he's rarely dragged into plots that put him in that position), and he serves almost as a father figure to another one of the show's most likable characters, Juice. Chibs has been loyal to the club (and Jax) from the start, and feels like the most welcoming of new prospects. He's the most static character of the club – he doesn't undergo much change, yet the show wouldn't feel complete without him.
IX color=green>size=8>
Chief Wayne Unsersize=6>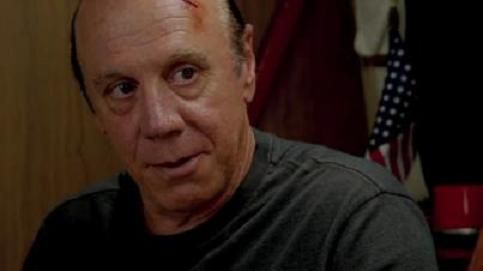 Unser, for the first few seasons, was the purest character on the show. As things develop, you realize that he has feelings for Gemma, and is pussy-whipped despite not getting any. The things he does just for Gemma are borderline crazy, but before that motive is clear (pretty much while he's still an active officer), Unser is the sweet old honorable man that no one has any reason to dislike. He has certainly been on a ride, but unfortunately for him, the confliction he's dealt with has led to a slightly weaker character as the seasons progress.
VIII color=green>size=8>
Robert "Bobby" "Elvis" Munsonsize=6>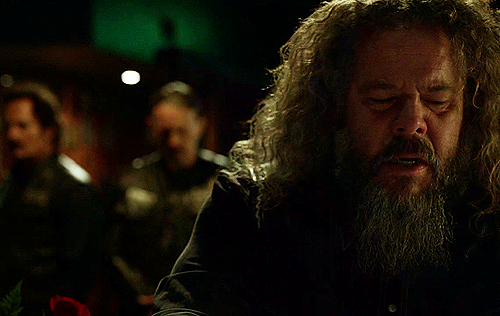 Bobby is all over the place. He could be a really strong character, but I feel like he changes sides within the club too much. He constantly doubts whether he's on Clay or Jax's side, and is too stubborn about a lot of things regarding the club. He started out in the series almost as the comic relief character, but when he goes to prison, he manages to look badass, and that adds allure to him. He's the most old-school character still alive in the show, and I just wish that they'd do more with him because he has a presence and history. He needs a plotline similar to what my next pick had in seasons 4 and 5 to strengthen his character.
VIIcolor=green>size=8>
Juan Carlos "Juice" Ortizsize=6>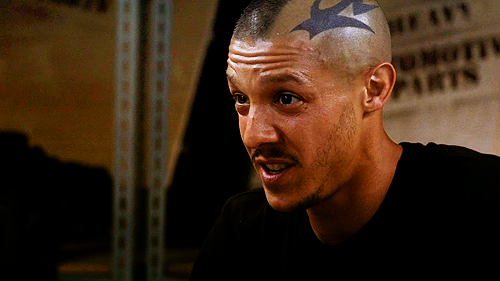 Juice is truly one of my favorite characters on the show. I think his small stature makes you hope that he'll be okay because he constantly looks as though he's in over his head (although, in most cases, he comes out on top). In the fourth and fifth seasons, however, Juice gets into some trouble as local law enforcement find out his father's black and threaten to tell the club (the by-laws would immediately cause them to expel him). Juice then jumps through hoops for the law (such as stealing cocaine from the club) and attempts suicide because he can't live with it. He's a sympathetic character, and it's through him that I really came to care about Chibs. When Juice tried to kill himself, it was the saddest moment in the show for me (until another character's death in season 5). He seems to have rebounded emotionally, but now he's caught in between Jax and Clay who are both expecting his loyalty. Juice has the opportunity to be one of the big players in season 6 and I'm interested to see how his character's arc plays out.
VI color=green>size=8>
Harry "Opie" Winstonsize=6>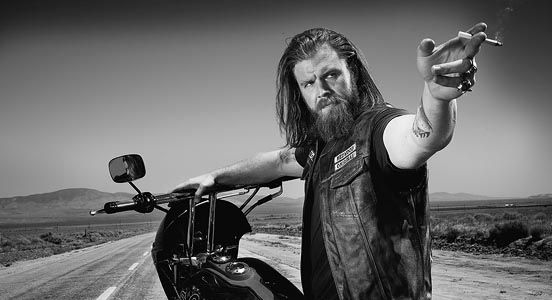 Opie's tragic character is one that I wish we would have gotten a little bit more of. Due to personal events, his character took time away from the club to get himself mentally clear, but Opie was Jax's best friend and a really sympathetic character. From the shooting of his wife, his vendetta with Stahl (and one of the most satisfying vengeance kills in TV history), to his valiant blaze of glory that led to his death, Opie's loyalty to the club that brought his world crumbling down is admirable. He not only struck an officer just to go to jail with Chibs, Jax, and Tig, but struck a guard to be the one put in a situation with a high chance of death (and it did in fact lead to that). Perhaps he felt he had nothing to live for anymore after two failed marriages, but Opie was the type of character that you rooted for until the end.
V color=green>size=8>
Clarence "Clay" Morrowsize=6>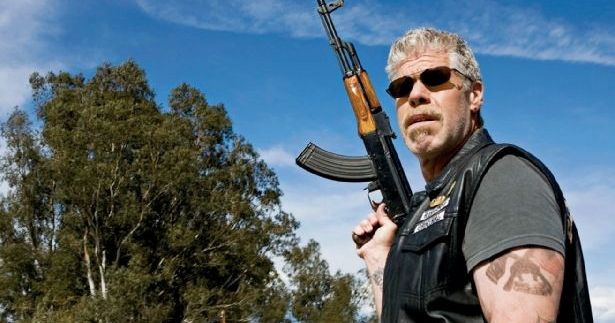 Clay is the evil in the show. He provided almost all the conflict, and even though he spent the third season aligned with Jax to help him get his son back, everything else involving him has done nothing but tear the club apart because of his need for power and money. It's interesting to see that he's one of two ways Jax will ultimately turn out (the other being like his father, who Clay murdered, John Teller – who only wanted admirable things for SAMCRO). The former president was almost killed off toward the end of the fourth season, but he's too good a source of antagonism to get rid of. He's still gotten somewhat of a comeuppance in his framing and arrest that closed out the fifth season, but I feel like the real battle between Clay and Jax hasn't even begun because when Clay gets out (and you know he will), he'll be going after Jax with a vengeance. Ron Perlman is perfect casting for this role as he constantly has to walk the line of being a Son, and therefore likable to the viewers, and the dividing force within the club; a constant source of dissention.
IV color=green>size=8>
Alexander "Tig" Tragersize=6>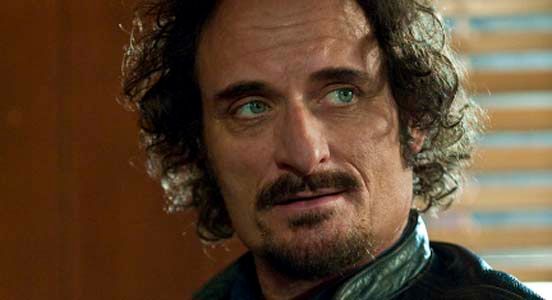 Tig started out as Clay's guy, but as Morrow's evil deeds became more and more malicious, his moral compass was recalibrated, and he has proven himself as another one of those guys who just wants what's good for the club (even if he's impulsiveness and hot-headedness lead to actions that are ultimately detrimental). Tig really started becoming a favorite of mine after Jax took over SAMCRO and he started embracing it. The bit where it looked like Jax had given him up to Pope (the man who burned Tig's daughter alive), only to turn the tables and give Tig the opportunity to enact revenge for the gruesome murder of his girl, was one of the best scenes in the entire series, and it cemented Tig as a "Jax guy" because he proceeded to go along with Jax as he framed Clay for the murder. From the scumbag who shot Opie's wife to sympathetic character who stands behind Jax, Tig has done a complete 180 and I love the character he's become.
III color=green>size=8>
Gemma Teller Morrowsize=6>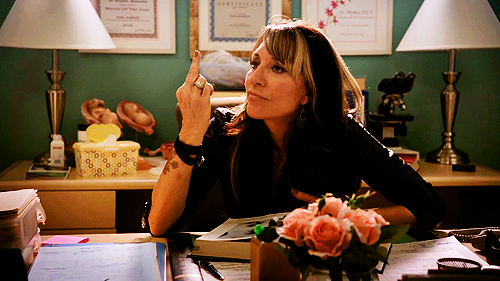 Gemma is
the
character to watch in the earlier seasons. She is a bona fide badass chick and keeps both her family and her club happy. It's unfortunate that she changes her motivations from "keep my family safe" to "keep the power" as it's almost disappointing as a viewer. Throughout the seasons, you find new reasons to lose respect for Gemma's character, and I'm not sure if that's going to stop next season. With Tara in prison, Jax will look to his mother to console him, and she will be in his ear a hell of a lot more than Jax's wife will be able to be. However, she also finally took a stand against Clay by helping Jax frame him, so there's really the potential for her to go in either direction. One thing is clear about Gemma though – Katey Sagal is knocking this performance out of the park!
II color=green>size=8>
Dr. Tara Knowles-Tellersize=6>
This is where I catch a lot of flack, I'm sure of it. Tara over Gemma? Hear me out: if I was going by the first four seasons, I'd have Gemma ahead of Tara, but Tara has had solid character development every season, while Gemma's has pretty consistently been "get power and share with whoever has it". Tara's arc of complete outsider who comes into her own as an "old lady" has been fascinating to watch. She's terrified of the life Jax leads at the start of the show, and what she's getting involved with. Like any logical person, she constantly doubts the soundness of her choice to be with someone in a motorcycle gang ("it's a club"), but as she starts accepting it, and the fact that Jax is coming into a position of power, she's a rock. She gets physical when she needs to hold her ground, and she's essentially becoming Gemma, which is what makes her just a little bit more interesting to me. To see how she evolves after prison is something I'm very much looking forward to next season, as she was just about to pack up and leave the life for a steady hospital job in the normal world of non-violence. I don't think she's as well-acted as Gemma, but the writing around her character makes her the second most interesting character on the show (in my opinion, at least).
I color=green>size=8>
Venus Van Damsize=6>
As a huge fan of
Justified
, I thought Walton Goggins' cameo as transsexual prostitute "Venus Van Dam" in
Sons of Anarchy
was an absolute riot. The scene in question (from season 5, episode 9 "Orca Shrugged") is the highlight of the episode and yes, I
am
just kidding. It was a pretty epic cameo though…
I color=green>size=8>
Jackson "Jax" Tellersize=6>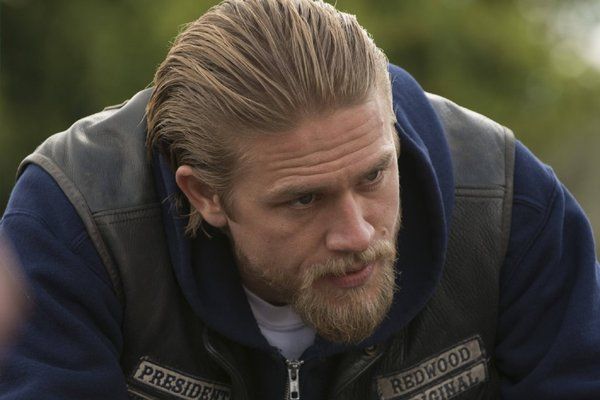 Jax is absolutely magnetic. From the get-go, I cared about him, which is honestly the most important trait a protagonist needs. We get to experience his character's growth, and for five years, it is tremendous. He's constantly conflicted after reading the journal of biological father John Teller who only wanted the club to get away from corruption and unnecessary evils while Jax's stepfather, Clay, is the main reason the club has divided. The forces of his fathers are pushing and pulling Jax in both directions, and it's still unclear where he'll land. He gets the power of the club as president in the latest season, and despite his best efforts to do what's right to just get SAMCRO back on track before departing to go legitimate, Jax allows greed and personal feelings toward Clay cloud his judgment at times. His development is very similar to Michael Corleone, and I feel like the end of the fifth season sees his character parallel Michael's at the end of the Godfather: Part One. I so desperately want Jax to end up safe, with the club better off because of him, and able to get out before it's too late, but I think it's clear that his fate is at the head of the table, and he'll always get sucked back in.
Thanks to whoever recommended watching this show to me – it was an incredibly rewarding experience with plenty of strong characters to care about. I look forward to next season, and now it's time for me to gut through The Wire before diving into Rescue Me.
Shows of which I have seen every episode (including shows still on the air):
Da Ali G Show; American Dad!; American Horror Story; Andy Barker, P.I.; Andy Richter Controls the Universe; Angry Boys; Aqua Teen Hunger Force; Archer; Arrested Development; The Batman; Batman Beyond; Batman: The Animated Series; Beast Wars; Better Off Ted; The Big Bang Theory; Big Bite; Black Mirror; Bob's Burgers; The Boondocks; Bored to Death; Boss; Breaking Bad; Brickleberry; Bunk; Burning Love; Childrens Hospital; China, IL; Clerks: The Animated Series; The Cleveland Show; Clone High; Comedy Bang! Bang!; Community; Conan (on TBS); The Critic; Curb Your Enthusiasm; Delocated; Dexter; The Drunk & On Drugs Happy Funtime Hour; Eagleheart; Eastbound & Down; Ed; Entourage; Episodes; Family Guy; Firefly; Flight of the Conchords; Franklin & Bash; Freaks & Geeks; Friends; Frisky Dingo; Futurama; Game of Thrones; Go On; Happy Endings; Harvey Birdman, Attorney at Law; Homeland; House of Lies; How I Met Your Mother; Human Giant; Hung; The Increasingly Poor Decisions of Todd Margaret; The IT Crowd; It's Always Sunny in Philadelphia; Jackass; Jon Benjamin Has a Van; Justified; Key & Peele; Kid Notorious; The King of Queens; The League; Louie; Lucky Louie; Luther; The Middle; The Mitchell & Webb Situation; Modern Family; Monk; Mr. D; Mr. Show with Bob & David; My Name Is Earl; NTSF:SD:SUV::; The Office (UK); The Office (US); Parks & Recreation; Party Down, Portlandia; Rhett & Link: Commercial Kings; Scrubs; Sealab 2021; Seinfeld; Sherlock; The Simpsons; Sons of Anarchy; Sons of Tucson; South Park; Spiderman: The Animated Series; Sports Show with Norm MacDonald; Star Wars: Clone Wars; The State; Summer Heights High; Superjail!; Tenacious D; That '80s Show; Tim & Eric Awesome Show, Great Job!; Titus; Tosh.0; Trailer Park Boys; Twin Peaks; Ugly Americans; Undeclared; Unsupervised; Up All Night; Upright Citizens Brigade; The Venture Bros.; Viva La Bam; The Walking Dead; We Can Be Heroes; The Whitest Kids U' Know; Wildboyz; Wilfred; Workaholics; 30 Rock
Shows I'm currently watching:
Avengers: Earth's Mightiest Heroes; Cheers; Chuck; Dinosaurs; Mad Men; Malcolm in the Middle; Manimal; The Mighty Boosh; Monty Python's Flying Circus; Most Extreme Elimination Challenge; The Powerpuff Girls; Psych; Rescue Me; Robot Chicken; Samurai Jack; Shameless (US); That '70s Show; Tiny Toon Adventures; Trigger Happy TV; The Wire
Shows on my radar, but haven't yet started
All in the Family; American Gothic; Animaniacs; Battlestar Galactica; Becker; Boardwalk Empire; Boston Legal; Boston Public; Boy Meets World; Californication; Castle; Chappelle's Show; Covert Affairs; Criminal Minds; Dallas; Death Note; Doogie Howser, M.D.; Downton Abbey; Dr. Who; The Drew Carey Show; Everybody Loves Raymond; Farscape; Frasier; The Fresh Prince of Bel-Air; Fringe; Gargoyles; Girls; The Good Wife; Greg the Bunny; Happy Days; Haven; Home Improvement; Home Movies; Homicide: Life on the Streets; House; In Living Color; The Jeffersons; Just Shoot Me!; The Kids in the Hall; King of the Hill; Legit; Lie to Me; The Life & Times of Tim; Lost; M*A*S*H; Metalocalypse; NewsRadio; Northern Exposure; Oz; Peep Show; Person of Interest; Pinky & The Brain; The PJs; Reaper; Reno 911!; Roots; The Shield; Six Feet Under; The Sopranos; Spin City; Sports Night; Stella; Suits; Taxi; That Mitchell & Webb Look; The Tick; The Twilight Zone; Weeds; The West Wing; White Collar; Will & Grace; The X-Files; 24; 3rd Rock from the Sun; 8 Simple Rules
Thanks again for reading – feel free to voice your agreements or disagreements below!
Also this:
NULL