TV Rants and Raves 2.15.13: You Know Nothing
February 15, 2013 | Posted by
Welcome to TV Rants and Raves. I am your host, Dimitri Dorlis.
2 announcements before we get into this. First, I won't be here next week, but I did secure a replacement. Ben Piper will be making his triumphant return to TV Rants and Raves in a one-night only deal, so get ready to tell him just how much better he is than me in a week.
Second, there'll be a change in how the column works on my return. Suffice to say it isn't a huge change, but it will allow me to talk more in-depth on more shows, which I'm sure you'll all love. Or hate. Probably hate.
Anyway, let's get into it.
TV Rants and Raves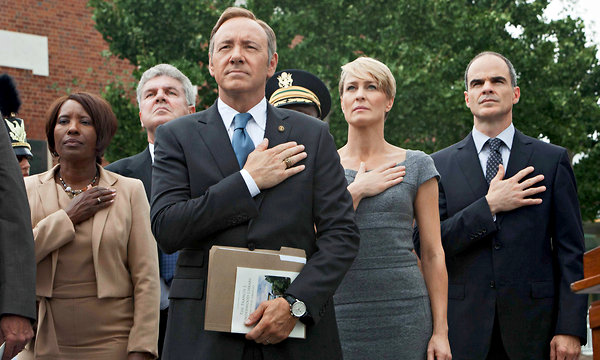 Life is like a House of Cards
One of the great things about episodic television is the buildup between episodes. We refer to it as the watercooler moment, where you gather with a group of people and talk about the latest thing on television. Great shows like The Sopranos, Twin Peaks, Lost, and others thrived partly because viewers became so engaged on a week to week basis. With House of Cards, Netflix seems to want to break that cycle.
Let's get one thing straight before I continue: I really like House of Cards. That being said, I'm only through 8 episodes of the show, but so far it's been rather engaging. But I'll talk about that in a bit.
Because, originally, I wasn't sure I wanted to cover House of Cards at all. House of Cards represents an entirely new way to watch television, free of the week by week episodic nature that the medium has used for decades. In many ways, it's a reaction to how many people view television; while we still watch shows like Walking Dead, Mad Men, and others on a week to week basis, many more people end up watching whole seasons of shows in large chunks. I myself did this with Happy Endings in an attempt to catch up for the third season. House of Cards circumvents weekly viewing entirely, and cuts straight to the chunk viewing, giving viewers control over how they watch the show.
On a personal, selfish level, I'm not a huge fan of the move, just because it makes covering the show much harder. But on a general level, I'm rather ambivalent towards the move. On one hand, releasing everything at once does free up how the story is told. A lot of episodic television is recursive, repeating key points week to week just so the audience stays in the loop. By releasing everything at once, House of Cards doesn't need to waste time repeating what is going on. It also allows for more artistic freedom in regards to storytelling.
On the other hand, releasing everything at once robs us of that watercooler moment. I've tried to talk to a few people about House of Cards so far, and while everyone seems to enjoy it, it's hard to talk about any specifics. Hell, the reason I haven't even started talking about the show yet is because I don't know how to approach it. At least with week-by-week shows like Breaking Bad or Game of Thrones, there's a basic understanding of what you can talk about. If the show is currently on, and you find yourself in a conversation about that show, you can reasonably assume that they're up to date with the current plot. It's harder with House of Cards. Most conversations I've had usually end with us saying how great the show is, but not going into any details. House of Cards is a show that, at its heart, wants to be talked about, but because of how it was released, that probably won't happen for few weeks, or maybe even months.
And like I've said, I'm actually a big fan of House of Cards, and for a few reasons. For starters, Kevin Spacey is amazing in this show. And this isn't a case of Kevin Bacon being so good that it almost saves a bad show (why did you become so bad, The Following?); Spacey is surrounded by good actors who turn in great performances, which really speaks volumes of how good Spacey is. There are also great performances from Robin Wright (QUEEN BUTTERCUP!) and Kate Mara. The whole thing is directed by David Fincher, and there's an almost Fight Club-like quality to the way Spacey's Frank Underwood addresses the audience. And this says nothing of breakout star Corey Stoll, who's portrayal of Peter Russo is incredibly nuanced, and yet may have my favorite character story of the entire show.
But again, that's the problem with talking about the show. I don't want to spoil what's going on, which makes it hard to talk about specifics of the show. Suffice to say my biggest problem with the show so far has been how easy it has been for everyone not named Peter Russo. Some of my favorite moments so far have just been scenes where things don't go according to plan, because they're so few and far between in these first 8 episodes. Of course, conventional wisdom would mean that there should be a fall by the end of this season, but I'm not so sure, and even then, 8 episodes is a long time to have a main character impose his will.
House of Cards may end up being the best new show to come out this year, but it's far from perfect. But with what the show represents is a new way to tell a story. Whether that it is successful remains to be seen.
And if anything, this is really just a test run for when Arrested Development drops in May.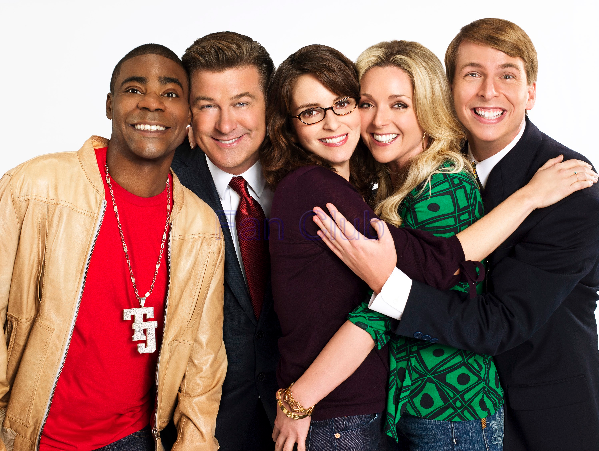 For those about to 30 Rock
A couple weeks ago, 30 Rock ended its 7 season run. Since the finale aired, I've been looking for the best way to express my feelings on the show, and I've finally figured it out, so here it goes:
Thank you.
Thank you 30 Rock, for 7 seasons of laughs. Thank you for never straying away from a winning formula, even when you weren't on a same ratings-level as more popular comedies. Thank you for always being critical of the network that put you on the air, especially when they deserved it. Thank you for being critical in general, and never shying away from uneasy topics (I'm looking at you, Tracy Morgan's rant on homosexuals).
Thank you 30 Rock, for giving us the Strong Female Character (copyright Kate Beaton, Carly Monardo, and Meredith Gran) of Liz Lemon. Lemon was one of the strongest female protagonists on television, and was the emotional heart of the show. That Liz Lemon's character could vacillate between funny and serious as easily as she did is a testament to Tina Fey's performance, and it's a tragedy that she didn't win Best Actress more than she did (although now Amy Poehler can finally get the awards she's deserved for awhile now).
Thank you for Jack Donaghy. Jack was a conservative and a slick businessman, but he had a heart of gold. What always impressed me about Jack's character was how, even though he was a Republican, he was incredibly open to all beliefs, something that you don't see from Republican characters on television. Jack was also incredibly loyal; lord knows he should have fired everyone involved with TGS multiple times, but he never did, and stuck by the show even when the show didn't justify being kept.
Thank you for Tracy Jordan and Jenna Maroney. With Tracy Jordan, we were given a super-dramatized version of Tracy Morgan's life, who was dumb but also incredibly smart at the same time, who acted irrationally but was ultimately well-meaning, and who was selfish but also incredibly loyal. With Jenna Maroney, we were given a foil for Liz Lemon's selflessness. Jenna Maroney was the butt of many jokes, usually revolving around her many relationships or the fact that she was a sociopath, but she was also an oddly sympathetic character that the show would return to continuously.
Thank you for a host of other things. Thank you for Kenneth and his immortality. Thank you for Pete and his slow decline into insanity. Thank you for Dot Com and Grizz, and for giving Grizz his own series. No thanks for Lutz, but thank you for always treating him terribly. Thank you for having Katrina Bowden on your show and letting her dress in sexy outfits.
Seriously, thanks for that last one.
But most of all, thank you 30 Rock, for being as uncompromisingly good as you were for as long as you were on the air. You were a cultural touchstone, and we're all worse for no longer having you.
Strange Thoughts
– For as much as I hated on the second season of Walking Dead, I've really come back to the show, and the series return last Sunday was one of the more welcome episodes of TV for me in awhile.
– In the least surprising news of the year so far, NBC has cancelled Do No Harm, their modern take on Doctor Jekyll and Mister Hyde. Do No Harm set records for worst debut of a network drama, and then compounded the problem by losing 27% of its viewers the second week (although at this point, we'd like to point out that losing 27% of nothing is still nothing).
– In other NBC news, the retooling of Up All Night will apparently continue without Christina Applegate, as she's left the show. Lisa Kudrow is expected to take her place, and I've suddenly thrown up in mouth I am so sorry everyone.
– If NBC really wanted a place for Kudrow, I would have said Go On. Also maybe add a few more people to the cast, maybe a Jennifer Aniston or a Matt LeBlanc and oh god just give me Friends back already.
– In positive news, Community had their best season debut yet, which should help the show get ever closer to those 6 seasons and a movie. For those of you wondering, I won't actually be reviewing Community until about 4 episodes, just to get a feel for the new showrunners.
– The SHIELD pilot finished filming, which is great because we're that closer to a SHIELD TV show, and imagine if you had told people about that 5 years ago.
***
The Non TV Segment Of The Week
Someone sent me this video and I had to share it.
Finally, the answer to the question of who would win in a competition between man and baby.
I can't stop watching this.
Enjoy.
***
That's all for this week. Ben Piper will be in next week, leave a comment, and we'll see you on the other side.
http://www.twitter.com/411mania
http://www.twitter.com/411wrestling
http://www.twitter.com/411moviestv
http://www.twitter.com/411music
http://www.twitter.com/411games
http://www.twitter.com/411mma
NULL