V/H/S (Blu-Ray) Review
December 14, 2012 | Posted by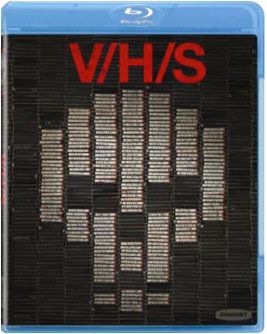 The found footage genre has become increasingly popular in a world that is fascinated with trying to figure out what's reality and what's fiction. The Blair Witch Project, back in 1999, scared audiences while also making them nauseous with its shaky camera movements. As soon as audiences started to become weary of graphic horror films, Paranormal Activity came out and has now produced three sequels. V/H/S is taking that formula and allowing some very unique and talented directors to make an anthology, where they all get a chance to offer their take on the genre.
The directors are Adam Wingard, David Bruckner, Ti West, Glenn McQuaid, Joe Swanberg, and Radio Silence. The surprise director here is Joe Swanberg. He's a nice addition to the film as he brings something very different to the proceedings. He's known for his mumblecore films, and he also works as an actor in the third film Second Honeymoon, directed by Ti West. Swanberg's film, The Sick Thing That Happened to Emily When She Was Younger, is one of the more effective and scary films out of the bunch. It really sticks with you.
All of this starts when a group of crooks are offered a job to get a particular VHS tape out of what they think is a vacant house, which sounds easy enough. Upon entering the house, they notice a man that has perished, which turns the situation into a creepy endeavor to say the least. There are a ton of VHS tapes in the house, but they need to find the right one. Between all of this, we see the various short films that are a part of this anthology which totals 116 minutes in running time.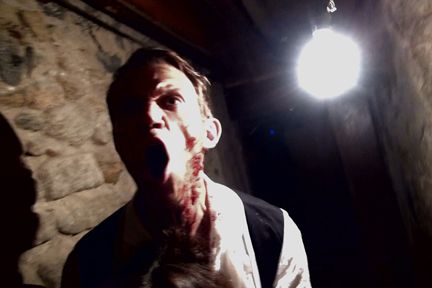 My problem with V/H/S is the problem that I have with most of these films: the characters. They are usually annoying, underdeveloped, and play to the camera too much. In any film, especially a horror film, I have to care about the characters if I'm spending time with them. If not, it just comes off as self-indulgent and unnecessary. This is a great idea for a film, and the directors clearly have something to offer, but it just feels sort of all over the place and meandering. Yes, there's a focal point of the story, but it gets lost in the shuffle with so much going on. It's sound and fury signifying nothing.
Brad Miska, the founder of Bloody Disgusting, is a producer on this film, and there's no question that he knows his horror. The directors involved are horror fans at the end of the day, and they have probably watched countless horror films. I admire what they were trying to accomplish and their vision behind the film. However, the execution is where the film falls off the rails and is rather disappointing. Yes, some of it is quite scary, which is the point of these films at times, but I need to care about what's happening and the people involved. If not, it doesn't have any impact.
Blu-Ray Info: V/H/S is released on a single disc Blu-Ray from Magnolia Home Entertainment on 1080p high definition 16×9 (1.78:1).
Video Info: The video looks about as good as one would expect on a film like this. It's meant to look a certain way to enhance the realism. It's creepy looking, and in that sense, it's quite effective. The colors are dark and moody when needed but also bright when the moment calls for it.
Audio Info: The English 5.1 DTS-HD Master Audio is pitch perfect and really sells the tense and scary moments of the film. I didn't have to change my sound or alter it while watching the film. It stayed consistent, which was appreciated.
Special Features:
Alternate Ending (10/31/98) (01:32): This offers a different ending on this particular short film. I didn't really care for the different ending and felt like the one in the film was the correct one.
More Tuesday the 17th (02:38): More scenes from Glenn McQuaid's film are included here.
Cast and Crew Commentary with Brad Miska, Matt Bettinelli-Olpin, Justin Martinez, David Bruckner, Chad Villella, Tyler Gillett, Simon Barrett, Joe Swanberg, Helen Rodgers, and Adam Wingard: Everyone here clearly has great respect and admiration for each other, and that's noticeable on this commentary track. Everyone had a blast working on this project, and it was a real labor of love.
Amateur Night: Balloon Night (03:33): Director David Bruckner takes the audience behind the scenes of his film, specifically the ending.
Webcam Interviews (13:34): Joe Swanberg is the interviewer here and he interviews actress Helen Rogers and writer Simon Barrett.
Behind the Scenes Footage Gallery
Trailers
Conceptual Design Gallery-Lily
AXS TV (04:51): This is mostly done to promote the film and show off some of the highlights to entice the viewer to check it out.
Cast and Crew Interviews (28:42): Interviews with the producers Brad Miska and Zak Zeman, Director Ti West, Director Joe Swanberg, Writer Simon Barrett, Director David Bruckner, Director Glenn McQuaid, Simon Barrett with director Adam Wingard, and Radio Silence members Matt Bettinelli-Olpin and Tyler Gillett are featured here.
The 411: V/H/S sounds like a nice concept on paper, especially when you consider the directors that are involved. Sadly, it disappoints and feels extremely underwhelming. It doesn't really make its mark in the found footage genre. I'd love to see this crew do something again in the future, and I have a feeling it will come out a lot better than V/H/S. I'd skip this one.

 
Final Score:  6.0   [ Average ]  legend