What Do Marvel's Latest Cancellations Mean?
March 22, 2017 | Posted by
I'm Steve Gustafson and thanks for stopping by. Don't forget to check out 411mania's Comic Book Review Roundtable, every Thursday! Read up on the best reviews and let us know what you're reading as well. Click to read the latest Comic Book Review Roundtable! Man-Thing #1, Ultimates 2 #4, and more!
Now, on with the show!
Last week we asked, "Who Are Wolverine's Greatest Rivals?" Here's what you all had to say:
Rehab: "Himself."
Jonathan Popalis: "Gotta throw Mysterio into the ring for beating him so soundly and completely in OLD MAN LOGAN without any reprisals. Mysterio basically single-handedly destroys Wolverine in a way that no other villain was ever able to do."
Adam: "The lack of Deadpool is concerning"
Mark Satrang: "That header photo is some real early 90s nostalgia."
KipSmithers: "Tetanus…"
iwantwhatthedogseating: "Even though they never really fought outside of Age of Apocolypse; Cyclops is a pretty big rival."
K. Bett: " • 5 days ago
The movie and this list brought back memories of Wolverine: Adamantium Rage
To read ALL the comments, CLICK HERE! As always, thanks for the input!
This week we discuss…
What Do Marvel's Latest Cancellations Mean?
Comic books being cancelled are a way of life. Poor sales, change of plans, relaunches, and a plethora of other reasons can end the run of any title.
It always gets my attention when a slew of titles get the axe around the same time.
Marvel's current Ghost Rider series is ending with March's fifth issue. No reason was given for the cancellation. This comes on the heels of the previous cancellation of Patsy Walker A.K.A. Hellcat!.
If you looked closely, Ghost Rider wasn't the only comic book missing from May 2017's solicitations. The other titles included:
Black Panther: World of Wakanda
Silver Surfer
Silk
Great Lakes Avengers
Thunderbolts
Gamora
Deadpool & The Mercs for Money
Thunderbolts writer Jim Zub stated that the series is on hiatus during the Secret Empire event, with Marvel planning to resume the series later in 2017.
If the above are indeed getting cancelled, the thing that stands out is how many of these books have strong ties to the Marvel TV and cinematic universes. The most recent Ghost Rider series was launched in November coinciding with the debut of the character appearing ABC's Agents of S.H.I.E.L.D.
Black Panther was hugely popular in his appearance in Captain America: Civil War and Gamora is well established in the Guardians of the Galaxy movies. Of course Deadpool speaks for himself.
I'm sure we'll hear more over the next few days but I'm going to miss a few of these books and can assume that sales is the most driving factor at the "House of Ideas".
What books are you going to miss?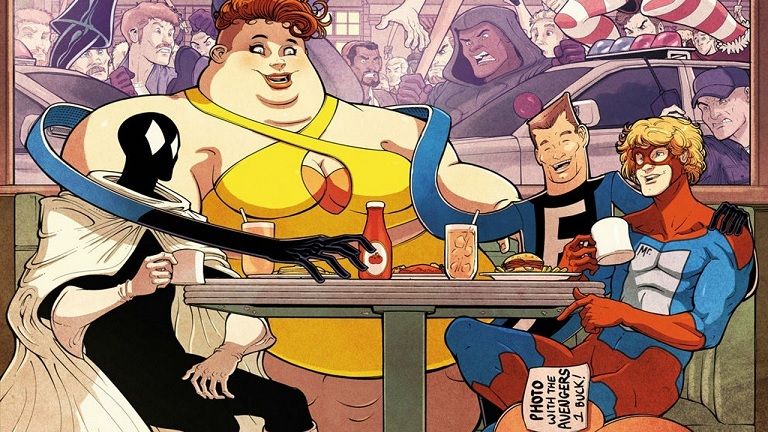 That's all the time I have. Check out our Comic Book Reviews tomorrow and see you next week!