6ix9ine – DUMMY BOY Review
December 3, 2018 | Posted by
6ix9ine – DUMMY BOY Review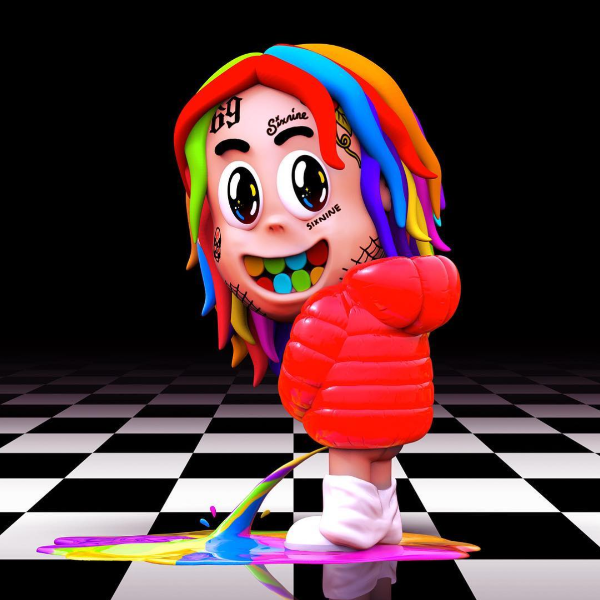 1. Stoopid (feat. Bobby Shmurda)
2. Fefe (feat. Nicki Minaj and Murda Beatz)
3. Tic Toc (feat. Lil Baby)
4. Kika (feat. Tory Lanez)
5. Mama (feat. Nicki Minaj and Kanye West)
6. Waka (feat. A Boogie Wit Da Hoodie)
7. Bebe (feat. Anuel AA)
8. Mala (feat. Anuel AA)
9. Feefa (feat. Kanye West)
10. Kanga (feat. Gunna)
11. Tati (feat. DJ SpinKing)
12. Wondo
13. Dummy (feat. Trife Drew)
There's no two ways about it: 6ix9ine, aka Tekashi, is the living embodiment of meme culture. The rainbow haired offspring of the Soundcloud rap scene is hero to teens the world over and, in the eyes of the law, a potential felon facing life in prison for racketeering and firearm charges. He might position himself as a head-banging sprite shot straight out of Adventure Time, but when he yells about being a stone cold killer – he might well be telling the truth. It's strange testament to our one-eye-blind, schizophrenic society that Tekashi's every action can be turned into a running joke: even his conviction for "using a 13-year-old in a sexual performance" is just fodder for the meme machine in 2018.
Inevitably, flocks of fans will be drawn to 6ix9ine's criminal authenticity and playful idiocy, while others will find him utterly repellent.  At the end of the day, he is supposed to musician and it is his debut album, DUMMY BOY, that we are here to judge. Tekashi is not without merits as a rapper. He made his name with an onslaught of hyper aggressive, surprisingly addictive, gutturally yelled verses. The one-two punch that opened his mixtape, Day69: Graduation Day, showcased 6ix9ine in his best light. "Gummo" is menace incarnate, a brooding corner crawler: where the rapper's wild eccentricities are terrifying, conjuring the image of a man who'll pull the trigger as the result of bizarre twitch or spasm. "Billy" was, somewhat implausibly, an even more direct statement of artistic intent: "These niggas said, "Heard of me?"/I ain't heard of you/Get the fuck up out my face, 'fore I murder you".
It's hard to deny Tekashi when he rampages all-over a beat with murderous glee. His subject matter might be reductive (death and sex), but he has a real knack for syllable play, finding crafty and unexpected rhymes by using his Latin tongue and throat shredding shouts to massage vowel sounds. There is a world in which DUMMY BOY is a 10-track 25-minute assault on the eardrums: hip hop's hit making answer to hardcore punk, but that's not what we get here. Instead, 6ix9ine has opted for a more expansive and inclusive approach.
DUMMY BOY is refreshingly brief (it clocks in at 34 minutes), but this is undoubtedly an attempt to migrate from the meme-o-sphere to the mainstream. Tekashi chases every trend going – most notably the Latin rap craze Cardi B's "I Like It" helped to kick start and Travis Scott/The Weeknd's blurry, submerged, emotionally ambiguous soundscapes. Not only that, but the self-styled murder king of New York is attempting to soften his image with "thugs need love" singles ("FEFE"), brain-dead bangers ("STOOPID") and some honest-to-goodness crooning ("MALA").
Believe it or not, for half an album Tekashi just about pulls it off. Album opener "STOOPID" might be a poor relation of "BILLY", but it is a triumph all the same. Riding a buoyant seesaw beat, 6ix9ine recklessly unleashes every ounce of exuberance and each idiosyncrasy in arsenal on the party jam to end all party jams. The song is infinitely meme-able: Tekashi fans the flames of beef ("That nigga Ebro he a bitch, just another old nigga on a young nigga dick"), goes absolutely wild on ad-libs (he literally blurts "Dumb-Dumb-Dum-Dum-Dum-Dumb, STOOPID" in staccato) and, to top it off, he has Bobby Shmurda on the phone from jail for a guest verse. Like it or not, the track is an utterly abhorrent triumph of bad taste.
"FEFE" and "TIC TOC" are less original and more transparent in their aims. The former is a spacey brooder. Part seduction, part insomnia and part explicit threat; it feels like an attempt to ride Travis Scott's coattails, until Nicki Minaj cleans the track up with colorful lesson in alternating internal rhyme. "TIC TOC" is more straightforward: using a dated, but nevertheless lovely, looped guitar lick, the track thrives on its low-key bounce. Both efforts fall short in terms of innovation and edge, but if Tekashi want to prove that he can exude control as he plays both loverman and luxury brand brag rapper, then mission accomplished.
The album is more hit than miss, (and also more interesting) when Tekashi juxtaposes his trademark intensity with these smoother surroundings. On "WAKA" and "KIKA", A Boogie Wit da Hoodie and Tory Lanez supply slick mainstream hooks before 6ix9ine shows up with lyrical kerosene and a handful of lit matches. His opening verse on the cuckhold revenge fantasy "WAKA" is hilarious abrupt. There is literally no warning, we drop from smooth chart rap to shots ringing out and a madman roaring: "BOOM! Give me some room, I'm trying to shoot/BOOM! Everybody running out the room/BOOM! Everybody begging not to shoot!/BOOM! Nigga who asked you?"
There's no doubt that this album was rush released as a whole host of the tracks feel under produced and thrown together. Kanye West's two guest spots typify this half-arsed-but-having-fun vibe that permeates DUMMY BOY. "MAMA" is a clear standout thanks to squirrelly Murda Beatz production that sounds like an alien antennae being retuned in search of an ever illusive frequency. Nicki's closing verse and chorus are a riot of basketball references, subtle shots at the industry ("I ain't never had to give a rap producer head") and goofy jokes ("Got 'em coming, roger, roger, dispatch"). Kanye by comparison is far less professional, but that's part of the fun as he throws out some bafflingly trashy lines ("Man oh my god, she instagram famous, but she can't keep a job…Man oh my god, she ubered to a nigga with no car").
"KANGA", on the other hand, is an undoubtedly bad song, but it's still an absolute riot in its own way. Rocking a beat that can only be described as a lowkey-Life-Of-Pablo-shuffle, Tekashi and Kanye exchange lines and laughs: "They try and say I ain't black no more, about as black as Macklemore", 6ix9ine replies, "They don't like me because I'm Mex-i-can, they sent me back and I'm back again". It's a sloppy mess and some of Tekashi rhymes are inexcusably awful ("Bang bang bang and a chicken wing, bitch"), but at least "KANGA" feels like an honest-to-goodness 6ix9ine single. On far too many occasions he feels like marginalized guest vocalist on his own LP.
Unsurprisingly, it doesn't take long for DUMMY BOY to come apart at the seams as the back end of album rapidly descends into outright failure. The two Latin cash ins featuring Anuel Aa are painfully unoriginal, tedium inducing, mid-tempo pseudo ballads that recall the worst excess of 90s pop. Except, of course, this is 2018 so we have to employ droning and unnecessary auto-tune while yelling torrid attempts at adlibs. Tekashi isn't bad by any means as he attempts to shimmy and bounce atop the beat, but any edge or personality he may have had is subsumed by transparent trend chasing. "BEBE" is almost painfully pleasant, while "MALA" at least has a hint of edge and sexuality, but is ruined by Anuel Aa. Yes, baelieve it or not, Tekashi actually out performs the professional with his Spanish language quasi-singing. There is an intriguing air of the Cuban king pin to these tracks, but they are far too bland.
"TATI" ups the aggression level as it veers between an unpleasant supposed seduction and some brutal pot shots at his followers turned haters. "WONDO" tries to up the homicidal ante, but, by this point, the death threats are numbing – especially when paired with a party hardy and gibberish laden chorus. Still, at least they have more life than the indebted slowees "FEEFE" and "DUMMY". The tracks have their merits, but they wear their influences on their sleeves. Sadly, as the tracks aspire for subdued maturity, they only succeed in inspiring drowsiness.
Ultimately, Tekashi69 attempt to wrap his maniacal murder raps into a shiny mainstream package falls short. There are undoubtedly moments where his energy and intensity breathe new life into old structures, but more often than not the rapper is subsumed by chart-friendly pandering and is left feeling like an unwelcome guest on his own album. While he should be commended for taking risks and broadening his horizons, we must remember that there is value in conceptual clarity and playing to your strengths. DUMMY BOY, when all is said and done, will be neither a critical success nor a commercial failure – instead, it's a just-about-good-enough meme of world conquering proportions.
5.5
The final score: review Not So Good
The 411
Tekashi69 doesn't exactly tone down the murder rap schtick, but make no mistake, DUMMY BOY is a mainstream land grab and a bid for superstardom that extends beyond YouTube and Twitter. For half an album, he makes an excellent fist of it, blending outlandish intensity with catch hooks and big name guest verses. Sadly, it soon unravels amid an onslaught of bland imitations, empty threats and half arsed productions.
legend