A Star Is Born Official Soundtrack Review
October 6, 2018 | Posted by
A Star Is Born Official Soundtrack Review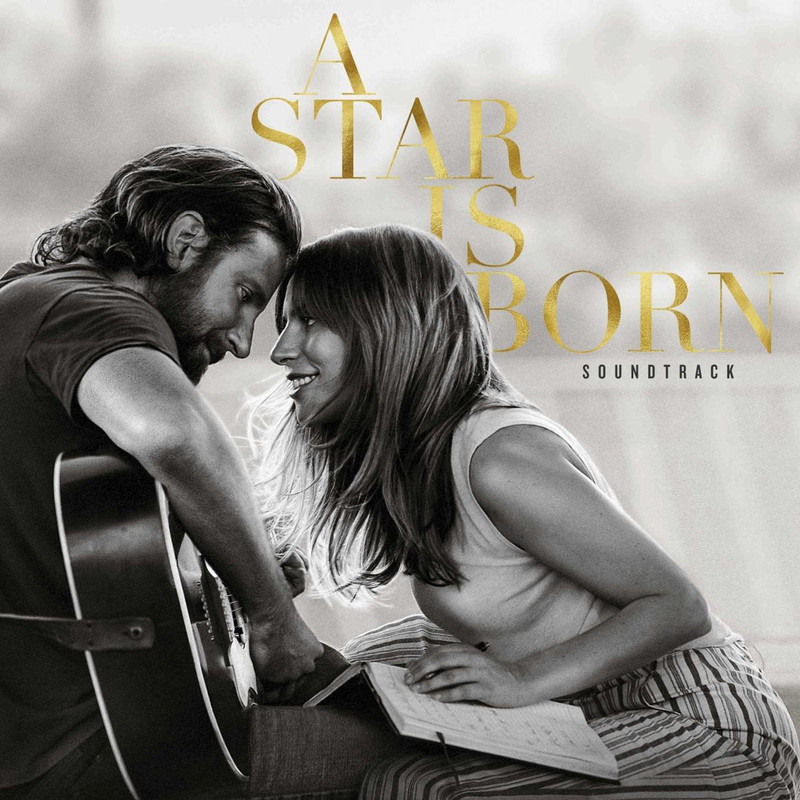 1. Intro – Cast
2. Black Eyes – Bradley Cooper
3. Somewhere Over The Rainbow (Dialogue) – Cast
4. Fabulous French (Dialogue) – Cast
5. La Vie En Rose – Lady Gaga
6. I'll Wait For You (Dialogue) – Cast
7. Maybe It's Time – Bradley Cooper
8. Parking Lot (Dialogue) – Cast
9. Out of Time – Bradley Cooper
10. Alibi – Bradley Cooper
11. Trust Me (Dialogue) – Cast
12. Shallow – Lady Gaga, Bradley Cooper
13. First Stop, Arizona (Dialogue) – Cast
14. Music To My Eyes – Lady Gaga, Bradley Cooper
15. Diggin' My Grave – Lady Gaga, Bradley Cooper
16. I Love You (Dialogue) – Cast
17. Always Remember Us This Way – Lady Gaga
18. Unbelievable (Dialogue) – Cast
19. How Do You Hear It? (Dialogue) – Cast
20. Look What I Found – Lady Gaga
21. Memphis (Dialogue) – Cast
22. Heal Me – Lady Gaga
23. I Don't Know What Love Is – Lady Gaga, Bradley Cooper
24. Vows (Dialogue) – Cast
25. Is That Alright? – Lady Gaga
26. SNL (Dialogue) – Cast
27. Why Did You Do That? – Lady Gaga
28. Hair Body Face – Lady Gaga
29. Scene 98 (Dialogue) – Cast
30. Before I Cry – Lady Gaga
31. Too Far Gone – Bradley Cooper
32. Twelve Notes (Dialogue) – Cast
33. I'll Never Love Again (Film Version) – Lady Gaga, Bradley Cooper
34. I'll Never Love Again (Extended Version) – Lady Gaga
A Star Is Born is already a resounding critical and commercial success at the box office, but there is no guarantee that the songs that moved audiences to tears in theatres will thrive on record. With its stars physical charisma and chemistry removed, this collection must succeed on the strength on Bradley Cooper's vocal performance and Lady Gaga's songwriting nous alone.
Then again, it's not quite that simple. Next to no one will buy this album without having first seen the movie and, unsurprisingly, it proves completely impossible to detach these songs from the scenes and themes of the motion picture. The team behind the soundtrack's release are keenly aware of this fact and go out of their way to blur the lines between mediums: whole scenes and exchanges from the film are interspersed throughout the recording making the album a mini-cinematic experience in its own right. The listener walks on stage with Bradley Cooper during the intro and we sit in Lady Gaga's place on the outro as Sam Elliot (Cooper's on screen brother) imparts his words of wisdom.
This is a shrewd move, as the soundtrack becomes part of the expanded A Star Is Born universe; ensuring that these bombastic, MOR-orientated tracks are bolstered by all the subtext and subtle tensions of Erith Roth's screenplay. Of course, for all the benefits this blurring of the lines reaps, there are still moments when the song writing is painfully on the nose.
"Why Did You Do That?" is the worst offender. Performed on Saturday Night Live, it proves a key turning point in the film's plot as a fissure opens up between the main characters. Jackson Maine (Cooper's drunken country-rock purist) is disgusted by his wife's, breakout pop star Ally (Lady Gaga's), glossy pop performance. She has sold out in her husband's eyes, but in reality he's just an old rockist who has never actually heard Ally's music performed on her own terms. Instead, he's arranged and interpreted her lyrics from day one, moulding her in his idealised image. He believes Ally has succumbed to label pressure and forsaken the imagined "authenticity" of rock. Ally is infuriated by his reaction. She has not sold out, she is expressing her autonomy as an artist: she just so happens to be shattering his illusions in the process.
That's some heady stuff, as the emotional sands of the core characters subtly shift before our eyes. The trouble is, to convey this, the lyrics have to be so unbelievably obvious that everyone in the cinema gets it: "why do you come around me with an ass like that?" is a knowingly appalling line. Trouble is, when you're alone with your earphones, these intentionally obnoxiously lyrics fall flat, no longer serving their purpose. Luckily, Gaga's vocal performance is supercharged and the tropical house flourishes mixed with a deep growling bassline actually makes for a banging pop tune – it's just a shame they had to intentional sabotage the song's opening to highlight a plot point.
This is a recurring theme throughout the LP. The lyricism is at times heart-breaking and, on rare occasions, wonderfully nuanced ("Shallow"), but more often than not it's strangely instructive, spelling out exactly what the characters are feeling and doing in the prior or subsequent scenes. This would be a deal-breaker, were the album not going so far out of its way to faithfully recreate A Star Is Born's narrative (the entire album plays out chronologically, even filling in some missing scenes).
The other big question mark lingering over the album is Bradley Cooper's vocal performance. Is his voice strong and distinctive enough to carry half of the LP?  The answer is a resounding yes. His tone isn't rich, nor is range impressive, but he does have just enough gravel and charisma to carry spacey stadium rockers like "Black Eyes" (a real Neil Young meets Velvet Revolver sleaze-'em-up). He truly flourishes on the ballads where he's either bolstered by Gaga's backing or free to exude his movie star charm, as he does on the delicate Jason Isbell penned ditty "Maybe It's Time" (it's a real shame Isbell didn't get the chance to pen more than one of Jackson Maine's "hits").
Now we have to be honest with ourselves, despite the impressive co-writing crew, would we really stomach these at times offensively safe compositions were they sung by, say, Celine Dion and Blake Shelton? Lady Gaga's work is usually far more thoughtful and brazenly creative than anything that features on this LP and if Brad Paisley (for example) dropped "Albi", I'd undoubtedly praise its earthy crunch and sauntering barroom rhythm before eviscerating its colorless verses. Still, when it comes to A Star Is Born my knives are blunted. These songs are intrinsically linked to the travails of Jackson Maine and Ally. They might be designed to deliver paint-by-numbers bombast that connects in 90 seconds, but who could possibly care when the playing is so ambitious and the performances so undeniably imperious?
It's has to be said in no uncertain terms: Lady Gaga is phenomenal. Her key changes are utterly devastating throughout. On the "Shallows" she pulls off the trick, not once, but twice in quick succession: octaves jump, pride swells and hearts break. "Before I Cry" is a bulldozing ballad that barely features in the movie and feels like a paint-by-numbers wallpaper-stripping ballad before an unexpected high-note is held to perfection. The album closer (whose name practically spoils the film) and the magnificent "Is That Alright?" should send Adele and her ilk running for cover. This entire album is a warning shot across the boughs to big room balladeers everywhere.
Lady Gaga's vocal is so strong and so pure she can master practically any genre and A Star Is Born makes it unmistakably clear that, if she wanted to be this generation's premiere stadium-sized-balladeer, she could run up on Adele, snatch her chain and claim the throne without a second thought. The same is true of classic 70s style widescreen rock. Lady Gaga has always had a voice better suited to the preposterous rock of yesteryear and "Always Remember Us This Way" shows that, if she wanted to be a female Freddie or Meatloaf, she could. This all might sound a little hyperbolic, but it's hard to overstate Gaga's ferocious vocal power on this largely unadorned showcase suite.
The film has, rightly, been interpreted as an allegory for Lady Gaga's own career, but the metaphor shouldn't be taken too far. Gaga is not some industry puppet; she's been in control from day one. Every cringe worthy pratfall and bad taste decision has been her own. For years critics have wondered aloud, "if only Gaga would strip it all away and be herself, imagine how great she'd be?" But that line of thinking entirely misses the point: she is being herself. A Star Is Born's "naked authencity" is the artifice. This neutered, safe and classically controlled collection of songs might be co-written by Gaga, but they are not the genuine article. For better or worse, this is the least queer, most impersonal and conventional performance of her career to date. So enjoy it, but don't misunderstand it.
The 1970s are certainly the key touchstone. Even on the more modern pop compositions, there is a strong vein of companionship, stability and contentedness that feels entirely alien in a world dominated by the muddied anxieties of Post Malone, 21 Pilots and Drake. So much of this album is dedicated to the art of cherishing and being cherished – and it's frankly refreshing. "Music To My Eyes", "Always Remember Us This Way", "Is That Alright?" and, even, "Hair Body Face", have far more in common with The Stylistics than, say, Selena Gomez or The Killers.
The end result is a curio. An album entirely out of time: full of stainless steel ballads, straightforward arena rockers and delicate duets whose bizarrely literal lyricism is paired with devastatingly poignant vocal performances. There is an uncomfortable bigness to it all, best captured on Lady Gaga's "La Vie en Rose" (the performance that effectively won her the part).  Her virtuoso vocal soars, cascades and swings wildly; a charisma rich thrill ride ensues, but the whole affair proves about as subtle as a battering ram. Is it really the kind of reading of a sultry classic that you'd want to hear on your headphones over and over again? Perhaps not, and yet, its hard to deny the way time seemingly stands still as Gaga stalks the smoky Parisian streets of yesteryear. And that is A Star Is Born in a nutshell: big and undeniably obvious at times, but devastatingly effective all the same.
7.5
The final score: review Good
The 411
The lyricism might be strangely literal and the compositions may tact towards the middle of the road, but the ungodly powerful vocal performances of Lady Gaga and the rootsy charm of Bradley Cooper prove impossible to deny. Would these songs receive rave reviews if sung by Celine Dion and Blake Shelton? Probably not, but this collection has been thoughtfully entwined with the motion picture ensuring each track carries a depth of poignancy not present on the lyric sheet alone.
legend