August's Biggest Albums Reviewed: Metallica's S&M2, The Killers, More
September 11, 2020 | Posted by
Another month has come and gone and it's time to catch up on all the hottest releases from August, the month that typically marks the end of the music industry's summer cycle and festival season more broadly. Obviously, this summer was like no other, but thankfully Covid hasn't slowed the influx of new releases too greatly.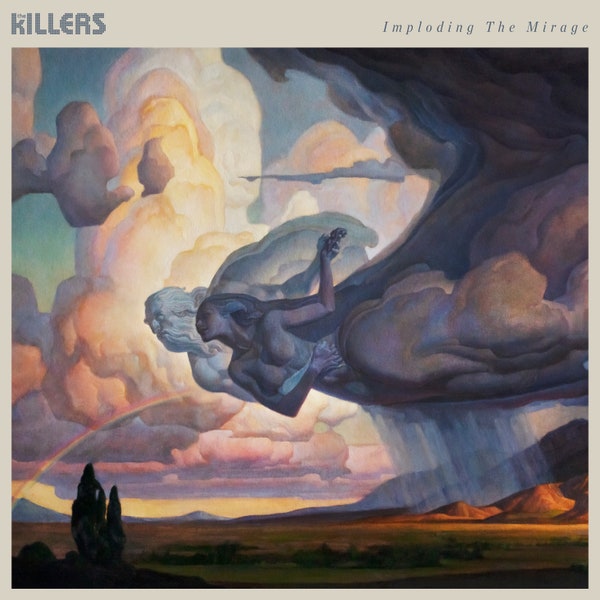 The Killers – Imploding The Mirage
Genre: Indie Rock
Fittingly, Imploding The Mirage concludes with a series of standalone aphorisms that hit ungodly hard as Flowers, yet again, sets his sights on a life wasted merely getting by: "Guess it comes with age, you start to worry about the time theft, how much of it you got left". The Killers' key revelation is delivered in a delightfully daffy fashion. Over a slice of cod-calypso the band cry "WE'RE ALL GOING TO DIE" before Flowers soulfully sweeps in with an eternal truism: "but when they're closing up the door, nobody wishing that they worked more". Having promised to stand by their lovers' side as death approaches, The Killers decide to close the album with its farcical title track. Flowers skips and soars through a verse full of all his most hare-brained rhymes before ploughing headlong into a chorus that sees the singer going bigger and bigger and bigger still in search of a suitably theatrical crescendo. It's a ridiculous slice of escapist cheese, but knowingly so.
What to make of an album that is preposterously ambitious, both badly and brilliantly written, big on heart but light on detail and, what's more, a Killers record with no killer singles? Well truth be told, as a start to finish experience, it is by far and away the band's best work. Imploding The Mirage is a headrush of showmanship from an unflappable frontman backed by a band willing to blend the even most ill-advised of sounds into an All-American tapestry. Individual songs might be lacking in nuance and heavy on worn out tropes and gift shop clichés of Americana, but the album of as a whole speaks profoundly to escaping the norm and standing resolutely by your lover's side to his or her dying day. The blending of European indie and dance influences into the world of Springsteen and Kristofferson is utterly thrilling, ensuring that the compositions may have the subtlety of a wrecking ball, but they are unwritten by a surprising diversity of sound. The Killers, perhaps for the first time, can stand as true album artists having produced a compelling and searing 42-minutes of music that rewards repeated start-to-finish listens and defies either shuffling or playlisting. [8.0] Read The Full Review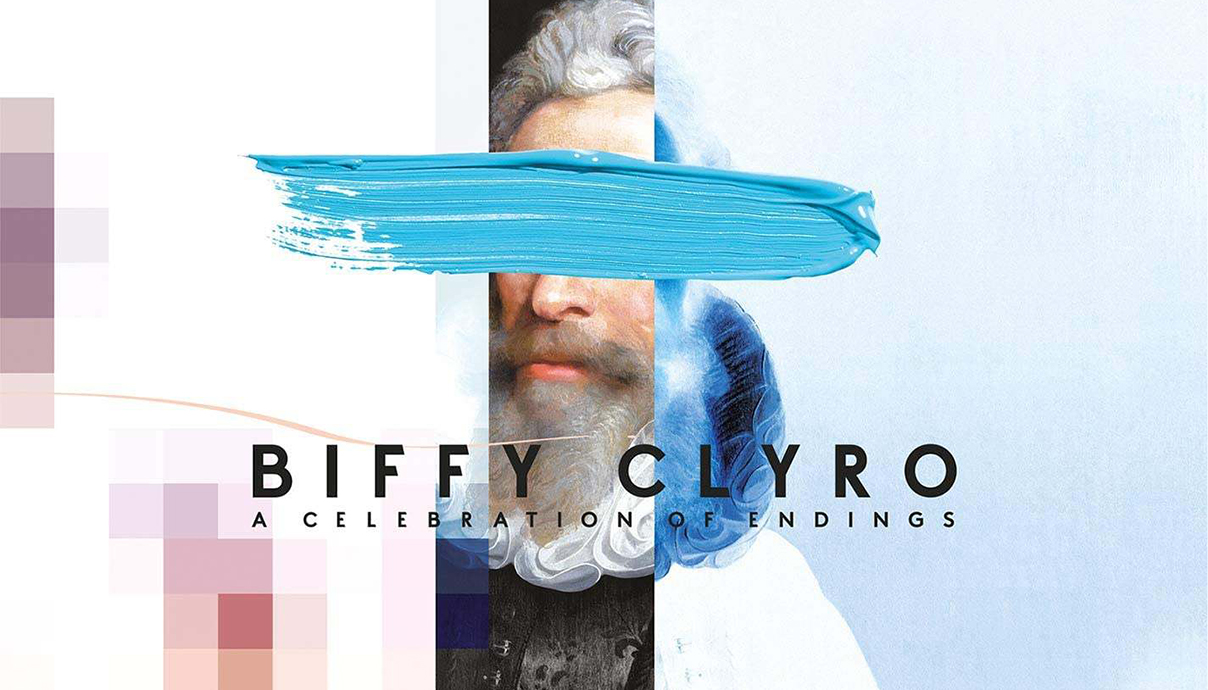 Biffy Clyro – A Celebration Of Endings
 Genre: Rock
If there is a worry that Neil can no longer muster a poignant ballad in the mould of "Machines" or "God & Satan", then "Opaque" goes someway to allaying those fears. Neil tenderly addresses a relationship with an oblivious and scornful partner who has no idea how hurtful their actions prove to those around them. The track is anchored around the curt and dismissive snarl masquerading as a hook: "take the fucking money and run". Unfortunately, on an album defined by bold compositional gestures, when it comes time to climax this vulnerable and wounded anthem Neil opts for a wishy-washy and repetitive fading outro ("These walls are closing in"). This is a tendency Biffy have often succumbed to in the years since "Biblical" became a radio hit in the UK.
A Celebration Of Endings leaves a strange taste in the mouth. It is a resounding return to form that expands an already ambitious band's horizons while serving up 45-minutes of infinitely listenable, headline worthy rock, but it is also an album that routinely misses the mark. The ballads are a little too flat or one note, the lyrics are fleetingly thrilling (and always thoughtfully composed) without cutting as deep as they once did, and the band's newfound compositional attack deserves to be let off the leash more often. The result is a nearly, but not quite record that shows of Biffy's depth of talent and considerable ambition without reaching the highest of heights. Nevertheless, A Celebration Of Endings represents a pathway between the dangerous extremes of crowd-pleasing smultz and experimental naval gazing. With a little refinement and few harder hitting hooks Biffy Clyro will effortlessly regain their title of Britain's most intriguing mainstream rock band. [7.0] Read The Full Review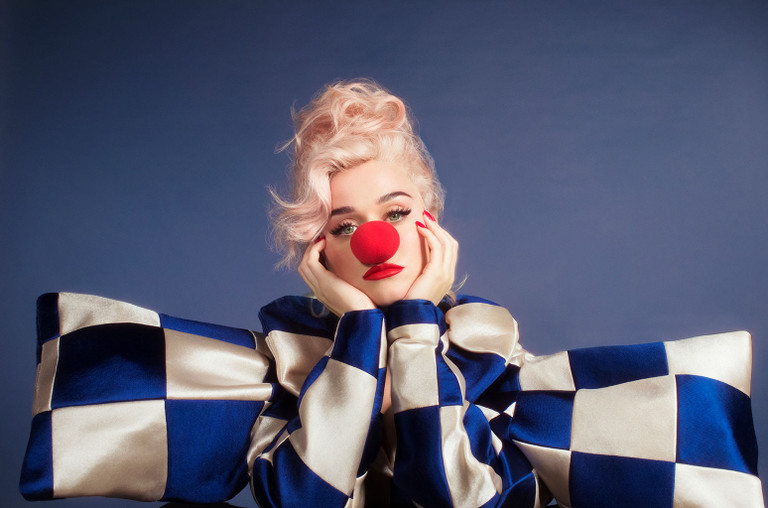 Katy Perry – Smile
Genre: Pop
It could be argued that Katy Perry is a shrewder and sharper hitmaker than woman of the moment Halsey. Few would dare question Perry's pop chops or her ability to inject melody into practically any composition, but, for all her crafty catchiness, Perry's music often feels hollow. Smile sees Perry stride headlong into Halsey's world of damaged and self-theraputic pop music and, while the album does represent a modest return to form after some pandering and misguided efforts to chase the zeitgeist, it nevertheless showcases how far Perry has fallen behind the younger generation. Halsey, for all her songwriting faults, lives with her heart on her sleeve. Her albums are brazen and blood-soaked, Perry's attempt at radical vulnerability, by way of comparison, feels safe and frustratingly controlled.
There are moments when Perry's pop nous is too sharp to be denied – "Never Really Over" plays at understatement, but is jam packed with subtly layered hooks. In fact, even the more trite efforts (the bland lilt of "Harley's In Hawaii" or Facebook status philosophising of "Resilient") are unwritten with deft choruses destined to imbed themselves in your subconscious. The trouble is less the parts and more the sum. Smile feels vacant and undercooked. Every aspect of the album is pleasant, accessible and borderline tasteful, but where is the bite? Where is the trauma? The music is too pedestrian to be truly zen and too poppy and well nature to speak to the deepest of wounds. "Cause I died every winter, but survived all the weather. Look at me now I'm in full bloom", Katy should certainly celebrate her emotional recovery and no one throws a Technicolor party quite like Perry – and yet, Smile settles for an unsatisfying mid-tempo, innocuous, not-quite angry, not-quite happy middle ground. If the lyric sheet cut a little deeper or rung a touch truer she might have pulled off this insipid halfway house, but as is, Smile flounders. Nevertheless, while Perry may lack direction and edge, she certainly doesn't lack for versatility. She can craft chart ready pop out of any soundscape be it the sweet unguarded pop-country of "What Makes A Woman" or the elastic club-meets-Kanye grooves of "Champagne Problems". [6.0]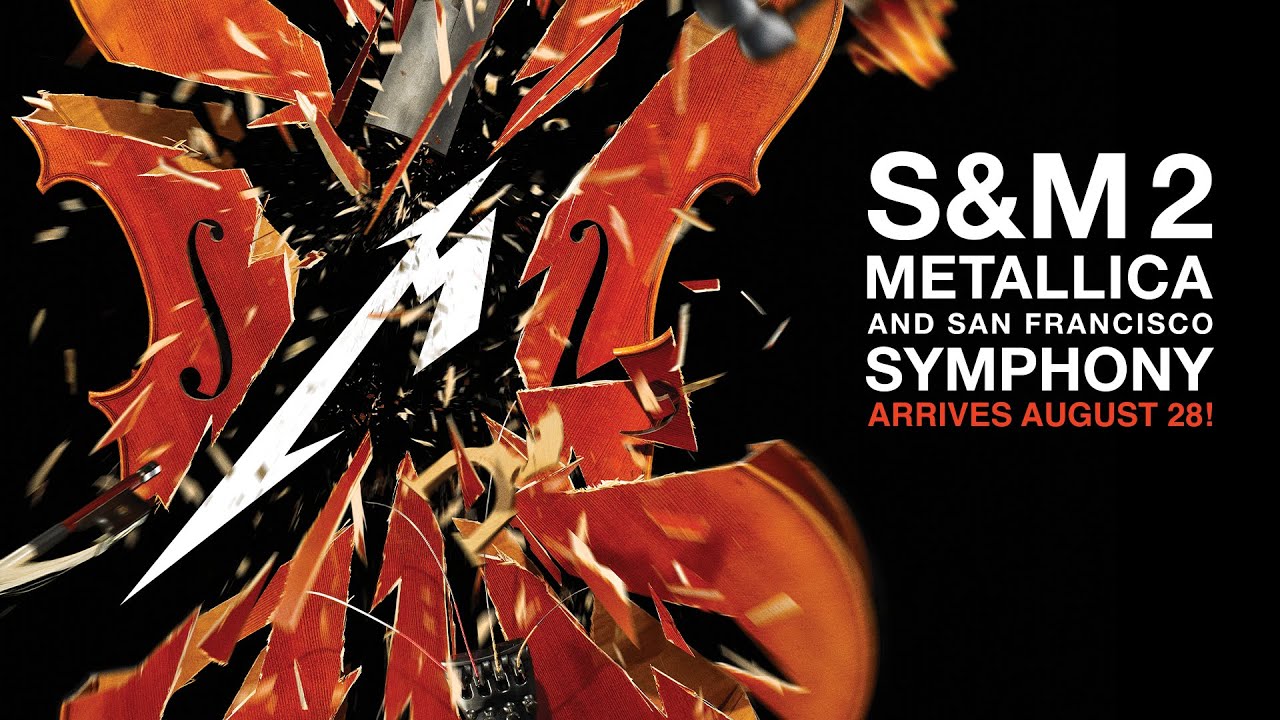 Metallica – S&M2
 Genre: Metal/Live
On paper S&M2 seems rather redundant, a rehash of a wonderfully enjoyable novelty of yesteryear, and yet, here we are. The Bay Area thrash icons Metallica teaming up once again with San Francisco Symphony to reunite the worlds of metal and classical music, if only for one night. Why bother exactly? Well perhaps, as Metallica have grown less innovative and less comfortable in the studio, they can better express their growth as heritage headliner by revisiting their most preposterous moment of classic rock egoism. S&M2 is (somewhat impossibly) bigger, bolder, more preposterous and more theatrical than its predecessor. Backed by a feverish crowd ready roar both the thrash and classical behemoths into action, S&M2 is imbued with a farcical momentum as Lars Ulrich's crashing cymbals stalk the terrified woodwinds and Kirk Hammett's squealing guitar sits atop a towering wall of portentous strings.
Metallica remain the headliners, but the Symphony are afforded plenty of scope for reinterpretation. At times this leads to Bond movie camp ("The Call Of Ktulu" is wilfully over the top), but in other moments the layers of instrumentation add a sense of narrative peril or crooked foreboding lacking in Metallica's raw muscularity. At times the more is more ethos feels rather redundant, "For Whom The Bell Tolls" and "Enter Sandman" feel like throwaway flexes rather thoughtful re-imaginings, but it is hard to deny the delight of hearing the Symphony wind around the spiral staircase contortions of Prokofiev before Metallica join them on futurist machinations of Mosolov's "The Iron Foundry". Who is this for exactly – other than diehards? Who knows, but if you ever wanted to see James Hetfield recast as Maleficent then S&M2 might be your one and only opportunity. [7.5]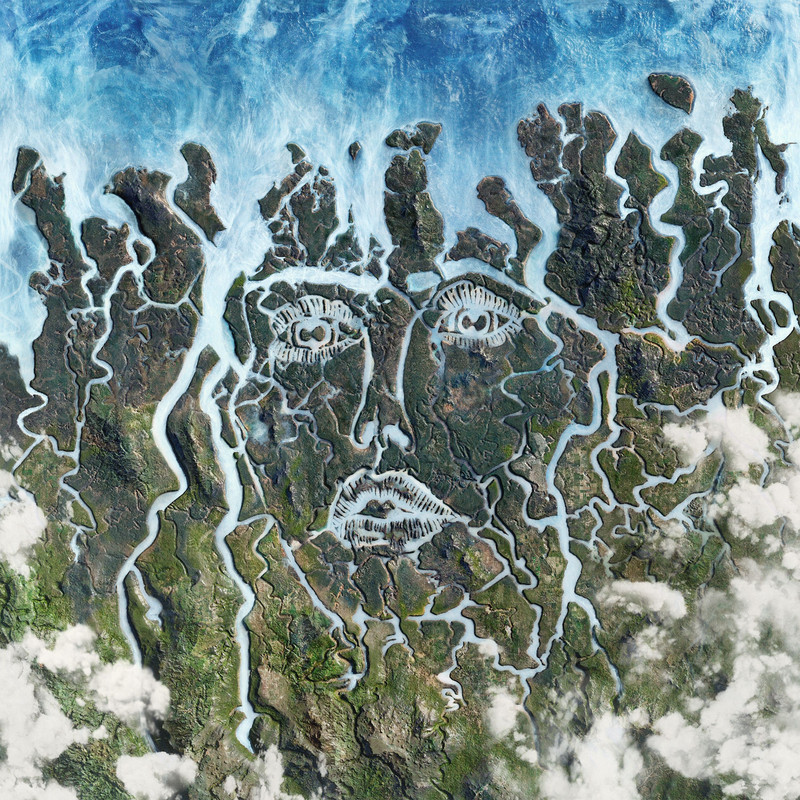 Disclosure – Energy
 Genre: Dance
The UK has always been obsessed with dance music, but in the 2010s it was just like starting over as an entire nation fell in love with the steely and synthetic sounds of our city's streets all over again. The journey that started with FWD and post-dubstep seemingly culminated when two brothers, Guy and Howard Lawrence led a mainstream house revival. The hybridization of the UK's DIY past and digital future (with all its eerie urban isolation) had seemingly come full circle. By the decade's end clubs would be bumping to cheesy garage, drum and bass and house throwbacks that put nostalgia on a pedestal having seemingly abandoned innovation.
Where did this transformation leave Disclosure? Seven years removed from the incendiary Settle and their iffy A-list victory lap, Caracal, comes Energy: an album that seeks to recapture the raw house energy of the former while making the best use of its prodigious guest stars. There is certainly more thought behind the features. Channel Tres is a fit natural for the deep house scene, reminiscent of Frankie Knuckles, Tres offers sordid seduction: he is almost too intense and insistent, but his vocal remains perfect for working it out on the floor. Elsewhere, Disclosure seek to move away from the mainstream and recapture the cutting edge features of their debut. Slowthai is an inspired choice of guest on "My High". His anarchic energy breaks the strict rigidity of Amine's hook and loosens up a taut and controlled offering. Fatoumata Diawara is unexpected surprise; her singing is serenely pitched even if the bruising club production does its best to normalize her anti-synthetic vocals. Kehlani and Syd are perhaps the cream of the crop, because they force Disclosure to operate at their chopped, screwed and soulful R&B tempo. This shift from European to American norms is more than welcome, Disclosure are such ardent students of house music history and have so successful created their own niche that they have become predictable. The American R&B and rap scene remains unhinged in all the best ways and hearing the Lawrence brothers working their thick blasts of bass around the slow grind of Syd's two-step is thrilling – both a technical challenge and an unexpected detour.
Energy never, not for one second, puts a foot wrong – and therein lies the problem. Disclosure are too tightly coiled. The brothers' perfectionist streak has led them to create a torrential club mix, but one with little room for deviation, let alone danger. Energy does experiment, not least with its choice of features and soundscapes, but there is a feeling that almost any voice and sound will be hammered into Discolure's future-classic house template. It's very good for what it is, but in the words of Mike Skinner, lads, "let's push things forward". [7.0]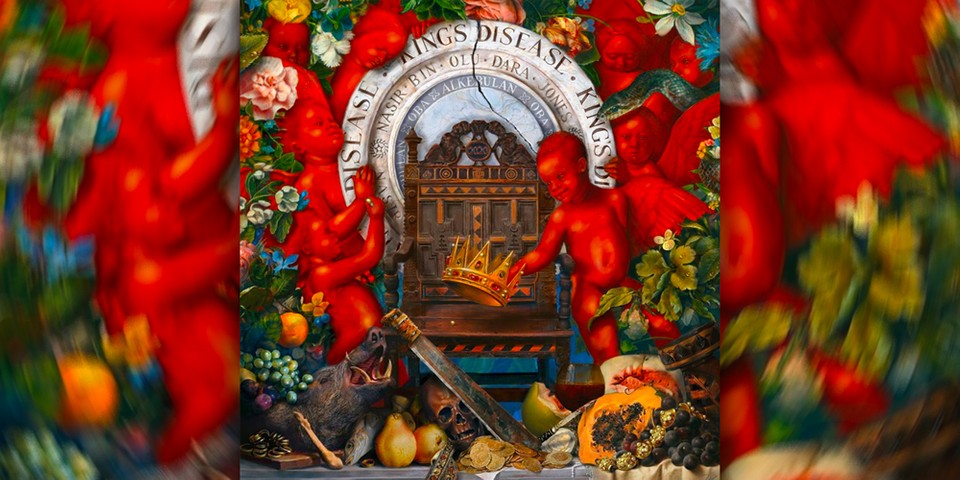 Nas – Kings Disease
 Genre: Rap
Heavy is the head that wears the crown. Across two three decades Nas has born the weight of being New York City's heart and soul. Every glimmer of rejuvenation or thoughtful introspection turn is ravenously received by a generation of conscious rap devotees, while each brutally embarrassing flop cuts ungodly deep. Nas openly admits to feeling weighed down by his own legacy: Illmatic, aka his iron lung. In this light, Kings Disease feels like a lurch backwards towards the glory days, but given Nas' struggles to modernize, the idea of allowing Hit Boy to handle to the sonics while he puts his hood up and his head down to rattle off reams of rhymes feels strangely comforting. As a result, the choruses and guest features feel strangely detached from the star himself, but in a cultural moment where Nas' voice feels essential, he is ready to capture both sides of the coin when it comes to the black experience.
"Ultra Black" is the buoyant throwback hit that stands as a celebration as blackness, not merely as beauty, but as a culture that has conquered every corner of the globe (from Ed Sheeran to BTS). "King's Disease", on the other hand, acknowledges the baggage that must be overcome ("can I floss without you wanting me outlined in chalk?"). Nas admits to finding comfort in nostalgia as he comes to terms with his legacy, not as a revered great, but as a flawed human being who keeps on living and must endure both failure and fading relevance: "the markets see you as an old-ass artist. The McCartneys live past the Lennons, but the Lennon's the hardest". Truth be told, Nas is an old-ass artist and King's Disease is an old-fashioned record, light on new ideas, but overflowing with rekindled bravado and political outrage that respects neither left nor right: "Our youth is dead, they call us superpredators. Stupid words from the president's mouth, where are his editors?"
Nas has been revitalised via righteous anger and self-love. King's Disease is not a reinvention let alone a revolution, but it is a reminder of his prodigious talent. [7.5]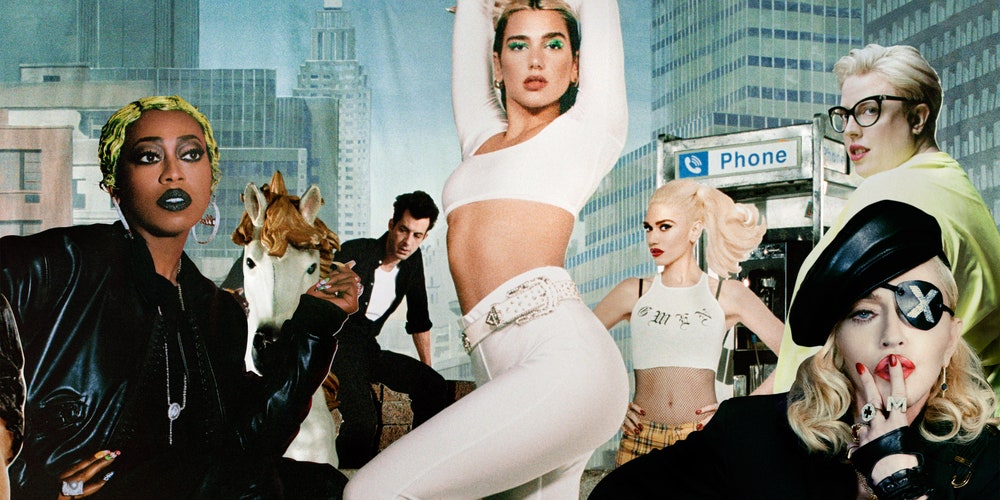 Dua Lipa x The Blessed Madonna – Club Future Nostalgia
 Genre: Dance
Future Nostalgia was an absolute triumph: Dua Lipa's ungodly danceable, headstrong, good sex loving, bad ex dumping, album of the year contender. Suffice to say the world took notice. Lipa's name was on all the right lips and hipster club icon The Blessed Madonna decided the album was ripe for a proper club ready remix. For a generation of fans raised on YouTube playlists – possibly too young for the European style club scene to truly resonate – the entire concept of a club mix seemed bewildering. There are comment sections flooded with complaints about Dua ruining her legacy – as if these remixes where somehow superseding the originals.
Hopefully they'll one day understand. Future Nostalgia is a start-to-finish experience in its own right, but Club Future Nostalgia is something else entirely. The Blessed Madonna has cultivated a long migratory mix: a MDMA friendly journey to the heart of the dancefloor. The original Future Nostalgia did a wonderful job of depicting sordid seduction in the heat of the moment through narrative and melody, but the remix album is the real deal: beats to make your body sweat and collide haphazardly with an array of mysterious strangers. The Blessed Madonna's curation is wonderful. She's wrangled indie icons past (Joe Goddard) and present (Yaeji) to bring a blend of silky smoothness and alien refraction. Dua Lipa's voice remains ever present and she proves the perfect vessel for dance culture. Her vocal takes might have been intended for pop immediacy, but her accent melts deliciously into these tropical, funk and house workouts respectively. [8.0]
Kelly Lee Owens – Inner Song
 Genre: Electronic
Talk about exuding confidence. Kelly Lee Owens is an electronic artist who both knows no boundaries and has the clearest and tightest sense of control over her burgeoning artistic vision. Owen's has crafted a haunting and hallowed collection that thrives on these heavenly ripples of unguarded introspection. That's not to say Inner Song is a tone poem – if  "On" doesn't kindle your desire to dance then there is something deeply wrong with you – instead the album is content to stew and luxuriate in unease even as the pitch shifts and the bpms ramp up and tamper down. Inner Song feels like a coy flirtation, the listener is being pulled in three seemingly contradictory directions: there is the desire to give into the groove, the eerie air of avant garde alienation ripped right out of Yoko Ono's playbook and songwriter's desire to sit alongside her audience and let them into her malaise. At times it's tempting to wonder who exactly is Kelly Lee Owen's listenership? Is Inner Song an album for the XOYO-style sweatboxes of our cutting edge metropolises or is this a work, like that of Bjork and Arca, to be admired at MOMA? It is both and much more besides, in part because Kelly Lee Owens refuses to standstill sonically speaking. Her sands shift, she remains constant. In this sense she is like the therapeutic mirror image of Fever Ray, where Karin Dreijer terrifies and unnerves, Owens creates glorious mirror chambers of relaxation. Inner Song is shot through with urgency and wonderfully tight progression loops, but it is never rushed. Owens understands the value of a journey in sound – and Inner Song is an album worthy of total submersion. [8.5]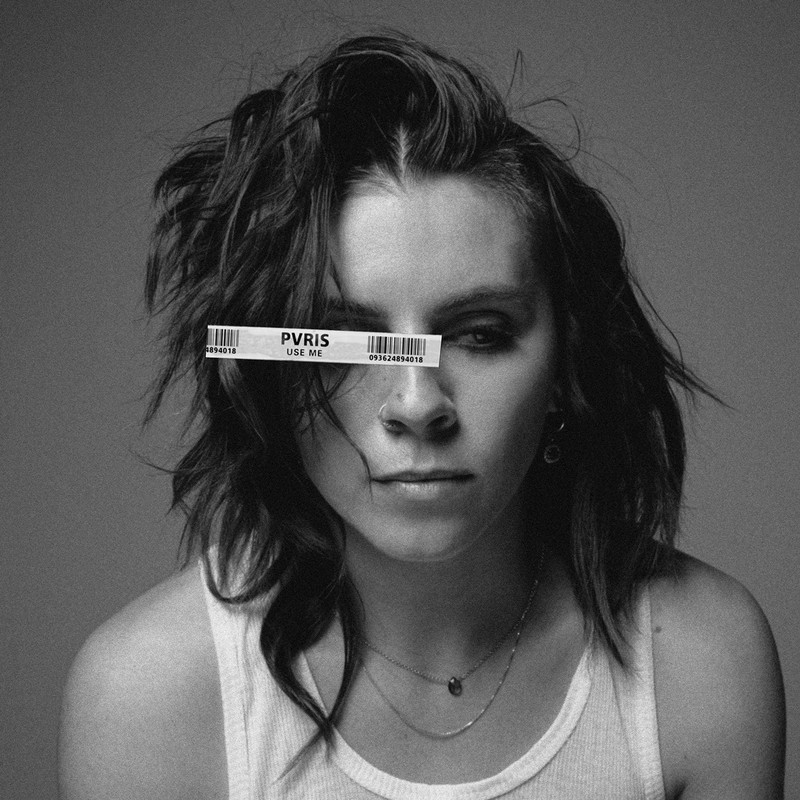 PVRIS – Use Me
 Genre: Synth Rock
Pvris are a band in name only. After releasing albums and EPs as a collective, frontwoman Lynn Gunn revealed that she was in fact the writer, composer, producer and instrumentalist behind every inch of Pvris' sound. As such, Use Me's onslaught of synth-pop-rock stands as one woman's vision, when she screams "I'm losing my mind, give me a minute" before ripping into a delicious wiry guitar riff backed by seething synths, we know good and well this is Lynn's vision of emotional fatigue and collapse. The brilliance of Use Me is the way it almost accidently situates itself at the heart of the ven diagram of modern female fronted pop music. If Taylor is wringing out her exes on one extreme while Billie Eilish rolls her eyes with droll abandon as Hayley Williams disappears into tranquil experimentation and Halsey tattoos the wreckage of her relationships on her skin, then Lynn Gunn is happy, thrusting and grooving to the most sumptuous of synths in the midst of all this mayhem. Whenever Use Me threatens to veer too close to any of its prodigious peers, particular Eilish's breathy looming ennui, then Lynn always remembers to rush forward into a playful clatter of guitars and keys. Pvris may not rock particularly hard, but they do remember to rock out nonetheless, even if only briefly after a few minutes of skittish noodling and social commentary. There are moments where Use Me feels a little too on the nose. "Good To Alive" could well be titled "Pop in 2020" as Lynn whispers "everything I love is gonna find away a leave" before launching into the kind of painful, speaking-the-subtext-out-loud chorus that even Christopher Nolan would find a touch obvious: "feels good to be alive, but I hate my life". Still, Lynn is young and anguished and her music feels better for its all its clumsy melodrama. Thankfully, Use Me impetuous oversharing is balanced by a series of shrew arrangements that pop, snap, seethe and bounce in all the right places. [7.5]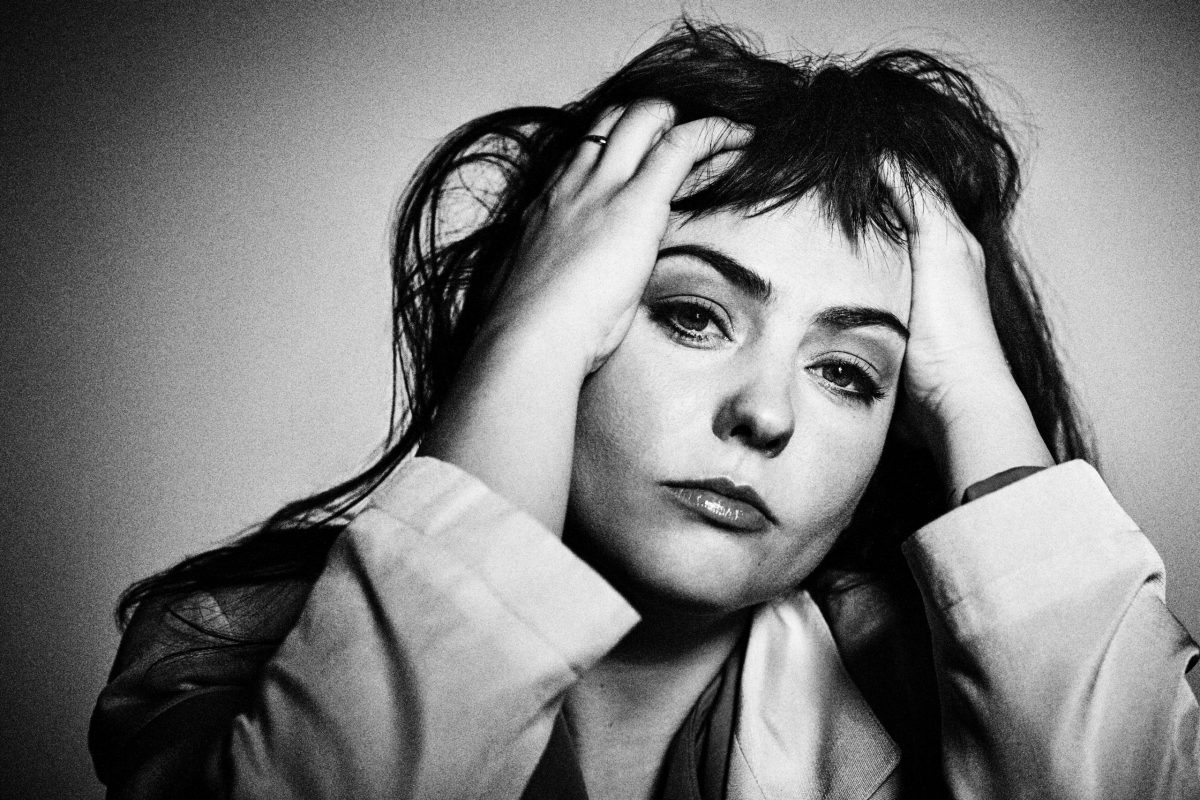 Angel Olsen – Whole New Mess
 Genre: Indie
A Whole New Mess? What could possibly have gone wrong in the ten short months that have elapsed since the release of All Mirrors, Angel Olsen's universally lauded third offering? Actually, considering the state of the world, a whole hell of a lot. However, for Olsen the shift comes not so much in subject matter – she's never exactly been a barrel of laughs – but in the way the polish and sharpness of her last two albums has been stripped away. That's in large part because this "album" was recorded back in October 2018 and features early versions of many of the tracks that would eventually populate All Mirrors. So, in other words, this is a distinctly new take on an old mess. Playing like a collection of raw demos (as one would expect), Whole New Mess instantly recalls the terse and jagged bite of her debut Burn Your Fire For No Witness. It is unsurprising then, that Olsen's latest project is driven by her paradoxical voice. Her vocal timbre is simultaneously corrosive and mellifluous, both depressively weary and angelically high. "(New Love) Cassette" captures the album's aesthetic perfectly. Barely a song at all, the guitar chugs along laconically, occasional rounding into a catchy rhythm while Olsen seeming sighs and croaks her way through a downtrodden and hungover verse before effortlessly reaching for a series of heavenly high coos. It's hard to know exactly what to make of an album that wears its under-developed and scratchy nature on its sleeve. Olsen benefits from the fact that her audience is already familiar with most of these offerings, but that doesn't diminish Whole New Mess. The ragged and un-garnished nature of this set restores the direct intensity of Olsen's youth without sacrificing the songwriting complexity and melodic delicacy she mastered on My Woman and All Mirrors. [8.0]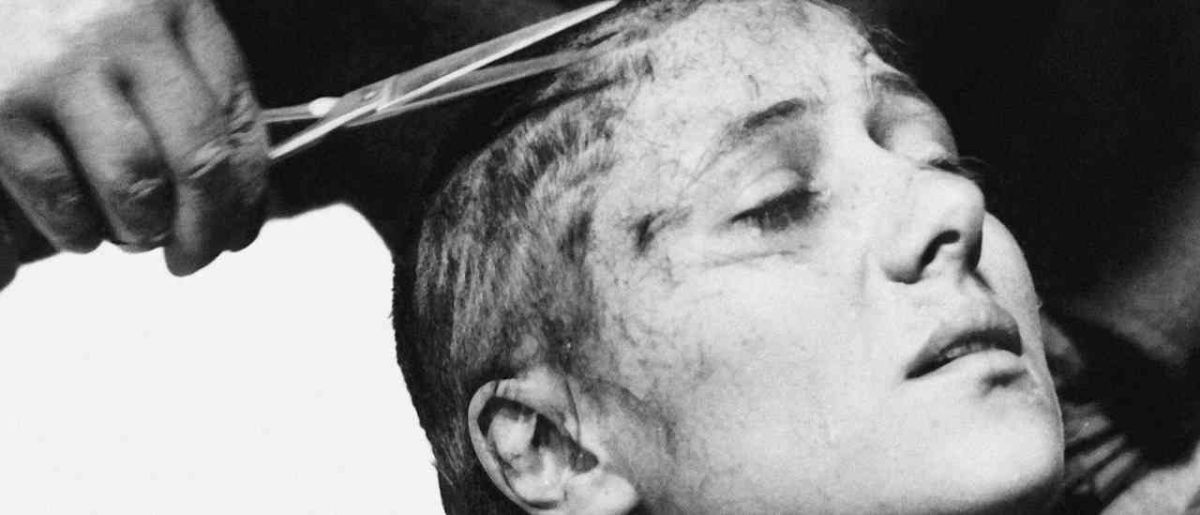 Ulver – Flowers Of Evil
 Genre: Synth/Electronic/Prog
Ulver's transition from Black Metal through folk and into outright synth-pop may be officially complete with Flowers Of Evil: an album that is not only gorgeously layered with stately synths and pulsating bass lines, but one that rivals Depeche Mode for lyrical pomposity. This isn't necessarily a bad thing, in fact it's the shamelessness of the Norwegian's that makes their music so compelling. Where David Grahan once brilliantly and somewhat bewilderingly asked, "People are people so why should it be, that you and I we get along so awkwardly?", Ulver simple embrace their macabre past by reaching out a hand and offering: "one last dance, in a burning church". It's ridiculous, truly ridiculous, but utterly loveable. It's fair to argue that Flowers Of Evil is offering the worst of both worlds: the daffy lyricism of overreaching 80s pop combined with the grand migratory drift of mid-tempo electronica. "Machine Guns and Peacock Feathers" is one seven minute guitar solo shy of exactly what you might expect a record with a title that wonderfully ostentatious to sound like. Kristoffer Rygg ends the track by rattling off a list of that presumably captures our confused 21st century existence: "Altered organ function, computers, nervous disorder – carry the milk or pierce the body with – swords, machine guns, flowers and peacock feathers". Flowers Of Evil borders on parody at all times, sounding both absurd and strangely straight faced – almost as if Duran Duran had decided they could save the world with a single album, but because the task was so monumental, they wouldn't sully themselves by writing any actual pop songs. It's easy to poke fun at Ulver, but that is, in part, the point. Flowers Of Evil is the sound of the 1980s every excess, except rather than falling under the weight of its pretensions, Ulver have the vision and compositional skill to hold this barmy behemoth together. [7.0]

Burna Boy – Twice As Tall
 Genre: Afro-Fusion
Burna Boy is exceptionally good at what he does. His afro-fusion remains defiantly true to his roots despite his growing global superstardom. The rhythms and, far more importantly, the melodic lines of his African heritage shine through even as he masters the hard bars, eerily spacious urban production and grand narrative egoism of Western rap music. Twice As Tall is an album that seeks to simultaneously show how black culture and black love transcends borders and distance without allowing Burna Boy's distinctive cultural upbringing to be lost in the middle ground sounds of our global melting pot. Burna Boy isn't pulling his punches: across 52-minutes of music Burna Boy is determined to tell his life story while articulating the burden he bares being the superstar ambassador and face of modern African music. As such, the record at times feels weighed down by an invisible heft. Twice as Tall feels knowingly important, but it ultimately thrives when Burna Boy is at his lithe, loosest and most melodic. There are benefits to following a narrative – Twice Of Tall flows remarkably coherently for a near hour-long continent-crossing odyssey – and yet Burna Boy will always be at his best when he is moving a crowd. Twice As Tall can't quite reconcile the two sides of Burna Boys' artistry into one knockout masterpiece fit to surpass 2019's African Giant, but by god is his music effortless and enjoyable. [7.0]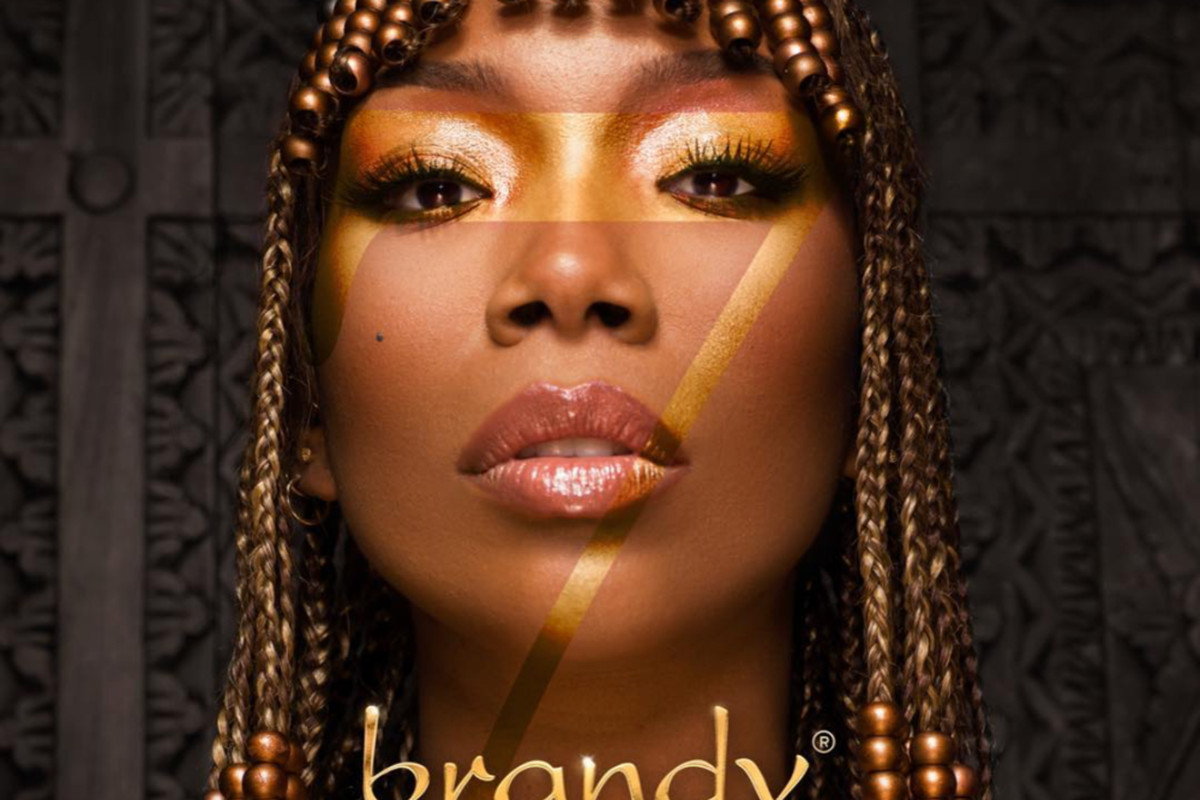 Brandy – B7
 Genre: R&B
In her own words Brandy has been "an original since 1994" and, perhaps after eight years of pseudo retirement, the veteran R&B star with an implausible range has found a cultural climate that vibes with her vision of modern music. Backed by producer Darhyl Harder (H.E.R.) and her long time collaborator, the recently deceased, LaShawn Daniels, Brandy slides surprising effortlessly into the thoughtful, introspective and anti-mainstream R&B environment fostered by Solange, Empress Of and SZA. What's remarkable about B7 is not that Brandy's vocal control and sly melodic impulses remain immaculate, but that her contorted and disjointed compositions feel as daring, angular and sensual as anything her younger peers could muster. Brandy hasn't rejected her former glories entirely: "I Am More" exudes both the silky control of the 90s while throwing in plenty of flashy post-Mariah vocal runs and, at times, her shifting sands sonics recall Timbaland and Aaliyah in their pomp. Nevertheless, Brandy carves out her own niche most effectively by marrying the warped sonics of the 21st century to her personal reflections on being a loving and independent single mother ("Unconditional Oceans", "Baby Mama").  [8.0]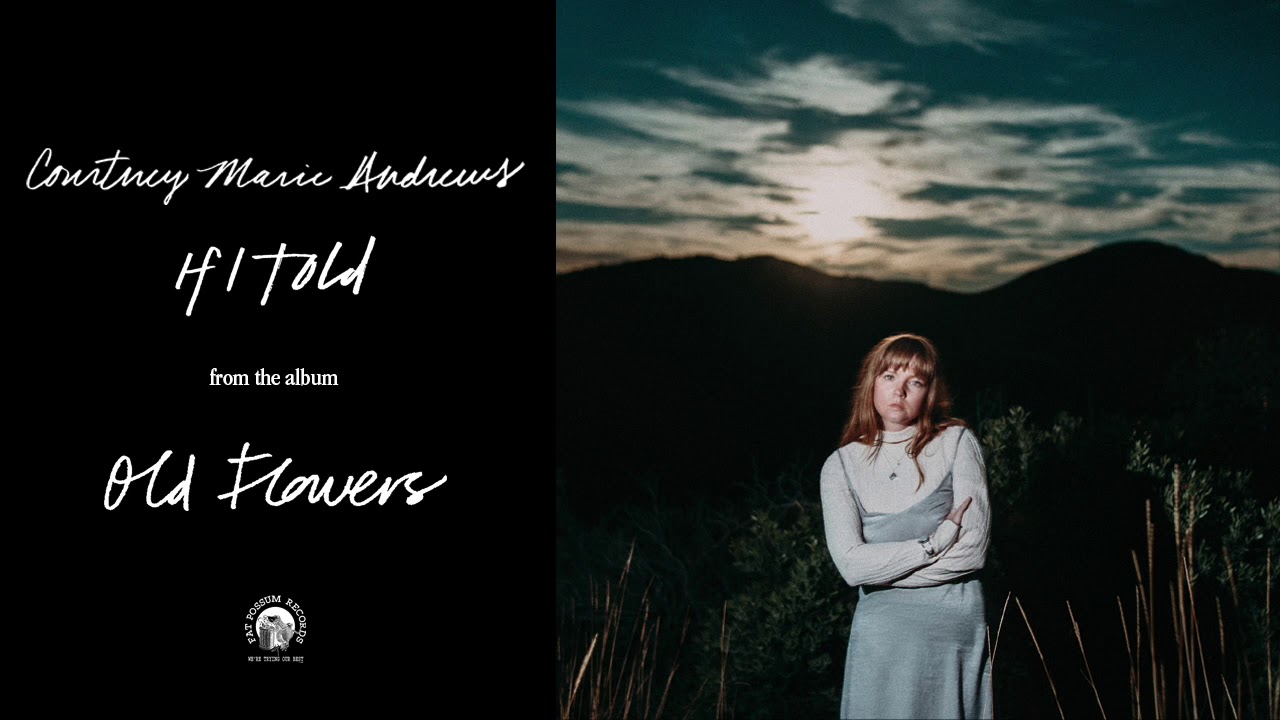 Courtney Marie Andrews – Old Flowers
 Genre: Country
There is a tragedy in understatement that Courtney Marie Andrews understands intuitively. Old Flowers is her unguarded break-up album, but there is no showiness, crying for vengeance or warbling sorrow, instead the artist is pushed into a quiet and sorrowful corner. Her response is not to lash out, but to mourn, linger and take stock. The resulting music is delicate and almost melodic in spite of itself. Old Flowers is an album of love songs for a vacant subject, the ghostly echo of a relationship that once stood strong. "Doesn't matter the block, every street, every thought leads me back to you, 'til I almost make it home and realize who I'm going to – but I know, I hurt you too". Courtney Marie Andrews is fixated and stuck, even as time and the world continues to pass her by. Old Flowers is a throwback, an introverts even-handed break-up album not interested in performative gestures or litigating wrongs, rather reflecting on what has been lost and why. [7.5]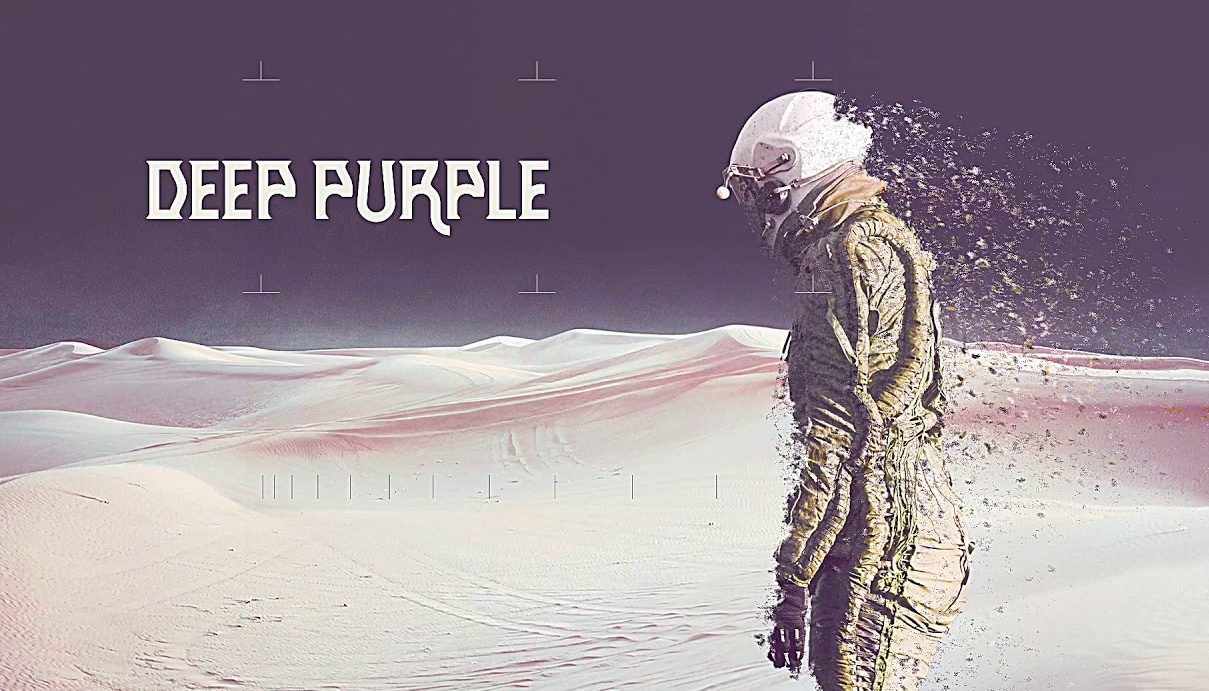 Deep Purple – Whoosh!
 Genre: Rock
Ian Gillian rules over Whoosh! with an iron fist. Deep Purple's latest release is dominated by their frontman theatricality, leaning deeper into his tenure as the lead in Jesus Christ Superstar rather than the proto-metal rawk of Machine Head. This isn't necessarily a bad thing, especially when Gillian throws himself so wholeheartedly into these wild prog, blues and arena rock hybrids. Feeling like a bizarrely slick mix of Steve Miller, Huey Lewis, The Who, Rush, Supertramp, Andrew Lloyd-Webber and, of course, Deep Purple themselves the tracks surge and slide towards razzle dazzle crescendos that feel naff and overwritten even when Gillian stumbles across a cracking lyric: "Oh San Francisco where the hell did you go? We've had enough of that peace and love".  Whoosh! is at its best when the guitar and keys are unleashed to strut, stalk and saunter around Gillian's verses, but these moments are all too rare. Instead, Whoosh! feels like an off-Broadway production unlikely to ruffle the Phantom's feathers, let alone unseat him. [5.5]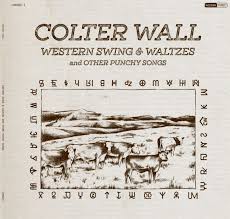 Colter Wall – Western Swing & Waltzes and Other Punchy Songs
 Genre: Country
Western Swing & Waltzes… does exactly what it says on the tin. Colter Wall might have a voice so gruff and romantically weathered that his tone alone encapsulates the entire history of how the west was won, but that doesn't make him moribund. Sure, Wall has little or no interest in the modern world. These 10 tracks offer no concession to modernity and are windswept beyond belief, but they are charged with the youthful energy of a man who still wants to dance (or at least two step). When Wall is confronted with a distinctly 21st Century man – an IPA drinking tourist in Nashville – he is quick to twist the knife in as kindly and homespun a fashion as possible ("If you're down in Nashville tryna look cool, but you can't tell a pretty palomino from a mule, take my advice and leave the buckaroo hat on the shelf"). There is a tender swing to these tales of prairies and stallions that ensures that Colter Wall is more than a mere 19th century fetishist. Western Swing is gorgeous and remorseful as it softly lilts towards its set piece closer "Houlihans at the Holiday Inn". In thirty all-too-short minutes Wall has summoned the spirit of the soil and soul of the workingman using only his oaken timbre and a few unfussy tales. "Most of my time's spent in a big blue van just travelling the country with a five piece band, making a little for the folks and sing when I can, granted I'm sober/Other days are meant for choring just working at the ranch to stave off boredom, keeping the cats from finding new ways to keel over – just living the dream". [8.0]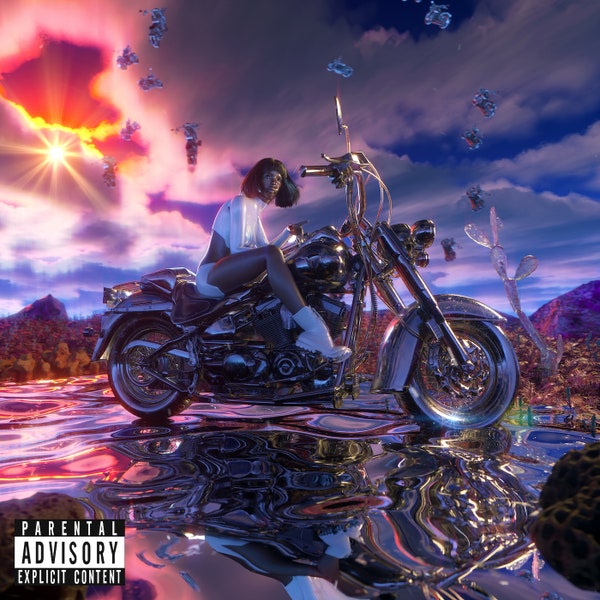 Tkay Mzaidza – Last Year Was Weird, Vol.2
Genre: Rap/Pop
Last Year Was Weird, Vol.2 is the work of an artist slowly rounding into form. By serving up another deliciously diverse and inventive mixtape, Tkay Mzaidza isn't so much mudding the waters or throwing shit against the wall in the hope that something sticks as laying the groundwork for her grand re-debut. Whenever her sophomore LP arrives expectations will be implausible high. Last Year Is Weird sets out Tkay's stall as, first and foremost, an indie-R&B/Rap/Dance hitmaker and a polymath. She's got Azealia Banks flow with Teirra Whack's free-wheeling, feel good versatility. Perhaps, like Charli XCX before her, Tkay is done with conventional releases and will jump on whatever trends happen too capture her attention: dispensing her best material without the slightest care for her label's fortunes. Whatever the case, Last Year Was Weirld, Vol.2 slaps ungodly hard as a simultaneous club, bedroom and art house listen. Hell, she even beats JPEGMAFIA at his own game on "Awake", so what's not to love? [8.5]
Amine – Limbo (Rap): You can never, not for one second, sleep on Amine because he will literally say anything, leading to some of the most wildly enjoyable and honest detours in modern rap music. One moment the Portland rapper is flipping between material excess and family man responsibilities ("Bitch you bad as fuck, swipe the Visa. Just watch what you spend cause my momma need rent and my next gotta look like a freezer") the next he's losing his mind under the celebrity limelight alongside Slowthai and Vince Staples ("this is Britney Spears when she was bald"). Amine is far from the finished article and there is a throwaway quality to even his best and most vicious cuts, but there's no denying that he's nailed the intersection between bombastic rap and sleek European club cool. [7.0]
Victoria Monet – Jaguar (R&B): Victoria Monet's debut is enticingly slight: a glimpse of modern R&B perfection, Monet serves up silken and streamlined surfaces as she slides and sighs with an effortless precision. Is Jaguar too composed for its own good? Perhaps, but it's hard to complain about a lack of grit when Monet never allows a hair to fall out of place, let alone puts a foot wrong. [7.5]
L.A. Witch – Play With Fire (Rock): The reverb has been cleaned up for L.A. Witch's sophomore effort, Play With Fire, and what remains is an ungodly seductive desert rock record that veers between dreamy psychedelic drift and goading drop-out rock. L.A. Witch are a careful not to go too far in either direction and the result is an intoxicating collection that pairs Sade Sanchez's hypnotic vocal performance with well cultivated grooves and subtly lyrical lead guitar flourishes. [7.5]
Sea Girls – Open Up Your Head (Indie): Open Up Your Head, the debut offering from London indie upstarts Sea Girls, absolutely oozes ambition. They want to inspire arena-sized sing alongs with their shabby understated vulnerability – the trouble is they are a little too craven in their approach. Even Coldplay, U2 and The Killers had to work hard to earn their amorphous "wah-oohs" and vague "oooooooohs". With a deft blend 80s synth pop undercurrents and the spikey localised indie of the 2000s there's no denying Sea Girls' pop chops, but it's hard to get overly excited when any hint of social observation or youthful insecurity is bulldozed by the next radio ready earworm gimmick. Still, they only need two of three of these pseudo-singles to land to take the charts by storm.  [6.0]