Avril Lavigne – Head Above Water Review
February 20, 2019 | Posted by
Avril Lavigne – Head Above Water Review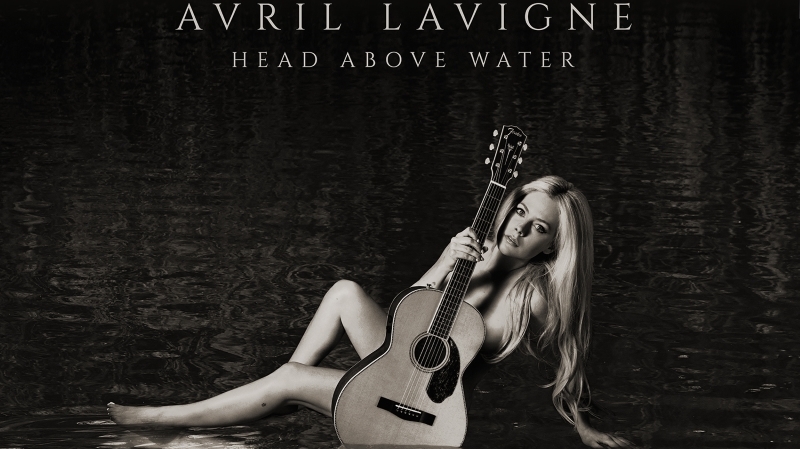 1. Head Above Water
2. Birdie
3. I Fell In Love With The Devil
4. Tell Me It's Over
5. Dumb Blonde
6. It Was In Me
7. Souvenir
8. Crush
9. Goddess
10. Bigger Now
11. Love Me Insane
12. Warrior
Whether she was a charmingly understated teenager bemoaning the complications of young love or a garish caricature of a punk-pop princess ironically sticking her tongue out at rock authenticity, Avril Lavigne was nothing if not industrious. Through highs and lows, fads and phases, the Canadian starlet churned out five, largely successful, albums in eleven short years.
Tragically, Lavigne's prolific streak came to a grinding halt in December 2014 when she was diagnosed with Lyme disease: a condition that is unpleasant in the extreme with physical manifestations that were no doubt terrifying for an individual who lives and breathes in the spotlight. However, Avril's fate was worse still, this artist, defined by forward motion, who hasn't sat still since she was 15-years-old, found herself confined to her bed for two years.
Speaking to Women's Health Lavigne described herself as "trapped", going as far as to say that she "had accepted that [she] was dying".  She has no wish to revisit those years, but she feels compelled to discuss her experience to draw attention to an oft-undiagnosed disease. Lead single and title track, "Head Above Water" addresses her struggle specifically. The central drowning metaphor represents her fight against her own body, which is pulling her under even as her mind and voice screams out. In many ways it's a paint-by-numbers ballad from a by gone era of cloying strings, but there's a torrential, crashing quality to the arrangement that gives the track a tremendous sense of impetus, something tragically lacking on the rest of the album.
Indeed, despite Lavigne suggesting this would be her most thoughtful and considered album to date ("I've really had the time to be able to just be present, instead of being, like, a machine"), the songwriting proves frustratingly vague, hollow and nonspecific. Part of the trouble is that Avril falls back on the insipid arena-pop tropes of a by gone era. She colorlessly lolls "oh oh" on "Birdie" and sleepily hums in attempts ignite "I Fell In Love With The Devil's" lacklustre chorus. The hooks, or lack there of, are a recurring problem as Lavigne falls back on strained repetition and unremarkable attempts at vocal grandstanding in lieu of any novel ideas.
Worse still, these underpowered hooks could be tolerable were they not so tortuously drawn out. "I Fell In Love With The Devil" is so tedious it makes the purgatory of a hospital waiting room seems somewhat appealing – I mean; at least I could read a book. "Tell Me It's Over" is better. Its 60s girl group flourishes, confrontationally strident composition and grand orchestral swells give the track a sense of poignancy. Unfortunately, while Avril proves game, she just doesn't have the lung busting range required to bring the track's titanic denouement to life (in Mariah or Whitney's hands it would no doubt have been a triumph).
Head Above Water has many flaws, from its dated palette to the painful overproduction that proves both numbing and obnoxious simultaneously, but Lavigne cannot be faulted for her verses. She certainly tries far too hard to find clever lines, but tracks like "Souvenir" and "Goddess" are full of carefully woven rhymes as she reflects on the joys of stability. Avril has no trouble gathering steam before frittering it away on yet more dead-on-arrival hooks – as well as a selection of the most headscratchingly awful ad-libs and adornments imaginable.
Still, despite Head Above Water's glaring weaknesses, the back end of the album is full of sweet little pop sentiments. "It Was In Me's" combines the best and worst of Lavigne's writing. She has some wonderful turns of phrase ("I drove a Masarati, no fulfilment there") and an intriguing subject matter (finding meaning and exhilaration in normalcy), unfortunately these worthy elements are tied to a generic arrangement, underwhelming hook and some bland metaphors. If Head Above Water teaches us anything it's that Avril finds mountain tops truly profound. Despite all this, the track manages to hit home and the same is true of "Crush's" lilting seduction.
The momentum couldn't hope to last. The closing combination of "Love Me Insane" and "Warrior" are nigh on irredeemable. The former is nicely crafted in certain respects with its stabbing strings actively inducing insanity, but its warbling runs and looping repetitions prove too infuriating for words. "Warrior" is an outright disappointment. If anyone has earned an "I won't bend, I won't break" anthem it's Avril Lavigne. Sadly, "Warrior" feels neutered, lacking any sense of fighting spirit. The track is neither high powered nor charged by a quiet solace. Instead it is flat, placid and utterly favorless. Worse still, it is painfully lacking in any sense of personal detail or distinction. On the title track, Avril used her near life ending experience to summon a rich metaphor and a tumultuous arrangement – where has that spirit gone? How could her grand comeback album end with such a whimper?
What makes this damp squib of finale so frustrating is the baffling inclusion of "Dumb Blonde". This dubious and oddly old-fashioned take on an "empowerment anthem" sticks out like a sore thumb. The production is bright and punchy, full of snap and spunk. It is entirely at odds with the slower, drawn out and colorless coffee shop balladry that makes up the bulk of Head Above Water. The track itself is no great shakes and features an entirely phoned in verse from Nicki Minaj (her flow is great, but those lyrics aren't even a quarter arsed) – and yet it represents the album's one energized and fired up moment. When Avril declares herself a death conquering "Warrior" she is practically comatose, but when she's ironically joking about being a labelled "Dumb Blonde" she's full of fire? It's a confounding to say the least.
Nevertheless, as much as we commend Arvil for her recovery from Lyme Disease and her new found advocacy of a very worthy cause, its impossible to champion an album that, with the odd sweet or sorrowful exception, ranges from anodyne to awful.
4.0
The final score: review Poor
The 411
Avril Lavigne's fight back against Lyme disease is worth celebrating. Her anodyne and unimaginative comeback album, despite some sweet and sorrowful highlights, is not.
legend
More Trending Stories