Charli XCX – Charli Review
September 17, 2019 | Posted by
Charli XCX – Charli Review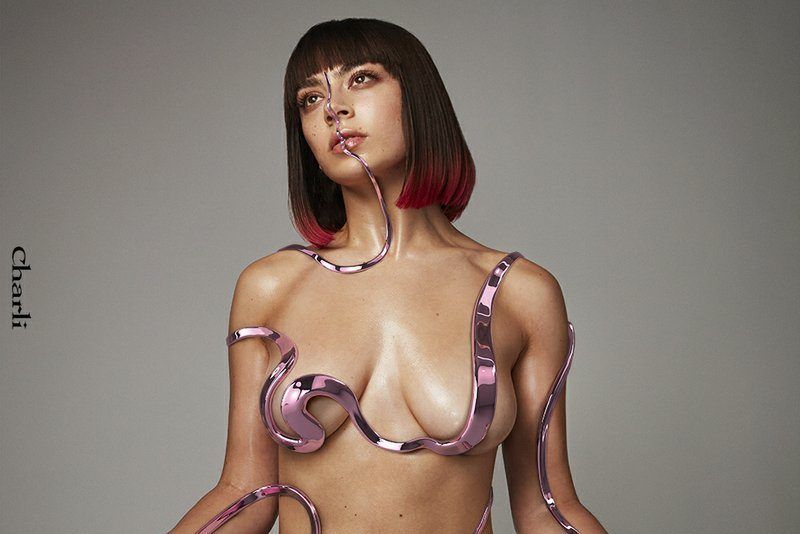 Is it just me or are albums a touch passé for an artist like Charli XCX? The radical British starlet, who shot from a warehouse-party headlining teenage to an international hit and tastemaker, seemed to have left music most prestigious format behind. After her 90s-inspired onslaught of brazen brattiness masquerading as a sophomore LP, 2014's Sucker, Charli has been omnipresent. She's (deep breath) jumped on a million collaborative tracks, acquired a cutting edge queer pop rolodex, embraced PC Music, dropped two mixtapes, one blistering EP as well as a selection of stellar singles (including the internet breaking "Boys") and written a generation defining number one single for Icona Pop ("I Love It").
Popstars are supposed to be rigid and predictable: release an album, tour the globe, repeat. It's a strict two-year-cycle: a schedule designed to ensure that no other artist is afforded oxygen and that you never lose the media's attention. Charli has certainly been busy and ubiquitous, but she's eschewed proper promotion. Her best work has appeared online, seemingly at random, with minimal PR. In the run up to her latest full length release Charli has given away pretty much the entire record (and all its most intriguing collaborations) away for free on YouTube. So much for anticipation, most fans will know Charli inside and out before it hits streaming services (let alone record stores).
So why bother with an album at all? For an artist obsessed with nostalgia who has become a proud futurist, it seems a perplexing move. Truth be told, Charli feels less like a singular artistic statement (or evolution) and more like a bookend: the final chapter of a five-year long journey  into the heart of PC Music alongside her most famous and outrageous friends. The genre that gave the world the brilliant Sophie and distorted sound down into slamming, sawing, synthetic chunks is now largely a past tense scene. The principle stars have moved on, but Charli has remained. With producer and friend A.G. Cook at her side, she has found a mind-bending sound that allows her to fulfil the promise of being "Next Level Charli" – a popstar from the distant future revelling in rediscovering a seemingly ancient and deeply nostalgic culture.
In this light, Charli is less a leap into the unknown and more a grand gathering of every interesting idea XCX has had in the last five years. One last hurrah for a sound and aesthetic that she will (presumably) jettison in search of the new. It is worth remembering that, while her hit singles have been ubiquitous, EPs and Mixtapes are still a minority sport – and this album is a chance for mainstream audiences to be brought up to speed with a artist who was last seen screaming: "Fuck you! Sucker!"
It has to be said: there are some bizarre inclusions. Considering the excellent singles she's dropped in the last five years, it feels terribly disappointing that the tepid nostalgia of "1999" made the cut instead of, say, "Boys" or anything from Pop2. Still, if there are moments that feel strangely regressive, they normally come complete with a twist in the tail. Take the millennial whoop and Rihanna-aping vocal affectations of the otherwise introspective "Thoughts". Against a churning laser beam arrangement, Charli manages to salvage the track with a vulnerable verse reflecting on a life spent as a professional pill popper and partier: "Are my friends really friends now or are they far gone?"
This is Charli's trump card. A.G. Cook's alien soundscapes may be eerily familiar – even comforting in an odd way – but the new wrinkle comes from Charli herself. She is opening up and showing vulnerability profound enough to penetrated the party-hardy shell she's been wearing since the days of 2013's True Romance. "White Mercedes" is the kind of beautiful and understated pop song that you'd usually expect to hear from a Lily Allen or an openhearted mid-2000s indie band, rather than miss XCX. Dreamily drifting along on pillowy post-xanax clouds Charli realises that, amid the drug fuelled chaos of her life, she needs to cling to the people who truly care for her. Naysayers who doubt her songwriting chops might want to reflect on "White Mercedes", with its self-deprecating gut-punch: "You know I've got a suit of armor on, you'll never see me cry/I hate the silence, that's why the music's always loud". This is a powerful revelation. Her unabashed, wild-child persona is merely protective mechanism.
The album's finest moments don't all revolve around self-discovery, notwithstanding the stunningly beautiful run of late-album solo psuedo-banger-cum-ballads ("White Mercedes", "Silver Cross", "I Don't Wanna Know", "Official"). In fact, Charli is often at her best when she gives herself over to her collaborators. "Gone" is less a Christine and the Queens feature and more an outright invasion. The soft-funk euro-pop of the beat couldn't be further from Charli's usual palette; this is the understated seductive world of Heloise Letissier. Delicate, tender and danceable, the track mixes an apprehensive and detached verse with a blistering pre-chorus that thrives by fitting in an extra unexpected syllable: "How they making me feel lately/They making me weird, baby, lately".
If Charli and Christine are match made in heaven on paper, then XCX and Haim sounds like a absolute disaster waiting to happen. Distorted, squelching, rabble-rousing synthetics blended with breathy, naturalistic, soft-rock harmonies – how on earth is that supposed to work? Well, despite some more dodgy Rihanna-ism, "Warm" is a sly revelation. The pacing of the verse is key. This lovely little song implores a stubborn lover to open up and thrives on a well structured rhyme scheme that allows both Charli and Haim to go nuts in their own respective styles. Whereas Charli and Christine came together to create one psycho-sexual-future-pop android on "Gone", "Warm" offers two polar extremes united by a shared sorrow, rather than a coherent approach.
The Lizzo collaboration is perhaps the strangest. Not in terms of sound, in fact, "Blame It On Your Love" is the most conventional, sweet and effective Charli XCX single on the record. What's confounding is that Lizzo – the biggest, brashest and most unmistakable guest feature on a album full of off-the-wall collaborators – is deployed on a track where she is entirely confined to Charli's tonal playground. The track is a delight, but Lizzo's verse is professional, competent and otherwise unremarkable. "Blame It On You Love" is not a disappointment. It's a charming 21st Century reimagining of a 90s sweetie-pie single, but it is a bizarre to use one of pop's biggest personalities in such a muted fashion (hopefully Lizzo will get a chance to shine on a future collab).
Okay, we've waited long enough; it's time to discuss Charli's standout moment. "Shake It", on the face of it, is a continuation of a string of wild sex-rap tracks that Charli has dropped alongside Cupcakke and Brooke Candy in the last five years, but that would be burying the lead. Charli has set A.G. Cook and Canadian producer Ö free to do whatever the fuck they want – and it turns out, what they want is to not only break the rules of pop music, but to shatter them into tiny disparate shards that they can rearrange into a beautiful deformed new whole.
Starting with Charli breathily whispering "I shake it, I shake it, I shake it, ooh" the track warps through the dimensions from the curvature of alien spacecraft and the soft shimmers of liquid mercury to booming Atlanta stripclub bass and the subdued drift of unfeeling android pop. Suffice to say, you will not hear anything that even remotely resembles "I Shake It" in 2019 – and that's before Big Frieda, Cupcakke, Brooke Candy and Pablo Vittar are invited to go bananas on the track with their best booty shaking and pussy popping verses. Suffice to say, it's an absolute riot and the type of track that, for all their best intentions, you will never hear on a Taylor Swift, Beyonce or even Rihanna record.
Unfortunately, after that blast of pure future pop, everything else must stand in its shadow (which is probably why Charli left "Shake It" languishing on the album's back end). The pleasing posse cut "Click" cannot hope to compete despite its heavy dollops of attitude and knowingly goading sonic quirks. "February 2017" has the unenviable task of directly following "Shake It", but it represents a clever sidestep. Rather than riding the sexual waves, Clairo and Yaeji are on hand to offer some bedroom lamentations atop a synthetic afro-beat arrangement. It's a soothing change of pace from wanton sexual abandon to tearful naval gazing. The instrumental during the chorus is perhaps too muddled, but it can't undermine the power of a track that dwells on the image of a woman sitting alone, waiting for a text, knowing that's she's already fucked her relationship up.
Truth be told, an album that promised "Next Level Charli" and a glimpse of "2099" never quite manages to deliver. With one notable exception, rather than giving us a glimpse of the future, Charli XCX ties a bow on her PC Music period with an album that reimagines the sounds and popstars of 2019 through the prism of A.G. Cook's lunking, shimmering and stainless synthetic soundscapes. Despite the odd misstep in the album's more hit and miss, guest star heavy first half, Charli is a revelation as a much needed injection of sorrowful introspection adds depth to the wild sex rhymes, sci-fi mutations and all-star insanity that has become XCX's post-Sucker M.O.
7.5
The final score: review Good
The 411
Charli XCX promises next-level future pop but, rather than delivering the latest evolution in her sound, she instead ties a bow on five years of innovation and experimentation. This is her and A.G. Cook's PC Music opus: full of barmy guest features and laced with a surprising dose of vulnerability, Charli admits that her pill popping, party hardy persona is merely a coping mechanism. At its best ("Shake It Of") the album is utterly out of its world and completely outrageous, more often than not though, it simply provides a strong survey of the modern queer-pop landscape through an alien sonic lens.
legend