Coldplay – Everyday Life Review
November 25, 2019 | Posted by
Coldplay – Everyday Life Review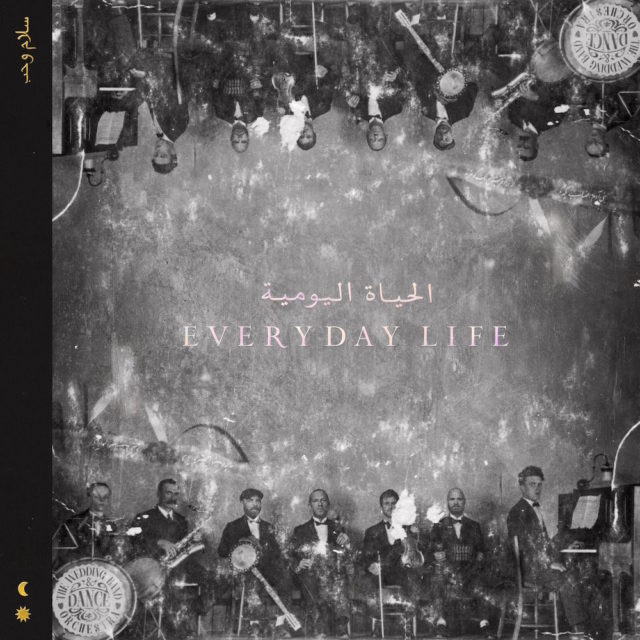 Coldplay have spent a great swathe of their imperious stadium-filling career trying to sound as small and understated as possible (a handful of Day-Glo and conceptual diversions not withstanding). Often dressed like a bohemian rabble, albeit a brightly colored one, Chris Martin and co. aim for an earnest intimacy, where the void between audience and artist is stripped away. Everyday Life, a thematic double album divided into sunset and sunrise sections, might seem grandiose and ambitious on paper, but it's charged by humane tenderness that relies on fermenting simple one-to-one connections (albeit on global scale).
Ironically, despite their attempts to sound like a bedroom, barroom or collaborative choral outfit, Chris Martin cannot deal in the micro. His every artistic impulse screams macro. This utopian universalism has often invited backlash and still angers the band's many detractors to this day. After all, there's nothing worse than having someone hold your hand and look loving into your eyes, only to deliver a generic platitude that could have been said to any one of a million people. It's the fundamental dichotomy at the heart of Coldplay's sound: when by rights they should sound muttered and alienating, they prove profoundly upliftingly and inspiring, but equally, when they profess to offer true heartfelt intimacy, they tend to drift toward a wishy-washy ambiguity.
Everyday Life – despite its sonic experimentation and charming shabbiness – is completely emblematic of Coldplay's uneasy truce between the personal and the universal. Truth be told, much of the tension lies within Chris Martin's lyric sheet. On the tender and stripped down ballad "Daddy", Martin finds himself reflecting on his separation from his son. He is backed by a beautifully sparse and drifting piano arrangement that tugs at the heartstrings without cloying in any shape or form. Written from his son's perspective, the verses are open ended and imprecise, but the track swells towards a serenely sung chorus that you can practically feel drifting across a 50,000 strong festival field (the words,  "you're so far away", hang delightfully in the air). In this case, it works a treat. The crafty arena-ready singalong manages to mirror the distance between father on tour and son sitting at home, on the other side of the planet.
Elsewhere, Martin is less effective. Which is a shame, as Everyday Life captures Coldplay at their tightest, most delicate and daring best. "Trouble In Town" thrives on a lovely creeping bass groove and slow walking rhythm that conjures the image of a terrified bystander shuffling, head down, through the urban decay, trying to avoid being spotted while taking in the violence and deprivation that surrounds them. Martin's tone is spot on, but his lyrics feel hallow, generic and detached ("I get no shelter, I get no peace, I never get release"). Still, perhaps a softly-softly approach is best; I suspect the world isn't exactly itching for Coldplay to dive headlong into political maelstrom of police violence, intercity crime and racial tension.
It remains a double-edged sword. Coldplay want to engage with the chaotic politics and social unrest of 2019, but they never quite dig beneath the surface. They settle instead for a banal recognition that: well, the world sure is crazy these days, eh? "Guns" is the worst offender. At least "Trouble In Town" employed a clever sample of a fraught police interaction during its coda and sounds utterly gorgeous, "Guns" instead sees Martin channelling Bob Dylan directly ("Everything tangled in blue"). The trouble with aping the greatest lyricist of the pop era is that Martin invites an unwelcome comparison. The bland jokiness of "Guns" ("Everything's gone so crazy, everything but you") with its trite observations ("all the kids make pistols with their fingers and their thumbs") has neither brutal unflinching immediacy of early Dylan ("You hide in your mansion, while the young people's blood flows out of their bodies and is buried in the mud") or the subversive metaphorical devilishness of his later, psychedelic years ("The ghost of Belle Starr, she hands down her wits to Jezebel the nun, she violently knits a bald wig for Jack The Ripper, who sits at the head of the chamber of commerce"). Still credit where it's due, on the track's backend, Martin does summon some righteous vitriol ("Cut the forest they're so dumb, only save your look-a-likes and fuck the other ones").
Intriguingly, Everyday Life's second side starts with two attempts to position Coldplay within the greater rock canon. The aforementioned turn at Dylan inspired satirical savagery is quickly followed by lead single "Orphans". The track unmistakably references The Rolling Stones with its "woooh-wooohs", but rather than pushing towards classic rock, Coldplay instead explode into Technicolor with a joyous chant-along chorus that recalls Animal Collective's "Bluish" and the double-tracked collective psychedelia of the early-2000s (of all things). It's a wonderful detour towards choral euphoria and it also delviers Coldplay's most cutting satire to date. The band smile and dance their way towards oblivion, coyly and subversively capturing the image of doomed Syrian children playing as the bombs fall on Damascus (and their heads).
Coldplay's attempt to embrace gospel music proves less successful. The sound of a choir supercharged by will the to worship ("BrokEn") only serves to expose the charming, but distant vocal of Coldplay's globe-trotting millionaire frontman. Martin's attempt is admirable, but his performance lacks the depth of feeling and inherent resonance that the choir exudes – their powerful blend of pain and euphoria simply overawes his vocal. The same is true of "Cry Cry Cry": a stuttering take on Chance The Rapper and Kanye West's embrace of pitched doo-whop soul. The track is cleverly arranged and Martin's bridge is effective, but the whole affair feels too cute by half – using a sound that is raw and anguished to create a track that is slight and lightweight (albeit well intentioned). In these sections Everyday Life strongly recalls The Rolling Stones' explosion of esoteric creativity, Exile On Main Street, but whereas Jagger and Richards' rock drew both a sordid and spiritual connection to America's black musical heritage, Coldplay's embrace of soul and gospel feels stapled on. They are awkward bedfellows, rather than life long lovers.
"Church" is far better. Coldplay dreamily float on air, marrying all their best melodic impulses to some wonderfully understated Moby-like grooves and a series of gentle jazzy rhythms that instantly recall Radiohead at their most tasteful. This global, kind-hearted spiritualism feels to true to both Martin's lyrics and Coldplay's sound in away that gospel and soul never quite did. The fit is so natural that Norah Shaqur's glorious Arabic coda feels utterly harmonious, like she were the band's sixth member rather than a guest vocalist. Bridging the cultural divide between East and West, the midnight prayer that is "When I Needed A Friend" provides the resonate closer for the Everyday Life's more solemn first disk. Pitched perfectly it echoes both Gregorian chant and modern liturgical music granting the track a wonderful sense of finality.
Everyday Life's second half proves choppier and less balanced in its experimentation. "Eko" is both wistful and amiable. Martin breezes across Nigeria with a childlike wonder before arriving on an abrupt, but effective endnote: "There'll be a beautiful sunset, and you'll be a beautiful bride" (a reminder that Martin is at his most effective when he under rather than over bakes his lyrics). The equally endearing "Old Friends" opens with a classic country guitar lick that overflows with warmth and is perfectly contrasted with a more solemn minor key arrangement fit remembering an old friend tragically lost to distance, time or death.
Sadly, as pleasingly understated and effective as these tracks are, they are counter balanced by the clunky "Champion Of The World" and the dreary title track. The former is a reflection on early school days, but manages to capture Coldplay drifting off into the platitudinous expanse of arena rock. The latter is full of ghostly echoes of the Coldplay of yore (A Rush Of Blood To The Head) and tries to speak to our collective human future, but, despite an excellent lead vocal performance, "Everyday Life" cannot replicate the mundane agony of R.E.M.'s "Everybody Hurts" or bulldozing poignancy of "Fix You".
Nevertheless, a wistful conclusion is the right one. Sadly, Everyday Life's muddy middle ground between exasperation, sorrow and euphoria is crying out for some better hooks. It is really rather surreal that, when Martin tries to convey minute personal sorrow, he ends up sleepwalking into these perfect stadium sized melodies, and yet, on track's that so desperately require a grand, unifying chorus, he comes up empty. From the pallid "Everyday Life" to the cacophonous, Tusk-like, riot that of "Arabesque", Coldplay continually stumble upon great ideas without quite alighting upon the right lyric, hook or transcendent tone to truly set them off.
For all their imperfections and nearly-but-not quite experimentation, Everyday Life is the most thrilling, thoughtful and humane record Coldplay have released for at least a decade. The instrumentation is sumptuous, exotic and played with genuine consideration and care (even when they are at odds with Coldplay's core sound). Despite their inherent bigness and tendency towards feel-good universalism, on Everyday Life, Chris Martin, Guy Berryman, Jonny Buckland, Will Champion and Phil Harvey really do feel like those thoughtful boys next door with kind hearts and a global conscience. That's no mean feat for one of the world's biggest bands that could so easily have slipped toward pandering insincerity or an undignified grope for mainstream relevance. Instead Coldplay feel humble, heartfelt and comfortable in their own skin – if a little misguided – on most adventurous release to date.
7.0
The final score: review Good
The 411
Everyday Life is a globe trotting, culture sampling, political conscious and personally vulnerable leap into the unknown for one the world's biggest rock bands. Except, of course, it isn't - or rather, it is and it isn't. Coldplay, as always, represent an inherent contradiction. When they aim for intimacy, their melodies invariably sound gargantuan. When they try to be specific, they end up dealing in universal platitudes. It is a gift and a curse that makes their sumptuous and undeniably tasteful 8th studio album a qualified, nearly-but-not quite, success. Everyday Life is daring and familiar, riskier than it'll get credit for, but safer than it desires to be: just like its creators.
legend