Eminem – Kamikaze Review
September 14, 2018 | Posted by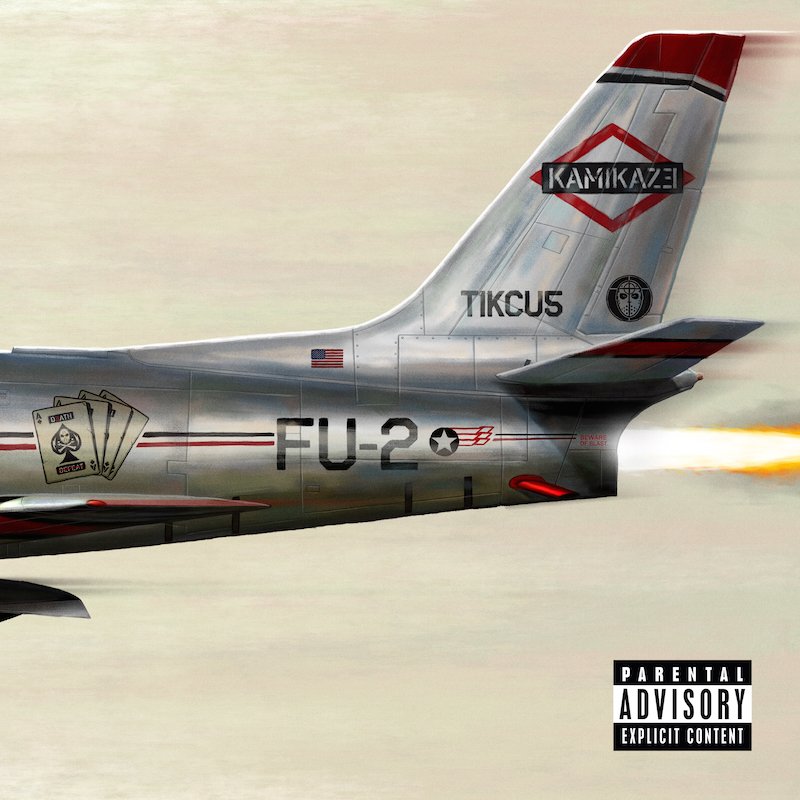 1. "The Ringer"
2. "Greatest"
3. "Lucky You" featuring Joyner Lucas
4. "Paul (Skit)"
5. "Normal"
6. "Em Calls Paul (Skit)"
7. "Stepping Stone"
8. "Not Alike" featuring Royce 5'9″
9. "Fall"
10. "Kamikaze"
11. "Nice Guy" featuring Jessie Reyez
12. "Good Guy" featuring Jessie Reyez
13. "Venom"
Eminem has always been a sensitive soul. Despite screaming "I just don't give a fuck", the rapper has always been attuned to his public perception. He overtly agonises over his output and has willingly apologised for his most notorious misfires (on record no less). Despite this, it's clear that the horrendous reviews that greeted 2017's Revival flipped a switched in Slim Shady's psyche.
The unrelenting ridicule from his own fans, combined with a dismissive eye roll from the press, genuinely hurt Em. He's endured bad reviews before, of course. Each release since making his comeback has attracted as many two star reviews as they have five, but there remained a silver lining. Slim Shady always gave his fans something to cling on to: be it a devilish Easter egg hunt on the wonderfully self-referential Marshal Mathers LP 2 or Recovery's lazer focused stadium sized sing-a-longs. The nagging weaknesses inherent in his latter day songwriting were present on those albums, but all his worst excesses came to the fore on Revival. It was the straw that broke the camel's back. Suddenly the Stans who proudly purchased and defended "Ass Like That" (for example) were taking to social media to eviscerate their fallen idol.
In truth, it's this backlash from his own fanbase that has inspired Kamikaze. Eminem may have set his lyrical sights on the media, but the "Em Calls Paul" skit gives the game away. Em is angry at the idiocy of online commentary. Kamikaze is his equal and opposite reaction. If the rap world is going to deride every aspect of his sound, then he's going to sharpen his knives and slit the throat of every rapper, commentator, fan or politician that happens to catch his eye.
Ironically, considering Em spends a fair chunk of this album raging against the press coverage of his last album, he actually takes his critics advice on board wholesale (and thank god he does). If there was one complaint that dominated the reaction to his last release, it was Em's lack of basic musicality. The once peerless hitmaker had now succumbed to anodyne guest vocalists, cloth-eared beats and amateurish mixing that left even his best verses sounding near unlistenable. His own pinched (and, at times, obnoxiously atonal) staccato grated in its own right, but stood no chance against such turgid surroundings.
Kamikaze takes a huge step forward in this regard. Whether he's paying homage to the artists he respects (by aping Kendrick and Chance's flows) or mocking those he detests (by rapping over some buoyant and icy trap beats), Eminem has proudly entered the 21st Century, sonically speaking. His content rich flow isn't a natural fit in these surrounds – he feels more at home on the beige stadium sounds of "Stepping Stone" than he does on the club bounce of "Not Alike" – but it's genuinely thrilling to hear Eminem songs capable of getting heads bobbing and feet moving.
Combine this newfound listenability with songwriting charged with anger and impetus, and Eminem has stumbled upon a winning formula. His scorn pours forth from the word go. "The Ringer" starts as an old man yells at cloud outburst at modern rap ("do you have any idea how much I hate this choppy flow everyone copies though? Probably no"), but slowly grows in intensity as Em seethes at fans who constantly tell him to regurgitate his old LPs or to imitate the new sounds he so clearly detests. At times Eminem is wildly irrational (Revival is not a porter house steak, no matter how stupid he thinks the rest of us are) and incoherent (his ravings against those who claim to be "colorblind" are hilarious and bizarrely leads into an excoriation of Lil Pump), but that's part of the joy of Kamikaze. You don't have to agree with Emimen, just strap yourself in and enjoy the ride as he veers from Donald Trump and Mike Pence to DJ Akademic and Joe Budden, gunning them all down with his tightly knotted lyrical assaults.
Let's not get too carried away. This vengeance-seeking version of Em is thrilling (especially on the opening trio) and he is finally scrapping his way to a .500 record on beats, but many of his inherent latter day flaws re-emerge on Kamikaze. No one questions Eminem's ability to write a verse: his obsession with structure, staying on beat, matching syllables and creating meta-rhymes is incredible in its own right, but far too often all this technicality is in the service of groan inducing punch lines. Eminem frustratingly finds himself in an awkward middle ground between an English teacher, who can perfectly explain the grammatical structure of a great sentence, but couldn't write a novel save his life, and the Father of The Bride at a wedding: he knows how to tell a joke, drawing the audience in with every twist and turn, only to have eyes rolling when the punchline occurs.
The largely enjoyable and deftly produced "Fall" is littered with examples of both. Em's quest to complete a rhyme leads him to end his assault on Tyler, The Creator with a cringe inducing one-liner: "you worship D-12's balls, you're sack-religious". The title track, "Kamikaze", might have a wilfully annoying and surreally cartoonish fairground aura, but it yet again sees Eminem trying so hard to be clever (employing meta-rhymes) that he finds himself forcing another horrendously juvenile joke: "I heard your free style on Shade 45, there's no way we'd ever hear that shit again/That shit was so ass, it was something we wouldn't dare re-air". Get it? Dare re-air, derriere, ass, ha fucking ha! Speaking of explaining your own jokes, this is another of Kamikaze's worst traits. Now stop me if you've heard this one before, but, in order to maintain a complex rhyme scheme, Eminem pauses to tell us that, yes, that was a metaphor for eating a dick.
Still, if Eminem is guilty of trying too hard, it's a small price to pay for an album that bristles with energy and intensity. With the afforementioned exception of "Stepping Stone", a heartfelt reflection on his treatment of D-12, Eminem never takes his foot off the gas. He refuses to fall back on listless cinematic rapping that usually comes complete with Skylar Grey guest spot. In fact, amid Kamikaze's frenzied intensity, "Stepping Stone" proves a welcome change of pace as the stark tonal shift serves to convey severity and sincerity on an album that, by and large, shoots sarcastically from the hip.
When Eminem isn't spilling the blood of his enemies with buzzsaw brilliance ("Lucky You") or infuriating goofiness ("Kamikaze"), he finds room to address his bête noir: women. On the strangely addictive "Normal", Em bemoans his inability to settle down with a well-adjusted woman as he drifts from one potentially violent car crash relationship to the next. His rage is unrepentant and raw, and comes in the form of a wonderful Chance, The Rapper homage – which proves a fun inversion, as Chance's music is so joyous and Em's so bleak and paranoid. There's something endearing in the image of Eminem zoning out to his favorite rap records and waking up each morning in love with a women who is destined to dismantle his reality and scar his psyche. "Good Guy" is less interesting; a paint-by-numbers Eminem slowee, where he sees an ex who brought him to his knees going out of her way to please a new man. Em is left to obsessively seethe and stalk from his now empty home.
It's funny, after all these years, the song remains the same: Eminem is at his absolute best when his blood boils over and he no longer cares about who he offends or how high he charts. Kamikaze is crammed full of blistering wordplay at the expense of, well, everyone: from his own fans and ex-lovers to the President of United States and 2018's hottest mumble rappers. There are next to no attempts to desperately top the singles chart. No phoning-it-in big name guest vocalists and no anodyne choruses designed to appeal to everyone and, therefore, no one. Best of all, despite claiming to reject the critics' savaging of Revival, Eminem clearly got the memo: he has sorted out the putrid sound-mixing of his last album and has embraced the 21st century with a selection of pleasing, if not all that inspiring beats. He's still corny and trying far too hard to the point where many of his punchlines stray into dad joke territory, but make no mistake: Kamikaze is Eminem's revival.
6.5
The final score: review Average
The 411
Talk about a win/win. The backlash to Revival caused Eminem's blood to boil over: in anger he claims to detest the critics, but (thankfully) he's taken their advice on board and has ditched the abysmal beats and flaccid choruses that blighted his last LP. The Shady vs. The World ethos makes Kamikaze a thrilling listen, even if Eminem rarely delivers start-to-finish songs worthy of hosting his masterful wordplay.
legend