Jay-Z & Beyonce – On The Run II Tour (London Stadium) Review
June 20, 2018 | Posted by
Jay-Z & Beyonce – On The Run II Tour (London Stadium) Review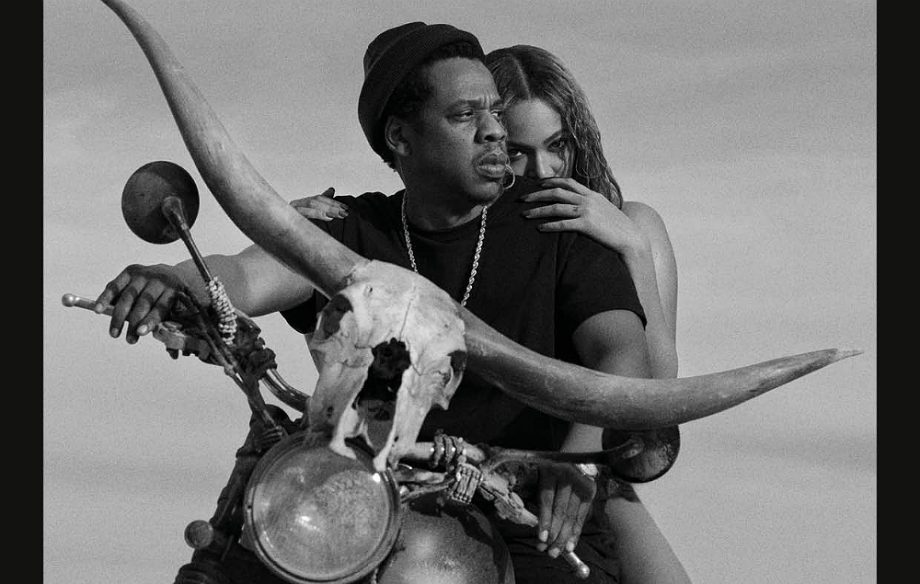 If the original On The Run tour (2014) felt like an indulgent victory lap for pop's greatest power couple, its successor stands a super sized soap opera and an oddly intimate spectacle. Their immaculately sculpted image of marital bliss was torn to shreds by an undignified scuffle in an elevator and burnt to cinders on Beyonce's wonderfully venomous Lemonade (2016). The question on everyone's lips as the enter the London Stadium is simple: how will they address Jay's very public infidelity and how will Bey's brilliant excoriations fit into a setlist full of her husband's braggadocios hits?
Putting the drama to one side, On The Run II has the added benefit of arriving at fortuitous creative moment. Beyonce is in the middle of a career re-defining purple patch. Starting with 2011's soulful 4, the singer has embraced avant garde dynamism and rejected the heavily focused grouped, please all approach of her early albums. Beyonce's eponymous LP and the aforementioned Lemonade were legitimate album of the year contenders: full of warped soundscapes and ballsy compositions not typically suited to filling 60,000 seater stadiums.
Not to be out done, Jay-Z may not be in his prime, but he has recovered from the nadir that was 2013's Magna Carta Holy Grail. The tedious brag rapping for the 1% has been ditched in favor of 4:44's commentaries on race, marital commitment and, yes, wealth, but from the perspective of a wise billionaire teaching a generation of fans growing up in poverty how to preserve their cash and expand their influence (or, as he put it: "Y'all think it's bourgeoisie, I'm like it's fine/I'm tryna give you a million dollars worth of game for 9.99"). His bars were tighter and his lyrics more meaningful than ever before, but 4:44 was not an album for the arenas, let alone the stadiums.
Pleasingly, On The Run II is not a greatest hits tour with fake plastic smiles. The show is driven by an at times preposterous narrative. On a skyscraper sized video wall Beyonce and Jay travel the globe in a series of ungodly expensive vignettes that depict the couple in love and at each others throats before finally reconciling and renewing their vowels in the show's final act. The extended video sequences, staring the married couple themselves, are certainly entertaining, but they range from laughable severe and painfully contrived on the one hand to beautifully framed and genuinely powerful on the other. Yes, the iconography is rather on the nose (they literally burn down a once happy home), but the street scenes where Beyonce is ensconced within modern black culture are fantastic. So to are the candid concluding images of Jay, the family man, playing with his daughters. These shots are refreshingly human in a show designed to position The Carters as living artworks.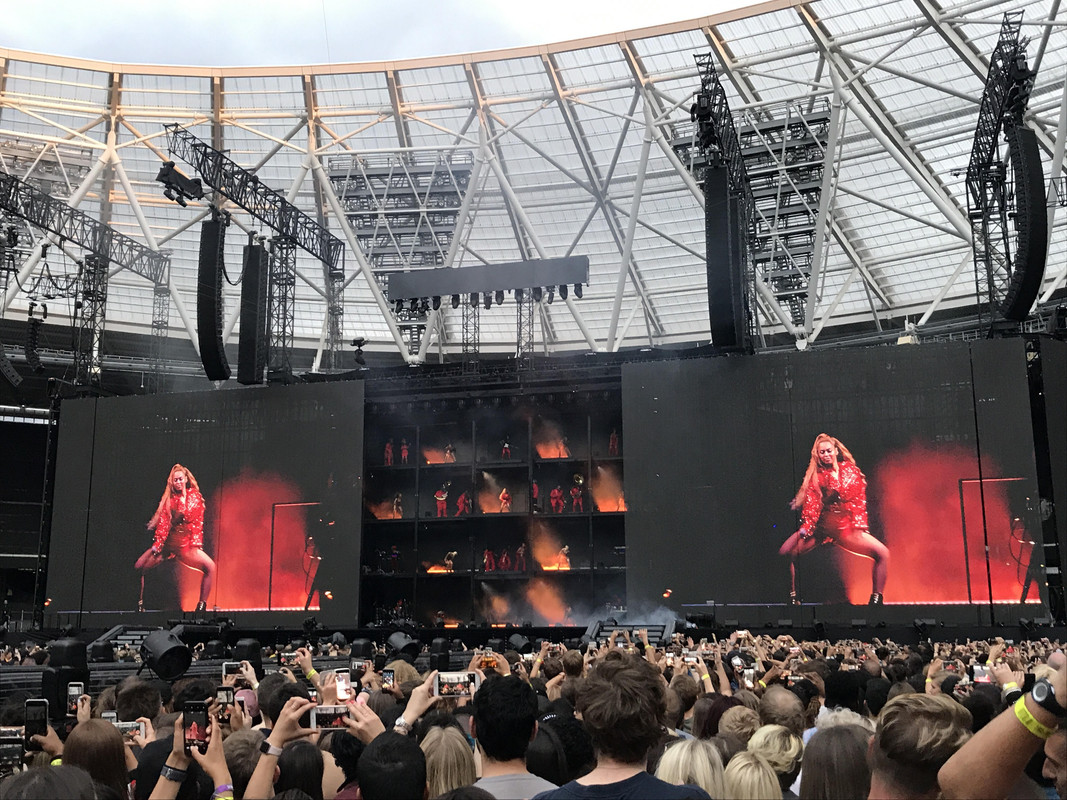 When the couple in question finally take the stage they attempt to overawe the audience with hits. This opening hour or so, representing bliss, courtship and accomplishment, is buoyant and disjointed. The loathsome "Holy Grail" is transformed into an impactful opener largely thanks to Beyonce's take on Justin Timberlake's chorus. Her vocal is far stronger and more stadium ready than his, giving the track a sense of poise and power where once their was only luxury brand tedium. It also helps that 60,000 fans are happy to sing the refrain to "Smells Like Teen Spirit" during the track's bridge. Still, if Beyonce can elevate that famous single, there's little either artist can do to bring "Part II (On The Run)" up to scratch. It's a middling effort, whose sole purpose is to frame Jay and Bey as two star-crossed lovers on the run (from the law, the paparazzi, and presumably, their fans) .
Leaving the monstrously imposing main stage and taking to a pair of endless runways that lead down into the crowd and all the way to half way line of football pitch below, the couple unite the crowd in song with "Bonnie & Clyde". It's an interesting moment, because this near capacity crowd is clearly is not of one mind: representing a smorgasbord of ages, ethnicities and sexualities, the crowd rarely act as one. Some fans are here for the early industry conquering Beyonce, others bounce to her strident feminist/art school alter ego. There are fewer fans of Jay in attendance, but they too, are split between eras and preferred sonics. Combined with the fact that the giant runways have cleaved the crowd in two, the moments when the whole crowd surges, screams or sways as one are few and far between.
One such moment of unity is "Drunk In Love", a gloriously out of tune sing/rap along for the ages. Beyonce is soon flanked by a legion of lockstep dancers and the video screen turns transparent to reveal a band full of boisterous brass and seething guitars. When its Jay's turn to take center stage he can't quite find his footing. "Clique" is always a riot, but he can't command the crowd like Kanye and the track never takes on the deafening echo of a bizzaro world Nurenberg rally. "Fuckwithmeyouknowigotit" and "On To The Next One" are well suited to stadia, but there's no deny the fact that these tracks have not aged gracefully and, judging by the crowd reaction, are not well remembered.
Beyonce rarely falters, but she still hasn't quite found a way to make "Flawless" hit home in the open air. Her more modern hip hop beats are better suited to arenas and what should be an incendiary singalong somewhat slips away into the ether. Hopefully she'll get a handle on the track sooner rather than later, because it should rival the frankly phenomenal "Sorry" as a live proposition – which sees Queen Bey leading her minions in chants of "suck on my balls" and "boy bye" as they wave their middle fingers in the air. "Countdown" is less brazen, but no less brilliant. Beyonce sings it beautifully while strutting full steam down a runway, but the track is sadly curtailed after a solitary verse.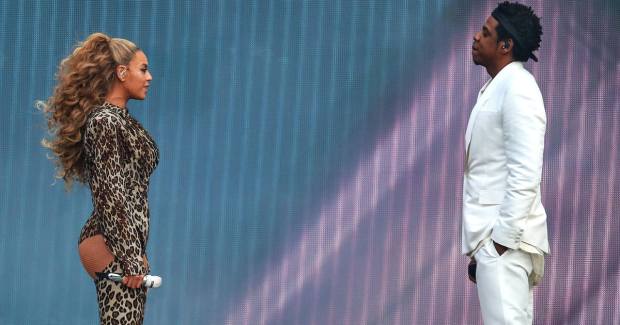 Not to be outdone, Jay-Z fires back with "99 Problems": a track that still kicks like a mule after all these years. The staging is tremendous; as Jay flies across stage he is flanked by a serious of monochrome mug shots featuring everyone from David Bowie and 50 Cent to Mick Jagger and Jane Fonda. 4:44's "Bam" is another wonderful selection, it's less known among the crowd (thanks Tidal), but Damien Marley's knotty reggae-soul hook is delight as it winds through the twilight air.
After an array of costume changes, contortionists (no really) and dance routines, the video wall descends and the second, more serious, act of the show can begin. This is the heart of the On The Run tour – Jay's betrayal and Beyonce's scorn – and is by far and away the up close and personal highlight.
Jay's apology in song "4:44" is beautifully blended with Beyonce's "I Care". The lyrics compliment one another perfectly as Jay is cast in darkness and Bey is bathed in light. Then Jay is left alone to make the "Song Cry". It's shrewd selection, a Blueprint classic that affords the crowd a chance to catch their breath and reflect on the star's infidelity. Beyonce delivers a breath taking live vocal for her sorrowful solo performance. "Resentment" is a frankly terrible song on record, but in this setting it proves spellbinding. Stripped of its syrupy instrumentals, the lyrics shine. Written in 2003, the words prove ungodly prescient: Beyonce's vocal stills the air as she croons, "I thought I could forgive and I know you've changed, as much as I want to trust you, I know it ain't the same".
Having cathartically lead the audience through their righteous indignation, piteous sorrow and heartfelt apologies in spectacular fashion, it's now time for The Carters to send everyone home happy. The video wall closes off the stage once more, iconoclastic images of their happy union flash on the screen and the couple return, hand in hand, to deliver the hits. Beyonce has everyone bopping to "Upgrade U" while Jay has the time of his life dropping "Niggas In Paris" – the latter lacks Kanye's incendiary stage presence, but triumphs nonetheless.
The hits never really stop coming from that point on: "Run The World", "Déjà vu", "Show Me What You Got", "Crazy In Love" and a ferocious "U Don't Know" are all given muscular, stadium sized upgrades to earn rapturous ovations. Even as the finishing straight approaches, the couple find space for a little artistry amongst the hit parade.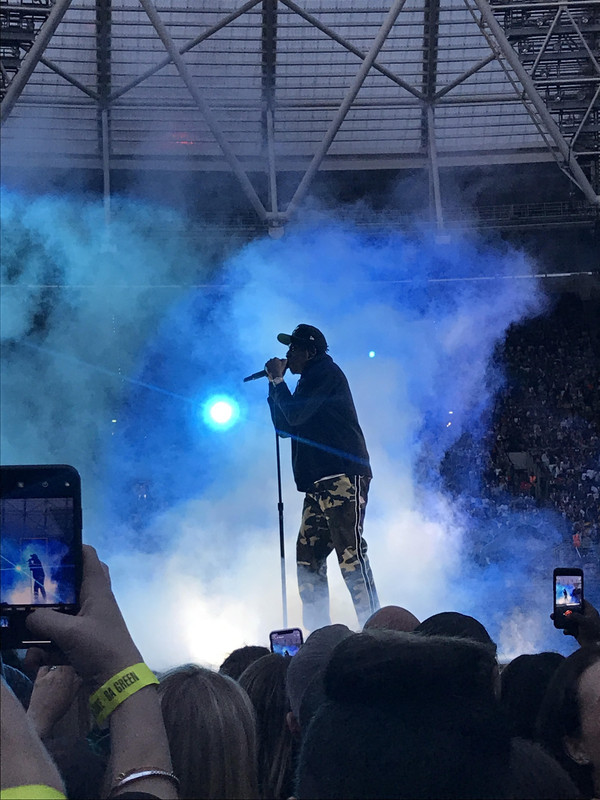 "Formation" was never designed for stages this big, but its mechanical spring beat and cocksure vocals remain riotous and unlike any other signature pop single. "Freedom" on the other hand rises to the occasion even without Kendrick Lamar's presence. Beyonce's fantastic lead guitarist rips up the stage as the sound simply towers and crumbles around an earth shatteringly rich lead vocal. The arrangement is dense enough to conjure images of freedom marches and cross burnings within its tremulous churn.
Still, if the night belongs to Beyonce, then the sets greatest single moment is Jay's. After a suitable triumphant rendition of "Public Service Announcement", it's time for a slice of severity. "The Story Of O.J." is delivered against a chilling stillness. The color drains from the screens, the lights blacken and Nina Simone's haunting "Four Women" plays out in full as a solitary dancer cruelly contorts her body as she runs towards freedom. The Simone sample soon warps so Jay can deliver his statement on race and escaping your surroundings backed by the song's infamous video. The chorus is unmistakably potent; no one sings along, everyone listens. At the track's conclusion, a wall of black men stand proud on a run down street as Simone's voice twists in the air, only for them to fall to the floor as if gunned down by an invisible assassin.
Nothing can top that, certainly not the pleasing, but paint by numbers closer "Forever Young", but Jay and Bey do have a surprise instore for the London faithful: a new project. The video for new single "Apeshit" is debuted (its beat sounds fantastic live) and the stage is left emblazoned with the words "New Album Out Now". It is a fittingly stage managed end to the tale of marital cataclysm and renewal, The Carters, no longer two individual artists, but a solitary act. Its easy to be cynical about the whole affair (and with good reason), but there's no denying that their stadium show thrives when the spotlight is shined on their oh-so-human woes, rather than their imperious wealth.
7.5
The final score: review Good
The 411
There are ups and downs to this super sized spectacle, but the decision to turn their personal turmoil into a prosperous pop opera proves shrewd. The narrative carries the day and, truth be told, Beyonce and Jay deliver material and visuals that are more challenging, dynamic and thought provoking than anything usually spotted on a stadium stage.
legend