Jimmy Cliff – Rebirth Review
November 6, 2012 | Posted by
Jimmy Cliff – Rebirth Review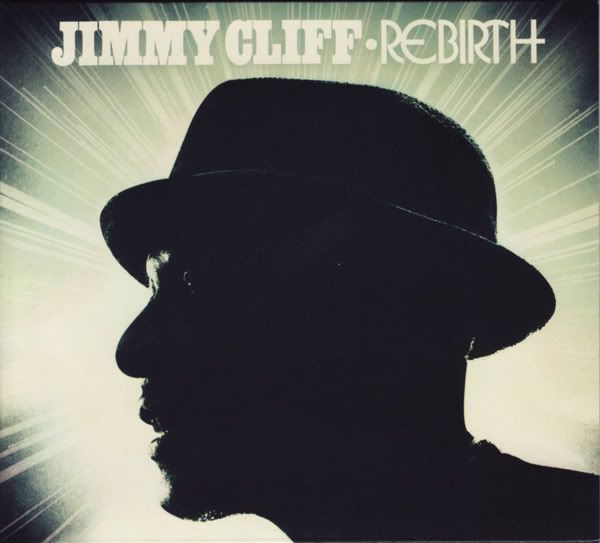 Sunpower/Universal Music Enterprises Records
Release Date – 7/12/12
1 – World Upside Down – Written-By – Jimmy Cliff, Joe Higgs – 3:10
2 – One More – Written-By – Jimmy Cliff – 3:26
3 – Cry No More – Written-By – Jimmy Cliff, T Armstrong* – 3:18
4 – Children's Bread – Written-By – Jimmy Cliff, T Armstrong* – 4:16
5 – Bang – Written-By – Jimmy Cliff – 4:43
6 – Guns Of Brixton – Written-By – J Mellor*, M Jones*, P Simonon*, T Headon* – 3:38
7 – Reggae Music – Written-By – Jimmy Cliff, T Armstrong* – 3:55
8 – Outsider – Written-By – Jimmy Cliff, T Armstrong* – 2:58
9 – Rebel Rebel – Written-By – Jimmy Cliff – 3:03
10 – Ruby Soho – Written-By – L Fredriksen*, R Freeman*, T Armstrong* – 2:53
11 – Blessed Love – Written-By – Jimmy Cliff – 4:18
12 – Ship Is Sailing – Written-By – Jimmy Cliff – 3:06
13 – One More (Alt. Version) – Written-By – Jimmy Cliff – 3:31
Backing Vocals – Aimee Allen, Ashli Haynes, Dash Hutton, Jean McClain, Jordis Unga, Nicki Bonner, Tim Hutton
Baritone Saxophone, Tenor Saxophone, Flute – James King
Coordinator [Production] – Chris Lasalle
Engineer – Bill Mims, Clinton Welander, Kevin Bivona
Engineer [Assistant] – Chris Claypool, Jason Mott, Mickey Lopez
Executive-producer – Jimmy Cliff, Tim Armstrong, Tom "Grover" Bierly
Mastered By – Joe Laporta
Mixed By – J Bonner, John Morrical, Kevin Bivona, Tim Armstrong
Mixed By [Assistant] – Ben O'Neil
Performer [Engine Room], Bass – J Bonner
Performer [Engine Room], Drums – Scott Abels
Performer [Engine Room], Lead Guitar, Rhythm Guitar – Tim Armstrong
Performer [Engine Room], Organ – Dan Boer
Performer [Engine Room], Percussion [Nyahbinghi Repeater] – Jimmy Cliff
Performer [Engine Room], Piano, Guitar – Kevin Bivona
Performer [Musical Backing By], Percussion – Engine Room
Photography By – Mark Seliger, Tom Sheehan (3)
Photography By [Booklet], Design [Cover] – J Bonner
Producer – Tim Armstrong
Saxophone – David Moyer, Liam Philpot
Trumpet, Trombone – Jordan Katz, Michael Bolger
Phonographic Copyright (p) – Sunpower Productions
Copyright (c) – Sunpower Productions
Licensed To – Universal Music Enterprises
Distributed By – Universal Music Distribution
Recorded At – The Sound Factory
Recorded At – Canyon Hut
Mixed At – East West Studios
Mastered At – The Lodge, New York
Jimmy Cliff is a reggae legend. In fact, he's a pop music legend. Besides the late Bob Marley, no other artist is more famous for reggae. With all due respect to Peter Tosh, Lee "Scratch" Perry, and a few others…no one comes close to Cliff. Like Bob, Jimmy hails from Jamaica. His music has influenced a wide array of musicians form the Clash to The Aggrolites. Virtually any band that can cite reggae as an influence will probably cite Cliff as such. Jimmy Cliff really solidified his legend with the power and uplifting songs from the film, "The Harder They Come". This influential film that also starred Cliff in the title role, really launched his career. He found success with albums after, but over the past decade or so, his new material has just been lacking. That is, until now.
"Rebirth" came into existence after a chance meeting with Rancid's Tim Armstrong. Cliff found himself at the same studio as Armstrong and the two immediately started jamming. The liner notes of the cd tell the details of the sessions and is worth buying the cd for that alone. In a nutshell, Armstrong pulled out all the stops to give the album a sound that harkens back to the late 60's reggae vibe. With a crew of LA based musicians, Armstrong backed Cliff up with a group that sounds like it went back into time.
"Rebirth" simply is one. It's a rebirth of Cliff. He's back to his roots. Songs like "Ship Is Sailing" sound almost like an outtake from his classic days. There is simply no bad track on the album. It's thirteen tracks of pure Jimmy Cliff. Eleven of the cuts are all Cliff originals. The two covers are the Clash's "Guns of Brixton" and Rancid's "Ruby Soho". Jimmy makes the two covers his own. He does both justice. Like how Johnny Cash made Nine Inch Nail's "Hurt his own, Cliff does the same…especially with "Guns of Brixton". I can literally see Joe Strummer smiling from above at what a wonderful version Cliff has done. Note that "Rebirth isn't all reggae. Cliff also channels the Stax soul sound on "Outsiders".
This album came out with very little fanfare. This is an album that needs to be heard. "Rebirth" is a real gem. Please give it a chance. If you love reggae, you will dig "Rebirth".
Jimmy Cliff – "Guns of Brixton (The Clash cover)"

Jimmy Cliff – "Ship Is Sailing"

Jimmy Cliff – "Outsider"


The 411: "Rebirth" is one amazing album. It is a real treat to hear Jimmy Cliff revitalized and refreshed. Tim Armstrong deserves a lot of credit for getting the most out of Cliff for this effort. For a guy that's in his sixties, Cliff sounds both wise and youthful at the same time. You can tell he's having fun. But you can also tell this means a lot to him. If you are a fan of reggae, this album is a must.

 
Final Score:  8.0   [ Very Good ]  legend